comparison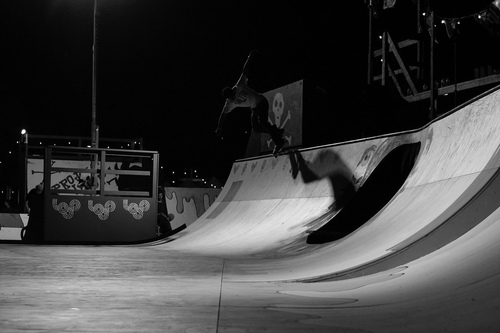 …. early thoughts, including comparison with the nex-7.
1. it works best with the lens it was designed for. the 35 fuji is a surprisingly nice lens, but it's AF and that's still taking some getting used to for me (i had a frustrating amount of focus errors – AF is fast but not action/sports/street-at-night fast). however, it does give rather nice results.

2. high ISO is pretty much awesome. i shot 3200 and 6400 at a local music thing and was very, very surprised at the results, both in jpg and in the abysmally messed-up RAF format. No contest, this is a better night shooter than the nex-7 was for me.

3. the controls are great. the menu is simple and straightforward, the manual shutter speed and EX dials on the top are extremely useful (much more so than the ever-so-vague tri-navi on the nex-7) and the manual-assist button is logically placed as a thumbwheel-press so it's very easy to use. plus, a regular pro-style shutter button (ie, it can take a softrelease) instead of the p&s-style on the NEX.

4. the EVF is surprisingly good. let's get it out of the way, however… it's not a window finder. it blacks out when you shoot. you can't see outside your frame. your whole anticipation mechanism needs to change, but maybe not to an unreasonable degree. it stinks in bright sunlight (oops). it's not as fast to focus as an RF. that said, it's very very usable. i'm still waiting for more available-darkness opportunities, but for a night shooter, it seems fantastic.

5. manual lenses work pretty well. i've shot a bunch of contax and ltm/m mount on it and i'm pretty happy with the results. i'm getting over the crop factor (i'm back to RD-1 territory), but since i shoot normal to moderate-long, i'm good. focusing is fast enough (again, it's not an RF and shouldn't be expected to perform in the same way). i will say that i bought a metabones g mount adapter and really, really like it. all of a sudden, these lovely lenses are at the front of my line. i had a junky adapter for the NEX and it was an exercise in frustration. MF with the fjui 35 is kind of a pain in the neck, but much better than MF with the sony kit lens.

6. it's small, stealthy and quiet. i find it less stealthy with the 35/1.4 (which is a big lens) than with a manual focus lens. the shutter is really, really quiet.

7. RAF files are going to be a problem. they're slow to render in LR 4.2 and sometimes stuff gets cut off at the top and bottom of the frame (really). so i silkypix into tiff for the ones i like and then put the tiffs in LR. slow, inelegant and the 50MB tiffs are a waste of perfectly good electrons. maybe 4.3 will have some answers. silkypix really sucks. the jpgs are very nice but there is a noticable difference in night shooting at 3200 or 6400 vs the RAFs. sigh.

See on www.rangefinderforum.com
See on Scoop.it – Fuji X-Pro1

Here I look at the Fuji EF-42 and the Fuji EF-X20 options.

The Fujifilm EF-X20 Flash was designed for the X-PRO1 Digital Camera. A switch lets you choose between two modes: Auto, which automatically optimizes the flash for daylight indoor and outdoor shots in low light, and Manual for manual control. The Fujifilm EF-X20 is a compact flash with a guide number of 66 and allows Manual power output adjustment in 6 steps from full power to 1/32 or TTL flash compensation in 1/3 stop increments.

The EF42 allows reference by different values, the focal length display can be switched between the digital display (APS-C) and the 35-mm film size converted display on the LCD while the wide range of functions and user-friendly controls make the EF-42 easy to use. The guide number of 24 to 42 changes automatically to the lens focal length while the flash will also zoom automatically between 24mm and 105mm (up to 20mm with the wide panel). Allowing full manual control, the EV can be adjusted in 7 steps (-1.5, -1, -0.5, 0, +0.5, +1, +1.5) while the power ratio can be adjusted in 7 steps (FULL,1/2,1/4,1/8,1/16,1/32,1/64). When shooting in the dark or dimly lit places, the near infrared assist light is automatically illuminated to enable automatic focusing.

See on www.youtube.com
See on Scoop.it – Fuji X-Pro1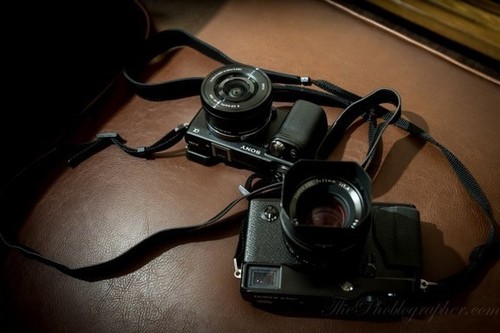 We previously put the Fujifilm X Pro 1 against the Sony NEX 6. As a clarification once again, the reason why we use the same exposure for each camera vs a, "Balanced" exposure is for you to get a feeling of the metering of the cameras in manual mode: which is something many users will do in order to acquire better images. In these exposures, you are also able to gauge just how the individual sensors perform. In my tests and in my personal analysis with one of Sony's reps, we both concluded that at the same exposures the X Pro 1 will retain more detail in the highlights but the NEX 6 will retain more information in the shadows. The histograms were about accurate but let's be honest: if we made the histograms perfectly and totally alike, then there will be no differences between the images. These images are an informal comparison of metering and image quality between the two cameras: In each set of images, each camera was set to the same exposure value in order to see how each camera will perform. The cameras photographed landscapes, and exposures in a situation like this are critical. No post production was done to these files besides sizing down to 72 DPI.
Conclusions:
The X Pro 1′s out of camera colors are more appealing to my eyes. However, both cameras can put out more than versatile enough RAW files.
These two cameras were compared because the X Pro 1 and the XE-1 (the real competitor to the NEX 6), have the same sensor. In this case, it is sensor + metering vs sensor + metering.
The X Pro 1 files are sharper in my opinion
The NEX leans more towards the warmer side of the spectrum while the X Pro 1 leans more towards the cooler side.
For landscape photography, this means that processing the images in post will require slightly different approaches due to the way the cameras color balance and how they meter. Since Sony captures more detail in the shadows, one should probably shoot a couple of extra photos overexposed if they intend on merging the files together. It is vice versa with the X Pro 1. But to be very honest, the files from each camera are so versatile that you can actually perhaps shoot three images (one balanced, one over and one under exposed) and still retain more than enough detail to work with.
Round 1:
http://www.thephoblographer.com/2012/10/10/quick-informal-high-iso-comparison-fujifilm-x-pro-1-and-sony-nex-6/
See on www.thephoblographer.com
See on Scoop.it – Fuji X-Pro1
This is a comparison of focusing speed of the new firmware 2.0 (body and lens) for Fuji X-Pro1 with the 35mm f1.4 lens and the Olympus EM-5 with the 45mm f1.8 lens. Pretty darn close, slight edge to the Oly EM-5.
See on www.youtube.com
See on Scoop.it – Fuji X-Pro1

This week, I take to video to discuss the announcement of the Fuji X-E1 and what it means for people like me who bought the X-Pro1.
Basically, unless you completely love the optical viewfinder of the X-Pro1, the X-E1 looks fantastic: lighter, smaller, cheaper, with a better EVF, stereo mic in and a small pop-up flash. With the same great sensor and processor.
See on www.clearingthevision.com
See on Scoop.it – Fuji X-Pro1

Hey everyone, I have a new three way comparison for all of you today. At one point, I had all three of these Fuji X series mirrorless cameras together. After shooting with them all for some time, I started to think to myself, "wouldn't it be cool to write up some sort of comparison between the three?" Yes, they are completely different cameras in completely different classes but who hasn't thought of how they actually compared with one another? You have the X100, which is the camera that many believe basically put Fuji on the map in the mirrorless world. Then, you have the X10, which is the camera that in my opinion rocked the high end compact world. Lastly, you have the X-Pro1, which is the camera that really put Fuji in a new league in terms of the mirrorless world. What are their similarities? Their differences? Do these cameras even have the same signature look? Well, just for heck of it, I thought I'd make this fun comparison between the three X series mirrorless cameras, and see what I come up with…
See on findingrange.com
See on Scoop.it – Fuji X-Pro1


Previously in my blog, I mentioned Fuji X-Pro1 is possibly the best travelling camera but with introduction of Fuji X-E1, that claim no longer applies. X-E1 is lighter and significantly smaller. With its pancake lens (18mm f2) as shown in the picture above (note: all images taken from google), you can put the camera in your bag and carry it everywhere, everyday. Furthermore, the option of external mic is another pleasant "upgrade" especially for folks who likes to take video while travelling. Another plus is the in-built flash, although I prefer natural light, but if you were to shoot (w/o flash) with X-pro1 at low light situation (night), it gets very frustrating with the slow AF (even with high iso) so the in-built flash unit in X-E1 will come in very handy on those odd (dark) occassion.Lastly, it is going to be price reasonably. Much cheaper than X-Pro1 and at the range of most mirrorless camera. In my opinion, it is a winner, yes, even over Fuji X-Pro1.
See on oshsnap.wordpress.com
See on Scoop.it – Fuji X-Pro1

Today we are fortunate to have a review by the first guest contributor to this blog. Allow me to introduce Eric Stack. Eric had written to me with some questions. In his email he mentioned that he had two M mount lenses. Afterwards I asked Eric if he would like to participate with a review of his own. He most graciously accepted.
Fuji X Pro1
Has a wonderful retro design, comfortable weight, easy to use menu, great IQ, low noise, analogue view finder, great film simulation filters, stunning optics producing fabulous images . A camera you connect and fall in love with.
Elmarit 90mm
The Elmarit is built like a tank but not too heavy. Watch for flare in bright sky or direct light and cover with your hand. I find the lens sharpest between f4-f5.6.
Voigtlander 15mm
The Voigtlander is a beautiful and practical super wide lens that is always in focus and has great optics.
Fuji M Mount
The Fuji M mount although pricey, fits like a glove, compliments the Xpro's design and is built to last.
Fuji 35mm
The 35mm is fast, sharp and detailed, a little light in weight and time will only tell if the build quality matches the glass of the past.
Fuji 60mm
Wonderfully sharp portrait lens with beautiful colours and detail. Great using Pro Neg Std and Hi in studio.
See on gambofoto.blogspot.nl
See on Scoop.it – Fuji X-Pro1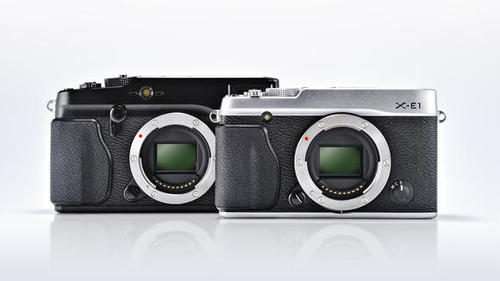 Choosing between these two cameras is tricky, especially considering we don't yet know the official price of the X-E1. Fuji is squarely aiming its new camera at the mass market, which the X-Pro1, with its high price, was unable to appeal to. We can see the Fuji X-E1 becoming extremely popular with a large cross section of the camera-buying community. Existing Fuji X-Pro1 users will likely be tempted to add another body to their collection, while those who couldn't quite justify the price before will also find themselves lusting after this. When it comes to making a buying decision, it all comes down to whether you can live with using an electronic viewfinder only, or would prefer an optical device as well. The better screen and slight differences in design may also play a part in making a decision.

See on www.techradar.com