comparison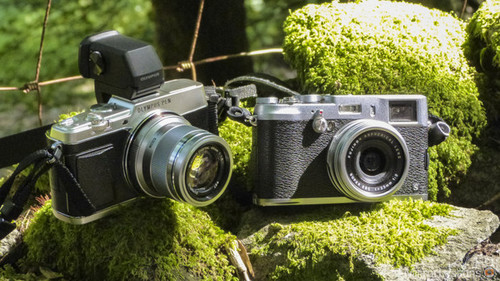 A few months ago, we pitted the then brand-new Fujifilm X100s against the OM-D E-M5, Olympus' Micro 4/3s flagship, to see which camera would emerge victorious. As it turned out, it was impossible to definitively say that one camera was better than the other as they have been designed for very different purposes. Though I risk giving away the punchline of this article in the very first paragraph, I'll blurt it out anyway: the same stands for the E-P5 and the X100s. The E-P5 is an MILC (mirrorless interchangeable lens camera) with a Micro Four Thirds sensor, and is very similar to the E-M5 in terms of specifications despite actually being the successor to the Pen E-P3. Thanks to its unique array of features, it can easily be considered a new reference for Olympus–that is, until the new OM-D E-M1 arrives later this year. The X100s, on the other hand, has a fixed 35mm lens and an APS-C X-Trans II sensor, and remains one of two Fujifilm flagships alongside the interchangeable X-Pro 1. Due to its interchangeable nature, the E-P5 can be used for a wide variety of genres whereas the X100s is intended mainly for street photography. The former is faster and has better stabilisation, whereas the latter produces more attractive film-like colours…..

Let me start off by saying that I'm a FujiFilm user, I'm good friends with FujiFilm and I've been using all their cameras and own a FujiFilm X-E1. However I also own a Leica R4 with some lenses and I love that camera for analogue, and am also connecting those lenses to my X-E1 and soon Sony A99. In my reviews I however always try to take a 100% neutral view on the products so I have to start by saying that there was NO preference what so ever to start with and the review is 100% my honest opinion. For some time now people have been asking me "which camera should I buy, should I buy the Leica or the FujiFilm", I always said "get the FujiFilm" for the simple reason you can buy 6-7 X-E1′s for the price of 1 Leica, and the same goes for the lenses, if your budget is unlimited that's another story of course, but most people have to keep within a budget and with the prices of the Fuji lenses compared to the Leica lenses… well let's say you can buy a nice collection of Fuji glass for the price of one Leica lens. But because I always want to be complete in my advise and I never shot with a digital Leica before I decided it was time to test the M9 during a small photo walk and compare the two, swap lenses etc. I only could use the Leica on one day due to the limited time I could borrow the camera, but I think when reading this you will get a good idea of what the differences are. I would love to use the system a while longer and with more lenses but for now this will have to do…..
See on www.frankdoorhof.com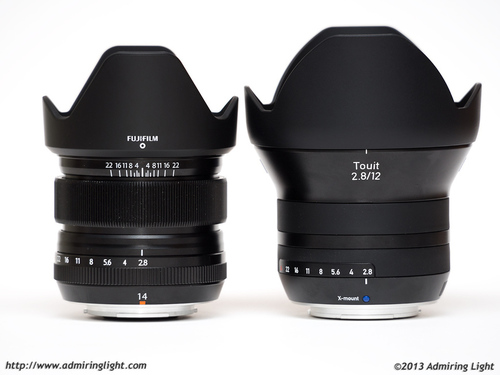 With the release of Zeiss lenses for Fuji and Sony's NEX, many owners of Fuji's X system have been wondering whether the new Zeiss Touit 12mm f/2.8 Distagon is worth the nearly $400 price premium over Fuji's already outstanding 14mm f/2.8.  I reviewed the 14mm f/2.8 last month, and I've found it to be one of the very best ultra-wide lenses for any system, and the very best ultra-wide I had used to date.  However, if there's one company that is known for outstanding wide-angle design, it's Zeiss.  Their 21mm f/2.8 for full frame cameras (originally for the Contax/Yashica mount, later re-released for Canon and Nikon) is widely considered the best wide-angle lens ever made.  Their recent 15mm f/2.8 is also extremely highly regarded.
I have the Touit 12mm in hand for a week for review.  In addition to that full review, I wanted to pit the Zeiss 12mm against Fuji's 14mm.  Obviously, if you have a preference in focal length, that will likely be more important than some of the optical differences here…if you really need the wider field of view offered by the Zeiss, then that should be your route.  I personally find, for a prime lens, the slightly longer focal length of the 14 is slightly more usable day-to-day, but when you need the width, you need the width….
See on admiringlight.com
I see lots of questions regarding moving from a DSLR to the Fuji X pro system, whilst I have moved fully into the Fuji camp and have been extremly happy with my choice, many will be somewhat disappointed with the system. The Fuji Xpro 1 is a visual delight, and engineered to a really high standard, the image delivery is incredible, colour accuracy is superb. The recent firmware upgrades are a welcome addition, (these really should have been implemented a long time ago). Just having the ability to quickly change focus area on the thumbpad is joyous. I usually see the grumbles about autofocus speed to be the main gripe, and one that leads folk to stay with the DSLR. However if you persevere and learn how to use the camera, learn how to overcome its focus issues, you will be so pleased with the image results. Once focus is found its totally bang on. I have always loved Fuji for their approach to applying their knowledge gained in film development, and applying this to their digital camera systems. The jpegs are faultless, I looked at raw files and found no real gains to be had by using raw mode, this applies only to my thinking and I am not wishing to create a raw/jpeg debate. It suits my workflow. I remain totally in love with the system, but sometimes get quite infuriated at Fuji seemingly lack of understanding when it comes to camera ergonomics. Why produce a lovely little handgrip, that leaves you no access to the battery/card chamber, go figure!! Generally speaking the niggles I have with this little beauty are forgiven when I see the results from the Xtrans sensor printed as a 40×30 print…..
See on www.thebigpicturegallery.com
This is the first part of some comparison tests between the Fuji X-E1, fitted with the 18-55mm and Leica X Vario cameras, with the fixed 18-46mm. Looking at image Quality. This first post deals with the difference between out of camera jpgs. with particular regard to high ISO quality.
This was the test subject – tripod mounted, f/8 selected on both lenses…..
FUJI X-E1 and LEICA X VARIO Comparisons:
See on soundimageplus.blogspot.de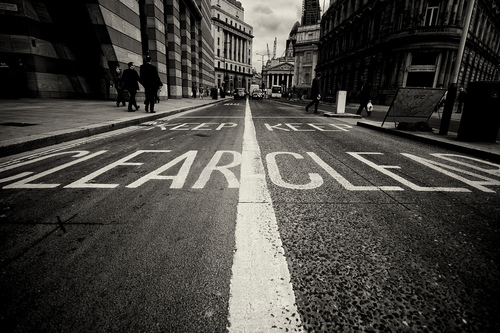 An appalling pun and my final conclusion is probably a little more balanced with respect to the subject of this post, the Zeiss Touit 12mm. Its equivalent focal length is 18mm, which is very wide indeed. High level, this is a very good lens and if you like 18mm equivalent you should consider buying it for your Fuji X camera. I haven't tried the NEX version (having sold all my NEX gear) but I would be willing to bet it looks good in a similar manner on the 16mp sensors and not so good on the NEX-7. Those who have seen my previous post will realise I was very happy with the results from the 32mm. I wasn't sure about my initial results with the 12mm but it's grown on me significantly. Readers hopefully realise that I'm a WA lens addict and I love to play with perspectives. None of the shots here are corrected for perspective/keystone issues and I'm happy with that (though I might not be for a different subject)! ….
….
The only reason this lens doesn't deserve superlatives left and right is the existence of the Fuji 14mm. If the Fuji didn't exist or was a little bit more average, the 12mm would be a must buy lens, as it is it's a very good lens that's not as good primarily because of variations in sharpness in the corners. However there is no question in my mind that a person wanting the widest lens available shouldn't hesitate in buying the Zeiss instead of the Fuji 14.
See more pictures on sgoldswoblog.wordpress.com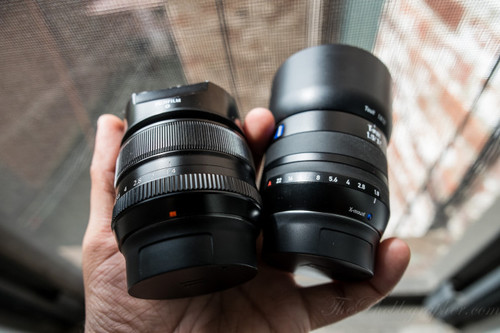 We've been playing with the Zeiss 32mm f1.8 for a little while now on the Fujifilm X Pro 1 and it dawned on us from the comments that it could perhaps be a competitor to the Fujifilm 35mm f1.4. The lenses share many similarities but also have a couple of key differences.
….
Conclusions
While both lenses are quite good, Fujifilm has a major advantage with a more affordable offering while also retaining a better build quality. However, Zeiss has faster focusing and better image quality. This is kind of a tough test to consider but we should all take comfort in knowing that both lenses are excellent. But on a personal scale, I've always had a love for Zeiss products the same way that Steve Huff loves his Leicas. And in the end, I'll have to give the win to the Zeiss despite owning Fujifilm's lens.
See on www.thephoblographer.com
The other day while going through my blog reading, I happen to come to Lloyd Chambers web site http://diglloyd.com.  Which I must say is a very good review site, albeit a paid subscription is required.  Mr. Chambers had a done a recent review of the new Fuji X100S. It appears Mr. Chambers is not a fan of the Fuji X-Trans sensor, which appears in the new X100S, X-Pro1 and XE-1.  There are plenty of examples in his review showing "artifacts" or smearing of fine detail.  The examples include a piece of worn fabric, a paper label form a bottle and a leafy scene all presented at "actual pixel size", which I take to mean at 100%.  These appear on the "free"part of his site, dated 23 April. Later on I visited Ken Rockwell's site  http://www.kenrockwell.com  where I noticed he had also done a recent review of theFuji X100S.  In the review there were also examples, which looked entirely different then from diglloyd's.  Even though there were some similar examples (e.g. a rope net and a brocade like fabric, both which can be viewed at 100%) there isn't any of the smearing of fine detail that diglloyd's has shown. Now let me make this clear, I am an owner of the Fuji X-Pro 1 and I do love my camera.  It may not have the professional build quality of a Leica.  Nor is it the end all camera.  But it is a joy to use and produces some pretty good files.  The X-Pro 1 has been in my possession for over a year now.  So it is safe to say I do know a little about the camera.  As of yet I have not experienced the same effects from "artifacts" or smearing of fine detail that Mr. Chambers has shown.  Really! To try and at least bring to rest in my mind I decided to do a little test.  In thinking about this test, I chose four pieces of material, that I thought would present some difficulty to the sensor's ability to avoid smearing and or moire effect.  In addition I chose red material as I thought this would also test the sensor. Shot in RAW and Fine jpeg.  For the test I used four different RAW converters; Adobe Camera RAW 7.4, SilkyPix which came with the Camera, Raw Photo Processor 64 and Apple's newest update to Aperture.  Along with a SOOC jpeg.
See on gambofoto.blogspot.de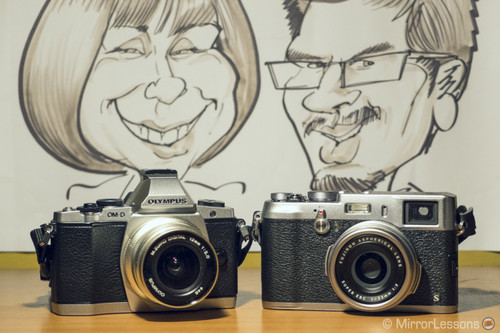 Well, for us, it is a way of pointing out not only the strengths and weaknesses of each model, but it is also an occasion to summarize our personal experiences with them. It is a place where we can give you advice about the style of photography that best suits these cameras, while helping you answer that tricky question: which model is best for me?
You won't find scientific comparisons but rather our personal experience with each camera based on a real-world usage. For more information about the cameras, you can check out our reviews and galleries across the site (relevant links are mentioned throughout the article).
But that is not all: it isn't just about us. If you've had the chance to use both of these cameras and want to share your opinion about them, feel free to leave a comment or even write to us at info@bestmirrorlesscamerareviews.com. We would love to hear your two cents! ….

CONCLUSION
So, if you went through the entirety of my comparison, you can probably already guess what my conclusion is: we simply can't say that one camera is better than the other, because they are two different models that have been designed for two completely different purposes. The important point is that both produce excellent image quality. You really have to make hypercritical comparisons to highlight the differences between the two, even though their technical specifications may suggest otherwise.
The E-M5 is certainly more versatile: the Micro Four Thirds system offers a great variety of lenses from Olympus, Panasonic and third party manufacturers, and it has all the accessories you need to use it as a real alternative to DSLRs, with the advantage of it being lighter and smaller.
The X100s is very good at what it has been designed to do: street photography. It is small, light and discreet. Despite its few weakness, I really enjoy using it and I am starting to employ it as a second body not only for personal purposes but also professional. At the same time, I know it won't ever become my main camera, as I would always miss the beauty of a good wide angle lens, for example.