comparison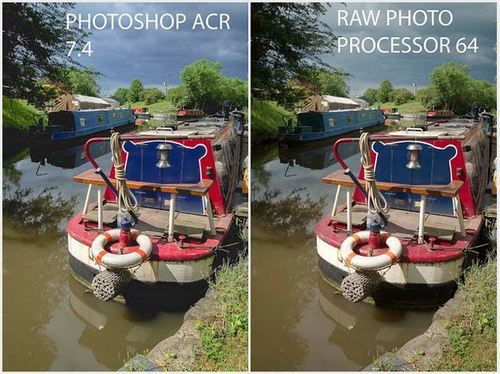 I've done a comparison on a Fuji X-Pro 1 file using The new Photoshop ACR 7.4 and Raw Photo Processor 64, the excellent Mac platform raw converter. Different software but I processed each with no sharpening added and only added a slight amount in Photoshop later. I used the same values for each file. Click on the link for the full-size high-res file. As many who have tried the new ACR are saying, the files are slightly softer than they were before, but unlike the previous ACR conversion, it is now possible to add sharpening to these X-Trans files without creating unpleasant artefacts. RPP still produces slightly sharper results to my eyes, but there isn't a lot in it.
After waiting a long time to see this, I spent yesterday working on some X-Pro 1 files and it was pleasing to see the results. I have been so frustrated by the fact that I knew that there was more in the files, but was unable to get to it. RPP is great and I recommend it, but Photoshop is the cornerstone of my processing workflow and I know it well and how to get what I want from it. So for any camera I use, proper support is essential. It is now finally available.
So what went on? Was this a spat between Fuji and Adobe? Did Adobe just take their time to get round to this? We will never know the whole story, but it has been a long wait. As you know I baled out on the X-Pro 1 early when it looked like there wasn't going to be decent ACR support and I've had lots of files sitting on my hard drives that I haven't done much with, since I wasn't keen to upload what I considered to be sub-standard versions to my picture libraries. I can now get some really nice files from my original raws and they do have a different 'look' to conventional bayer sensor files.  With the ACR conversions and indeed with the RPP ones as well, there isn't that classic non-AA filter look. But then with the different sensor array I'm not sure that there would be. What is extraordinary is the ability to produce 'clean' files at high(er) ISO's. I believe it would be perfectly feasible to shoot high-quality landscape at ISO 400 and even ISO 800 with an x-trans sensor and I'm seeing a 2-stop improvement in noise levels over virtually everything else I use. This has all sorts of advantages in terms of narrower apertures and higher shutter speeds when shooting in good light, which for what I do is a good thing.
I've been very critical of this whole raw conversion saga and indeed seem to have developed somewhat of a reputation as a 'Fuji basher', but my only concern was to see a realisation of the FULL potential of these files. We do now have that and I'm glad to become a Fuji X-Trans enthusiast at long last. But lets be honest, its been a long and unnecessary wait and thats not really good enough.  For those who had the patience to stick with it, welcome to your new camera!
See on soundimageplus.blogspot.fr
Fuji has announced the successor to their hugely popular X100, the imaginatively named X100S, but what does the "S" stand for?  Superior? Sexier? Successor? Or, just a rip off of Apple's unimaginative upgrade path? Well, the new X100 S may have a poorly thought out name change, but is the new camera better than Fuji's naming strategy? The original X100 was a hugely successful camera for Fuji. The retro styling and fixed lens combination took off in a way that few saw coming. The camera offered great styling and imaging quality to match. It was reminiscent of rangefinder cameras of the past and offered a camera that made people fascinated by it when they saw it. Beyond being camera bling it was effective as a serious photographic tool that could be used to great effect in several different situations. The X100 was, simply put, a "cool" camera. Let us not forget that it had more than its fair share of bugs that could be more than a little frustrating. The well documented issues with the camera were not enough to deter people. Many of the initial problems with the X100 were fixed by firmware updates, but issues still remained. Fuji has strived to address this with the new X100S. So what are the improvements being touted by the X100S and what do they offer you?…..
See on www.digitalrev.com

This should be a fun comparison.  I have the pleasure of having three of the best mirrorless cameras around in my possession right now: a newly acquired Fuji X-E1 with 35mm f/1.4, my trusty Olympus OM-D E-M5 and the Panasonic GH3, fresh into my hands for review.  Expect full reviews of the Fuji X-E1 and Panasonic GH3 in the coming weeks. Anyway, I thought it would be fun to pop the Panasonic Leica 25mm f/1.4 on the two Micro 4/3 cameras and do a controlled studio shot against the Fuji X-E1 with its Fujinon 35mm f/1.4.  Due to the different sized sensors, these setups result in an almost identical field of view, with the 4:3 aspect ratio of the m4/3 cameras allowing for a little wider field of view in the vertical direction. The 35mm on the X-E1 is slightly narrower than the 25mm on Micro 4/3, however (equivalent to the field of view of a 53mm lens on full frame vs the equivalent field of view of 50mm for the Leica). As a result of this minor difference in aspect ratio and field of view, the crops you're about to see will make the Fuji look like it is rendering things slightly larger.  All images were taken on a tripod with 2 second timer, and all were taken from the same position……

Conclusion
Well, the X-E1 is a camera with fantastic image quality, that much is certain.  Not surprisingly, it produces cleaner images throughout the ISO range and retains great detail.  Is the Fuji the best of these three cameras then?  In pure image quality from the sensor?  Yes.  In other ways?  Not so fast….  Wait for my full review of the X-E1 for more detailed discussion, but both the GH3 and OM-D are much more responsive machines when it comes to autofocus.  Still, Fuji has a winner on their hands.  It's also great to see Panasonic put out a body with very high image quality to match the OM-D on the stills side.
See on admiringlight.com
English Photographer Ben Evans compares the Fuji XE1 and XPro1 cameras in Barcelona. Hand-on photography with several photographs made with the cameras during the review.
The balance is that the Fuji XE1, while lacking the hybrid optical/electronic viewfinder makes up for this with a cheaper price, upgraded EVF (electronic viewfinder), built-in flash and slightly smaller size. It was therefore the 'winner' in this little hands-on camera test.
Many thanks to Hiromi from www.HiromiTorres.com for shooting this video! If you'd like to get in touch and contribute to a microphone for her so that future tutorials and reviews sound better, she'd really appreciate it!….
See on www.youtube.com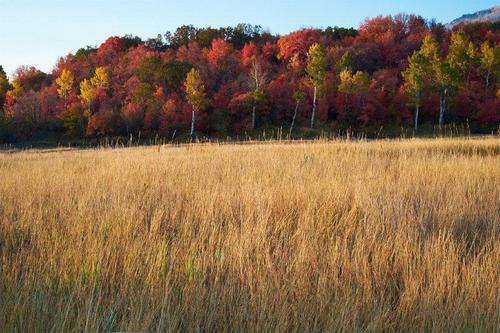 I have been using the Capture One beta version 7.0.2 for a bit and wanted to share an example of the difference in processing RAW files from the X-Pro1 between Adobe Lightroom and Capture One's beta. Yes, yes, I know the Capture One is beta. I'm not going to speak to the details of its stability, any errors, etc. Anything like that I would report to Phase One. Since I mainly shoot landcapes, I'd like to illustrate the difference between the two RAW processing engines using an image with a bunch of foliage. The image I'm showing is one I shot at North Fork near Ogden, Utah during autumn. There was great light but I wasn't too happy with the lack of foreground interest when I took the photo. Since there is mainly foliage and grass in the shot, it'll serve to illustrate the stark difference between Lightroom and Capture One. The image was shot using the 35 mm prime lens, ISO 200, 1/15 second, f/16, with a polarizing filter. In both Capture One and Lightroom, my standard sharpening was used. I cannot push the Lightroom sharpening much at all or details get even more mushy where it seems I can push Capture One as far as I'd like. Amazing. First comparison is a 100% crop of the trees, first from Adobe Lightroom 4.3 and the second from Capture One 7.0.2 ….
See full article on www.codyhatch.com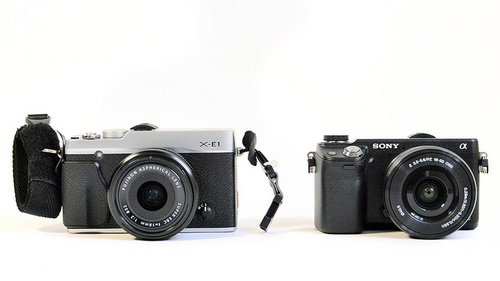 Better late then never. I finally had the chance to play with the Sony Nex 6 and the new collapsible 16-50mm kit lens. First thing I noticed was the size of the lens, retracted, it is about the same size as the Fujinon 18mm f2 and looked proportionally "correct" on the Nex body. There was no time for an in depth comparison between the Fuji X-E1 since I only had the camera for half a day. Instead, I will try to summarize my impressions of both cameras…..

As a purist with no interest in video, the choice is easy. Fuji X-E1. Anyone serious about video, the Nex 6 is a no brainer. I hope this helps some of you to make a decision. PS: I was also interested to find out how the 16-50mm collapsible lens performs, esp when compared to Sony's monster flagship 18-200mm and managed to shot a quick test. Should have it up in a couple of days.
See full article on www.mikekobal.com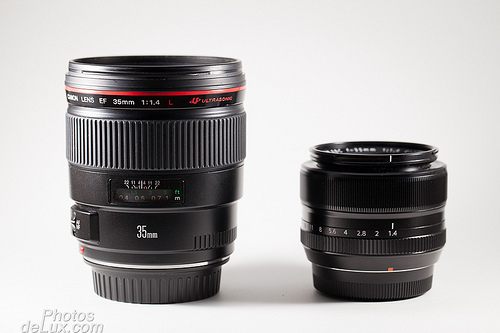 ….
A few observations that I made during the test:
While focusing I noticed that the Canon lens tended to show more color fringing from green to red while I was fine tuning the manual focus.
The Canon was also more difficult to fine tune since the manual focus reacted rather fast and direct to small movements.
The Fujinon on the other hand actually benefited from the fine graduation of the "focus by wire" setting in this situation at close focusing distances. This was the first time that I actually saw the benefit of this technology.
The Fuji seemed to have a larger sweet spot of the sharp focus area depth compared to the Canon – even though both were set to f/1.4
I was surprised that the Fuji lens did this good in direct comparison to my favorite Canon lens! But there is one factor in favor of the Fuji lens that also needs to be mentioned:
The X-Pro 1 recognizes the Fuji lens and applies some lens correction inside the JPG engine. The Canon lens does not get this special treatment and shows an uncorrected result from the lens. I could have partially avoided this by shooting in RAW but then the RAW converter of i.e. Adobe Camera RAW could have recognized the Fuji lens as well and add some auto correction. But in the end I wanted to see how the Canon lens compared when I use it on the X-Pro 1 in my normal use and this is what I got. The X-Pro 1 will not internally compensate for the Canon lens no matter what I do.
But if you happen to own some Leica M lenses and purchased the Fuji X-Mount to Leica M-adapter, then the Fuji will internally apply corrections to some of the Leica M lenses (i.e. the SUMMICRON-M 35mmF2 ASPH)
My resume:
The Canon EF 35mm f1.4 is a fantastic lens on my Canon FF DSLR camera. It has a fast Ultrasonic AF motor and the weight and size match the bigger camera body well. The Fujinon XF 35mm f1.4 R is a fantastic AF lens for the Fuji X-Pro 1 / X-E1 cameras. This comparison has solved the question for me if I could improve the image quality by using the Canon EF 35mm f1.4 instead of the XF 35mm f1.4 for special occasions. The answer for me is "No!" and I can now comfortably leave the bigger Canon 35mm lens attached to my Canon camera."Bigger is not always better" :)
See full article on fujixfiles.blogspot.de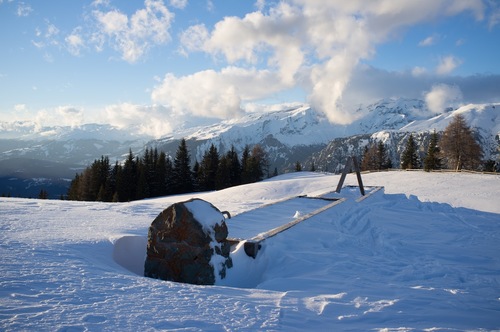 This is the 5th (and last) part of my comparison of the "trinity": the Fujifilm X100, X-Pro1 and X-E1. In the past posts I have covered some of the aspects that were most important tome. In this last post I will cover some remaining differences and will also let you in on my decision.
I am keeping the Fujifilm X100
First, I want to get this out of the way: although from the same "X-family", I feel the X100 is quite a different camera than the X-Pro1 or the X-E1. It has a fixed lens and with that fixed lens  it is compact enough to fit into the pocket of my jacket. So I can always carry the X100 with me – whether I go skiing with my kids or for a drink with a couple of friends (the two photos in this page were taken in such situations).
Although 23mm (35mm-equivalent) is not my favorite focal length, it's very versatile – and it has all the physical controls and a great viewfinder….

See full article on www.fujifilm-x-opinions.net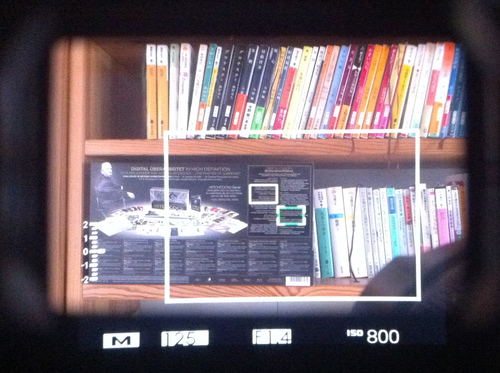 In this 4th part of my comparison, the Fujifilm X-E1 will not really take part, because I will cover the optical viewfinders (OVFs) – and the X-E1 simply doesn't have one.
The OVF on the X100 was one of the reasons I fell in love with that camera. So expected the same to happen on the X-Pro1. However, I was quite surprised to find that the X100′s viewfinder is actually quite a bit more comfortable to look through than the X-Pro1′s. I do not see a huge difference in the technical specifications, but from practical use, I find a noticeable difference. Of course the X100′s viewfinder is optimized only for one focal length, while the X-Pro1′s OVF has even an additional lens built in to cover both wideangle lenses and normal/tele lenses. So it's even more complex than the OVF in the X100.
The difficulty with all rangefinder-type viewfinders is that you don't exactly see what you get, since the OVF is on a different optical axis than the lens (parallax). The closer the subject is, the more pronounced the effect is. A longer focal length also makes it more difficult. I have illustrated this with some pictures taken through the viewfinder of the X-Pro1. I apologize for the bad quality, but I only had an iPhone 4 at hand. Nevertheless, I hope this helps to illustrate my comments.
See on www.fujifilm-x-opinions.net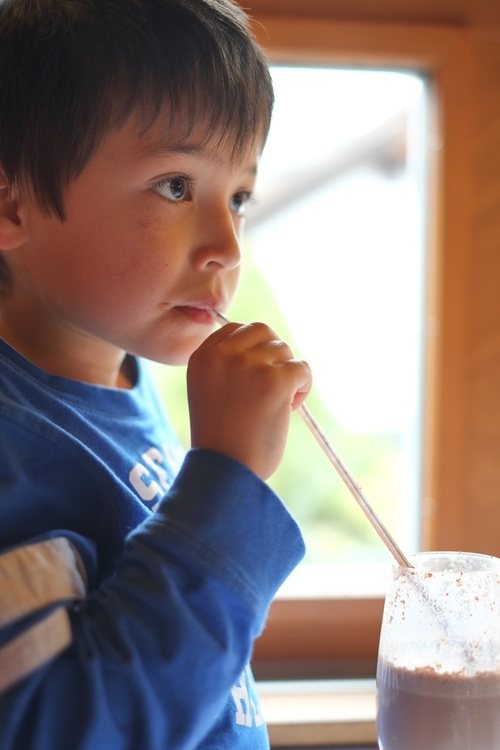 The EVFs on the X-Pro1 and the X100 seem to be the same. At least I cannot see a difference. The X100 is slightly easier to look into, but the difference is very small. Both viewfinders are quite nice featuring a 1,440,000-dots color LCD panel.
The X-E1′s EVF has a 2,360,000-dot OLED. So there are quite a few more dots. The difference in dots seems very large, but in the real world, I don't find the difference to be huge. The X-E1 does have an edge here, but it's not that much in my view.
The X-E1 is said to have the same EVF as the Sony Nex-7/-6. I used to own a Sony Nex-7, so I can compare a little. On the Nex-7, the EVF had a faster refresh rate (much better than on the X-E1), but on the other hand, the image becomes quite noisy in low light. The X-E1 seems much better here. I'd really love to have the refresh rate of the Nex-7 combined with the low noise of the X-E1……
See on www.fujifilm-x-opinions.net