comparison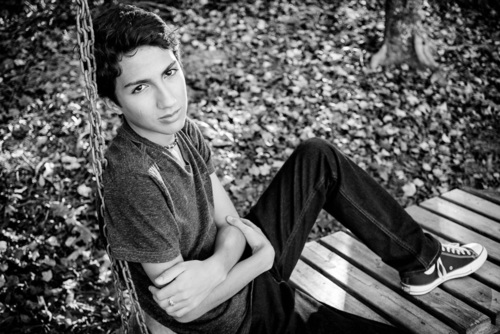 I recently had the Fuji 23mm F1.4 lens shipped to me. I pre-ordered it the day it was officially announced and it got to me last week. I have been shooting with it for a week or so but am not going to do any sort of image quality review at this time other than to say it is at least as good as all the other Fuji lenses. It is very similar in fit and finish to the 14mm.  I was more interested in writing about the debate that has gone on in my head since it was added to the roadmap. The thought was that when the 23mm f1.4 was released sales of the X100s would dry up. Why would you buy an X100s when you now have a fast 35mm equivalent offer for the X-Pro1 or X-E1?……
See on northfultonphotoblog.com
2013 is an exciting year for photographers. The race amongst camera makers continues. Competition is good, it accelerates innovation, keeps pricing somewhat sane and gives us plenty of choices. The last thing we need is a single company monopolizing the market. Without healthy competition, two of my favorite, most amazing cameras probably wouldn't exist, the Fuji X100s and the Ricoh GR. I love walking the streets of NYC, observing the flow of life, one of my favorite things to do when I am not on assignment. I find it relaxing and it keeps me alert at the same time. I am addicted to it. This addiction got a lot worse or better?  since I acquired the Fuji X100s and the Ricoh GR. I have been shooting with these two cameras since the day they were released. I love the X100s and the GR, like for many, these cameras have rekindled my enthusiasm for photography just like I remember it from the film days. Every time I reach for either the X100s or the GR I have a smile on my face, like a kid picking up one of his favorite toys. The X100s is a "positive camera" or a "people friendly camera", it doesn't scare the one being photographed…..
See on www.mikekobal.com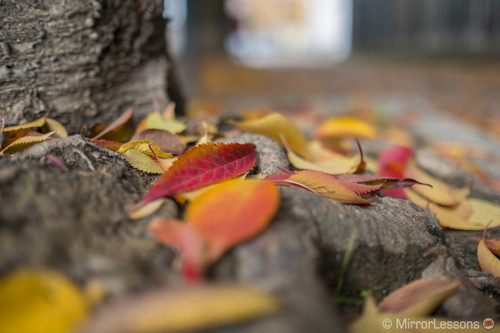 We photographers love fast apertures. We are like kids at Christmas, yearning to see just how blurry and 'bokehlicious' the background can get. And not that there's anything wrong with that, as a famous comedian once said. A fast aperture lens is always nice to use. And if it is a wide fast aperture lens, even better. I find these lenses way more fascinating than telephoto or portrait lenses because of the focal length factor. With a wide lens, the mix of vastitude and shallow depth of field gives more punch to your photographs and brings them closer to the much-desired full-frame look. Now that I've gone mirrorless, the only lens I really miss from my full-frame gear is the 24mm f/1.4 by Nikon, the best lens I've ever used. Though my time with it was brief (I sold much of my Nikon gear six months later), it was love at first sight. The Fujinon XF 23mm f/1.4 reminds me of it, even though it doesn't have the same equivalent focal length. Another case of love at first sight, perhaps? The very words 'fast aperture lens' generally imply a high quality build and premium glass. The new XF 23mm f/1.4 (35mm equivalent on full frame format) is no exception. From the first pictures I took with the X-Pro1, I suddenly recognised the same look I'd seen with the XF 35mm 1.4 which I used on several occasions when I reviewed the camera. Wonderful bokeh, great sharpness and overall excellent lens performance. Let's have a further look then, shall we? …..
See more pictures on www.bestmirrorlesscamerareviews.com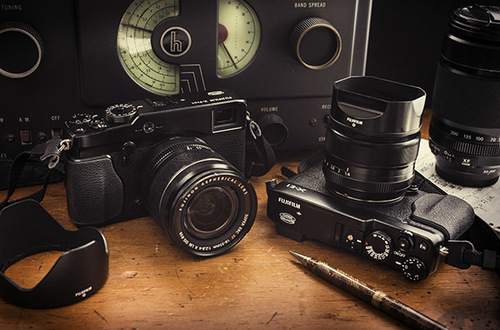 I have been using the Fuji X-Pro1 since it first came out, and have to say I am more than pleased with the the way this camera works, not to mention the excellent quality of its images. When if first came out, the X-Pro1 drew some criticism for is slow focus. In the interim, Fuji has remained faithful to the brand and has continually issued firmware updates that have improved the speed of auto-focus along with adding sophisticated focus peaking for improved manual focus. In addition to consistently introducing new lenses, both primes and zooms, to support this system, Fuji has also introduced new models that can also use the same set of accessories. While the X-Pro1 remains the more expensive flagship model, there are now three other models below it that use the same lenses. The bottom two models, the X-A1, and new X-M1 are specifically aimed at entry level users, but the X-E1,which is the model just below the X-Pro1 shares many of the features of its bigger brother but lacks its hybrid viewfinder. Because these cameras are essentially the same inside I am not going to present comparative images from them. The results would be the same. Instead, I will concentrate on the different features of each camera to see why someone would want one over the other. Of course another interesting consideration would be to own both….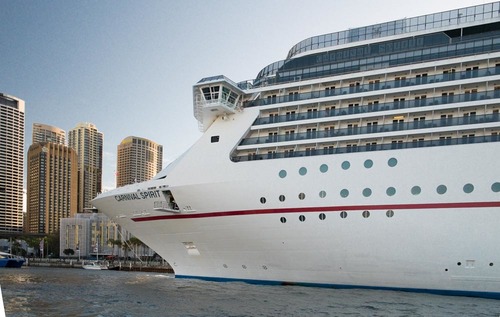 Is the Fuji X Pro1 the next Leica?  A recent trip to Australia with the camera and 18-55 lens left me very impressed, and makes me wonder.  It's the first time I have ever gotten consistently professional results from any camera this size that wasn't a Leica. At the same time, the X Pro1 delivered images under conditions where the Leica would not have worked at all, and it did so with far greater usability.  It makes me wonder what a rangefinder really is or should be. When it appeared the Leica was a revolutionary concept – a camera that could return quality images from a small indestructible package that would work anywhere, under any conditions. Leica became the Rolex of the camera world – a rugged professional tool that everyone wanted……
See on jerobison.blogspot.fr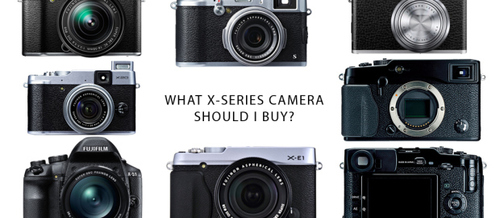 With so many great Fujifilm X-Series cameras available there has been some confusion about what the different X-Series cameras offer and which model would best suit your needs. I know personally I have had many photographers both amateur and professional ask me the same question, so I suppose this is a quick write up to tell you the basic differences between the X-Series range as well as defining their markets and strengths. So let me begin by starting from the top……
See on fstoplounge.com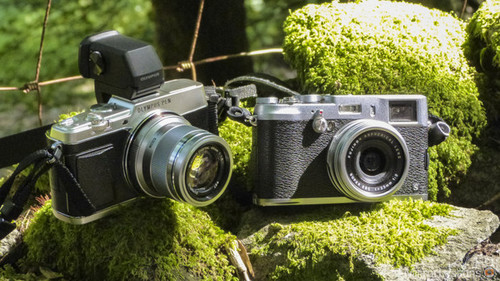 A few months ago, we pitted the then brand-new Fujifilm X100s against the OM-D E-M5, Olympus' Micro 4/3s flagship, to see which camera would emerge victorious. As it turned out, it was impossible to definitively say that one camera was better than the other as they have been designed for very different purposes. Though I risk giving away the punchline of this article in the very first paragraph, I'll blurt it out anyway: the same stands for the E-P5 and the X100s. The E-P5 is an MILC (mirrorless interchangeable lens camera) with a Micro Four Thirds sensor, and is very similar to the E-M5 in terms of specifications despite actually being the successor to the Pen E-P3. Thanks to its unique array of features, it can easily be considered a new reference for Olympus–that is, until the new OM-D E-M1 arrives later this year. The X100s, on the other hand, has a fixed 35mm lens and an APS-C X-Trans II sensor, and remains one of two Fujifilm flagships alongside the interchangeable X-Pro 1. Due to its interchangeable nature, the E-P5 can be used for a wide variety of genres whereas the X100s is intended mainly for street photography. The former is faster and has better stabilisation, whereas the latter produces more attractive film-like colours…..

Let me start off by saying that I'm a FujiFilm user, I'm good friends with FujiFilm and I've been using all their cameras and own a FujiFilm X-E1. However I also own a Leica R4 with some lenses and I love that camera for analogue, and am also connecting those lenses to my X-E1 and soon Sony A99. In my reviews I however always try to take a 100% neutral view on the products so I have to start by saying that there was NO preference what so ever to start with and the review is 100% my honest opinion. For some time now people have been asking me "which camera should I buy, should I buy the Leica or the FujiFilm", I always said "get the FujiFilm" for the simple reason you can buy 6-7 X-E1′s for the price of 1 Leica, and the same goes for the lenses, if your budget is unlimited that's another story of course, but most people have to keep within a budget and with the prices of the Fuji lenses compared to the Leica lenses… well let's say you can buy a nice collection of Fuji glass for the price of one Leica lens. But because I always want to be complete in my advise and I never shot with a digital Leica before I decided it was time to test the M9 during a small photo walk and compare the two, swap lenses etc. I only could use the Leica on one day due to the limited time I could borrow the camera, but I think when reading this you will get a good idea of what the differences are. I would love to use the system a while longer and with more lenses but for now this will have to do…..
See on www.frankdoorhof.com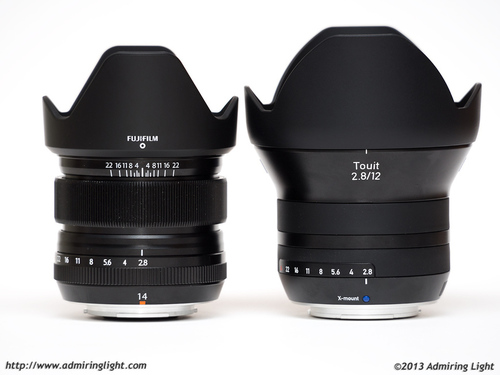 With the release of Zeiss lenses for Fuji and Sony's NEX, many owners of Fuji's X system have been wondering whether the new Zeiss Touit 12mm f/2.8 Distagon is worth the nearly $400 price premium over Fuji's already outstanding 14mm f/2.8.  I reviewed the 14mm f/2.8 last month, and I've found it to be one of the very best ultra-wide lenses for any system, and the very best ultra-wide I had used to date.  However, if there's one company that is known for outstanding wide-angle design, it's Zeiss.  Their 21mm f/2.8 for full frame cameras (originally for the Contax/Yashica mount, later re-released for Canon and Nikon) is widely considered the best wide-angle lens ever made.  Their recent 15mm f/2.8 is also extremely highly regarded.
I have the Touit 12mm in hand for a week for review.  In addition to that full review, I wanted to pit the Zeiss 12mm against Fuji's 14mm.  Obviously, if you have a preference in focal length, that will likely be more important than some of the optical differences here…if you really need the wider field of view offered by the Zeiss, then that should be your route.  I personally find, for a prime lens, the slightly longer focal length of the 14 is slightly more usable day-to-day, but when you need the width, you need the width….
See on admiringlight.com