Damien Lovegrove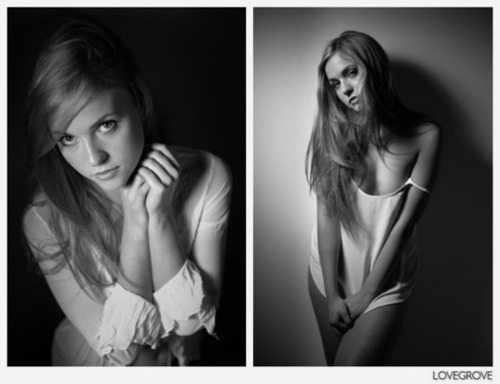 The X-E2 is the same size as the X100s, shares the same sensor, but has a lens mount enabling the use of the growing range of superb lenses made by Fuji and Zeiss. The X-E2 brings a whole host of new features to the ever expanding Fujifilm X system. Some of the features you will love and others you will rarely use. I mainly shoot portraits so I don't expect to be using WiFi or the video functions that much but it's good to know that they are there. I've had the Fujifilm X-E2 for just a couple of weeks but I've already studied the camera and the manual in detail to work out how I'm going to shoot with it. Here are three main ways I have established for shooting portraits with the Fujifilm X-E2 camera. I got caught out at times on the journey to making the camera work for me but where there is a will there is a way. Here are my three set-ups in detail…
See on www.prophotonut.com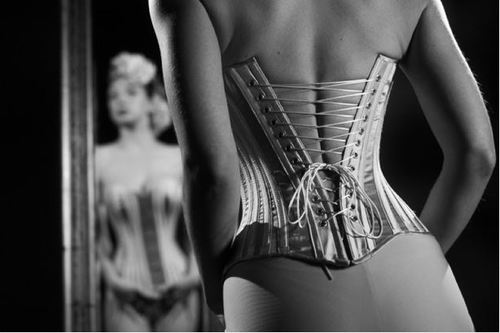 …. when I'm working with the Fujifilm X lenses wide open I use manual focus with the one touch focus lock. I adjust the position of the focus zone using the switches on the back of the camera. I use this system because the lenses are flat field design. That is, the edges of the frame focus at a further distance than the centre of the frame for any given lens focus position making the focus reframe method far less accurate. The great news is, that unlike a dSLR, the peripheral focus zones on the Fuji X cameras are very sensitive and completely useable. One problem though is I have yet to find a way of setting the focus area of the X-E2 to a smaller size. It remains a big rectangle. If you know how I can set a smaller focus zone when I'm using MF mode please leave me a comment. I have no problem with the X-Pro1 so I somehow think that this must be a system bug that will be corrected with a firmware upgrade soon. Fujifilm are very good at providing firmware upgrades on a regular basis……
See more pictures on www.prophotonut.com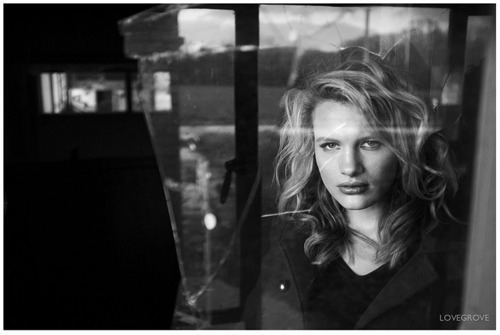 1. Out and About ~ This is my most common set up and uses aperture priority in conjunction with auto ISO. Here are my settings for that working method…

ISO set to 200 Auto on ~ max 3200 with a minimum shutter speed of 1/80th,
Shutter speed dial set to A,
Aperture dial set to f/2 (wide open),
Jpeg Fine + Raw,
Auto WB,
Monochrome with G filter,
AFS with the focus activated by a half press of the shutter button,
The central focus zone set with the smallest activation box
I use this configuration for location shooting using natural light or reflectors. I also use it when shooting interiors lit with continuous lights. I just pick up the camera, switch it on and start shooting. My only setting adjustment during the shooting process is exposure compensation via the very convenient dial……
See on www.prophotonut.com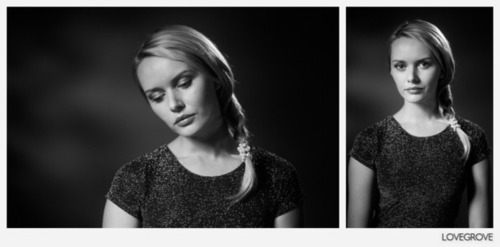 Earlier this week I ran three seminars of three hours each entitled from Concept To Print.  Many years ago, way back in the dying years of the last century, a photographer called Stu Williamson wrote a book with the same title and I borrowed it for this three hour workshop. My aim was to share the simplicity of  creating beautiful images using continuous lighting and a 6ft stretch of hotel wall. I used just one hard light for the bulk of my shooting demonstration and went onto a multi light set up as the session evolved. After the shoot I downloaded the images into Lightroom and tweaked them prior to printing on my aged and slow ink jet printer. Here are a few of the images I shot….
See more pictures on www.prophotonut.com
Here is a gallery of pictures taken by Damien Lovegrove with the fabulous Fujifilm XF 60mm f/2.4 macro prime lens. All the pictures were shot on the Fujifilm X-Pro1 camera……
See more pictures on www.lovegrovephotography.com
This is the last post from my recent trip to Asia. I managed to squeeze in a short 1:1 training session with one of my delegates before I headed off to the airport to fly back home. Here are a few of the gems we shot at a city centre park on the site of an old fort Soon I will be able to work this fabulous camera with just fast primes. The imminent 23mm lens is one I've been waiting for since day 1 and the 56mm f/1.2 due out in February will be immense.
Model: Gabrielle at Basic models Singapore
Make up and styling: Gabrielle
Camera: Fujifilm X-Pro1, 35mm f/1.4 prime lens and 18-55mm & 55-200mm zoom lenses
See on www.prophotonut.com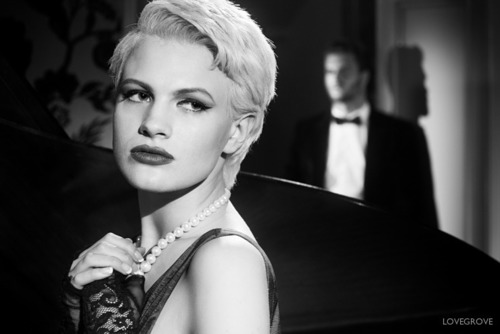 Here is the result of my summer project. My quest to revitalise the Hollywood look started exactly 5 years ago today back in 2008 with this very popular Prophotonut post. Now I'm glad to say that everyone is at it and the Hollywood look has finally been reborn. The look needs Fresnel lens lights for authenticity. But wow, what style! Five years ago LED Fresnel spotlights weren't even dreamed of. Now they have largely replaced the fairly recently developed HMI units from Lupolux and Hedler. LED is the future and it's here right now. Here are 40 of the many Hollywood portraits from my latest sets complete with their exif data, and lighting notes. Enjoy…
See more pictures on www.prophotonut.com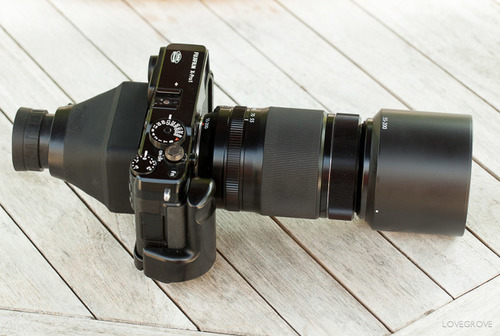 I was a little apprehensive when I ordered the new Fuji 55-200mm zoom lens. It's not a lens that was high on my list. I mainly shoot portraits and a bit of fashion so I was interested to see how it performs in the real world. Here are ten portraits all shot with the new zoom together with my thoughts on the pros and cons of such a lens…..
Do I love this lens?
Yes It's perfect in all but the darkest environments for portraits. With my 60mm f/2.4 lens I need to use 1/250th second to get a sharp shot. Gone are the days where we can use the reciprocal of the focal length to capture sharp shots hand held. With the circles of confusion getting ever smaller with reducing pixel sizes and the crop factor to consider image stabilisation is more important than ever before. I use a shutter speed of 2 (1/1.5F) for non stabilised lenses. This new zoom is just one stop down at the 60mm setting but will allow me to use 1/125th second setting to freeze subject movement so the low light capability for static portraits is about the same as the 60mm lens……
See more pictures on www.prophotonut.com

---
Fujifilm Fujinon XF55-200mm F3.5-4.8
Do you love my work and want to support me? If you're planning on buying camera gear, you can check out above-noted links. Prices remain the same for you, but a small percentage of your purchase value is valued back to me. Thank you!
---
The small island of Fuerteventura is just off the coast of Africa and while it was snowing in the UK we basked in 26º sunshine. This is just the second time I've shot with Carla so I arranged a recce and a practice shoot the day before the workshop. I had done a provisional recce of the island and a shoot with my mate and fellow tutor Martin Hill at the same time in 2012. So we knew it was going to be amazing. This recce with Carla was just to refresh my memory and check that everything was still okay. Together we mapped out our shoot locations, decided on the styling for each zone and planned the lighting set ups…..
See on www.prophotonut.com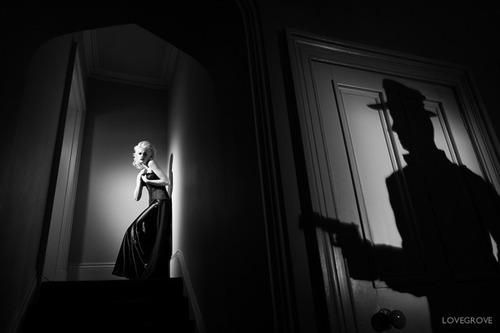 The pictures in this post were shot on my recent 'Film Noir' workshop in Northampton. I've been researching the genre for some 4 months and I was generally unimpressed by the lack of great reference images on Google. It was upon this discovery that I knew I was onto something. The Wikipedia entry for Film noir is "…a cinematic term used primarily to describe stylish Hollywood crime dramas, particularly those that emphasise cynical attitudes and sexual motivations." Hollywood's classical Film Noir period is generally regarded as extending from the early 1940s to the late 1950s however it often depicted scenes from just after the great depression of 1929 – 1933. I've been shooting with a classic Hollywood style since I completed my lighting director training at the BBC way back in 1992. But is has only been since 2008 that I've integrated this style of photography into my lighting and portraiture workshops. The vintage style has been the trigger for this resurgence of interest. I'm not a fan of vintage with Instagram looks or altered colours, however I do predict that pure monochrome Hollywood style portraits like those crafted by Studio Harcourt in Paris will be a future product genre to line the pockets of professional studio based photographers. I'm often asked what makes a portrait 'Hollywood' in style? My answer is the light sources and lighting in general. Vintage Hollywood also needs appropriate hair, make up and fashion styling to complete the look. There is a new genre opportunity that takes classic Hollywood lighting and fuses it with modern fashion styles like the exciting emerging SteamPunk movement. What makes this Hollywood lighting special is the use of traditional spotlights with fresnel lenses and barn doors. These luminaries produce crisp hard light that is controllable using a flood/ spot system and by shaping of the barn doors. That sums up pretty much everything you can't do with studio flash without expensive fresnel adaptors.
The great news with fresnel lensed lighting is it has come of age and is now more convenient and better value than ever before. Arri, 150, 300 and 650 fresnel spotlights cost less than Nikon or Canon Speedlights and even the powerful daylight balanced units from Lupolux are a comparable price, pound for Lumen. The Lupolux spotlights use HMI or LED sources, are cool running, can work off batteries or inverters and produce enough light to use sensible shutter speeds for hand held shooting. This innovation is exciting for stills photographers because we can tap into the kind of lighting that was the reserve of film crews with mega budgets. The numbers in the Lupolux range of lights refer to their equivalent power when compared to tungsten spotlights. All the Lupolux units emit a cool pure daylight balanced light of between 5200k and 5600k depending upon the light. The Lowel and the Arris are warm tungsten balanced lights of 2950k and 3100k respectively and are used primarily after dark when tungsten room lighting becomes the principal light source of the set.

Shoot essentials
Model/ actress: Chloe-Jasmine Whichello
Makeup and hair: Claudia Lucia Spoto
Styling: Chloe-Jasmine Whichello, Lisa Keating and Damien Lovegrove
Location: Pipwell Hall, Northamptonshire
Camera kit: Fujifilm X-Pro1 with 18-55mm OIS f/2.8-4 zoom and 35mm f/1.4 lenses.
Filters: Tiffen Black Pro Mist ¼ on all pictures.
Lights: Arri 150 and Arri 300 junior spotlights. A Lowel iD battery light with lithium power supply. Lupolux DayLED 650 and 1000 spotlights. Lupolux HMI 800 and 1200 Spotlights. …..
See more pictures on www.prophotonut.com