dpreview.com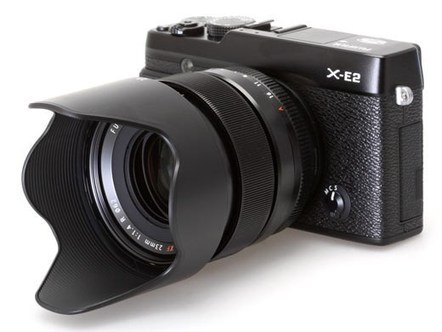 We've been shooting for a while with Fujifilm's latest X-system lens, the XF 23mm F1.4R, and have prepared a gallery of real-world samples. They cover variety of subjects and lighting conditions, and were all shot on the X-E2. We've also quickly summarised our impressions of the lens's handling and image quality below. The XF 23mm F1.4 R follows essentially the same design approach as the XF 14mm F2.8 R which we reviewed earlier this year. It's a solidly-made, metal-barrelled lens with a focus ring which can be pulled towards the camera to engage manual focus, revealing a distance and depth-of-field scale in the process. It also has an aperture ring with settings from F1.4 to F16 in one-third stops, plus an 'A' setting. Autofocus is pretty fast (especially on the X-E2), very quiet, and unerringly accurate……
See more pictures on www.dpreview.com
Picking our favorite gear from among the great many new products announced every year is usually pretty tough, but this year, for me the choice was easy. The Fujifilm X100S is without doubt my favorite product of 2013.
Fujfilm X100S – What I love:
16MP X-TRANS sensor gives excellent image quality – virtually noiseless JPEGs up to ISO 3200.
35mm (equivalent) F2 lens is sharp at all apertures and excellent for day-to-day photography.
Built-in Hybrid electronic / optical finder is luxurious and addictively useful.
Manual aperture, shutter and exposure compensation dials look classy, and are great to use.
On-sensor phase-detection AF means fast, accurate focus in most conditions.
Focus peaking and 'Digital Split Image' MF guides make manual focus easy.
Reviewing the Fujifilm X100S was a great lesson for me in what I should and shouldn't try to take on. At first it seemed entirely feasible – it's not like I haven't reviewed a camera before, and I know its predecessor the X100 very well, so yeah – sure. I'll review it. I'll have it done in a month. No big deal…..
See on www.dpreview.com
Given that the official Fuji hood for the 23mm is rather on the large (and conspicuous) side! I've been looking at replacing it with a more low-key lens hood – more in keeping with the retro styling of the camera. I've been testing a metal 62mm screw-fit hood today. This looks far more in keeping with the original design aesthetic, and simply screws in to the 62mm thread that the lens has available for filters/hoods etc. I've matched the hood depth to the hood depth of the shallowest section of the Fuji hood – so as to avoid any vignetting. Very happy with the results so far – no only does it look better (IMHO) but the IQ hasn't suffered in tests to date, and there's been zero vignetting……
See on www.dpreview.com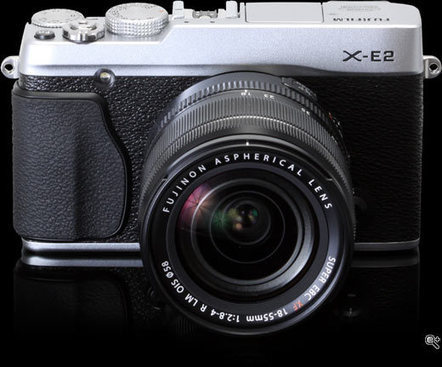 A little over a year ago Fujifilm announced the X-E1, the second body in its X system of mirrorless interchangeable lens cameras, designed as a more-affordable option for enthusiast photographers than the unashamedly high-end X-Pro1. We liked it a lot for its combination of 'old school' handling and excellent image quality, giving it our Gold award in our review, and since then the X-E1 has received a couple of substantial firmware updates that bring real improvements too. Now it's time for Fujifilm to to reveal its replacement – logically enough, called the X-E2.
The X-E2 is superficially very similar to the X-E1, with the same basic body design and control layout; at a quick glance it's almost impossible to tell them apart. It keeps the same top-plate layout, including analogue shutter speed and exposure compensation dials, and has the same 2.36M dot OLED electronic viewfinder. The rear of the camera is still covered in buttons in much the same places as the X-E1, but their functions have been rearranged. The headline updates are the sensor and processor: the X-E2 sports the same X-Trans CMOS II sensor as we first saw in the X100S, which includes on-chip phase detection elements for autofocus, and in concert with the EXR Processor II allows Fujifilm to claim the 'world's fastest autofocus' (although inevitably with caveats). There's also a much nicer rear screen: a 3″, 1.04M dot 3:2 aspect ratio unit, and a whole host of further tweaks and improvements. The net result is a camera that retains all the best bits of its predecessor, but has also been improved many respects…..
See on www.dpreview.com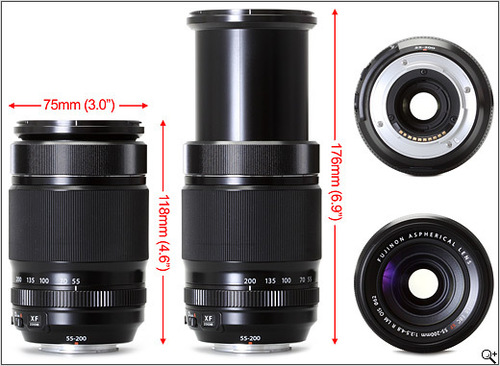 …..
Overall conclusion
The XF 55-200mm F3.5-4.8 R LM OIS is the first telephoto zoom in Fujifilm's X system, and is clearly designed to be paired with the XF 18-55mm F2.8-4 R LM OIS by X-E1 and X-Pro1 owners. It shares the same basic design philosophy and high standard of construction, with an all-metal barrel and (unmarked) aperture control ring. It's clear from the moment you pick the lens up that it's a very different proposition to a typical 55-200mm F4-5.6 SLR kit zoom. This impression continues while you shoot with the lens. Operationally it feels impressively refined, with essentially silent autofocus and image stabilization. It can take a little while to adapt to using a lens with control three rings, for zoom, aperture and focusing, but this is aided by their well-considered layout and feel. The zoom ring falls naturally to hand and is impressively smooth and well-damped; likewise the manual focus ring, which can be operated simply by reaching forward with your forefinger. The aperture ring has sufficiently positive click stops that you're unlikely to change it accidentally, but it can also be operated quickly by reaching back with your ring finger. Once you get used to it, this provides quick, fluid control. Autofocus is on a par with what we've come to expect from Fujifilm – it's pretty quick, and unlikely to upset anyone who's already shooting with the X system……
See on www.dpreview.com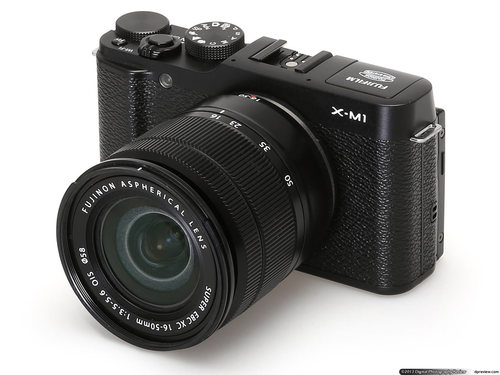 When Fujifilm introduced its X-system back in January 2012, it took the unusual step of starting out with a top-end professional model – the retro-looking but technologically innovative X-Pro1, which features the company's unique 'hybrid' optical/electronic viewfinder. Nine months later it followed this up with the enthusiast-orientated X-E1, which offers much the same feature set in a smaller body, but makes do with a purely electronic viewfinder. Now, nine months on again, comes the latest model: the distinctly mid-range-looking, miniaturized X-M1. On the face of it, the X-M1 is a very different camera to its higher-end siblings. Gone are the traditional shutter speed and exposure compensation dials from the top-plate, along with the aperture ring from the new XC 16-50mm F3.5-5.6 OIS kit zoom. Instead the camera uses a conventional exposure mode dial, along with twin electronic control dials on the top and rear to set exposure parameters. The X-M1 is also the first in the X system to feature a direct movie record button on the back of the camera to initiate recording at any time. In essence it's a thoroughly contemporary design….

Final Thoughts
The Fujifilm X-M1 is a stylish, well-built mirrorless camera that doesn't skimp on features and takes excellent photos. It takes everything that made the X-E1 such a great product and adds a tilting, higher resolution LCD and Wi-Fi, but that's at the expense of an electronic viewfinder. Still, most of the X-M1′s buyers will be stepping up from compact cameras, so the lack of an EVF won't be a huge issue. The best thing about the X-M1 is its top-notch photo quality. While the bundled 16-50mm lens produces good results, photos taken on Fuji's prime lenses – some of which cost as much as the camera itself – are truly stunning. Since noise isn't a problem until the highest sensitivities, you can shoot with confidence in low light. Whether you're making the leap into the mirrorless, or just want a second camera with great photo quality, then the Fujifilm X-M1 earns our highest recommendation.
See on www.dpreview.com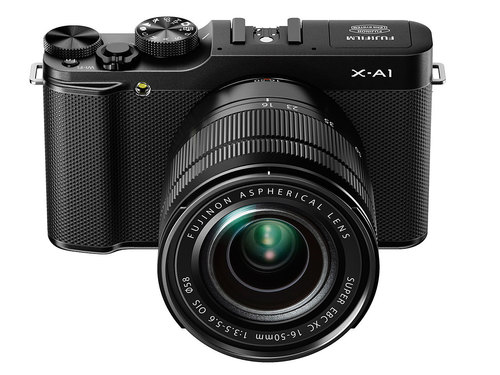 Fujifilm has announced the X-A1, its most basic X-mount mirrorless camera yet. The X-A1 shares a body with the X-M1 but is based around a 16MP sensor with a conventional, Bayer color filter array, rather than the X-Trans design that's been used elsewhere. Despite its lowly position in the lineup, the X-A1 retains the 920k-dot tilting rear screen and Wi-Fi offered by the X-M1, yet is being launched with an MSRP of $599 with the XC 16-50mm F3.5-5.6 OIS standard zoom – $200 cheaper than the X-M1 cost at its launch.The company has also announced the Fujinon XC 50-230mm F4.5-6.7 OIS lens, a relatively small, lightweight zoom for Fujifilm's mirrorless cameras, designed to complement smaller bodies like the X-M1 and X-A1. It features optical image stabilization for sharper handheld pictures, and uses a stepper motor for fast focusing. Like the XC 16-50mm F3.5-5.6 OIS, but unlike Fujifilm's more-expensive 'R' type lenses, it doesn't have an aperture ring – instead this is controlled from the camera body. This means that X-Pro1 and X-E1 owners will need to install the latest firmware to use the lens……
See on www.dpreview.com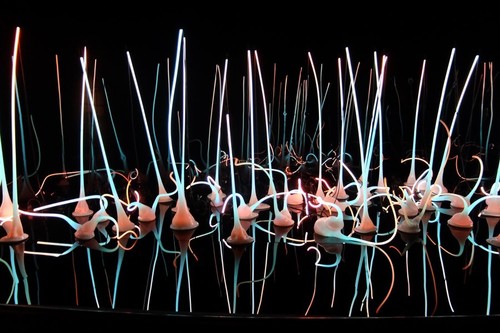 The X-M1 is the cheapest model in Fujifilm's X-mount lineup, yet it retains the same 16 megapixel X-Trans CMOS sensor as its more expensive siblings. We were impressed with the image quality from the X-Pro1 and X-E1. If you want to see how the X-M1 fared, click the link below to view our 37-shot real world photo gallery….
See more pictures on www.dpreview.com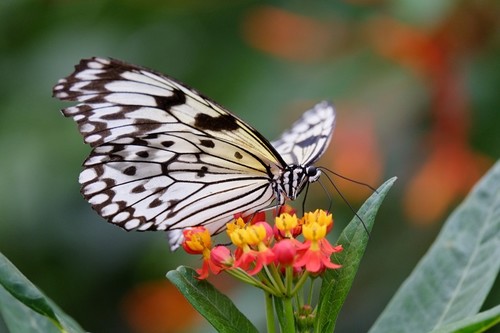 The Fujinon XF 55-200mm F3.5-4.8 R LM OIS is the first telephoto zoom for Fujifilm's X system cameras, and offers an 83-300mm equivalent angle of view. It has built-in optical image stabilization with 4.5 stops claimed benefit, and uses linear stepper motors for silent autofocus. The lens features an (unmarked) aperture control ring, and offers high quality all-metal barrel construction. We're working on expanding our previously-published content on this lens, but for now, click the links below to view our gallery of real-world samples taken in a range of different environments……
See more pictures on www.dpreview.com
….
Overall Conclusion
If you've read this far, you'll know that we're very impressed with the Fujifilm X100S, not only because of the improvements that Fujifilm has made to the basic design compared to the original X100, but also in terms of how well it compares against cameras like the Sony Cyber-shot RX1/R, the Nikon Coolpix A and Ricoh GR. Although Sigma and Leica had made earlier forays into this territory, the X100 really made an impact and it's arguable that there might not even be so many compact, large-sensor fixed-lens cameras were it not for its success. The X100S can at least hold its own against the new pretenders. As expected, the good stuff about the X100 is still good in the X100S. Its 35mm equivalent F2 lens is superb, its hybrid viewfinder is supremely useful when moving between different shooting situations and lighting conditions, and features like DR expansion and in-camera Raw conversion work very well indeed. The biggest hardware upgrade in the X100S is its 16MP X-Trans sensor. To be honest, we had very few complaints about the venerable 12MP CMOS used in the X100, and although the X100S produces cleaner (and of course slightly larger) images at high ISO settings, the main reason to get excited about the new sensor is its phase-detection AF pixels. In decent light, the X100S focuses very quickly, usually very accurately, and of course manual focus gets a boost too, thanks to the Digital Split Image focus guide, which uses those same phase-detection pixels. Overall, there's a lot to like about the X100S. The only unequivocally weak area of the camera's performance is in video mode. Although it captures better footage than the X100, the X100S's lack of image stabilization, tinny microphone and tendency to generate psychedelic moiré combine to create an awkward, unfinished impression, enhanced by the fact that you have to enter the drive mode menu to even capture video in the first place. To be honest though, we'd be very surprised if anyone out there is seriously considering an X100S to shoot video. Its design philosophy, feature set and ergonomics are all aimed squarely at still photography, and as a stills camera, within the strict (and obvious) limitations of its design it succeeds brilliantly…..
See on www.dpreview.com