dpreview.com
Conclusions
From these tests, one can conclude that the lag time, between firing the shutter and capturing the image, is variable according to what camera and lens is being used, the aperture selected, the focal length of the lens, the focus distance and any adjustments in focus. Whilst under test conditions it is possible to somewhat predict might happen at a given aperture, with a given lens, at a certain focal length and focus distance, the huge number of variations and combinations of these parameters made it impossible to come up with a general rule to allow one to predict the lag under normal shooting conditions. It is unclear what is happening to cause this extra delay after a focus adjustment, but the audible noise that can be heard from the lenses give some clue that there is some extra mechanical activity taking place before exposure at the time the lag is greatest. Whether or not this lag variation can be resolved for the affected lenses, in this case the 35mm, 56mm and 60mm, through a firmware update is not clear. The internal design may actually make it necessary to have such variable delays. However, it seems possible that there may in fact be some way to improve the performance, eliminating the extra delay, by not reacting to the focus adjustments, since these adjustments do not seem necessary in the 18mm and 18-55mm lenses…..
Source: www.dpreview.com
Fujifilm has announced two macro extension tubes for its X-series interchangeable lens cameras, the MCEX-11 and MCEX-16. Compatible with Fuji's XF and XC lenses, they offer full AE function and are designed to 'seamlessly blend into the original look and feel of the X-series'. The MCEX-11 and MCEX-16 will be available in mid-December for $99.95. Also making its debut is Fuji's PC Tethered Shooting Software HS-V5 for Windows v1.0. It provides two operation modes, Camera Mode and PC Mode for making exposure adjustments either on the camera or connected computer. Macro tubes and tethering software may appeal to a smaller portion of Fujifilm's X-series owners, but their introduction signals a continued commitment from Fujifilm to build a viable system for serious photographers. Fujifilm has also given a December 18 release date for X-T1 firmware promised at Photokina. The firmware v3.0 brings features such as 1/32000sec electronic shutter, 'Classic Chrome' film simulation mode and direct AF area selection to both original black and newer silver X-T1 models. The Fujifilm X-E2 also gets a December 18 firmware v3.0, adding Classic Chrome, interval timer shooting and WLAN remote control with use of the Camera Remote app. The Fujifilm X-E1 and X-Pro1 (also available December 18) are provided firmware updates adding AF+MF control for all X-mount lenses, and the X30's update (available now) improves the autofocus lock function……
Source: www.dpreview.com
The new stable version of Rawtherapee has just been released, you can download Windows and OSX 10.7 builds on the official website (http://rawtherapee.com/downloads). As new features are added or bugs are corrected (like bad pixel filter fix for xtrans), I'll make newer Windows builds that I'll share on my Google drive (link nelow). Please note that I'm not a developer, nor a member of the Rawtherapee team, I'm just a contributor and builder for Windows system……
New features since 4.1
RawTherapee-4.2 includes many speed, precision, stability and memory usage optimizations. As such, users of 32-bit operating systems may now find that they can enjoy more stability while using the most memory intensive tools. Of course users of 64-bit systems benefit from this as well. Refer to the full changelog for more information.
Powerful color toning tool.
Curve control of luminance noise reduction.
Median filter in the noise reduction tool.
Film simulation tool using Hald CLUT pattern files.
Command-line option to define bit depth of output TIFF/PNG file.
Multiple improvements to dead/hot pixel handling, see RawPedia.
Filename of currently opened image shown in the titlebar.
Clip control for the flat-field correction tool.
Demosaic method "Mono" for monochrome cameras, and "None" for no demosaicing.
Copy/paste processing profile keyboard shortcuts for right-handed users using Ctrl/Shift-Insert.
Update to dcraw 9.22 1.467
New or improved support for:

Canon EOS 7D
Canon EOS 7D Mark II
Canon PowerShot G7 X
Canon PowerShot SX60 HS
Fujifilm cameras using the X-Trans sensor
Fujifilm X30……
Source: www.dpreview.com
The Fujifilm FinePix X100 was a milestone camera in the industry as one of the first large sensor, prime lens cameras to achieve widespread popularity. Its classic look, obviously cribbed from a certain German camera maker, were justified by the excellent image quality its 35mm equivalent f/2 lens could produce. It was also a rare example of a camera its maker continued to develop, long after it hit the market. An original X100 running the latest firmware is a much better camera than the one that Fujifilm originally launched. Impressively, this work continued even after the second-generation, Fujifilm X100S had been launched. Fujifilm has continued this process of improvement, fine-tuning and evolution to create the X100T. From the outside it looks very much like the original model but it's packed with a host of changes, modifications and additions that promise to make it still better than what's gone before. There's a Japanese approach to continuous improvement often refered to as 'kaizen,' and it's hard not to see its application in Fujifilm's approach to its X series cameras. So, at its heart, the X100T shares its core features: the 16 megapixel CMOS sensor with X-Trans color filter array and excellent 23mm f/2 lens with its predecessor, the X100S. But almost everything beyond that has been reworked, re-assessed or refined…….
Source: www.dpreview.com
Here's the second set of images that I shot with my X100s while in Paris. The first set of images were shot in Italy which can be seen in this post: http://www.dpreview.com/forums/post/54391556 Thanks for looking…..
Source: www.dpreview.com
FUJIFILM Corporation (President: Shigehiro Nakajima) is pleased to release an updated road map for X mount interchangeable lenses.
A large-diameter medium telephoto lens (the XF90mmF2.0R) features for the first time on the development road map for first half 2015. The next available lens will be the XF50-140mm F2.8 R OIS WR. Following on from the XF18-135mm lens, this will be Fujifilm's second weather resistant lens designed to partner its X-T1 camera. Other updates to the road map include the previously announced "Ultra-wide angle lens" being confirmed as the "XF16mmF1.4 R" with a guide launch date of mid 2015. And the planned launch of the XF16-55mmF2.8 WR lens moving to Spring 2015 and the Super Tele-Photo Zoom lens to Winter 2015. Highly regarded for their outstanding image quality, resolution and well-built bodies, the unique X mount lens range now includes super-wide angle to super-telephoto range lenses and a large-diameter lens with rich bokeh and high resolution…….
Source: www.dpreview.com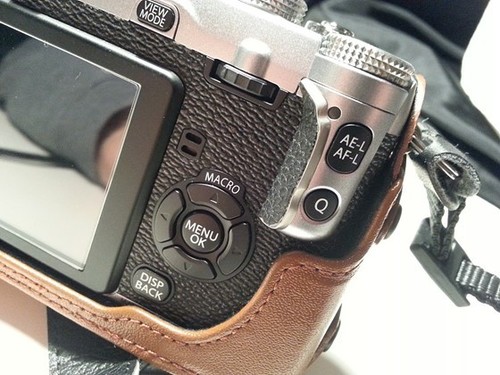 Just want to share my version of a thumbrest for my X-E1: Modelled from wax directly on the camera surface. Casted in CoCroMo (Prosthetics-steel) and finally Glasspearl-blasted. Glued some "leather" from an old Minolta X-300 on it and mounted it via 2-comoponent glue to the Fuji. I did not like the hot-shoe-mounted rests……..
See on www.dpreview.com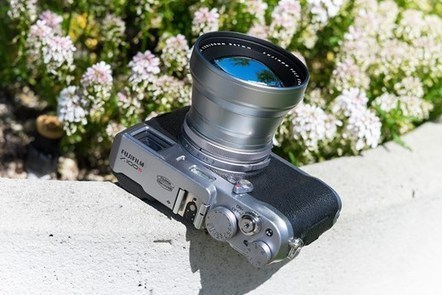 I've been an X100 and X100S user for about three years now. There are many things that I appreciate about both cameras, but chiefly what keeps me coming back to them is their relatively small size, almost silent shutter and excellent, very sharp 35mm equivalent prime lens. I've played around with the WCL-X100 screw-in wide converter, which provides a 28mm (equivalent) field of view and while I've always been impressed by the minimal quality degradation, 28mm isn't useful enough to me that I attach it very often. The design philosophy and operation of the TCL-X100 is exactly the same as the older WCL-X100, but rather than taking the effective focal length down, it increases it from 35mm to 50mm equivalent. This might seem like a relatively modest increase, but the difference between 35mm and 50mm is pretty significant for the sort of photos that the X100 and X100S do best – candid portraiture and street-type shooting. Like the older WCL-X100 the TCL-X100 is attached by screwing it onto the front of the camera's lens, and in-camera geometric corrections are activated using a menu option. With the menu option activated, a small yellow symbol is also displayed in the viewfinder to remind you that the corrections are being applied but there is no electronic connection between the camera and TLC-X100 (so you'll need to remember to activate / deactivate the menu option when you attach or detach the lens)……..
See on www.dpreview.com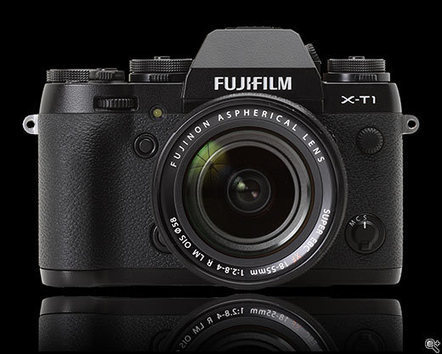 I reported my light leak to Fuji AUS 4 working days ago. They immediately responded and asked for detailed info on how I was encountering the issue. I responded same day. Start of day 4 and I received this response from Fuji:
Thank you for your detailed reply, it is clear your use of the camera is adversely affected. Since Friday we have learnt more of this phenomenon. We have been advised that while very few X-T1 bodies would display this, any X-T1 that needs this resolved can be serviced. To provide this service for your camera, you may send your X-T1 to the following address for a 48 hour response (business days). – Fujifilm Camera Repairs ……


See on www.dpreview.com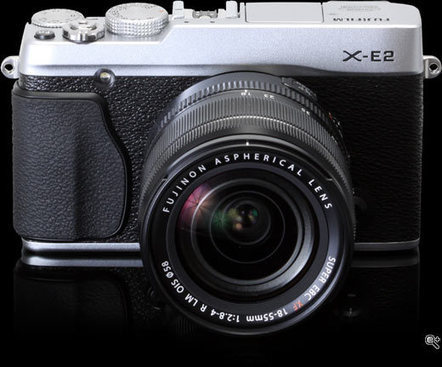 Conclusion:

The X-E2 is an interesting camera – its shape and reliance on more traditional, dedicated external controls means it probably isn't going to make a big dent in sales of mid-range Canon and Nikons. There may not be a huge theoretical difference between a dedicated aperture ring or shutter speed dial and a modern DSLR's control dials, but the practical difference is two-fold. Firstly, it risks intimidating the casual shooter who wants better shots without necessarily wanting to learn photography. But, for those people who have learned or want to, it can help engender a real sense of connection between the operator's actions and the outcome. For those people who 'get' what the X-E2 is about, though, it's a top-notch photographic tool – engaging, responsive and regularly delivering excellent images. It's small enough to be portable and has the classic looks (and, increasingly, the lens range), to satisfy keen photographers. Its price puts it squarely into competition with the D7100/EOS 70D/K-3 class of DSLRs, but we think the smaller size, dedicated lens range and retro charm mean the X-E2 offers plenty those cameras can't. The excellent F2.8-4.0 kit zoom should be another plus in the 'X-E2′ column, for many, as optically it's a cut above the lenses supplied with most SLRs. There are many things the X-E2 isn't, a movie camera being foremost amongst them, but it excels at its core purpose of being a purist photographers' camera……
See on www.dpreview.com