First Impressions
I had a great day on Monday. I visited a photography show here in the UK and came out with what I had hoped; a Fuji X-T1 and a play with the forthcoming 10-24mm lens. Firstly, the X-T1. I had a quick play at the Fuji stand and if I'm honest, I wasn't so sure about it at first. However, after a few minutes, I was already starting to get into it. I noticed the directional buttons aren't quite as easy to find as on the X-Pro1 without actively looking for them. Also, compared to the X-Pro1, it's a button-fest. The X-T1 has lots, and lots of buttons. Where I thought it might replace my X-Pro1, I'm now planning to run them side by side for a while and possible for good. I have a Leica and I adore it. It has a very simple layout and produces great images. The X-Pro1 has very similar ethics. However the X-T1 is an out-and-out miniature DSLR in my opinion, and this is a great thing. It will suit my event photography extremely well, whereas the X-Pro1 struggles to keep up. Other benefits include…….
See on www.getdpi.com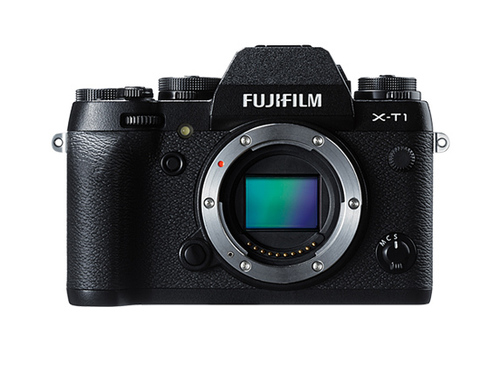 Got to play with X-T1 at the local Fujifilm store, together with Zeiss 12mm, Fuji 14mm, 23mm, 27mm, 35mm, 56mm 1.2 and 55-200mm lenses.  Coming from X-E2 and have used XPro1/X-E1/X100, here are my impressions:

The EVF is not as lag free as everyone was saying here.  It feels about the same as X-E2.  Blurring still occurs when I pan the camera horizontally. The blurring is more noticeable with wide angles lenses and less with telephoto.
The EVF sure looks big and the uncluttered display is nice (Fuji should have done this since day one).
The handgrip design is very nice.  It feels solid and secure.  I'm using the Fuji grip with X-E2 and I'm pretty sure I can skip the additional handgrip with this one.
The EV compensation dial is not as stiff as someone was reporting here, about the same as X-E2 and I have no problem changing it with just my thumb.
The 4-way controller is sure hard to press.  The buttons are sloped/recessed towards the center which makes them harder to press compared to having flat buttons.
The shutter dial detents do not feel quite as positively as X-E2, it has a bit of a mushy feel.  Same with the dials for changing metering and drive mode.
The tilting LCD has a solid feel.
8fps is fast and I can keep shooting without any slow down.  With X-E2, high speed shooting slows down after a second or two.
During the high speed shooting mode, there is no live view between frames.  All I saw were 8 frames presented within the second.  This is the same as X-E2.
AF seems about as fast as X-E2.  It could be a little bit faster (hard to tell), as the X-T1 seems to drive the AF motor faster.
Shutter sound is quiet, which is the same as X-E2….
See on www.dpreview.com
Best parts of the new X-T1
The EVF. You have to see it to believe it.
Focus is the fastest of any X camera I've worked with.
Dedicated ISO dial. It's not just a retro design. It's a fantastic addition.
The front function button. I have mine set up to select AF points.
Weather sealing.
Built in intervalometer.
Wifi tethering and camera control to an iOS device is great. (Android available as well)

Worst parts of the new X-T1
We've lost the threaded cable release on the shutter button.
The USB port is not standard thus the off brand electronic shutter release I used on the X-E1 can't be used.
I wish the 4 buttons on the d-pad in the back were larger or more pronounced. I'd like them to be identical to the ones on the X-Pro1.
I know I could show a few shots of Carl and some kitschy crap from the thrift store but I'm just not interested in doing that. I want to put this camera through real world use. I have shot it on one job but I can't release those images yet. I really can't wait to take this to Cuba when I head down there with Santa Fe Workshops in April. (By the way, if you are interested in joining me in Cuba you need to sign up sooner rather than later so the paperwork is in order.) First impression? The X-T1 is the new king of the hill for the Fuji X lineup. Well done Fuji. Well done. I still want my X-Pro2 though so don't forget about that!

See on zackarias.com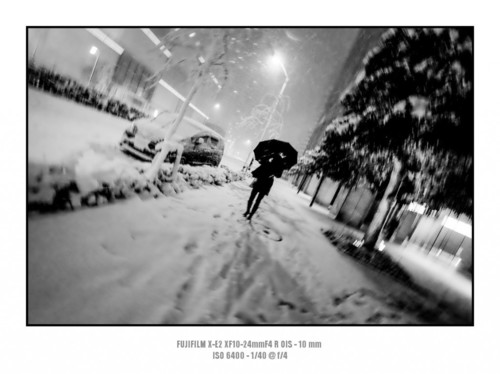 When I was in Japan, I had the opportunity to have a couple of hours with a prototype of the new Fujinon XF10-24mmF4 R OIS lens. I don't shoot a lot with wide angle lenses, so I'm definitely not an expert. But I'll share my first impressions with you anyway. It wasn't a surprise but the 10-24 is a pretty big and heavy lens (if you compare it to the other X-lenses that is). However in practical use, it wasn't an issue at all. As we've come to expect the lens is really well made and has a nice quality no-nonsense feel to it. I really love the fact that it has internal zooming, meaning that it doesn't extend when zooming in (like the 18-55 and 55-200). The constant F/4 aperture is also nice…….

See on bertstephani.com
After less than 48 hours with Fujifilm New Zealand's pre-production X-T1 DSLR, I am excited and, given the emails and phone calls I have been receiving, I have decided to put up a super-first look. I have it for another few days, until Fuji send the Big Guy to break my fingers and take it back. Rather than do a full review which I am beginning to write for f11 magazine, to be published in the March issue, I thought I would share five things I love as a photographer.  After all, we buy cameras to help us express ourselves photographically (well, most of us do), and having a tool we can attune to is part of the joy and an important part of our process. So, in no particular order………
See on www.thistonybridge.com
I surprised myself with a Fuji X100s before christmas. Like probably many of you I was thinking long enough whether to get the camera or a 23mm f1.4 lens for my X-Pro, it wasn't an easy decision, but I'm happy with the outcome. My wife reaction was 'Oh, an other camera again, but it's cute…' Probably my first digital camera where she showed some interest and wanted to give it a try too. Here is one of the photos she took of me.But I don't want you to get bored(or scared) while watching images of me, so that's enough. The following shots are the result of the first couple of weeks with the camera which pretty much became my go to camera during this period…….
See more pictures on gaborimages.blogspot.de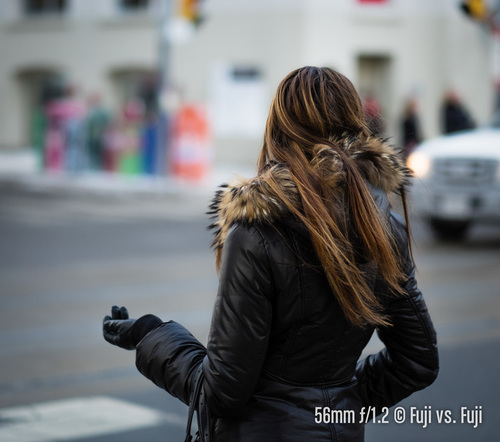 If you've visited this site before, you might already know that this lens is part of my "Ultimate Prime Kit," which consists of the 14mm ƒ/2.8, the 23mm ƒ/1.4, and the 56mm ƒ/1.2. These lenses all have excellent handling traits with one potential exception being the 14mm ƒ/2.8. Some people were finding the aperture ring a little loose on the 14mm. In fact, the first one I got was a little loose. Fortunately, I was able to exchange for one that is nice and tight. From my sample size of three 23mm ƒ/1.4's, there have been no issues with aperture rings and happily, even the pre-production unit of the 56mm ƒ/1.2 has an excellent aperture ring. The way it gracefully slides into automatic aperture mode is just like my 23mm ƒ/1.4. Though I don't think you'll want to use this lens like that too often. Switching between apertures has just the right amount give. I don't find it moves out of my chosen aperture too easily. The focus ring on the 56mm ƒ/1.2 is a different story. It might be my favourite focus ring of any lens I've ever used. Ever. This includes a bunch of Nikon AIS lenses which are regarded by many as the gold standard of focus ring dampening. The 56mm ƒ/1.2 has a gloriously "heavy" feel and weight to the ring. It's yearning for you to flick the switch to MF……
See more pictures on www.fujivsfuji.com
The Fuji X-T1 is the latest compact system camera release from Fujifilm and while the specifications are similar to the recent X-E2 the design of the cameras body, increase speed and weather resistance make this latest X-Series release and interesting option for both high end enthusiasts and professionals. Here Angela Nicholson takes a look at what the Fuji X-T1 has to offer……
See on www.youtube.com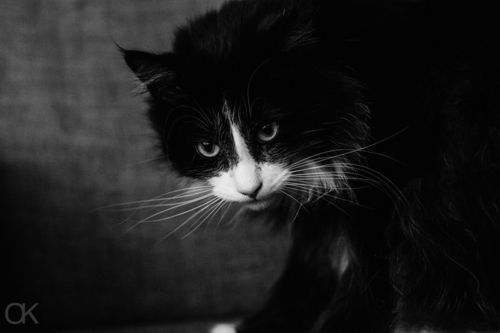 I will keep this article short and sweet. For one simple reason, to me, this lens is perfect. I've only had it for a few hours and already, I have fallen in love. Like many others, I have been waiting for an 85mm equivalent on Fuji's X System and just couldn't wait to get my hands on this highly anticipated XF 56mm f/1.2 lens. What Fuji delivered however, is beyond what I could have asked for. I am in awe of this lens and I urge everyone to go out and try it when it's available. From Street and Weddings to Visual Essays, and everything in between, I truly believe that everyone will get fantastic results from this lens. If you haven't already, you need to see Patrick Laroque's work with this lens. Truly exceptional. I leave you with just a few samples shots for now… Plenty more to come….
See on www.kammah.ca