First Impressions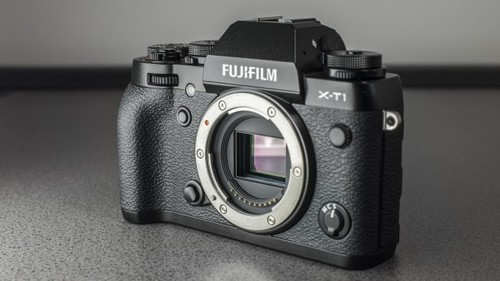 Early verdict
Although it's compact system camera and therefore has an electronic viewfinder, the Fuji X-T1 looks every bit as old-school as the Nikon Df. Fuji also has a little more experience of integrating such controls into a digital system than Nikon. First impressions after using a pre-production sample of the Fuji X-T1 indicate that it's a little slicker in this respect than its considerably more expensive full-frame competition. The new, larger, faster viewfinder on the X-T1 gives a very nice clear view and it looks very promising for use with moving subjects and developing action. The ability to see an enlarged section to one side of the whole scene could be very popular with manual focus fans – especially given that there's Fuji's Focus Peak Highlight and Digital Split Image view available. Some photographers are still uncertain about moving to an electronic viewfinder, but they are improving all the time and the X-T1′s looks excellent. As well as allowing an enlarged view for manual focusing, EVFs have the benefit of showing the image as it will be captured with all camera settings taken into account. I'm looking forward to giving it a thorough test to see if it really can take the place of an optical viewfinder. Some may be a little surprised that Fuji has effectively brought out two variants of the X-E2. The X-E2 with the rangefinder form and the X-T1 with an SLR-like shape and greater provision of control dials. However, the X-T1 is likely to have greater appeal for photographers that are more familiar with using SLRs and those who want plenty of direct control……
See on www.ecoustics.com
Conclusion
The elephant in the room is that it's not full-frame. At this point, one has to wonder if Fujifilm ever intends on making a full-frame sensor. Personally, I'd speculate that given the X-T1 obvious advantages and similarities to the X-Pro1 (OVF aside), that the only way they make an X-Pro2 — that would be expected to sell, that is — is if it's full-frame… which is impossible to do with the current X mount. My bet — pure speculation — is that we see a full frame X200 35mm f/2.8 first, but no X-Mount full-frame for at least 4-5 years, with a slew of new lenses, the most desirable of which we'll need to wait 2 years before getting our mitts on…  **cough cough** 56mm. Am I excited for the X-T1? Yes. Very. The advancements in the viewfinder's user interface alone have me more than excited. Besides, this camera just looks good — and I know that's a hipster point of view, but find me someone who uses a camera they don't on some level enjoy the aesthetics of? You can't. Do you think Leicas would be anywhere near as popular if they were shaped like an old shoe and painted neon green?……
See on petapixel.com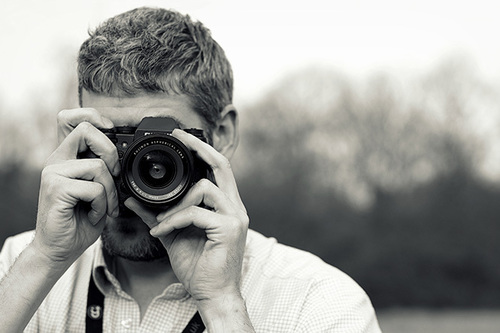 Sometimes I love my job…
About two weeks ago a special package arrived from head office in Japan. The special package contained a bunch of pre-production X-T1 cameras and was duly raided by the team. Being part of the initial raiding party, I managed to bag one to play with – I mean, thoroughly test – for a few days. This post will take you through my first thoughts as I got to grips with this lovely new camera.As it's a pre-production camera, it's hard to judge the image quality itself so that's not really covered here. What is covered is how it feels to use it, and my opinion on the new features that are unique to the X-T1 compared to the other cameras in the X series range. I'd seen plenty of pictures of the camera before this point, and even a mock-up "real" camera a few months ago, but I was still surprised with how small it was. Even so, my hands fit the grip very well and I felt that all of the controls were laid out in easy to reach places from my fingers with minimal hand readjustment. The grip makes it very comfortable to hold with one hand and being a "lefty" with my eye, having the EVF in the middle rather than on the left makes it feel a bit more comfortable to shoot. Personally I could live without the ISO dial because I change it fairly infrequently anyway, but no harm in it being there, however moving the "Drive" menu onto a dial at the top is pretty cool and useful for switching between normal and continuous shooting. I think it'll take a few more hours of shooting to unlearn my muscle memory that using an X100S for the last few months has given me but obviously the crucial things are still in the right place……..
See more pictures and features on fujifilmblog.wordpress.com
Although it's compact system camera and therefore has an electronic viewfinder, the Fuji X-T1 looks every bit as old-school as the Nikon Df. Fuji also has a little more experience of integrating such controls into a digital system than Nikon. First impressions after using a pre-production sample of the Fuji X-T1 indicate that it's a little slicker in this respect than its considerably more expensive full-frame competition. The new, larger, faster viewfinder on the X-T1 gives a very nice clear view and it looks very promising for use with moving subjects and developing action. The ability to see an enlarged section to one side of the whole scene could be very popular with manual focus fans – especially given that there's Fuji's Focus Peak Highlight and Digital Split Image view available. Some photographers are still uncertain about moving to an electronic viewfinder, but they are improving all the time and the X-T1′s looks excellent. As well as allowing an enlarged view for manual focusing, EVFs have the benefit of showing the image as it will be captured with all camera settings taken into account. I'm looking forward to giving it a thorough test to see if it really can take the place of an optical viewfinder. Some may be a little surprised that Fuji has effectively brought out two variants of the X-E2. The X-E2 with the rangefinder form and the X-T1 with an SLR-like shape and greater provision of control dials. However, the X-T1 is likely to have greater appeal for photographers that are more familiar with using SLRs and those who want plenty of direct control. These users are unlikely to be put off by the lack of a touchscreen and the X-T1′s dials give them very quick way of checking and adjusting the exposure settings – especially when a lens with an aperture ring is mounted………
See on www.techradar.com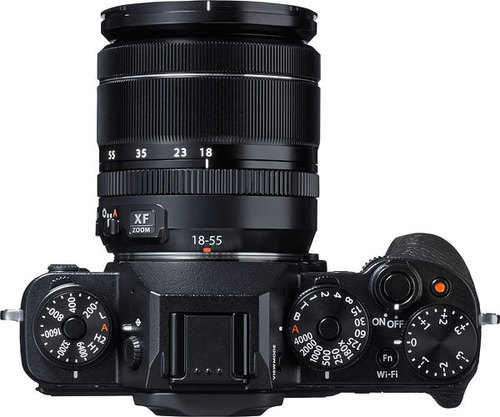 If you've been holding off on buying a Fujifilm X-series mirrorless camera because you weren't a fan of the rangefinder-like form factor, it may be time to reevaluate your decision. The 16.3-megapixel Fuji X-T1 compact system camera takes the X-series in a brand-new direction, ergonomically speaking, and it's aimed at SLR shooters who've so far not made the jump to mirrorless. Until now, whether they've been based around a hybrid viewfinder, an electronic viewfinder, or no viewfinder at all, Fuji's X-series cameras have all shared a fairly similar, street shooter-friendly form factor and ergonomics. The Fuji T1 takes a different tack, aiming to bring SLR fans into the mirrorless fold with styling that makes them feel more at home — right down to the pentaprism-esque hump on the top deck. Look inside the X-T1, though, and you won't find a pentaprism. This is a mirrorless camera through and through; your framing will be done either on the LCD monitor, or on the built-in electronic viewfinder. And oh, what an EVF it is! …..
See on www.imaging-resource.com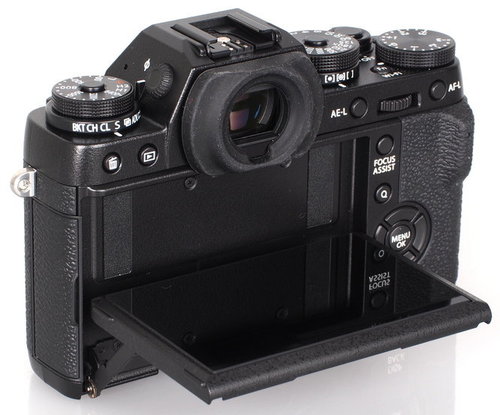 The Fujifilm X-T1 is said to have improved AF performance and operation speed – Fujifilm are claiming the World's fastest with 0.08s focus. The camera promises a 0.5 second startup time, 0.05s shutter response, and 0.5 second shooting interval. In addition it offers 8fps continuous shooting with AF, and has phase-detection focus built in to the sensor. The X-T1 is the first digital camera compatible with SDXC UHS-II format memory cards which promises write times twice as fast as existing models. There is an optional vertical battery grip (VG-XT1), which is also weather sealed that has been designed for the correct balance when attaching telephoto and large diameter lenses. The battery grip includes a shutter release button, twin command dials, AE-L, AF-L and focus assist buttons. Another accessory is the assist grip (MHG-XT) that lets you replace the battery and memory card when using a tripod. A new XF 18-135mm WR zoom lens will be introduced and is also weather sealed. The camera features five mechanical dials on the top-plate, aluminium dials on the top for shutter speed, exposure compensation, ISO, metering and drive modes. Four customisable function buttons are available as well as two command-dials. An updated "Fujifilm Camera Remote" Wi-Fi app allows users to remotely shoot images from smartphones and tablets, including touch AF, shutter release, shutter speed, aperture, exposure compensation, ISO, Film simulation modes, timer and flash……
See on www.ephotozine.com
After holding my breath for a week, finally I am able to speak out loud ! X-T1 is the new FujiFilm flagship model pitting against the most popular available DSLR styled mirrorless camera system such as the Olympus E-M1 and the Sony A7/R. How does it perform? Pretty darn good, from initial handling. Focusing hesitate lesser and seems improved on accuracy as well, still the same Fuji colors and black and white, really can't tell at this point of time as I was told my is a pre production set. Hardware wise , the EVF is really impressive ! Huge and clear with dual screen manual focusing with peaking !( And now in select-able colors, blue, red, white) After a few days of use I am clearly getting more excited on this camera, however the X-T1 I am holding on to is still a pre production set. So take the following sample pictures as a pinch of salt, but no harm to share a few JPEG OOC from the camera for fellow Fujifilm lovers ! Enjoy and more pictures will be available soon. X-T1 with 56mm f1.2 and 10-24mm F4. Going out for more pictures now! Full resolution pictures at http://pictorial.smugmug.com/SamplePictures/FujiFilm-XT1-Gallery/ ……
See on www.keithlowphoto.com
First Impression
With the addition of possibly the most impressive electronic viewfinder I've ever seen on a digital camera, fast AF, weather sealing and intuitively placed manual controls, it's hard to be anything other than positive about the new Fujifilm X-T1. Traditional design and handling will make this a very attractive camera to anyone who appreciates the manual control of a film camera, it almost feels like the camera the Nikon Df should have been. Its sturdy but compact build also makes it a great prospect for travel and street photography. Joining the X-E2 and the X-Pro1, the X-T1 fills a gap in Fuji's already strong line-up, and rather than replacing either of its existing cameras, it's a decent potential option as a second body, even if you already own a DSLR. If it delivers what it promises in speed, build and image quality, the Fujifilm X-T1 will warrant serious interest from enthusiast and pro-photographers alike who are looking for a high-quality all-weather CSC…..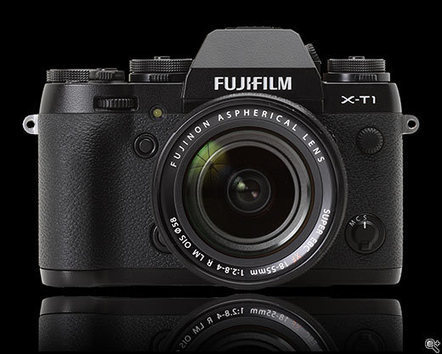 After starting at the top-end with its X-Pro1, Fujifilm has been steadily expanding its X-series mirrorless camera to appeal to a broader audience. With its X-T1, Fujifilm has moved back toward high-end, offering a fully-loaded mirrorless camera in a weather-resistant, SLR-style body. There's plenty more where that came from – the X-T1 has one of the largest EVFs we've ever seen, numerous manual control dials and, for the first time on an X-series camera, an optional battery grip. The 'guts' of the X-T1 are very much like those found on the recently announced X-E2. This includes the 16 megapixel X-Trans CMOS II sensor (with on-chip phase detection), EXR Processor II, built-in Wi-Fi, and full HD video recording. The main differences between the X-T1 and X-E2 are the LCD (tilting vs fixed) and EVF (in terms of magnification), the maximum burst rate (8 vs 7 fps), a flash sync port and, of course, the design. But more on that later…….
See on www.dpreview.com