Fuji X-Pro1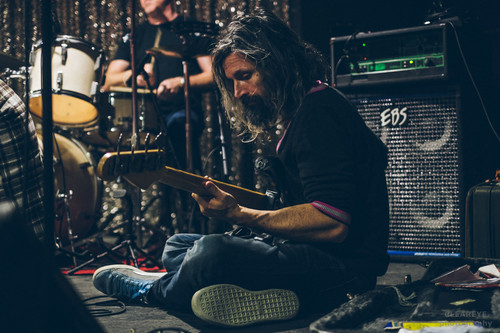 It was one of these evenings that I wont´t ever forget. The TURIN BRAKES  touched down in munich to play a gig at the ATOMIC CAFE in Munich. As they are one of my favorite bands I was very proud to get the opportunity to take pictures of the concert and the soundcheck. ENJOY!
See more pictures on www.cleareye-photography.com
My brother and a friend asked for some motocross action photos. The X-Series does not really suit this kind of shooting, so I tackled it with my wife's D600 and the stunning 70-200mm f/2.8. However, I found having the X-Pro1 with 35mm on my side for in-between the action shots very handy. But this is were it got interesting and cool. The light was starting to get bad, and I was about to go. I have just packed my bags, and turned around, and saw this great sky with some amazing clouds. Technical stuff started to go though my head; high speed sync, D600, SB900. How do I do it again…but then it hit me that I had my X100S on me and I know I can push the shutter to 1/1000 with the flash. Pulled it out, together with my SB900, set the Flash to SU mode and did a quick test to make sure that the SB900 will trigger with the bright light and the onboard flash of the X100S……
See more pictures on www.neillsoden.co.za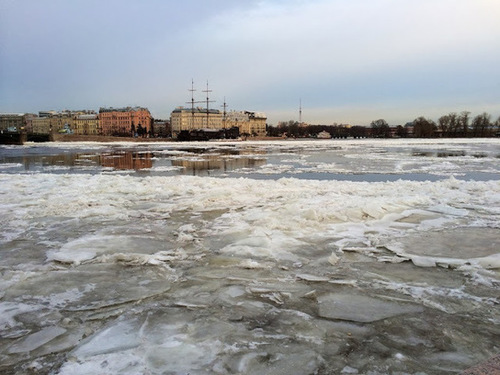 Last weekend I was performing with bass player Kurt Holzkämper in St. Petersburg. It was a blast being on stage with our tap&bass show again. And St. Petersburg is truly a beautiful city. Here are a few pics I shot in-between performing and teaching a workshop. The photos were shot with an Fuji xpro 1 and an iphone 5s…..
See more pictures on thomasmarek.blogspot.de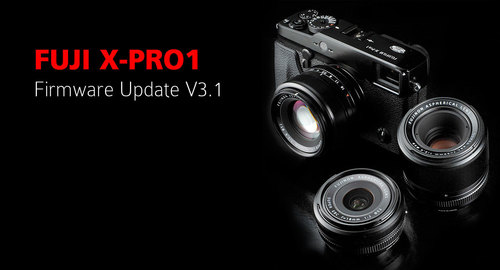 The firmware update Ver.3.10 from Ver.3.01 incorporates the following issues
Regarding operations of items below from 2 through 6, refer to "X-Pro1 New Features Guide" in this website. X-Pro1 New Features Guide (PDF: 345KB)
Improve the cover range and accuracy of the bright frame in the OVF
The cover range of the bright frame displaying the shooting area in the optical viewfinder has been improved so that a field of view closer to the actual image can be checked. By maintaining the position of the bright frame with parallax compensation during AF lock, the shooting area can be checked even when letting go of the shutter release.* When use AE-L/AF-L button with the setting of "AF LOCK ONLY" or "AE/AF LOCK" in AE/AF-LOCK BUTTON in SHOOTING MENU.
See the exposure setting in live-view and histogram
The images and histogram will reflect current exposure levels (with the shutter speed and aperture set during manual exposure also displayed on the image). In scenarios where the live view and the final shot will appear differently, eg: when using flash, this setting can be turned off.
Aperture and shutter speed can be changed once AE lock is selected
The aperture or shutter speed can be changed while maintaining exposure (EV value) with the AE lock button. The photographer has the ability to tweak settings down to the very last moment before shooting.
The default and maximum sensitivity and minimum shutter speed can be set when ISO AUTO is selected
When selecting "AUTO" in the ISO setting, users can also set standard ISO, Maximum ISO and a low-speed shutter limit. The low-speed shutter limit has been extended to 1/500 seconds.
New functionality allowing you to edit image file names
An image file name (DSCF***) is automatically allocated to each picture when shooting, this can now be changed to your file name of choice.* This added functionality is useful when organizing the images after shooting, and sorting the images into groups.

*

It can be changed to a 4-letter file name when selecting "sRGB" and a 3-letter file name when selecting "Adobe RGB" for the color space.
Change of numbering for images shot using continuous shooting
When shooting using continuous shooting, only the first image is currently displayed in full screen and subsequent frames are displayed in small on the bottom right, and the file number was set as "S+7-digit number". With the new firmware, all frames in continuous shooting are displayed as full screen shots in playback. The file number has also been altered to follow numerically as per standard single shots, thereby allowing uniform management of images after shooting.
Improvement of RAW file conversion function
When developing RAF images in-camera using the built-in RAW file converter, the firmware upgrade improves the flow by taking you back to the original RAF image once the conversion has been done, whereas before it left you with the converted JPG file on screen and the user had to go back to the next RAF file manually.
See on www.fujifilm.com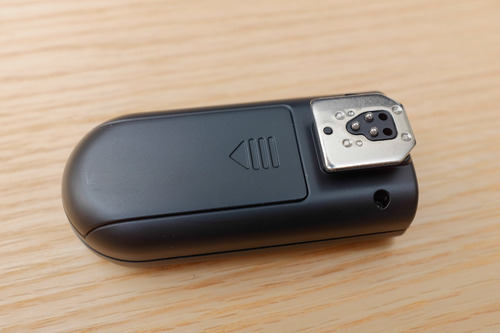 A few months ago, I ditched all my Nikon lenses and my D800, and switched entirely to Fuji X-Pro1 and a Fuji X100S. One of the things that I missed was having a wireless trigger (i used to use PocketWizard Flex TT5/AC3 combo). I bought the Yongnuo 603C having read somewhere that it works with X100S camera, and it indeed worked well. Now, when I tried to do a quick photoshoot for the wife with the X-Pro1, that's when I got frustrated. It would trigger, but it was erratic and would not be synced to the shutter. I was dismayed that I may have wasted my precious $$ on a crap trigger…..
See on idocumentmods.com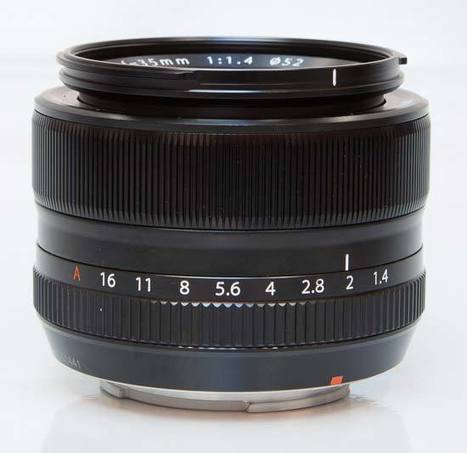 The Fujifilm XF 35mm F1.4 R offers a classic standard focal length and an ultra-fast aperture, making it well-suited to street, reportage and low-light photography. Optically it's also a great lens in its own right, with virtually nothing to complain about, and even the price is reasonable for what you get in return. The Fujifilm XF 35mm F1.4 R lens is remarkably sharp in the image centre virtually throughout the entire aperture range, and the edges are very good from f/4 onwards. The fast maximum aperture of f/1.4 makes it incredibly easy to creatively throw the background out of focus, with the seven-blade iris diaphragm achieving some lovely bokeh effects. Vignetting is practically a non-issue, and chromatic aberrations are very well-controlled….
Ratings (out of 5)
Design     4.5
Features     4
Ease-of-use     4.5
Image quality     4.5
Value for money     5
See on www.photographyblog.com
FUJIFILM Corporation (President: Shigehiro Nakajima) is proud to announce the launch of the FUJINON XF10-24mmF4 R OIS lens compatible with all Fujifilm X mount compact system cameras.
The new FUJINON XF lens is a 2.4x zoom lens — equivalent to 15-36mm in 35mm format. Its ultra wide to standard focal length capabilities make it the perfect choice for shooting dynamic, high impact landscapes images with maximum detail from the foreground to the far distance. It also comes into its own when shooting interiors, making small rooms look more impressive, while the maximum F4.0 aperture that is available throughout the zoom range, enables handheld shooting even in low light conditions. Fujifilm's introduction of the FUJINON XF10-24mmF4 R OIS means its X mount series can now boast (in 35mm equivalent) focal length options ranging from 15mm to 350mm.

Key features on the FUJINON XF10-24mm lens
Newly designed optical system with 4 high-precision aspherical lenses and 3 extra low dispersion glass lenses which maximize performance of the X-Trans sensor.
A powerful Optical Image Stabilization function which boosts the ability to work handheld when shooting in low light.
Ghosting is minimized by Fujifilm's unique HT-EBC* multi-layer coating that is applied to all sides of FUJINON lenses.
An additional newly developed coating has been added to the reverse side of the front lens in the XF10-24mm lens composition to further reduce the ghosting that typically occurs when using deep concave lenses.
Enhanced resolving power at all apertures when used in-conjunction with an X-series camera** that incorporates a Lens Modulation Optimizer (LMO) function.
Seven-blade aperture diaphragm that helps to create smooth and round bokeh effects.
The ability to shoot at an aperture of F4.0 from the lens' ultra-wide 15mm focal length to its longest at 36mm.
A minimum working distance of 24cm means that with macro photography you can capture both the small foreground detail and the wider surroundings to give your subject greater context.
Its high-speed AF is achieved via its inner focusing system which drives smaller lenses in the middle or rear lens groups without moving the larger lenses in the front lens groups
Thanks to light weight internal lenses and the addition of a stepping motor, the XF10-24mm lens is also very quiet to use.
With its precision-made, responsive, and finely-tuned metal aperture and focus rings, you are ensured a superb handling experience.
Price: US $999 – EUROPE €999,-
See on www.fujifilm.com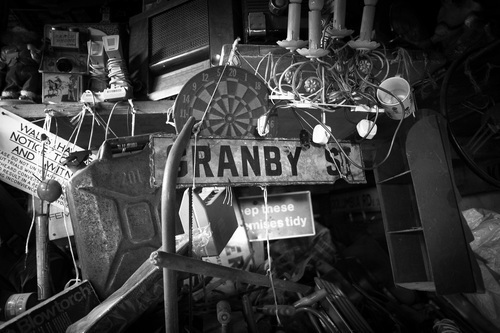 While strolling around  Brick Lane I came across THE SECOND HAND STORE in 14 Bacon Street. TY, the owner for 30 years, invited me taking a look inside.   Honestly the store didn't look very inspiring from outside, but inside it was like a journey through the last century.  All this bits and pieces, vintage stuff, industrials, furniture, records, radios etc…  It is a huge mess, but I absolutely enjoyed my visit and can recommend all of you taking a look inside…and who knows, maybe you'll find little treasure…..
See more pictures on nicolestruppert.com
I went into Liverpool city centre to pick up a couple of bits for Christmas and, naturally, I had my XP1 with me. I decided to devote a little time to capturing some street shots when it started to rain…even though the XP1 isn't weather sealed, I carried on. There were no problems with using the camera in the rain and am quite happy with some of the shots…it really is amazing what you see if you look. I had to be a little "covert" with a couple of the shots, nearly looking away and whistling as I pressed the shutter from waist level! Anyway, here a few processed in Lightroom with Replichrome and the Kodak 400CN preset with a few (not many) little adjustments…
See more pictures on www.ianmacmichael.co.uk