Fuji X-Pro1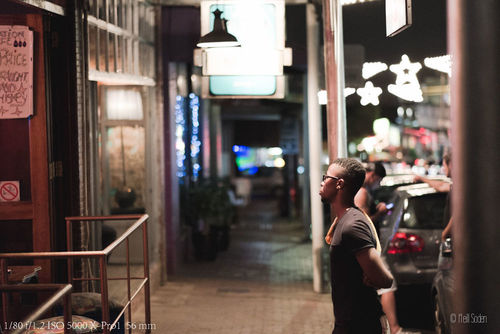 I have not had too much time to post about the X-T1 and even less time to play with the new 56mm, but last night I was out and took the 56mm with me and used it on my trusty X-Pro1. As always, walking anywhere in Jo'burg can feel a little dodgy at times, but Melville has quite a vibe and a very busy nightlife on Thursdays. Which made for a nice opportunity to steal some shots…..
See more pictures on www.neillsoden.co.za

---
Fujifilm Fujinon XF 56mm F1.2
Do you love my work and want to support me? If you're planning on buying camera gear, you can check out above-noted links. Prices remain the same for you, but a small percentage of your purchase value is valued back to me. Thank you!
---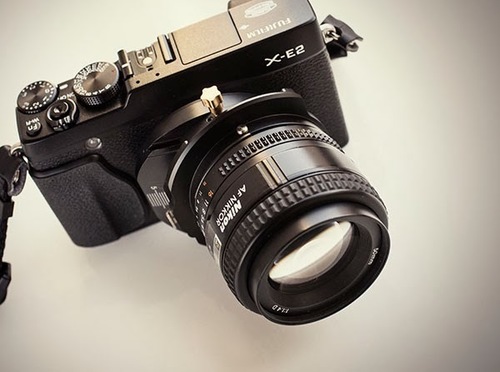 One of my favorite lenses for still life photography is the Nikon 85mm tilt-shift macro. I like working my lenses with wide open apertures, but at close distances where the depth of field is at it narrowest I often lose too much detail in the subject. Stopping the lens down increases the depth of field for to include more in focus, but it also destroys the totally out of focus bokeh of a wide open aperture. The tilt shift lens allows me to selectively include more areas in focus while still maintaining a wide open aperture and good bokeh. I often do a lot of spontaneous still life photos at home where I have a soft window light, but I keep my Nikon tilt-shift at the studio. On ebay I found a tilt-shift adapter made by Kipon to fit the Fuji X cameras. Kipon makes a several models for adapting a variety of lens types. I was interested in the Nikon to Fuji X series, which I wanted to use with 50mm and 35mm Nikon D lenses, and a 60mm Nikon macro giving me effective focal lengths of 75mm, 50mm, and 90mm on my Fuji X-E2. The adapter also comes in a Nikon G mount which adds aperture control……
Beautiful as Trinidad is, it would be missing the point simply to visit and the see the 'sights', nothing in particular has been packaged as an attraction, not in the typical tourist sense of the word anyway. The true magic of the place is the atmosphere, the people, the laid-back lifestyle and the fantastically intriguing sample of humanity on offer…..
See more pictures on handcarryonly.com
Beauty and the beast. The Fujinon 14mm f/2.8 encapsulates everything that is good and bad about the Fuji X-Pro1 system. The lens is a solidly constructed, masterful piece of optics, so well corrected that it doesn't rely on computing power to eliminate distortion. It maxes at f/4 to f/5.6, the range where most rangefinder (and most SLR prime) lenses are wide open and challenged. The mechanical design is mostly elegant. Unlike with a Leica, where you bolt on a distorted accessory finder that may have a level in one orientation only – leaving you to DxO Optics Viewpoint for verticals – the Fuji lets you watch the action and align it on a gridded electronic viewfinder (EVF) (you can, of course, see a gridded distorted wide-angle optical viewfinder (OVF), too…).
See on themachineplanet.wordpress.com

---
Fujifilm Fujinon XF 14mm F2.8
Do you love my work and want to support me? If you're planning on buying camera gear, you can check out above-noted links. Prices remain the same for you, but a small percentage of your purchase value is valued back to me. Thank you!
---
Renowned photographer Luca Bracali likes to travel light – and he finds X-series cameras perfectly suited to his nomadic lifestyle.
Based in the tiny city of Pistoia in Tuscany, Luca Bracali is a man with a mission and international reach. Now aged 48, he's spent the last 25 years of his life shooting, filming and documenting our planet in all its glory, and often works up to 15 hours a day. His obsession with travel is so consuming that it extends to his family: when his youngest daughter was ten years old she'd already visited 30 countries, accompanying her father as he captured images of every sort of creature from lions on the savannah to bears in the American wilderness. Taking his first black & white photo at just six years old, Luca has always been creative, bursting with ideas since he was a child – but a gift of a 50mm F1.2 lens from a photography professor got him hooked. After high school, Luca started work as a photojournalist following car and motorcycle events. "My first assignment was a motocross race," he laughs, "and I still remember the words of my director who told me: 'Luca – not so bad, but to get a good picture out of your roll we need to stitch together two frames: one for the front wheels, the other one for the back wheels…"
See on fujifilmblog.wordpress.com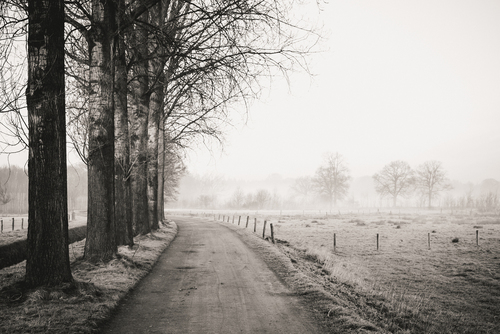 One of the first times out with my new camera and a morning like this with just enough mist and sun..! Timing couldn't be any better. It took about 8 months to have a gorgeous day like this when I got my X-Pro, which was quite frustrating. Mist always has a big part in my photography. I love the look of mist, it's so peaceful and freezes frames even more. It silences sounds, narrows visibility. Best of days are the ones where I wander through the mist on my own, just me and the silence. Chasing fog……
See more pictures on www.byjansen.com
Morocco. The very name of the country always had a mythical meaning for me. Deserts meet mountains in North Africa. Pictures of Tuareg nomads riding in the sand instantly flicker before my eyes. The names of the cities were no less fascinating. Casablanca, of movie fame. Marrakesh, with the red gates and walls. Fes, with the old medina. And the infamous Tangier, once a city where anything went, home to the Beats and spies. Many of my friends have been to Morocco, several have lived there for long periods, everyone highly recommended it. The excitement was high as Charlene and I stood on the top deck of the ferry from Spain, approaching the old port of Tangier in September 2013…..
See on www.flemmingbojensen.com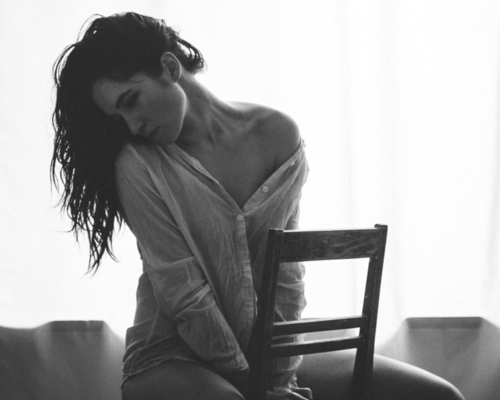 Sharing some new images. And light setups, because everybody loves them, right? I'm not too fond on using strobes when shooting on location. Too much hustle, way too much shit to carry with you. But it is winter, and days are dark, so shooting only with natural light is a bit of stretch. I had a shoot with lovely Iris few weeks ago. I was going for something fashionable and sexy, with kinda laid back, life-style, snapshot feel in the images. There is some nudity, so beware, NSFW after the jump. We started the shoot outdoors. Lighting is simple, one bare speedlight, with 1/2 CTO gel to warm up the light, zoomed to 50mm and shot through tree branches to create some interesting shadows. There are some ambient light mixing in but most of the work is done by the flash. Bare flash and CTO gel create a nice, late afternoon, direct sunlight feel. Shot with Fuji x-pro1 and 60mm macro lens……
See more pictures on timokoponen.blogspot.de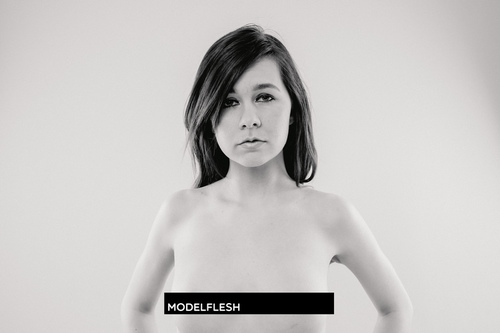 Was invited to spend some time in a studio last week too see how the Fuji X-Pro handled the workload. It was a chance to show the Fuji up against a Nikon D800 which the owner is thinking of changing to a Fuji. And a chance to see if this bad boy can step up to the haters. Used along side a D800 and its owner it did stupid good work, synced with Bowens triggers and a bunch of Nikon Speedlight's it was totally at home. I've called this little set Modelflesh and there probably will be more in this series as it time progresses and allows. Set up was easy the fuji uses flash shoes which can see Nikon triggers so once the metering was done, off we went. Again this was one of those OK impress me moments, and it did straight off the bat. Having dials for ex, shutter and aperture right too had was cool making a adjustments without having to delve into the screen, made you feel more connected to the work……
See on www.suberashi.co.uk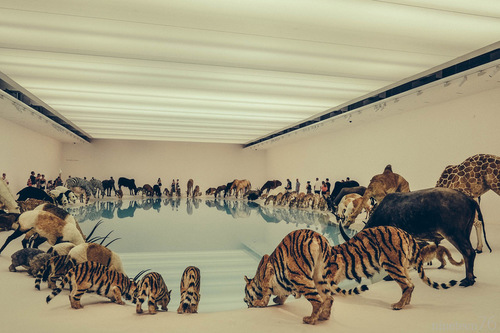 Falling Back to Earth is the work of Cai Guo-Qiang, a contemporary chinese artist. His exhibition in GOMA Brisbane is the largest single installation ever displayed in the gallery. Some of the display were previsously featured in well known galleries and museum such as the Guggenheim museum.
Heritage
99 animals coming together for a drink in a large lake. The lake reminds me of ones found on Frasier Island, with crystal clear water in fine white sand. Despite the obvious fact that some of the animals are predators and others are preys, there is a sence of coming together. Symbolising that we all have a common need in life when stripped of our differences. There is a periodic drip of water from above into the lake, which brings a sense of renewal. Although the environmentalist in us may see that this renewal of water is much slower than the rate of which we tend to consume it…..
See more pictures on nineteen76.cheungs.com.au