Fuji X-Pro1
Last year I went through a phase where I didn't really care for shooting digitally at all. I carried my 5D around with me but only ever really wanted to shoot with my film cameras because they brought me such joy to use. The feel and experience taken on when winding through a roll of film was unmistakably great and I failed to get the same kind of connection with my digital cameras. This left me somewhat disinterested in the results I got with my 5D at the time. I used it more as a means to reach an end rather than as a tool to capture my favorite work behind a camera. Earlier this year as you all know by now, I started up a project where I could share images every single day of my life. A digital journal of sorts that pushes me to keep shooting no matter how boring or dull my day may be visually. This brought my 5D out of hiding. While it has been as wonderful as it has ever been shooting with my trusted Canon digital, I started feeling that same drag again. My enthusiasm wained as the large camera body started to get in the way while navigating my busy summer months in live audio. My poor 35mm f/1.4L looks like it's been through a war after being bumped and dropped among so many surfaces as I drug it everywhere with me…..
See on fiftyfootshadows.net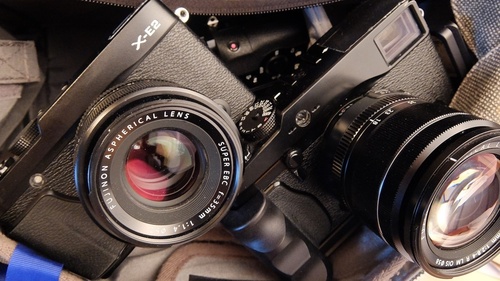 I'm in the process of writing up my X-E2 review right now, but thought I'd share this part of it with you now as it's a question I'm seeing pop up quite often.

X-Pro1 or X-E2?
I'm guessing a lot of you are wondering whether you should buy an X-Pro1 or X-E2 right now.  The X-Pro1 has some fantastic offers of free lenses at the moment, meaning you can buy a body and two lenses for almost the same price as just buying the two lenses alone, effectively getting the X-Pro1 body for around £100 the last time I checked.  That makes it an awfully tempting prospect.  I love the X-Pro1, it feels like a brick, it feels like you could drop it down a steep stone path and it will survive, or drop it onto a concrete pavement with no damage.  Actually, I know it can survive because I've done both of those!  The X-E2 doesn't quite have the same solid feel to it, and for me it's a little small in my hands, which is why I like to use it with a plate and grip.  The X-Pro1 also has the OVF which I know a lot of people like……
See on photomadd.com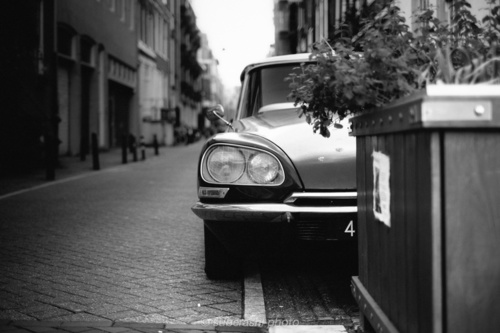 I love Amsterdam thats a fairly well know fact. Great walkable, creative diverse and beautiful place and the perfect spot to test out the Fuji X Pro that I have invested money research and trust into. This isn't a review or tech spec list, you can go look on line for that stuff. I don't have gear envy so tech specs, card tests all that I will leave to others, mainly as I didn't buy the camera to list it's stats and it's the image not the technology that is most key. How did the Fuji engage me? How did it do in conditions I want and need to use it those are the questions and things more key too me. Fitted with the amazing 35mm 1.4 the Fuji shone, I have come from the beast that was the 5d mkii but as amazing a FF camera it was it was never light or discreet. The X Pro looks like a non "pro photographer" camera and thats the trick. Lighter than it looked and on a full day it never felt like it was getting in the way…..
See more pictures on www.suberashi.co.uk
Finally we got a little bit of snow, not enough to go skiing though. But it brightens up the landscape a little bit. Today it was -7 degrees celcius, but the cold wind from the sea made it feel much colder. My "model" for the day was my wife of course. We spent some time outdoors, at Mærrapanna near Fredrikstad. A nice place to go swimming in the summer… in the winter? Well, a cup of hot chocolate always helps…But it's a strange thought that in six months time we will go for a swin here. The sun is visible this south in Norway the whole winter, but it stays pretty low on the horizon. Today sunrise was at 9:02 and sunset was at 15:47. At the darkest day, 21. desember it was rising at 09:12 and setting at 15:17… Still, no reason to complain, go north in Norway and you won't see the sun at all in the winter. The first picture is from the Fujfilm X100s, and the rest is with the Fujifilm X-Pro1 and the XF 14mm lens.
See on lakeviewman.blogspot.de

---
Fujifilm Fujinon XF 14mm F2.8
Do you love my work and want to support me? If you're planning on buying camera gear, you can check out above-noted links. Prices remain the same for you, but a small percentage of your purchase value is valued back to me. Thank you!
---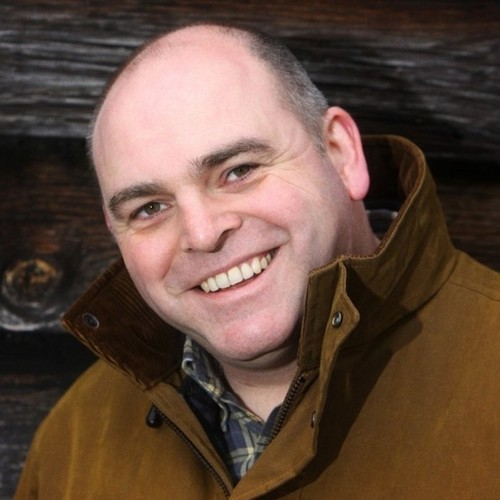 Hi I'm Damien Lovegrove, a portrait photographer, writer and trainer based at a converted barn and farmhouse in Somerset UK. I have a passion for beautiful photography and I will go to great lengths to create wonderful light. I don't leave things to chance in my work and I love directing the moment. I suppose I'm the antithesis of a documentary or reportage photographer. I like to take control. I started making pictures professionally when I joined the BBC as a cameraman in 1984 at the age of 19. I've had many careers since then, all of them photography related.
What's your rig?
I have owned all kinds of camera and spent more years of my life shooting on film than digital. I went digital in 2001 and In recent years I've had a Hasselblad H2 and a Phase One P25+ back with five prime lenses among countless DSLR kits. Now I'm in love with the Fujifilm X-Pro 1. It doesn't get between me and my subject in quite the same way as an SLR does and this helps me capture the connection that I want in my work. The lenses are first class too……..
See on ledesmaphotography.com
Wie viele von Euch wissen, arbeite ich als Crewmitglied bei der größten deutschen Fluggesellschaft. Dadurch ergibt sich der Vorteil, dass man Zugang zum Cockpit hat und da wiederum meist die beste Aussicht genießen darf. Die Fenster sind größer, bieten einem einen nahezu 180° Ausblick, und sind so nebenbei oft die saubersten auf dem Flieger. Ich genieße natürlich vor allem die Zeit, in fremden Ländern, Städten und Landschaften auf Erkundung zu gehen. Aber es gibt auch Touren, bei denen man diese aus Zeitgründen einfach nicht erkunden kann oder will. Stichwort Schichtdienst in Kombination mit Jetlag. Das schöne ist dann, dass man über den Wolken fast immer einen wunderschönen Ausblick hat. Besonders an diesen trüben Wintertagen liebe ich immer wieder den Moment, wenn der Flieger abhebt. Oft kommt beim Durchfliegen der Wolkendecke ein Rütteln und Schütteln, bei dem man einfach nur hofft, dass die Ingenieure schon alles richtig gemacht haben am Flugzeug. Das Tageslicht im Flugzeug hat dann gar keine Lust mehr sich zu zeigen. Und dann mit einmal, wenn man die Wolkendecke durchbrochen hat, erwartet einen eine Aussicht, die mir immer wieder den Atem raubt! Klarer Himmel, faszinierende Wolkenformationen und eine Aussicht auf die kleine Erde unter einem. Herrlich! Bilder, wie diese hier unten gezeigten, häufen sich auf meiner Festplatte, und ich bin es dennoch nicht leid, immer und immer wieder diese Schönheit auf dem Kamerasensor einzufangen. Alle hier gezeigten Bilder sind mit entweder mit der Fujifilm x-pro1 oder der x100s entstanden. Vor allem die x100s leistet mir hier hervorragende Dienste, einfach weil Sie so schön klein ist und so immer in meinem Onboard Gepäck ganz leicht zugänglich verstaut werden kann um somit schnell darauf zugreifen zu können……
See on www.qimago.de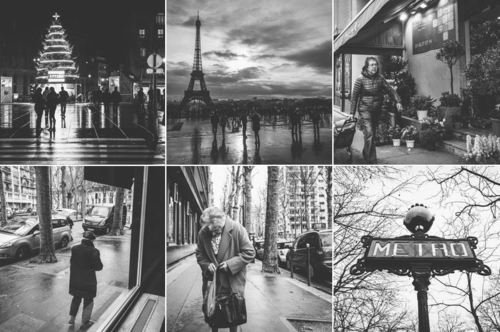 A second set of images from our recent trip to Paris. All taken with the Fuji XF 35mm & 18mm lenses and processed with VSCO Film…..
See on samburtonphoto.com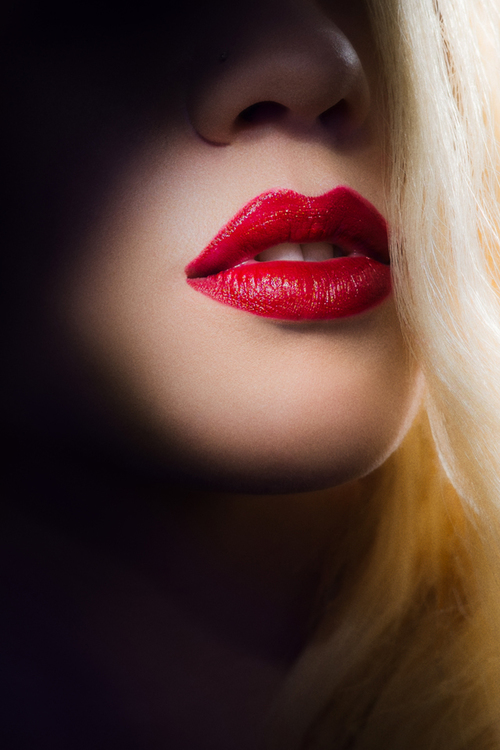 Just a quick post to share some images from recent test shoot with Jasmin. Beauty shots with just one strobe. And a reflector. And a mirror. And then some.. Let's start with the light setup. Which I pretty much stole from some (can't remember the exact one, sorry) Creative Live online workshop that was hosted by Matthew Jordan Smith (he is an extraordinary photographer). Having original ideas is so passé, isn't it?
See on timokoponen.blogspot.de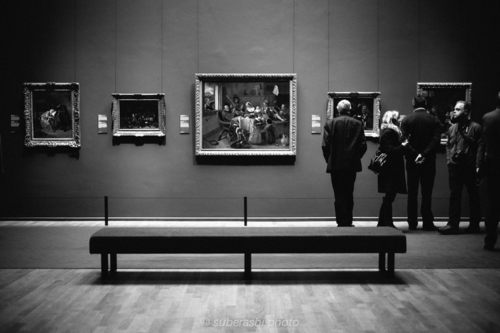 I made the move month or so ago too Fuji, as a Canon user everyone had told me "full frame is best", "DSLR's are real cameras". But I needed a camera that didn't weigh as much as me, didn't make me look like a photo bore and was discreet and powerful enough to work hard. I'm not into the fine nitty gritty of camera tech bluster or how the EXIF compares between formats see to me that just gets in the way of taking photos. Of course those things are important but not my over riding worry. Having a light discreet good low light body was the aim. After reading various thoughts positive and negative I had a play and was sold. The X Pro is a creative tool, I ended up feeling my 5d was becoming a work tool, and to be fair was getting a bit weary of being "that guy" with the big camera round his neck…..
See on www.suberashi.co.uk
Great, more than 3.000.000 page views on my Scoop.it page in less than 2 years!
Thank you so much for your supporting. You are an incredible creative and valuable community :-)
If you have great X-system pictures, story's about Fuji Photographers, reviews, tips and tricks, comparison tests, impressions and more about the Fujifilm X-Pro1 – X-E1/E2 or X100s and there lenses, feel free to send me your suggestion :-) If your are looking for a better categorization of these articles or better search functions you can visit my blog at: http://www.tomen.de/blog
Hope of further collaboration and good light for everyone :-)
Thomas
Official Fuji X-Photographer