Fuji X-Pro1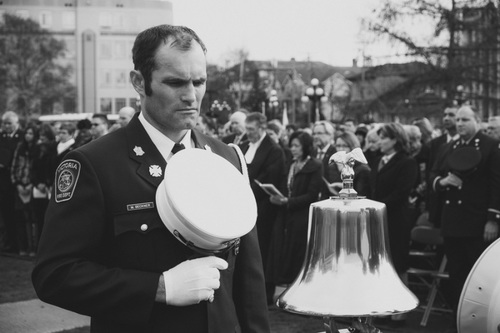 Black and white images shot with my X-Pro 1 "Monochrome" account for much of my photographic output. That includes my work photography.
Somehow, in a world where smartphone photos of dubious quality are uploaded minutes after an event ends, my black and white photos have become a welcome addition to the record of government activity. While I might be shooting an event with a DSLR, often with flash, I also carry my XP1 "Monochrome" with the 35mm or 18mm lens attached. This allows me to capture shots with available light and to work unobtrusively in crowds. Shooting wide open (or close to it) and at high ISO, the XP1 M produces fabulous monochrome images. Of course, unlike shooting with film or with that other, expensive Monochrome camera, I have the colour information available to me, since I shoot RAW. Typically, I set the XP1 M to shoot in "Monochrome" film simulation, whether or not I am also shooting small JPEGs along side of the RAW photos. This provides me with a monochrome image preview, so I get to see the photo in black and white. Once imported into Lightroom, I have multiple options for converting the photos into black and white. Having happily used Silver Effects Pro for a couple of years, I have migrated to VSCO Film because of their great support for X-trans files created with the XP1 M. This method also saves me disc space, as I don't create another file as one does with SEP. Although this might be old news to some, it seems worthwhile to once again demonstrate the superior image quality of the XP1 files, be they "M"onochrome or not.
See more pictures on doncraigphoto.wordpress.com
Let me say right now, I am so not a morning person! I need heavy infusions of coffee, toothpicks to hold my eyes open (until the caffeine kicks in) and a quiet atmosphere to survive early alarms. I have to get up before 6:00 AM for my work days and I need a good reason to crawl out for a sunrise shoot that requires us to  arrive at our location at dark and wait for the light to arrive when I have a precious day off! We got up at an time so obscene that I can't even write it down and were in place while the street lights were still on at our first shooting location this Sunday morning. There was prediction of heavy fog and I love shooting in it so much that I was willing to crawl out of bed and stumble out of the door in search of the elusive stuff. We started our shoot at a local marina and while there was a misty look in the distance….no fog to speak of. In fact, due to the cloud cover there was also no pretty sunrise to alleviate the pain of having gotten out of bed at such a rude hour for no good reason. That's what it felt like at the time anyway! As it turned out the clouds provided us with a wonderful light diffuser for our early morning shoot and unlike us, the fog slept late and instead of arriving as early and dissipating by 8:00 AM (as predicted by the weather folks), it slept late, had coffee and rolled in later in the morning. The wonderful cottony blanket of mist arrived while we were shooting at another waterfront area that we like. Finally it was here! We had a wonderful shoot, a delicious breakfast afterwards and memory cards filled with images to play with on our return home. Bliss!
See more pictures on dougplusrox.com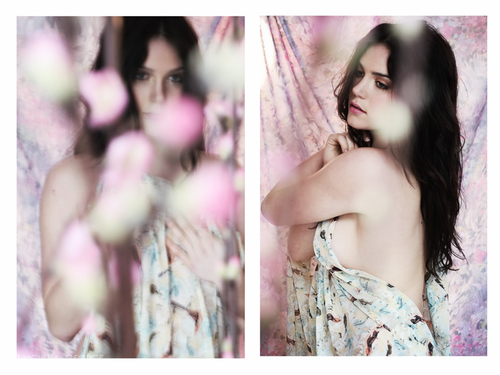 I've been planning to do a spring themed editorial shoot with Ali Tate at Milk Management for a while now, but due to London's current awful weather conditions we have been holding off a little; however last weekend we decided to take a leap of faith and head down to Columbia Road Flower Market  with the Fuji X pro 1 in hand…it took all of 15 mintes to discover that it was just way to cold to either conceive of an on location shoot and get a spring like feel. So using our noodle we decided to purchase a few flowers from the market and head back to the studio…Despite the cold it was still light so I managed to get all the shots using purely natural light from my patio doors with the Fujinon XF 35mm lens open wide at F1.4. See the results below…..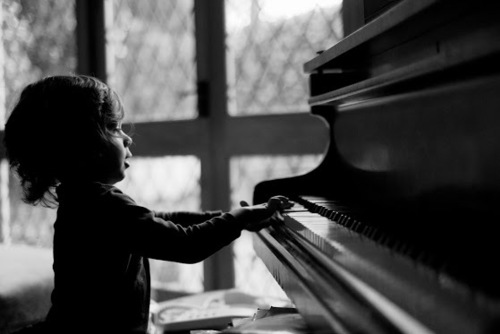 Fuji have been making some incredibly exciting cameras of late, I owned the fujifilm x100 and loved the handling and simplicity of it. I'd been looking for a walk around camera that could produce excellent images, handled well and was digital. I have a wealth of film cameras that live up to this billing but I wanted digital for quick access to the photos. I loved the x100 but found myself constantly wishing for interchangeable lenses. When the x-pro 1 was announced it seemed to answer all of my wants Relatively lightweightChoice of lensesA workable viewfinderGreat image qualityNot spend Leica money to get it
The viewfinder was what lead me to the x100 in the first place, it uses a hybrid optical and electronic viewfinder changed at the flick of a switch. The fuji x-e1, which is practically the same beast as the x-pro 1 only has the electronic viewfinder. So, I sold the x100 and got the x-pro 1. It's incredibly well constructed, solid and has the feel of a Leica M. The lenses so far from Fuji have been excellent, the 35mm f1.4 being the pick of the crop, it truly is an excellent lens and is a joy to use. From all accounts the 18-55mm zoom lens that was released recently is incredibly good. Due for release this year is the 56mm f1.4 which I can't wait to get hold of. Here's the proposed line up from Fuji. As with the other x series cameras the out of body jpegs are incredibly good, outstanding even, which seeing as right now there are no great options for raw file handling, is essential. I'm an Apple aperture user, as with most software choices it's what I'm comfortable with, Ive used it so long that I find it quick and unobtrusive in my workflow. Due to fuji's use of the x-trans sensor, Apple don't support it as yet, I'm not even sure if they ever will, as trying to get a definitive answer from Apple is difficult. Adobe Lightroom supports the x-pro 1 raw files, but I'm not too happy with how it handles them and neither are others. There are a few other options, Capture One, Silkypix and Accuraw, I haven't used Capture One for the x-pro raw files yet, but Silkypix and Accuraw are absolutely horrible. For me, this is a serious limitation, I've never shot in jpeg before, I came straight from film to raw and my entire way of working is based around raw. All that said, the x-pro 1 does some things so well that I've so far never cursed not having the raw file for an image, namely -
The Fuji x-pro 1 is incredible with high iso, these two were shot at iso 6400, and the last one at iso 3200. Completely usable and noise free, couple that with the 35mm 1.4 lens and you're all set for low light photography. My first digital camera, the full frame Canon 5D, as amazing as that camera still is, couldn't hope to compete with the fuji x-pro at high iso and my 5D mkii just about keeps up……
See more pictures on alexlagarejos.blogspot.co.uk
We just love this family, they are always so joyful and Heidi and Lana have the sweetest spirit. After a cold and long winter it was a joy getting out into the sunshine and photographing again. This is my first post with images from my new camera, a Fuji X-Pro1 with a 35mm F1.4 lens. I photograph families, wedding and seniors for the most part, add events or occasional corporate head-shots. I have always used Canon equipment, all Pro gear, my current setup is Canon 1D Mark III and all "L" lens. As many of you know carrying those for a 10 hour day along with a backup body and lens can be a real torture on the body. But this little camera a joy to carry. The X-Pro1 has it's quirks, no doubt about it, it's not the fasted camera to focus but when it does the images are tack sharp. the colors are just beautiful. At this point I don't see myself relying solely on this camera for any billable photo session. I would miss to many shots. For this family session I found I did capture the images and could capture them sharp but I missed to many shot's. There is just enough that I would miss the facial expression by fractions of a second, giving me a good image but not the intended image. My 1D Mark III is a speed demon, and I rarely miss any image I intend on capturing. I have a rule when it comes to editing images, spend no more then 1 minute per image. Most of these where processed in less then 30 seconds. Here's a little Fish Eye Magic. There is no flash used in this image yet the X-Pro1 did a great job metering for the both the sky and the couple. And yes the sun was at their backs.
See on www.jimmydouglas.com
…..
My opinion is, that the xPro1 is doing a very good job but the M is a bit better.
The question now is,  would I go back to Leica?
Well, a though question – I still love the Leica feeling, the way to take pictures and the Leica look of the M – but after shooting for one hour with the rangefinder, my eye problem were back. But, even if I wouldn't have the issues with my eye, I am not sure if I would purchase the new M. With a 35 mm lens the M costs around 8000€ – 9000€.  That is a lot of money!
There was a customer at the Leica store who was asking me if the new M is worth it?
If you have the money and you love shooting with Leica YES! Instead purchasing the new M getting a used M9 or M-E – NO! The M9 is not as good as the xPro1! You get the much better package & deal with the Fujis! I will stick with Fuji! They make a brilliant job! Using the xpro1, x100 etc. is fun, it is light, fantastic lenses and the IQ is awesome and I don't have any eye problems!
…so, what about the RAW workflow?
Last week I decided to give another try – to work just with the jpegs and change a bit my settings. But it seems that the RAW file issue is now solved!  Today Adobe released the new version of Lightroom. It includes now a correction to the demosaic algorithms for Fujifilm cameras with the X-Trans sensor. YEAH – problem solved! I just downloaded the new version and I am thrilled!  The files look awesome… I can get now the look I want and cant wait to start my editing process. My pictures are getting back their soul and that feels damn good!
So, back to old habits?
No – I am looking forward to I stick with Fuji – for two reasons: First of all they make fantastic cameras and lenses and secondly they hear what customers say! They improved the X100 after getting feedback from Pro photographers and customers and worked together with Adobe to solve the RAW Processing problem. I just purchased the new x100S and I'm very curious to find out about the faster AF and improvements!
Is Fuji the new Leica?
In my opinion, NO – Leica will always be Leica. These are 2 different camera systems and brands… Owning a Leica is much more than owning a camera or a tool to take pictures with. You'll get a hand crafted camera with soul. It is a lifestyle and everyone who ever owned a Leica knows what I try to say.
See full article on nicole-struppert-rwec.squarespace.com
The small island of Fuerteventura is just off the coast of Africa and while it was snowing in the UK we basked in 26º sunshine. This is just the second time I've shot with Carla so I arranged a recce and a practice shoot the day before the workshop. I had done a provisional recce of the island and a shoot with my mate and fellow tutor Martin Hill at the same time in 2012. So we knew it was going to be amazing. This recce with Carla was just to refresh my memory and check that everything was still okay. Together we mapped out our shoot locations, decided on the styling for each zone and planned the lighting set ups…..
See on www.prophotonut.com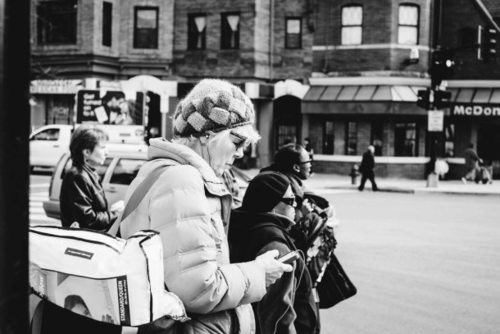 I've been trying to shoot more people lately. It's not always easy though, especially for someone like me. I was raised to be considerate of others, so the cognitive dissonance that comes with traditional street photography is often hard to shake. Still, I persevere. I wait. I sneak around, or I distract and disarm. Then I take my shot. It's never been ideal and every now and then I even need to shoot blind. Missed opportunities abound. I feel like a creep most of the time. But sometimes I'm not creepy enough. The other day, I had to eat my lunch at a restaurant while listening to some airhead 'like' talk endlessly about 'like' utter nonsense. I wanted to walk up to her, take a few shots, and then do some show and tell on here for everyone's benefit. Maybe if it had lasted just a little bit longer… but I've already given her more props than she deserves! DC is full of interesting people. Some are more unique and 'photogenic' than others. The city itself is constantly evolving, but I have a feeling the cast of characters will remain largely unchanged. If I can capture some of these characters in this particular space and time, I'll be satisfied. The most memorable street photos usually tell a story. Maybe I'm biased, but I'd like to think that most of the images below tell some kind of story. Some are obviously better than others. Surely I'm not lying when I say that I've come a long way from my last similar post… but I also know that I still have a long way to go. All of these pictures were taken sometime in the last few weeks with my Fuji X-Pro1. If you follow my blog, you know I only have the 35mm lens (for now). As you'll see, I still haven't been able to get very close to my subjects. I'm not sure that I'll ever be comfortable getting up in someone's face for a candid shot, but I'll keep trying to move closer. And I'm still getting a wider lens, although I'm not sure which one yet.
See more pictures on blog.karimhaddad.com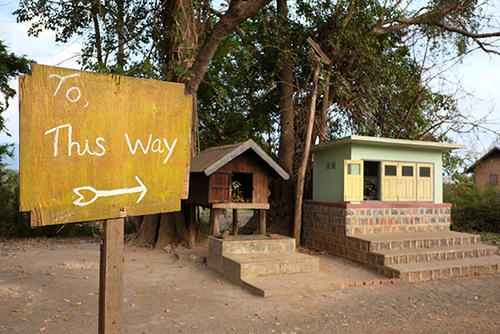 Having a background of photography and graphic arts, I am always looking for the odd sign or notice that will put a smile on my face. A few turned up in Myanmar as you will see below. Also interesting was the car and driving laws. The cars are right hand drive, just like Australia but instead of driving on the left side of the road they drive on the right side. Confusing to an Australian driver! This came about in a government move to further remove memories of the British occupation, so on a given day all cars moved to the other side of the road. To add to the mix there are also a number of left hand drive cars as well. The number plates on cars, buses and trucks are in the native language as seen below, but taxis are now getting English language number plates. As a tourist how do you report a misbehaving taxi driver if you can't read the taxi number plate? Easy, put English language plates on them. Another odd thing is that there are no motorcycles on the road in Yangon (was Rangoon) the story is a general's car was run into by a motorcycle so he banned them all from the city. Don't worry there are plenty of motorcycles in Mandalay to make up for it. All pictures taken on a Fuji X-Pro1.
See more pictures on www.rogergould.com.au
Wie Millionen Iren in aller Welt feiern auch die Münchner Iren und ihre Freunde ihren Nationalfeiertag. Am 17. März fand in München die Parade zwischen Münchner Freiheit und Odeonsplatz statt. Das Motto lautete – Let´s paint the town green! Und während der Winter den Norden Deutschlands noch fest im Griff hat konnten wir uns in München über etwas Sonne freuen. Beste Voraussetzungen also, die Parade mit der Fuji X-Pro1 und dem Fujinon XF 18-55 F2.8-4 R LM OIS zu begleiten. Die Flexibilität des Zooms kam mir dabei wirklich entgegen und so konnte ich problemlos zwischen Weitwinkel und leichter Telebrennweite wählen. Außerdem ist die Fuji für solche Zwecke natürlich besonders geeignet, da sie wesentlich unauffälliger als eine große DSLR ist. Dies hatte ich zu Beginn meiner Arbeit mit den Fuji X Kameras oft unterschätzt. Aber es macht wirklich einen Unterschied ob man einer Person mit einer X-Pro1 oder mit der D800 vor der Nase rumfuchtelt. Einziger Wermutstropfen: Der manchmal verflixte Autofokus – ja auch mit dem Zoom gibt´s Momente wo die Kamera partout nicht scharf stellen will…und der Moment ist dann vorbei…die Parade weitergezogen. Nach all den neuesten Firmware updates habe ich sogar manchmal das Gefühl, dass das 35er in manchen Situationen schneller fokusiert. Ich werde das in den nächsten Wochen mal genauer vergleichen und wieder berichten. Bis dahin – enjoy the pics!
See more pictures on www.cleareye-photography.com