Fuji X-Pro1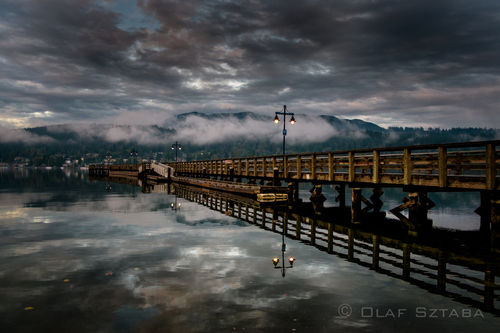 The September-October period is my favourite time of the year for photography. It is the time when the summer "blue skies" days are over and instead you begin to encounter morning fog, stormy skies and the sun trying to find a space to get through. Recently, I was driving my son home from his late-afternoon activity. The conditions outside were plain horrible – dull light and never-ending rain (it is Vancouver, after all) – the kind of afternoon when you wished you had stayed home. As we were driving I noticed a sudden clearing from the west accompanied by fog and misty air. I quickly parked near Rocky Point Park in Port Moody and took out my Fuji X-Pro1. As I started walking toward the pier I couldn't believe my eyes. The dark rainy clouds had turned into a beautifully coloured mosaic. Fog was flowing above the water and naturally diffused golden rays accompanied the park lanterns, which were just turning on.
In this magical moment I shot about 15 images, each of them without a tripod. In a few minutes it had all disappeared. The openings in the clouds closed and the rain started. Once again, one of my favourite images was taken unexpectedly. All shots were taken with the Fuji X-Pro1, Fujinon XF 18mm F2 and processed in Lightroom 4.
See more pictures on olafphoto.wordpress.com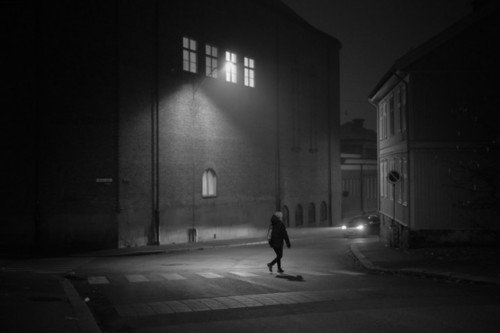 Now i've had the chance to put the X-Pro 1 through it's paces. Everything from nightshots to harsh sunlight and i gotta say that i'm impressed. The camera handles everything you throw at it with almost no issues at all. The metering on the camera is really good but for me it takes some time getting used to how the camera meters in comparison to the Leica M8 and it's center weighted meter. It seems like the camera can do all i want, but im still waiting for lightroom to offer full support of the Fuji raw files. Judging by the jpeg files i know that the sensor can do more than what i see today. Don't get me wrong the files look good, but there's still some more detail that can be squeezed out… When shooting in low light the X-Pro 1 i miles ahead of the M8. I can easily shoot @ ISO 3200 without worrying about noise. This is huge for me considering that i'm used to the very noisy files from the M8 even @ ISO 640. The files hold a lot of dynamic range. Maybe not as much as the Leica but still really good. The one complaint i have about the camera is the autofocus in really backlit situations. But as long as you know the limitations of a camera you can learn to work around them.
See on www.alexanderolsson.com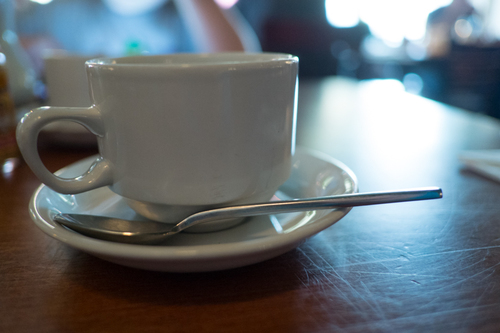 The camera is easy to hold and feels good in the hand. It has a good weight, without feeling too heavy but does feel solid and well made. The controls were fairly easy to figure out and after a couple of hours I was pretty much familiar with the controls and their functions. I've never used Fuji before so I had no previous experience to help/hinder me. the buttons and dials all feel positive and are well placed, they just "feel" like they are in the right place…after only a few minutes, it felt natural, as if I had been using one for ages…this has got to be good, right? Around 60% of my business is weddings and I could easily use this camera for a whole day and not end up with a sore back as I usually do! Another big benefit is that fact that it doesn't scream "pro camera!" It's size and styling make it less obtrusive and obvious and people really don't take much notice of it. We often do pre wedding shoots, and shots on a wedding day, in public places, and big cameras usually mean some attention from the public. The X-Pro 1 doesn't have this issue, even the people I photographed, friends and family, felt is was easier and more comfortable for them, and they are used to me and my cameras! You'll see from some of the images that I went to a cafe bar with my little boy (who is a legend by the way and really puts up with my constantly taking photos of him!). It was really quite dark, I'll come to ISO performance later… the issue was that it was really busy, with people on the tables all around us and I was taking lots of shots. I can't remember a single person even taking any notice of me and the little camera. Not sure this would have been the case f I has been using my D800 and 24-70 2.8! My point is this: we specialise in documentary wedding photography, and at a wedding, I think this camera will allow us to get closer to people and capture images without the intrusion a pro DSLR camera/lens combo can often bring. This means more natural images and a less obvious presence of the photographer, this is good!…..
See full review on ianmacmichaelphotography.blogspot.de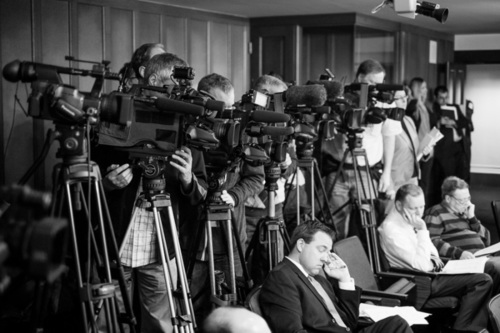 While shooting at a recent press conference, I realized that I have made some adjustments to how I focus the X-P1. So, along with adding the latest firmware updates to my Fuji X-Pro1 and XF lenses, I have also updated my focusing technique slightly to speed up automated Manual Focus. Normally while shooting in MF, I use the AF-L button to quickly focus on the subject and then hit the command dial to zoom in on the focus area. In this view, I adjust the focus by manually rotating the lens focus ring. This works well enough, but I have found with the 60mm lens in particular, the initial attempt to focus, especially using the OVF, can take longer than I would like. A faster way to use this technique seems to be to reverse the focusing operation. First I hit the command dial for the zoomed preview of the area I want to be in focus and then I hit the AF-L button. The camera, again particularly with the longer focal length of the 60mm lens, snaps onto focus quickly and consistently. Then I can half-press the shutter release or hit the command dial to return to the normal view for composing and shooting. I was also using the X-100 during the event and this technique worked with it as well. Great to have both Fuji cameras to shoot work events, particularly with available light. Thank you Fuji for producing such great, fast lenses. But don't you think it's time to release the 23mm and long zoom? I do!!!
See on doncraigphoto.wordpress.com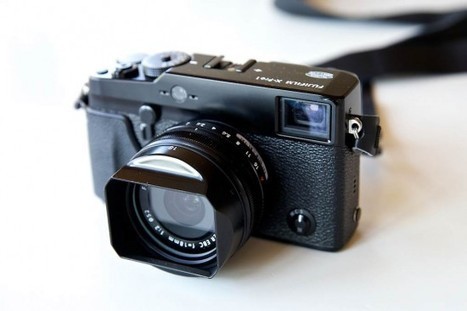 Wrestling with whether to keep one expensive camera or buy a different one doesn't rate on the scale of real problems, but I've been torn recently about whether or not to keep my Fuji X-Pro1. I've finally decided to sell it, and here's why. The bottom line is that I just don't like using it very much. The autofocus is frustratingly unpredictable, even with the latest firmware updates, and to me the camera feels unresponsive and a bit of a struggle. It's a testament to the quality of the Fuji X-Pro1 that it's been a hard choice, and it's a testament to its quirks and frustrations that it had to go. The image quality it delivers when everything clicks is undeniable, but if you don't enjoy using the camera and feel you're missing shots, then even capturing great ones some of the time doesn't help much in the end. I appreciate its retro design, the simplicity of its layout and the lack of extra bells and whistles, but I draw the line at dodgy focusing and an all-round laggy feeling. It came to a head in a well-lit cafe in Taos with my daughter. She was sitting across the table from me and had her back to a window about ten feet behind her. I lifted the camera to photograph her, and I got the red box of uncertainty as I tried to focus. I moved focus slightly, got it again, and then I tried an area of greater contrast, and then the lens went back and forth a couple of times, before it finally focussed for me. But by that time, whatever fleeting expression I'd wanted to capture had gone, and I didn't want to take the photograph any more. I wanted to throw the camera on the floor. This wasn't an isolated incident, either. If you find yourself talking to your camera with a slightly incredulous "Oh, come on. Really?" tone to your voice, then things aren't going well. Online you can compare specs and sample files till the cows come home, but it's very hard to get a sense of how a particular camera handles for you. Even people who shoot similar subjects to you might do so in a slightly different way, or be more proficient at certain techniques, or not even notice some things that will annoy you immensely. I rented the X-Pro1 before I bought it, and its clear strengths are beguiling. To the point where I enthusiastically overlooked some of its weaknesses. Just walking around taking photographs of things, this camera performs brilliantly, and looks great doing it. But walking around taking photos is only a small part of what I need a camera to be good at. When I photograph events, editorial projects, or children, I need the autofocus to be fast and reliable. I knew this, and hoped the X-Pro1 would work like that for me. It doesn't – at least, it doesn't do that enough of the time for me. At a couple of the events I've shot where I used it in addition to my DSLR, there were several times when the folks I'd asked to photograph had to stand there for an extra long time as their natural smiles turned forced while I waited for the X-Pro1 to sort itself out. Which isn't to say that others can't and won't do great work with this camera – Kevin Mulllins is doing excellent documentary wedding work with it, for example. But if it's not working for me in those circumstances, and I can't trust it to deliver if people are paying me, then it had better be a fun walk around camera for the amount it costs. Which again, for me, it wasn't, because of the way that I like to walk around. When I shoot casually at home – family shots of whatever we're up to – I'm after passing moments when my daughter's looking a particular way, or reacting to something's that's just been said (I'm not going to pose her and ask her to hold still). Some of the time I can be deliberate and patient: set things up and wait for the moment – which works with this camera – but some of the time I can't, and I've missed that shot forever. (It's worth pointing out of course, that you can be deliberate and patient with a faster camera if you want to, but you can't be fast with a slower camera.)……
See more on www.clearingthevision.com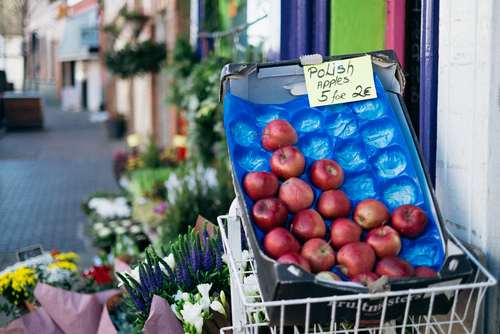 October and November have been very busy months. I was stuck in client projects for a long time and after these were finished, Rebecca and I worked on the relaunch of her website. Even though that all was a lot of fun (check out the cool preview tool we developed), my beloved X-Pro1 was sitting on my desk the whole time making these sad eyes at me.

This week we finally had two days off work and sun. Rebecca got the X-E1 meanwhile and we took both Fujis with us and went to Kinsale for a day (you can find her pictures here). This was the first real outing with the X-Pro1 and I have to say that I'm really impressed. It does almost everything better than my Nikon. The level of details, the colors and the dynamic range are so much fun to work with. The only thing I am still adjusting to are the different field of view (crop sensor vs. full frame) and the depth of field (50mm f1.4 vs. the equivalent of a 50mm f2.0).

All the shots below were taken with the Fuji X-Pro1 and the Fujinon 35mm 1.4 lens

See all pictures on www.johnnypatience.com


The Fuji Guy – Billy gives a quick look at the latest Fujinon XF lenses for the Compact System Camera (X-E1 and X-Pro1)..

Incl. some informations and pictures about the new Fujifilm Fujinon XF 14mm f/2.8 R

See on www.youtube.com


December is the month that I set aside for creative time. Time to write, shoot and think. This shoot has been planned for several weeks. I won't discuss the original concepts but it's fair to say they weredark. I have a new friend in the wedding and fashion industry Lisa Keating who partnered us on this shoot. Lisa custom made the corsets, the head pieces and accessories. Luke, my graphic and web designer is currently building a new website for Lisa and it will be ready for launch very soon. I first met Helen and Lisa on a shoot in the summer that I volunteered to assist on. I suggested we got together for some creative fusion at some point soon and I love the way that effort is rewarded.
The dream team are…
Model: Helen Diaz
Make up and hair: Vicki Waghorn
Styling: Lisa Keating
Photography: Damien Lovegrove
Camera: Fujifilm X-Pro1, 18-55mm OIS zoom lens mostly shot at the 55mm end wide open at f/4
Lights: Lupolux Quadlight 1500, Lupolux DayLED 1000 x2, Lupolux 800, Lupolux DayLED 650
Post production: Straight from Lightroom without Photoshop intervention

See more pictures on www.prophotonut.com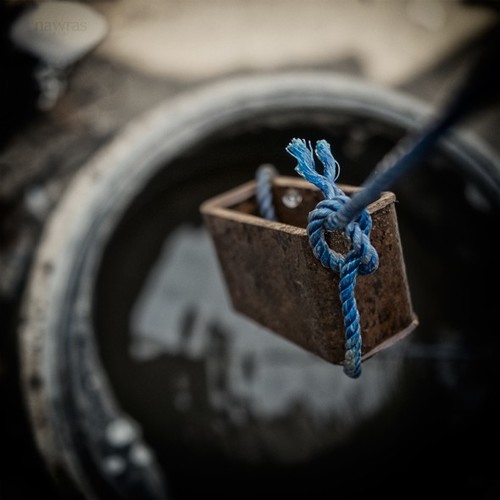 The one dreaded question asked by anyone who is new into photography is: "Canon or Nikon?". It's a difficult question because in this day and age, it really has little to do with the camera brand any more. Heck, many of the amazing photographs we see these days come from various phones running Instagram. Even Time Magazine used one for the cover photo as well as to document Hurricane Sandy….

It really is how one uses the camera.

The first thing you'd notice about the camera is how beautiful it is Really. It's a work of art. And not only does it look good, but it feels good in the hand; it feels solid, yet fragile all at once. The exposure and shutter speed dials on the top of the body are firm; you won't be accidentally changing settings. More importantly, they're easy to reach without having to look at the camera, though of course it's a matter of habit from one camera to another. Most of my shooting was done through the old firmware, and I only got to test out v2.0 of the firmware on the last day. That said, the autofocus, while "slow", wasn't really as terribly slow as people complain about. Again, it depends on what photography you're doing. Most of my testing consisted of portraits or inanimate scenery. My primary camera is a Canon 5D MKII, so probably that's why I don't see the X-Pro1 as particularly slow in focusing. There were plenty of bells and whistles hidden in the menus. Panorama shots. Some bits and pieces of colour options and picture options and dynamic range options and the sort. The panorama mode was decent, though quite frankly the Fujifilm X10 performed better here. Not that the resolution isn't good; it was a matter of the X-Pro not keeping up with my motion. So I'd be panning and after doing a 180 and stopping I could still hear the camera snapping and trying to keep up on the LCD panel at the back. Anyway, there are plenty of settings to mull over, but shooting in a RAW file renders most of them pretty useless anyway. And what a RAW file it produces.

Beautiful.

See more on photo.jarofjuice.com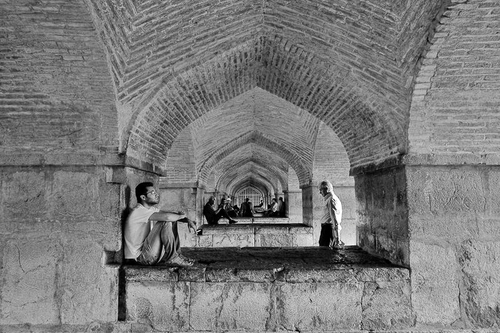 Street photography Iran. There's three words I had no idea I would be writing any time, ever. As many Yomadic readers already know, I have just returned from spending a month in the mind-blowingly incredible country of Iran. Indeed, it has gone to the top of my "best holiday destinations list". I've now seen 37 countries, most of them multiple times, and Iran really is a unique, spectacular, life changing, moving, and memorable place to visit. But, what you might want to know is – what are the people like? And, just how difficult and repressive is street photography in Iran?
In the western world, we have all been force-fed a steady diet of paranoia when it comes to countries like Iran. Terrorists. Muslims. Not to be trusted. Suspicious of anything and everything from the west. Quite simply, almost everything you have ever read about Iran, is inaccurate at best, and propagandish lies at worst. When you interpret these photos, please try your best to keep your mind open. Like you, I had a lot of pre-conceptions about Iran, and I'm happy to say that during the course of a month – they were all shattered. When it comes to street photography, I really found Iran difficult. But, not necessarily for the reasons you would think. Firstly, there just aren't many tourists around. Phillipa and I stuck out like the proverbial sore thumbs. Therefore, the opportunities for candid street photography were very limited. People spotted us a mile away, and more often than not, made a bee-line directly for us, simply wanting a chat.
From day one, I went out street shooting. However, I felt much more timid than normal. I really didn't know how far I could push my street photography in Iran. I had no idea how people would react to a strange Westerner putting a camera into their face. I wasn't sure what buildings I could take photos of. If there was a subway entrance, or a police station, or an army truck in the background of my images, what would happen to me if my camera was examined?
See pictures on www.yomadic.com