Fuji x100
Seit der Photokina 2010 bin ich X-Fotograf. Da war ich am Stand von Fujifilm und begrabbelte entzückt ein Modell der gerade vorgestellten Fujifilm X-100. Bei der funktionierte außer dem revolutionären Sucher zwar noch nichts, aber ich wusste, dass ich mir diese Kamera kaufen würde. Das habe ich rund ein halbes Jahr später auch getan. Dann kam Fujifilm mit der XE-Reihe und der Möglichkeit, Wechselobjektive zu verwenden. Ich liebte sie. Dann habe ich sie auf einem Segeltörn in die Ostsee geworfen (in trauter Gemeinsamkeit mit einem weiteren Objektiv und einem iPad). Shit happens. Eine zweite XE-1 wurde angeschafft, weitere Objektive. Und jetzt – vor wenigen Tagen erst – die XE2. Ich bin X-Photographer. Mit Leidenschaft und Liebe. Ein Bekenntnis und eine Einladung…….
Source: www.christianahrens.de

---
Fuji X-E1
Do you love my work and want to support me? If you're planning on buying camera gear, you can check out above-noted links. Prices remain the same for you, but a small percentage of your purchase value is valued back to me. Thank you!
---
Neill Soden is a photographer currently living in South Africa. He has a Fuji X100 and shares how he makes his portraits with the camera. If I see someone I would like to take a portrait of, I'll get all my settings ready before approaching them, so I am ready to start shooting at once. I set it with my Custom 2 (B/W) in the Q-menu and get my focus point in the desired position. I will switch to the EVF, as it allows me to see my exposure and lighting as close as possible to the result I will get. My black and white customs setting is B&W+red, highlights to +1 and shadows to +2. Auto ISO is on, so my Fn button is set to ND-filter if it is needed. The key is to do it as quick as possible. Try not to take up too much of the person's time and not too intrude too much. I will walk up to them with the camera loosely by my side. Getting it pushed straight into their face will not be welcomed by anyone. After I greeted and asked how they are doing, I will ask if I can take the a photo. In the event of there being a language barrier, I will point at the camera and ask if I can take the image. If they happen to say no, I thank them and walk away. I rarely find people to not gladly accommodate you……..
Source: www.theinspiredeye.net

---
Fuji X100S
Do you love my work and want to support me? If you're planning on buying camera gear, you can check out above-noted links. Prices remain the same for you, but a small percentage of your purchase value is valued back to me. Thank you!
---
This is not a comparison, more a real life usage of the X100 and its successor. I just want to show the different jpg rendering and both camera´s have its own look. As far as the image quality I wouldn´t say, the X100T is better (only in high ISO above 3200). But when it comes to ease of use the X100T is much more responsive, quicker and configurable. AF locks precisely, especially in low light. In good light condition the X100 is almost on par. All images shot with the X-100T and X100 using black&white yellow filmsimulation. No post-production, straight out of the camera……
Source: www.mingart.de

---
Fuji X100T
Do you love my work and want to support me? If you're planning on buying camera gear, you can check out above-noted links. Prices remain the same for you, but a small percentage of your purchase value is valued back to me. Thank you!
---
At last …. Heading out to the Lake District taking the camper I knew I would be able to find the perfect time and location for a spot of long exposure shooting. The plan was to stick faithfully to the 1Camera1Lens project however I was not able to take the normal 35mm Fujifilm XE1 combination after finding out that the sensor in this camera was very dirty. I have never cleaned a sensor before so I ordered a lens cleaning kit and waited for delivery. Unfortunately it turned up on the day we were due to leave for Lake Holiday. I did not want to rush this procedure for fear of damaging my XE 1. I took the decision to leave the XE1 at home and take the Fujifilm X100. (My old sole mate). The 10stop Hoya filter will fit all of my lenses as I have a group of conversion rings so I can swap 39mm up to 52mm if needed. So how did it go take a look after the page break…….
Source: simonpeckham.com
I have been after one of these Marathon watches for some time now and by chance a sterile version turned up on EBay. Having done my research I have a good idea of my maximum bid. Needles to say I am now the owner of a very fine, extremely well built and trusted timepiece. I have taken a few photographs and post processed them in black and white HDR. The marathon watch company have been making time pieces in Switzerland since 1939. They now provide quality watches to government and military to an ISO 6425 specification. This is a dive search and rescue version made from high quality 316L stainless steel. Full size screw down crown. Water resistant to 300m/1000ft (not that I would ever need to swim that deep) 2.3mm thick sapphire crystal glass, 120 position bezel and tritium tube luminous hour and hand marking for superb night time display………

Source: simonpeckham.com
May the 4th be with you, this year on star wars day I had the great pleasure of being asked by a good friend of mine to cover an event he was putting on in Manchester. The event was a kind of Comic-Con-esque and the 4th 'Geek Night' put on by 'Niche Nights' saw a fantastic mix of Cosplayers, gamers and fans of Sci-Fi and Fantasy, it also provide fantastic subject matter for photography and as such I greatly enjoyed photographing this event. I stuck with a light bag of gear for this event and all the shots are on either a Fuji X100 or X-E1 with either the 35mm or 8mm Samyang on, all the flash lit shots are form an on board Yongnuo 560ii most of the time tilted up for bounce flash and manually controlled. Shooting events like this is a great opportunity to face a new challenge as well as try out some kit, I and not previously had the chance to try the Samyang 8mm out at events and can safely say it performed really well, the crazy wide view being incredibly useful in tight conditions, shots from above had the flash facing backwards to bounce of the ceiling and overall I'm very happy form the results…….
Source: www.colinnichollsphotography.com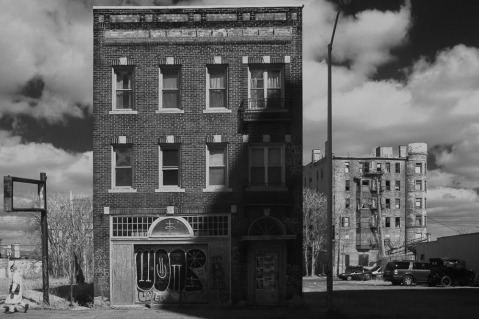 We have been in dark places with an infrared-converted X100. Sometimes these dark places have been in bright sunlight; it's just that what the camera sees is another world, defined by light humans can't see. The Marche du Nain Rouge, a parade through some of the world's most non-gentrified areas, is an excellent place to demonstrate the capabilities of this fully operational battle station device. The B+W 093 passes an insignificant amount of visible light and creates monochrome infrared; at this wavelength, light pretty much slices through the RGB filter array (and we have been able to test this using a beta of Accuraw Monochrome). With a converted camera, sensitivity is a couple of stops less than with visible light (and about 8 stops higher than trying to use an IR filter on an unconverted camera). We have noted this before but are noting it again: the 1/4 wave multicoating used on modern cameras is completely ineffective against flare and ghosting from infrared frequencies. This makes lens hoods important and imparts a little bit of glow to everything. It is not the hazy, slightly out-of-focus effect you get with DSLRs that can't focus IR and older IR film. It is more the look of an old Tessar on Plus-X. That said, with no color information, there is no color-specific tonal correction or false color work……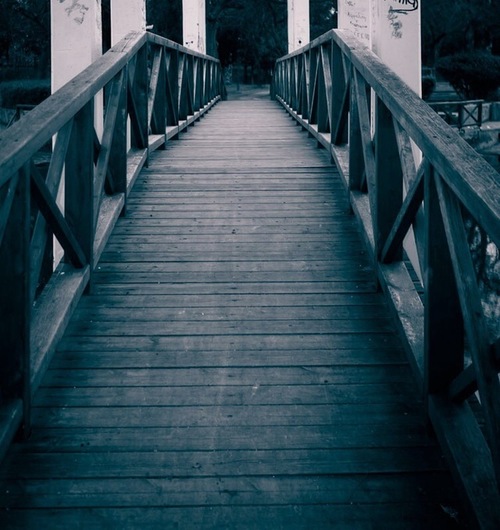 After a long time, today I am posting a few images taken with the Fuji X100 camera. My relationship with the X100 has gone from various stages. At one point, I reached a step before selling it, but thankfully, I decided to keep it. The last firmware update has transformed it to a much much better camera and this is something that no other company has ever done to a discontinued model (at least to the level of update Fuji did). I always had a dilemma between the X100 and the Leica M8, and at certain times I could not justify keeping both of them. There were also times when I chose to take with me the M8 despite the fact that the Fuji was more suited for the kind of shooting I wanted to do (that's what happens when you are biased and love a camera so much that it blurs your judgement !)……
See on kbesios.com
I have had some free time to work a little more on my composites.  The case I was working on for the last 5 years settled so I am out and about looking for a new job and have a ton of free time to create my make believe worlds.  The image above is a composite of a great old lock and keys that my Dad had collected.  The image of me was shot in my home and I am actually wearing one of Dad's old hats.  The checkerboard floor was created by me in photoshop and the sky is a combination of one I took and one that Brooke Shaden had in her texture set.  I did most of my work in Nik Color Efex 4 and Photoshop with a slight oil paint filter on it.  The images above were taken with my Fuji X-Pro1 and x100s…..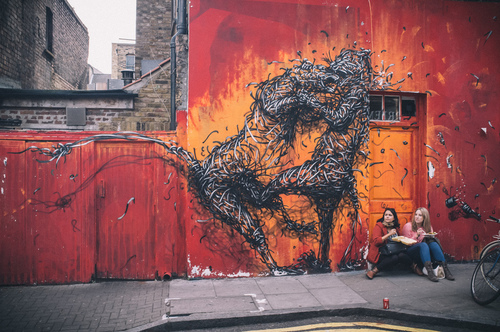 The past weekend I was in London to see Zack Arias and David Hobby talk about their Fujifilm cameras and how they use them, it was a great talk that was followed by lots of beer, but one thing at the talk really interested me and that was the street photography part of Zack's talk. In particular his techniques and tricks for getting street photos, ways of taking shots of people without realising and that you will get caught one time or another but realistically people aren't going to go berserk. So the next day with my Fuji X100 in hand and hangover in my head I headed out to the streets of London, I started with a walk along south bank where I got to find my feet with it, and before long I was employing some of Zack's tricks and tips. Once I had got a bit more comfortable doing this I started to do some street portraiture where I would ask people to pose for me, this is a great confidence booster and a great way to improve your photography, very quick portraits on the fly with available light, really good fun, and a lot less people say no that you would think…..
See more pictures on www.colinnichollsphotography.com