fuji x100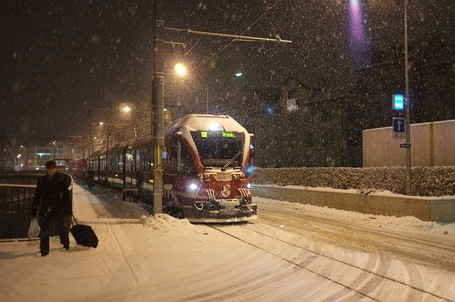 It took a while for my second post in my comparison. The last couple of days have been busy. I've had the chance to shoot the three cameras at some social events here and there – running into many low-light situations. So my next point of comparison is:
Autofocus:
I love the way all three cameras look and handle with all those external controls. And I love the excellent lenses – particularly the Fujinon 35mm 1.4. However, I am again and again frustrated by the performance of the autofocus. From my experience, there is no difference between the Fujifilm X-E1 and the X-Pro1 in terms of autofocus performance with the latest firmware on both cameras. Similar findings have been made elsewhere. Autofocus struggles in low light and with backlit subjects. I came from using manual lenses on a Sony Nex-7, so I am not a "spoiled" DLSR-user, but I somehow feel I am missing much more shots with the Fujifilm X-Pro1 and X-E1 than with manual focussing on the Nex-7 (using focus peaking). I had several situations where the AF (slowly) hunted and my subjects were getting impatient. Of course I am really talking low-light here – shooting around ISO 1600 to 6400 with the lens at 1.4. Quite surprisingly, my impression is that the Fujifilm X100 actually seems to struggle less with autofocus than the other cameras (comparing those with the 35mm 1.4). Maybe the reason is just that the X100 needs to move less glass, so hunting is possibly quicker. Nevertheless, I felt less frustrated with the X100 than with the other two cameras. I would be very interested hearing other peoples thoughts on this.
From the point of view of autofocus performance, I would definitely keep the X100, because the main purpose of that camera (to me) is that it can always with me. For such a camera, I don't expect lightning fast AF performance. However, I would expect a little more from the X-Pro1 and the X-E1.
Autofocus for me is really the one reason that sometimes makes me doubt, whether switching to Fujifilm X system was really the right decision, considering that a small DSLR (e.g. Pentax K-5 II) would just give me much more reliable autofocus. Autofocus is perfectly OK if you shoot outdoors and shoot mainly static or slowly moving subjects. So for one part of my photography this is perfectly OK. However, shooting my children outside, at home or at events is currently another big part of my photography. So I would really like to own a main camera system that can cover both needs……
See Part1
See full article on www.fujifilm-x-opinions.net
The Fujifilm X (APS-C) "trinity" is complete! Within a couple of weeks I went from having no camera at all (I had just sold my Sony Nex-7 and was waiting for the Fujifilm X-E1) to having the complete set of Fujifilm X cameras with APS-C sensor. Just a quick look back, why this happened:
The Sony Nex-7 was a nice and very capable camera, but it somehow just felt bit more like a computer than a camera and it wasn't that great at high ISO. It seemed to have just a bit too many pixels for the size of the sensor.
Then I read about the Fujifilm X-E1 and felt that this would be a great camera for my needs. At the same time I had also considered an X100 as a camera to have always with me. However, I couldn't justify the cost (knowing that the X-E1 was on order). Just one week after I had received my Fujifilm X-E1, I happened to see a great offer for an almost brand new X100 on ebay for something like 500 USD. So I made up my mind and bought the X100 and – as I wrote in another post – fell in love with this camera (more so than with the X-E1). Despite some small quirks, the X100 (with the latest firmware) feels like an extremely well thought-out camera. And in my opinion the X100 is surprisingly responsive. Actually, it feels more responsive than my X-E1 with the Fujinon 35mm – probably due to heavier glass that has to be moved in the 35mm lens. One of the reasons why I fell in love with the X100 was the great optical viewfinder which brought back fond memories of shooting with rangefinder film cameras some 15 years ago. This made me think if the X-Pro1 wouldn't a better choice for me, because it shares the nice optical viewfinder (OVF) with the X100…..
See full review on www.fujifilm-x-opinions.net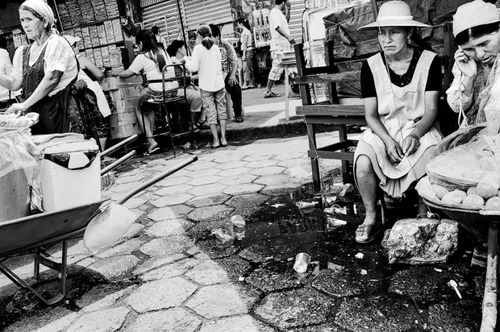 Bolivia, Santa Cruz de la Sierra, December 2011. The camera stares at, grins at me lying on my hostel bed in tropical heat–I shoot angry glares back. The camera has been kicking my butt every day for some weeks and I hate it right now. Despise photography. But I need to pick it up and go create something. Need an outlet. A dark storm hovers in my mind, I am depressed, all purpose seems lost and recent events including a suicide made me fall in a black hole devoid of all light. I walk the world feeling completely disconnected from human life. Despising myself and my existence. As always, light this bright casts some very dark shadows. Despite an abundance of sun light in tropical Santa Cruz I have been in the shadows for days. I like extremes–I seek extremes. Fitting then I guess, that I am in the darkest of moods in the brightest of warm tropical weather. Get out. Walk. Standing still never worked for me. Must keep moving. Or shadows catch up. Grab the damn camera and walk, walk the streets of this hot, weird and interesting melting pot of a city. Get out of this hostel from hell. Walk, damn legs, walk. A market appears. A gigantic chaotic market bigger than any market I have seen in Asia or anywhere else. A world inside a world. No hiding here. Not a single gringo in sight anywhere. I break out the camera. Channel my darkness into looking, seeing, shooting, making images…..

Memories are funny. These words are written about a year after the images were made. And I want to return to Bolivia. Have been on my mind recently. Calls me back. It is one of the hardest places to work in that I have experienced. I was in a dark, dark place for the 10 days I was there. But it was a very interesting place filled with awesome people and places of contrast and extremes. That's why I want to return of course. The challenge. And I need the extremes. To create. To feel alive.
See on www.flemmingbojensen.com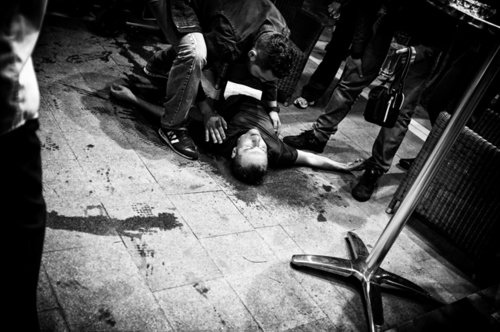 I'm proud to announce the launch of The Kage Collective (pronounced Kaji), a project I'm involved in with fellow photographers Patrick LaRoque (Canada), Paul Pride (England, UK) and Robert Catto (Australia), with me (Derek Clark Scotland, UK).
As you will see from the Kage Collective website, we are a group of international photographers shooting documentary projects about a wide variety of subjects. The one common thread that runs through the project and the thing that not only brought us together, but also binds us, is that we shoot with the Fujifilm X series cameras. At the moment the X100, X-Pro1 and X-E1 are the models being used by the collective, but I'm sure other models will become available to us, and of course we can't wait to get our hands on the new XF lenses as they come available. Kage Collective has been simmering away in the background for a few months, taking shape and getting refined ready for todays launch. It's been difficult not to let it slip a few times, especially on Twitter. I'm excited and thrilled to be a part of this collective and couldn't wish for a better group of photographers to collaborate with. To say we're on the same wavelength would be an understatement! So please take a look at the brand new Kage Collective website (built by our very own Patrick LaRoque) and have a look at our launch stories. The site will be updated regularly and will definitely give us all a bit of pressure to go out with our Fuji X cameras and document life as we see it!
See more on www.derekclarkphotography.com
See on Scoop.it – Fuji X-Pro1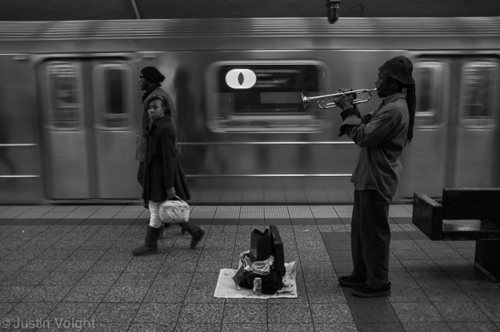 My photoblog has been created exclusively with the Fuji x100 and the x-pro 1. I'm not a reviewer or a gear head. I just have the need to be making images and I prefer Fuji's to any other camera I have ever owned.

See on justinvoight.wordpress.com
See on Scoop.it – Fuji X-Pro1

Hey everyone, what a night! Hurricane Sandy sure left a mess here in New York! Some of the roads are just beginning to open up but no trains for quite some time. The stations are completely flooded! Mayor Bloomberg said there may be buses tomorrow but they will be limited. There are people still without power. Since I couldn't get into Manhattan, I thought I'd walk around my neighborhood to check out the damage that Hurricane Sandy left here. Since my M9 is not with me anymore (it's on consignment for the new Leica M), I decided to walk around with my Fuji X-Pro1 and X100. I carried my X100 with me because I wanted to use it a bit more before I sell it for the Fuji X-E1. Here are the photos, I hope you all enjoy them. I hope everyone is safe here in the East Coast! Feel free to leave a comment if you live in New York or New Jersey if you have anything to say about Hurricane Sandy (or anyone else ). Take care everyone and stay safe!

See on findingrange.com
See on Scoop.it – Fuji X-Pro1

Hey everyone, I have a new three way comparison for all of you today. At one point, I had all three of these Fuji X series mirrorless cameras together. After shooting with them all for some time, I started to think to myself, "wouldn't it be cool to write up some sort of comparison between the three?" Yes, they are completely different cameras in completely different classes but who hasn't thought of how they actually compared with one another? You have the X100, which is the camera that many believe basically put Fuji on the map in the mirrorless world. Then, you have the X10, which is the camera that in my opinion rocked the high end compact world. Lastly, you have the X-Pro1, which is the camera that really put Fuji in a new league in terms of the mirrorless world. What are their similarities? Their differences? Do these cameras even have the same signature look? Well, just for heck of it, I thought I'd make this fun comparison between the three X series mirrorless cameras, and see what I come up with…
See on findingrange.com
See on Scoop.it – Fuji X-Pro1

Fujifilm appears to have incorporated a lot of the X100 feedback in the X-Pro1′s design and it is great that they did this. There are numerous improvements the bottom line is that you are getting DSLR image quality in a compact, functional body with high quality optics. Current X100 owners will feel right at home and it should not take too much time for a new user to become familiar with the X-Pro1. The build quality is excellent, just like the X100. Fujifilm have done a great job with this system and I look forward to it expanding over time. I like the X-Pro1 so much that I have just pre-ordered the body and all 3 lenses. I am confident enough in the camera to use it for paid client work.

See on fujifilm-x.com
See on Scoop.it – Fuji X-Pro1

© Laurent Bourlier http://www.flickr.com/photos/63413031@N02/
Love, urban life, colour and the end of the world …
A selection of photos taken with the Fujifilm X100 and X-Pro1 via Fuji-x.com. [French Webpage]

See on www.fuji-x.com
See on Scoop.it – Fuji X-Pro1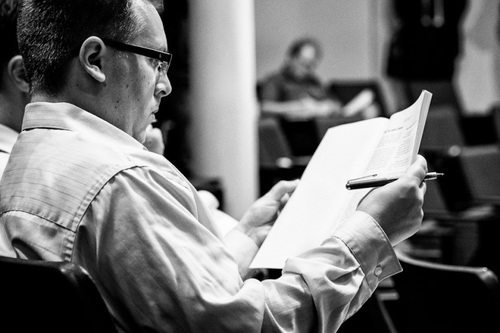 After selling my Leica M9, I knew that I might have a bit of a challenge shooting work events with just my X-Pro 1. Although I have the three current Fujinon X-mount lenses available, I feel much more comfortable shooting with two bodies instead of swapping lenses in the middle of a job. I also wanted to have a 35mm equivalent focal length, a lens that I rely upon for shooting events…

See on doncraigphoto.wordpress.com