Fuji x100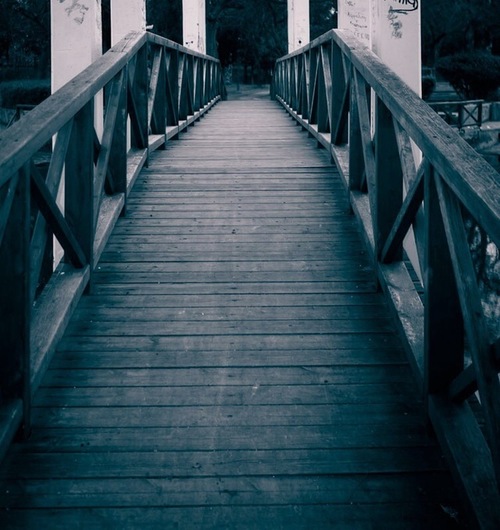 After a long time, today I am posting a few images taken with the Fuji X100 camera. My relationship with the X100 has gone from various stages. At one point, I reached a step before selling it, but thankfully, I decided to keep it. The last firmware update has transformed it to a much much better camera and this is something that no other company has ever done to a discontinued model (at least to the level of update Fuji did). I always had a dilemma between the X100 and the Leica M8, and at certain times I could not justify keeping both of them. There were also times when I chose to take with me the M8 despite the fact that the Fuji was more suited for the kind of shooting I wanted to do (that's what happens when you are biased and love a camera so much that it blurs your judgement !)……
See on kbesios.com
I have had some free time to work a little more on my composites.  The case I was working on for the last 5 years settled so I am out and about looking for a new job and have a ton of free time to create my make believe worlds.  The image above is a composite of a great old lock and keys that my Dad had collected.  The image of me was shot in my home and I am actually wearing one of Dad's old hats.  The checkerboard floor was created by me in photoshop and the sky is a combination of one I took and one that Brooke Shaden had in her texture set.  I did most of my work in Nik Color Efex 4 and Photoshop with a slight oil paint filter on it.  The images above were taken with my Fuji X-Pro1 and x100s…..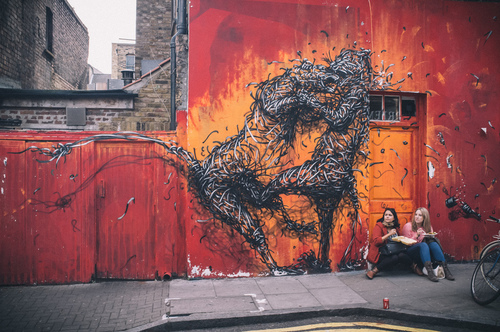 The past weekend I was in London to see Zack Arias and David Hobby talk about their Fujifilm cameras and how they use them, it was a great talk that was followed by lots of beer, but one thing at the talk really interested me and that was the street photography part of Zack's talk. In particular his techniques and tricks for getting street photos, ways of taking shots of people without realising and that you will get caught one time or another but realistically people aren't going to go berserk. So the next day with my Fuji X100 in hand and hangover in my head I headed out to the streets of London, I started with a walk along south bank where I got to find my feet with it, and before long I was employing some of Zack's tricks and tips. Once I had got a bit more comfortable doing this I started to do some street portraiture where I would ask people to pose for me, this is a great confidence booster and a great way to improve your photography, very quick portraits on the fly with available light, really good fun, and a lot less people say no that you would think…..
See more pictures on www.colinnichollsphotography.com
In 2012 I made a big decision, to ditch my dslr in favour of a small compact that had just hit the market with very little known about it. On paper the camera sounded like everything I wanted at the time, a compact with all the controls a photographer needs to hand and in a small body. My dslr was starting to be a pain, heavy and cumbersome to use with simple photographic needs stuffed in menu after menu. I just wanted a great travel photography camera that didn't give me a back ache but gave me great images. With trips to Italy and Japan planned, I decided to take a big chance, im not rich so laying down £1000 is a big deal to me. I've no regrets. The first real test was a trip to Italy followed by Japan. At the time I was very interested in way a using shadow as composition, the little X100 was a joy to use allowing me to focus on the concept. Not only was I able to do conceptual photographs but the standard style of photographic images were fantastic in terms of colour and sharpness…….
See more pictures on srphotoblog.blogspot.de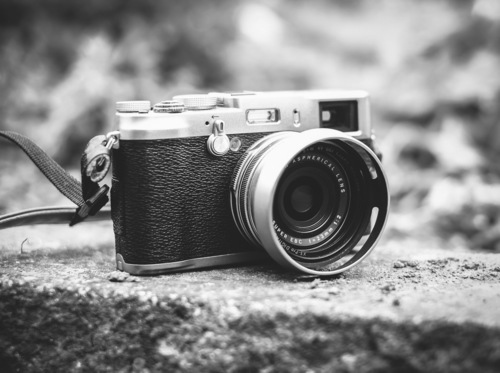 This camera is capable of incredible images, but like all good tools you need to master it, it won't help you take better pictures but due to it's size, form and specs it may just make you. You can't fire away with this and capture something, its not great for fast moving action, you must stop, take your time and compose yourself before you take a shot, this camera will slow you down and make you work for an image. To anyone on the fence about this camera then go ahead and rent one for a weekend and see what you think, it you will either fall in love or become frustrated and whip out your phone to take shots, either way this is the beginning of a new era in camera design, form and function……
See more pictures on www.colinnichollsphotography.com
Like many others, I'm a hobbyist photographer and I visit your site daily. I have been shooting for at least 10 years, mostly part-time with my old – and now semi-retired – Canon Rebel XS. I love this camera, but its weight and size hardly go unnoticed by the subjects. In São Paulo, where I live, the people are not so open-minded to be photographed. In fact, they hate it! So, I needed to upgrade my equipment or lose one shoot after another. I decided…the Fuji x100 looks nice to me! The camera is amazing (the Steve wrote a great review of that). The grip, lenses, size and everything fit with my needs perfectly! I'm back to action days, sneaking in the shadows and hunting for the photos without being discovered. I'm a color-blind person and monochromatic photos is true passion to me. And again, the Fuji x100 supports me very well in this case with some interesting options of film simulations, especially the black and white ones, that do not need a lot of processing to get images with the results that I want. After I bought the x100, my style changed a little bit. The fixed lens of 23mm has no zoom of course, but yet it is so versatile you can shoot in open areas and in a living room without losing quality or details. It's a unique experience……..
See on www.stevehuffphoto.com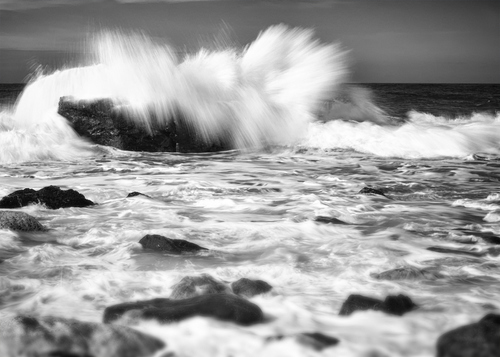 I thought id take a few moments to share my experiences this past weekend in Big Sur/Carmel while shooting with only my x100…..
For anyone interested in my ramblings here you go:
Pros:
I can't stress this enough, x100 is so small and light compared to D700 + 24-40 (16-35) it made everything easier. Taking it to café's, bars, restaurants is unassuming. Carrying it all day with a strap, or even holding it or stuffing it in a fleece pocket is easy. Also I didn't need a separate large camera only bag for the flight. Camera, charger and all accessories fit in my Domke F-5XA bag, which fit in my small carry on bag.
I recently bought the RRS plate, it's awesome, makes the camera feel a bit more solid, I kept it on even when not using tripod.
Used the new 95mb and 45mb / memory cards with no issues, freezes etc. Long exposures didn't take too long to write.
Since I was shooting a lot of landscapes I didn't have many issues with AF, I simply picked my desired spot with the AF grid and then switched to MF and put my ND filters on.
I used a step up ring to use my larger filters, 6 and 10 stop ND filters.
Used a cheap locking screw cable release.
Raw Files are awesome. 2 stops easy to push pull in both directions highlight correction etc.
Cons:
Really wish this camera had face detection, when the girlfriend tried taking shots of me the focus was all over the place, and she has no desire to reposition the AF or do anything else besides "click" and done. Not a huge deal, but still.
There were sometimes the landscape didn't allow for zooming with feet, aka McWay Falls. Would have been nice to zoom.
Battery meter. Didn't realize this issue before, it really goes from full to dead in like 15 shots!? Lucky I brought cheap extras.
Is there a way to get the histogram larger on the back LCD screen during preview mode? When taking long exposures in bright sunlight it was sometimes tough to fully read it.
Weather proofing would have been nice, since the waves were crashing.
Lack of C1, C2 customizing. Can I just save my landscape settings, base ISO, MF etc as one setting? And have another set for hand held shooting, auto ISO etc? That would be awesome. (Love that on the s95.)
See on 500px.com
Canada has been seeing quite a bit of horrible weather lately. First, an Ice Storm in Toronto that caused over 300,000 people to lose power, and now this cold front bringing temperatures as low as -33C. Unfortunately, this weather has been getting in the way of my street shooting and so, being stuck at home, I decided to make the best of it! Armed with my trusty Fujifilm X100LE, a GorillaPod Hybrid, and some YONGNUO off camera flash gear, I decided to play with water. After setting up the mini studio I experimented with various shutter speeds, gear placements, and flash power. I was having fun!
See on www.kammah.ca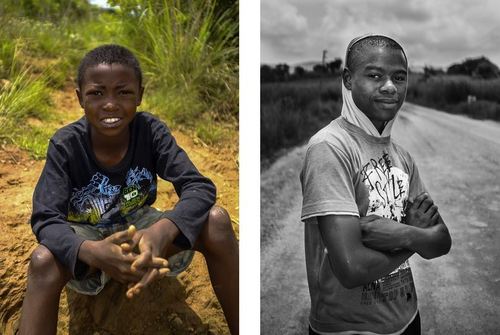 While the X-A1 review and viewpoint from my cousin is just about done and my X-E2 and 24mm in the works, I got my hands on an old X100. I wanted to test it out and compare it to my X100S, as I only came into the Fuji world just after the X100S was released. I found these 4 guys walking on a dirt road, and they were kind enough to let me take the shots. I took only the X100 for this trip to force my self to use it. I had loaded the latest, and from what I have heard, the last firmware version 2.0. I can tell you, the camera is still very impressive. The few things I missed was the Q-button, but I was able to assign the RAW-button to allow me to choose from the 3 custom settings. The biggest issue I had, was the AF-button on the left. First my muscle-memory kept going to the right-side button where it is for the X100S, but over time one starts to adapt and it all started working nicely.  Until I pick up my X100S again, I am confused all over again. During my early tests around the house, OVF was useless at focusing for about 90% of the time, so I had it in EVF permanently. I also found that just about all the images appear a little soft around the eyes, but that said I done very limited testing…..
See on www.neillsoden.co.za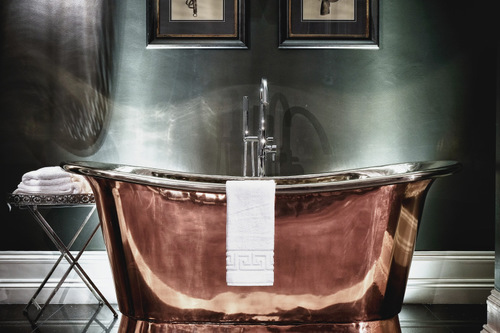 I have been rather busy over the last few days shooting Paddocks House. The second new boutique in the House collection chain. Having had the pleasure of shooting the fist hotel I was very pleased to be invited back to shoot the second hotel. The trusty Fuji X-E1 and the X100 combination worked a teat again. I use the 18-55 on the X-E1 for the wide shots and the X100 for the details and macro. Sometimes I will put the 35mm f/1.4 on the X-e1 if I need.. For me the details shots are undoubtedly my favourite for a shoot of this type. However this time round I have taken some time out and continued to push the boundaries of HDR abilities for my own work. I hope you enjoy them as much as I have had spending 2 days creating them…..
See on simonpeckham.wordpress.com