Fujifilm Fujinon XF 18-55mm f/2.8-4 OIS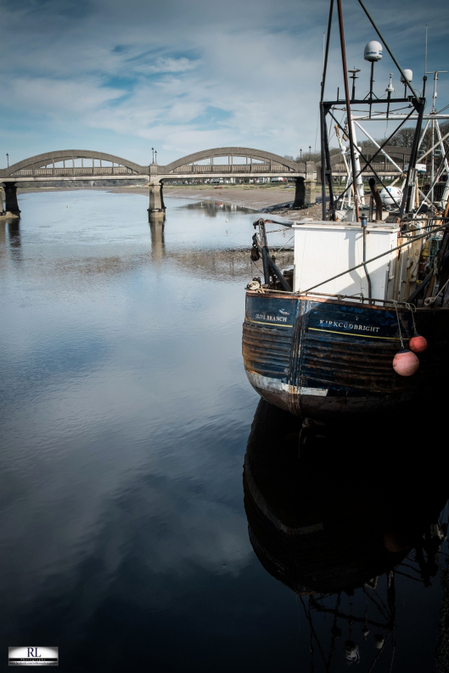 Over the better part of the last three years I have shot with prime lenses on various systems, for reasons of clarity, speed, IQ and not forgetting the fact that primes really do force us to think, and hopefully too, make us better composers of photographs. The Fujifilm XF system of lenses has however, given me cause to rethink this theory and while the 35mm 1.4 and 60mm 2.4 R Macro give me an IQ that I am delighted with, and two focal lengths that I am extremely happy and comfortable to work with, the promise of superb IQ in a convenient zoom lens, two of which cover 18-200mm (equiv: 27-300mm on the APS-C sensor of the X-Pro1, E1, E2 and the new X-T1 and, all I could possibly need) meant that this was something that could benefit me a great deal in a lot of situations.
See on roblowephoto.wordpress.com

---
Fujifilm Fujinon XF55-200mm F3.5-4.8
Do you love my work and want to support me? If you're planning on buying camera gear, you can check out above-noted links. Prices remain the same for you, but a small percentage of your purchase value is valued back to me. Thank you!
---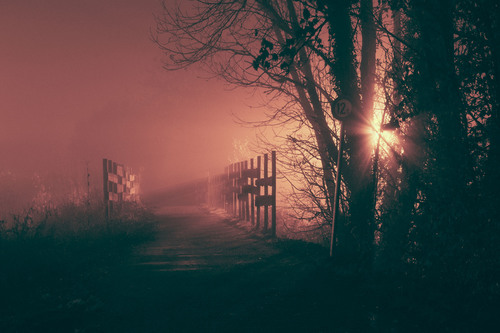 Winter in Belgium is way different in 2013 than it was in 2012. We reached the 15°C when last years it was… -10°C! Therefore, last year's white mantel let place to water, fog and sun. The short days and christmas decorations helped to play with the high iso settings or long exposures. I recently bought the 18-55mm lens. As I never had a wide angle / zoom lens before, (except on this test) it took me a few shots before getting confortable with it. In fact, to tell the truth, I'm still not confortable with it… but at least I now like it. Because, yes, two weeks after I bought it, I tought I would sell it back. Compared to the 35mm 1.4 it wasn't fast enough and I wasn't taking any good picture, neither wide nor zoomed. Now I know a bit better when to use it or not. I know how fast it focuses at 18mm and what to expect from the image stabilisation. Now I know my 35mm is still the best, in low light and how versatile the 18-55mm is. Two more things I prefer about the 35 is it's size and it's marked aperture ring. One more thing. I bought a ND filter for long exposures and wide aperture in full light. The seller told me a 64x would be ok. He was right… and not right. It works for long aperture under a cloudy sky but not on a sunny day. I didn't have the chance to try the wide aperture in full light yet. FYI I put the ND filter on the 35mm……
See more pictures on www.regislessent.com
Some­where along the line, I decided that the ideal every­day Fuji kit for me was either the X-E1 or X-E2, the Fuji­non 18mm f/2 XF R, the Fuji­non 35mm f/1.4 XF R, and the Fuji­non XF 18–55 f/2.8–4 R LM OIS. I was prompted to blog about this lens after I did Google search after Google search look­ing for opin­ions and exam­ples of real-world exam­ples of the lens's bokeh at 55mm. Obvi­ously, the 60mm macro is going to have 'bet­ter' bokeh with it's faster aper­ture and slight focal length edge, but I wanted to quan­tify things a lit­tle more. If I were going to travel some­where, I would take one of the two lenses and leave the other at home, so for me it mattered–was the 18–55 good enough at 55mm to func­tion as a por­trait lens as well as being a ver­sa­tile, com­pact, do-everything lens?….
See more pictures on markschuelerphoto.com
It's been a long time since my last post and I decided I couldn't finish 2013 without one last post. It's been a crazy year with starting a new job in May and a relocation from Georgia to northern Virginia. Needless to say there's been little time for photography and blog posts. Thankfully, in the last two months, the job has settled down and I'm beginning to get out more with the camera and focus (pun intended) on photography. I plan to make photography more a part of my daily life in 2014 and post once a week here on the blog…..
See on www.fstopguy.com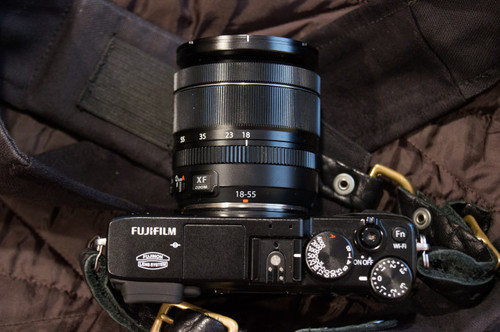 We sang this lens's praises before when we first go the X-E2 in for review because it was unlike any kit lens we'd worked with to date. With a fairly generous variable aperture and an aperture ring, this 18-55mm is a refreshing take on a form that has resided in the doldrums of f3.5-5.6. The lens offers full control in its three rings and two sliders, and it can produce some beautiful images to boot…..
See on www.thephoblographer.com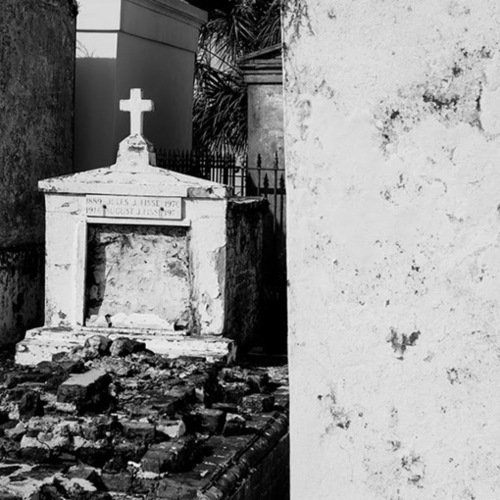 I am in New Orleans attending PhotoNOLA, the annual festival of photography that is held here. Having arrived a day early I did a mini tour of the city —  with my camera of course.  The sky below is the first subject to greet me on my taxi ride from the airport. Underexposing it gave the dark, ominous look, and a good start to a side tour I did to a famous New Orleans cemetery. All the photos below were taken with the Fuji X-E2 and 18-55mm zoom…….
Often when you visit a tourist attraction it's hard to get a good photo as there are people milling around everywhere. However there are a few techniques that can be triedto overcome this. Some would suggest taking a number of shots every few seconds (using a tripod)  then combining the photographs in post production to remove the people. On a recent family trip to England I decided to experiment with a Neutral Density filter, the thinking behind this idea was the the longer the shutter was open then the people would be moving and should vanish from the image. When we arrived at St Mary's Lighthouse there were few tourists as the tide was in, as shown in the photograph below…..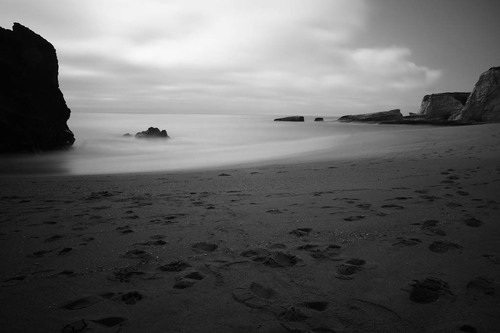 Weekend in the US. My fist experience with long exposure shoots at the pacific cost at the Santa Cruz area.
Fuji X-Pro1 | Fujifilm Fujinon XF 18-55mm f/2.8-4 OIS
See more pictures on www.schwarzweissart.de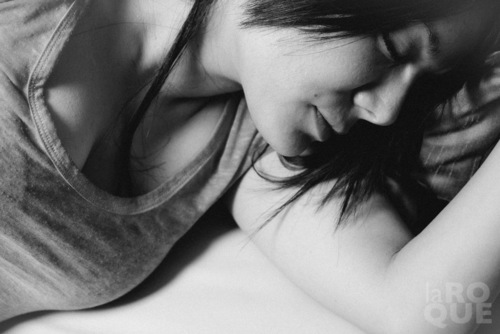 Lately I've somewhat veered away from the technical aspects of photography in the blog, mostly posting short essays in between new Fuji gear reviews. But there is a point at which it might become too self-involved. I do realize that. So today I thought I'd break away from this and do a kind of anatomical review of one of those client shoots I never talk about, tech notes et al. I always ask permission to do it but I usually tend to shy away from posting client assignments. And since I'm usually knee deep in the immediacy of what I'm shooting, after a few months have passed it feels somehow irrelevant; I have a fetish for the here and now… Or maybe the two days ago ;) Last Spring I got a message via Facebook from Aida; she'd apparently been searching for a photographer for quite a long time, had just stumbled on my work and wanted to know if I'd be interested in doing a portrait session with her. We did a back and forth and I proposed that we meet to discuss what she had in mind. I don't do cold sessions, ever — learned that one a long time ago. We had a wonderful time and settled on doing an exterior/interior shoot… But it was March: awful weather, crappy light and not a whole lot of it. Of course, when you don't have a choice you deal with it, you make the best of what's there; but if you can afford to wait, why bother? So we waited. And late April, the Gods of Light rewarded our decision……
See more great pictures on www.laroquephoto.com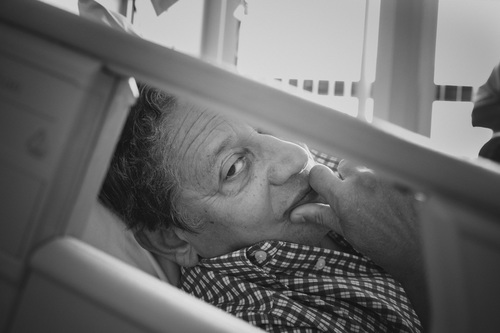 It was a typical Wednesday morning until I received that call. About 10:43am my iPhone rang. It was my mother calling to notify me that that my father had to stay at the hospital and have a neurosurgery consult. I was instantly shocked with disbelief as my father is as healthy as a horse. He's 69 years old but he's the kind of man that hasn't slowed despite having been retired since 65. It turns out my father had been having some slight headaches on the right side of his head for the last few months and really didn't much of them. As a family, we were all going through a trying time as my uncle, my father's younger brother, had been battling cancer for about a year already and he simply attributed the headaches to stress. But my mother, always one to be top of things had requested a doctor's appointment so that my father would go and get an MRI. To the surprise of everyone, the radiologist that interpreted the MRI said my father couldn't go home and he must go see Neurosurgery immediately. My father had been diagnosed with a "subdural hematoma". I suppose we need to define subdural hematoma. A subdural hematoma is bleeding between the space that divides the cranium and the actual brain…….