Fujifilm Fujinon XF 18-55mm f/2.8-4 OIS
When Fuji announced that they were coming out with the X-Pro1, it got many photographers out there excited because finally, there was a digital camera that reminded them of how cameras use to be built. The Leica M digitals evoke the same feelings but they also cost a lot more. The X-Pro1 was a camera that really allowed photographers to take an active role in the photographic process instead of letting the camera do everything for them but for several times less than something like an M9. Furthermore, the X-Pro1 had many of the same attributes of a traditional rangefinder even though it was in the mirrorless class. Many thought that just like a traditional rangefinder, only fixed focal length lenses could be used. Then Fuji surprised us by announcing that they would be creating zoom lenses for the XF Series lineup. The first of these zoom lenses is the XF 18-55mm F2.8-4 R Lens, which is the lens that I have here today for review, and the lens that came with my X-E1 kit.
Honestly, even I was a bit surprised when I heard the news that Fuji was coming out with zooms for the X-Pro1/X-E1. First off, most people who are going to buy a camera like the X-Pro1 or the X-E1 are more interested in fast primes. I know I was because I grew up with fixed focal lengths. Optically, they're just better, faster, and most importantly for a rangefinder type camera, smaller. But as my interest grew for the Fuji X-E1, I began looking at the price of the new zoom. If I bought the XF 18-55mm F2.8-4 R Lens separately, I would have to cough up almost $700 for it. However, if I bought it packaged as a kit with the X-E1, I would only be paying about $400 for it.

The Fuji X-E1 with XF 18-55mm F2.8-4 R lens.
I'm pretty traditional in terms of what I like in photographic equipment, and everyone who knows me knows that I can be pretty stuck in my ways. Look at my blog.  You'll see Leica, and Fuji X series cameras, which are all cameras that rely heavily on user input. I'm not trying to rat on anyone else's preferences; that's just my style. I like these kinds of cameras because they're basic, and the controls are manual allowing me to fully concentrate on the photo. I really don't like electronics getting in my way, and in terms of lenses, I really believe that all you need is a fast prime to take care of 90% of your shots. For me, the ultimate setup to this day is a Leica M9 with a 50 Summilux ASPH. So what made me try out this zoom?  Well, for me, the fact that the X-E1 had only an electronic viewfinder bothered me a bit because I like having an OVF. But the features of the X-E1 got me to take the leap, and buy it so I figured that since I'm giving the EVF a chance, I might as well go for the zoom, and see what I've been missing. Plus, again, the zoom cost me only an extra $400 if I bought the Fuji X-E1 kit, which to me was a great incentive to give the zoom a chance.
Did I regret my decision? No, not at all. This is one awesome lens, and in my opinion, Fuji shouldn't label it as a kit lens because that's very deceiving. I love using this lens. Is it perfect?  No but it definitely expands the range, and usefulness of the X-Series system, and gives the X-Series system one more reason to love it.

See full review on findingrange.com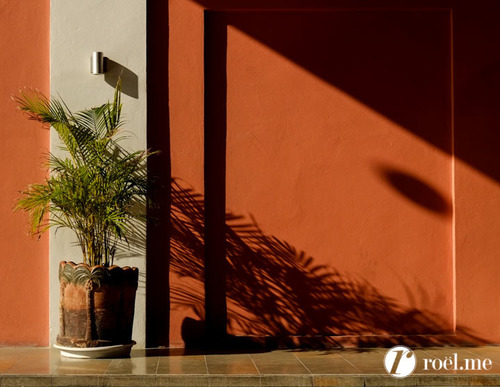 It is the first zoom lens for the Fujifilm X camera system and unfortunately, I did not have a chance to use it as it was not available when I received the X-E1 for testing.  At a trade show in Toronto later that month, I did have a very brief opportunity to use the 18-55mm at the Fujifilm booth, but I could only view the images on the camera's rear LCD screen (and not a calibrated computer monitor) so I did not feel that I had sufficient data to present an informed opinion. I really wanted to see how this lens performed – especially since I have been spoiled by the superb optical quality of the Fujifilm X prime lenses.  But I was just going to have to wait a bit longer before I could get my hands on this new zoom lens. As I was heading off for a much needed vacation in the Bahamas in December 2012, Fujifilm sent a production copy which I took with me on this trip. This is not an in depth review as I tend not to be a pixel peeper but I wanted to pass on my thoughts – plus, show you a few sample images…..
Final Thoughts
Here is a quick summary of this lens:
Pros
excellent build quality
fast for a variable aperture lens (f/2.8 to f/4)
focus ring is dampened nicely
aperture ring feels solid with discreet 1/3 stop settings
sharp, even wide open
incredibly sharp when stopped down
OIS works well
AF is extremely quiet in operation
the petal lens hood is a much needed improvement over previous lens hoods
Cons
the $US 699.99 price tag might put some people off
Linear Motor provides adequate AF speed, but I expected it to be faster
See full article on roel.me
To date Adobe Software hasn't come up with reasonable raw processing for the Fuji X-trans sensor. The way the new sensor captures and processes light requires new thinking on their part and as yet Adobe has been satisfied to rework their current formula to produce acceptable, but not outstanding images. The jpeg processing in the Fuji camera can do it, SilkyPix can do it (albeit through a rather arcane user interface), and Phase 1in the beta release of their raw processor – Capture 1 – has apparently been able to do it. I gave a beta version of Capture 1 (which includes updated processing for the X-trans sensor and Fuji X series camera profiles) a test run. If it works as well as touted, I'll have to think long and hard about switching from Lightroom which for me so far has been OK …. just. To have two different cataloging systems – for Lightroom and for Capture 1 – is a bit daunting for me.
Now onto the XP1 and the 18-55 zoom lens. I was out on the streets in New York City yesterday with the intention of shooting most of my images at the 55mm setting with OIS (Optical Image Stabilization) turned on. Previous to my outing yesterday, I discovered information about how the OIS works between the camera and lens, and understanding how to use it affects both image quality and battery life. There is a new setting in Shooting Menu 5 called 'IS Mode' for which there are two settings with descriptive names of IS1 and IS2 – oh so helpful. In the IS1 option OIS is on and running continuously whenever the camera is turned on and a lens which has the OIS functionality is mounted and the function on the lens is acctivated. In the IS2 option OIS is activated only when the shutter is depressed half way before shooting.
Ah me, there's always trade-offs in life, and especially in photography.
If IS1 is selected, the OIS runs continuously which creates a serious drain of battery power. But it also means that the teeny weeny gyroscopes in the lens are always engaged, running, and ready to stabilize without the slightest delay. This, not surprisingly, results in a very large percentage of the images shot in this mode being completely unaffected by lens motion or shake at slow shutter speeds.
If IS2 is selected, the OIS kicks in only when the shutter is depressed half way. So power from the battery for the OIS is used only at that time which, of course, results in a significant saving of battery power. However, in the time it takes for the battery to get the gyros up and running, and to stabilize the image the camera can still fire the shutter if the button is depressed quickly in one continuous motion. This resulted in a significant number of images shot on Friday (in this mode) being not optimal.
Sometimes the story or the expression of the person in an image is significant enough that I process and post it even with its technical shortcomings. So here's what I got from my outing on Friday. The first was shot at 55mm and, with the OIS set to IS2, was one of the few at that focal length that were spot on…..
See full article on genelowinger.blogspot.com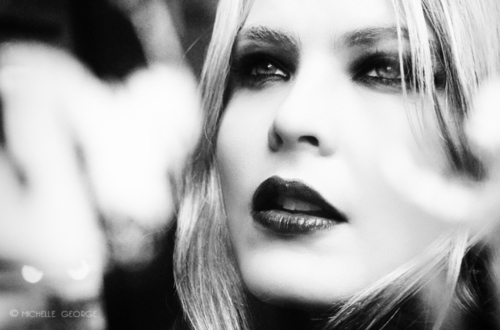 After a passionate yet somewhat impetuous relationship with the Fujifilm X-Pro 1 I couldn't resist a little fling with his younger brother the Fujifilm X-E1 I'd spend sleepless nights wondering if he could deliver the same image quality as the X pro 1 but at almost half the cost of the Fuji X Pro 1 I was in serious doubt… Appearance wise, albeit the slimed down body, slightly smaller LCD, additional pop-up flash, but lack of the much talk about hybrid view finder, the look and function of these camera are almost identical, to the point that they could be twin – they both posses the X-Trans CMOS sensor, 16 million pixels resolution and a high ISO sensitivity which all attribute to the X pro 1's outstanding image quality. Though, the thing that really enticed me into this adulterous fling was the new.Fujinon XF Lens: XF18-55mm F2.8-4 R LM OIS kit zoom lens.
Admittedly I could have purchased this separately to use solely with the X pro 1 but the kit price and buzz surrounding the X-E1 was just too tempting…and as Oscar Wild states 'I can resist everything but temptation' ) My first though was to take this seedy affair around the back streets of soho, mainly to test out the infamous noise free high IOS settings and also the new built in pop-up flash; However as me and the lovely model Allana from Milk management set out on our quest, it was clear life had other plans for us:) As the temperature that night slowly decreased to sub zero temperatures and drunken tourist tried to muscle in on our shoot. We only managed to get a handful of shots around Soho
See more pictures on creativelondonphotographer.wordpress.com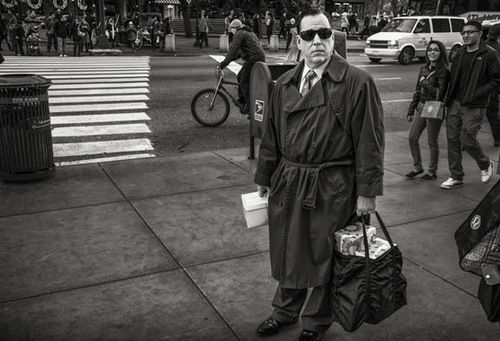 After reviewing my images from my outing on the streets of New York, one thing is very clear to me. I need more time with this lens to get my zoom/longer focal length chops back to snuff.
Drat it! I guess I'll just have to go out and shoot a lot more. Just to recap what I said yesterday: the focus speed is very good at 18mm and 35mm but a little slower (not by a big factor) at 55mm, the IOS (image stabilization) works extraordinarily well so that I can hand hold at 1/30th second and get good shots, I miss not having the aperture indications on the aperture ring but as this is a variable aperture lens (f2.8-f4) those indications would be meaningless, and the lens hood mounting leaves something to be desired in terms of a secure fit on the front of the lens.
The images below were shot RAW, processed minimally in Lightroom and then put through my workflow with NIK filters. The first two shots below were at a focal length of 18mm, f6.4, and 1/125th second. Since I keep my camera set on auto ISO it varies – the first shot was at ISO 5000 and the second at ISO 6400. In my film days an ISO of 6400 would have resulted in practically no definition in the small details. The first NIK processing is with Dfine to manage the contrast noise, then into Color Efex Pro 4 to optimize the color contrast with my special (wink wink) tweaks, and lastly into Silver Efex Pro 2 for the conversion also with my special (wink wink wink) tweaks.
In the first two images, the woman on the right was quite striking looking (nothing gets my camera finger more twitchy than a pretty lady) and yet so sad…..
See on genelowinger.blogspot.com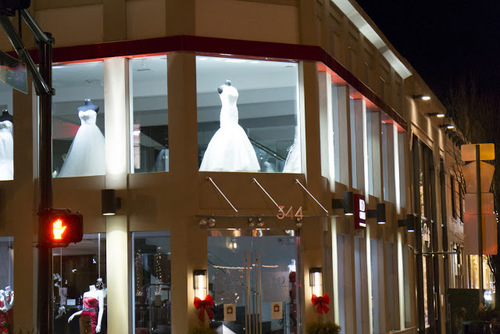 …. I looked for chromatic aberration at 18mm, and found it. It's about the same as the CA on the prime 18mm lens – so that's no big deal, easily corrected in Lightroom. I turned off the image stabilization on the zoom (more about the IS later) and took a few test shots at 18mm and 35mm so that I could compare the sharpness to the two prime lenses. At 18mm it's pretty much the same. At 35mm the prime has a thick hair's advantage.
I didn't have any complaints about the focus speed of the prime lenses right out of the box, clearly this wasn't a clunky DSLR with huge, heavy lenses so I had realistic expectations. After the firmware updates the speed of focus was a non-issue for me. At 18mm and 35mm the auto focus speed of the zoom lens is the same as the primes. The response is a little slower at 55mm, but I don't have the 60mm prime to compare.
I had only one lens for my Nikon D700 with image stabilization, a 70-300 f3.5-5.6 zoom. I rarely used the lens, so I have nothing to which I can compare the Fuji's IS. I am, however, totally impressed with the increase in flexibility that the IS allows. I have been able to hand hold the camera and shoot comfortably at shutter speeds down to 1/30th second. I pushed some shots one stop slower – to 1/15th sec. – and the results are quite satisfactory considering that the slower shutter speed buys some ISO speed and lower noise in the image.
The first of these shots was taken at 1/60th second, f4, ISO 5000, these are jpegs, generated from raw data by Lightroom, without any processing…..
See on genelowinger.blogspot.de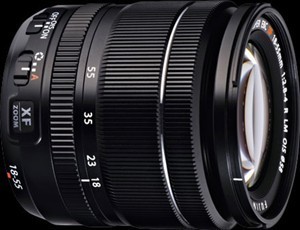 Purpose of File:
The firmware update Ver.1.01 incorporates the following issues:
This firmware update Version 1.01 will mitigate any high frequency noise from the optical image stabilization module which can very occasionally occur when the lens is used at extremely low temperatures.
Products Supported: FUJIFILM X-E1, X-Pro1
See on www.fujifilmusa.com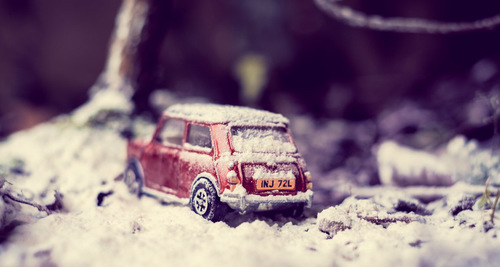 I recently acquired two little, vintage dinky mini cars and normally would have reached for a 50mm lens and a sub f/2.0 aperture to create a miniature world effect. The Fujinon 35mm lens at f/1.4 is equivalent to a 53mm lens at f/2.0 on a full frame camera so I began to wonder if I need to turn to 50mm to achieve the depth of field I was looking for. Starting of with the Fujifilm X-E1 & 18-55mm XF Lens">18-55mm zoom lens I shot a number of photos of the car (setting the X-E1 on macro mode). You can see from the following two images to get the scale right meant framing at 35mm-55mm….

You can see that moving between the 18-55 zoom and 35mm prime offered different focal lengths and I could adjust the scale of the car. I think both the 18-55mm zoom and 35mm prime worked well to achieve a 'slight' sense of reality. I am genuinely beginning to wonder if I really need to retain a full frame camera given the quality of photographs I can achieve with the fujinon lenses. I know there is an even finer DoF offered with f/1.4 on full frame but I am just not sure how often I actually need it.

Note: All photos were captured on the Fujifilm X-E1 and either the 18-55mm zoom lens or 35mm prime lens.

See on www.flixelpix.com


December is the month that I set aside for creative time. Time to write, shoot and think. This shoot has been planned for several weeks. I won't discuss the original concepts but it's fair to say they weredark. I have a new friend in the wedding and fashion industry Lisa Keating who partnered us on this shoot. Lisa custom made the corsets, the head pieces and accessories. Luke, my graphic and web designer is currently building a new website for Lisa and it will be ready for launch very soon. I first met Helen and Lisa on a shoot in the summer that I volunteered to assist on. I suggested we got together for some creative fusion at some point soon and I love the way that effort is rewarded.
The dream team are…
Model: Helen Diaz
Make up and hair: Vicki Waghorn
Styling: Lisa Keating
Photography: Damien Lovegrove
Camera: Fujifilm X-Pro1, 18-55mm OIS zoom lens mostly shot at the 55mm end wide open at f/4
Lights: Lupolux Quadlight 1500, Lupolux DayLED 1000 x2, Lupolux 800, Lupolux DayLED 650
Post production: Straight from Lightroom without Photoshop intervention

See more pictures on www.prophotonut.com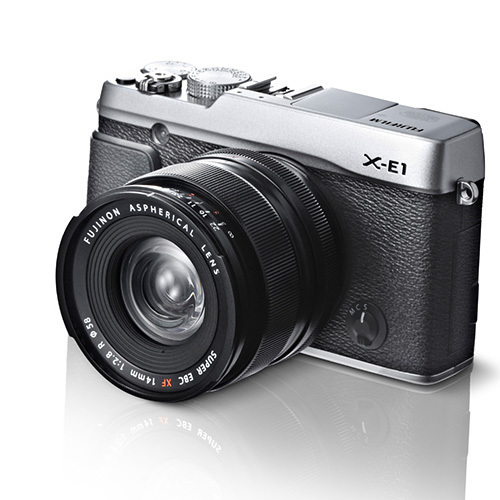 Well, the Fujifilm X-E1–commonly referred to as "The Sexy One"–is slowly trickling into the marketplace, and there seems to be quite a few people reporting bugs in it. Not that there's anything unusual in that. These days, it seems no new camera goes through a thorough torture test before its released. It seems like manufacturers rush to release their latest product and let the market do their quality control for them. I suspect these are not really bugs in the camera. Maybe "quirks" is a better word to use? They seem to be things that can be easily fixed with a firmware tweak. Which leads me back to my original point that cameras are released these days before they're "fully baked." One major quirk that seems to be plaguing the X-E1 is the "Raw Resolution Anomaly." Apparently if you choose to shoot RAW or RAW + a smaller size JPEG, the RAW file will not record as full size. The RAW file is slightly smaller than it would normally be.
This seems to only happen though when using Adobe RAW converters, not other software. So it may be a bug in Adobe's conversion algorithm, not in the camera's. Another quirk seems to be that with the Fujinon XF 18-55 f/2.8-4 OIS zoom lens, the focus distance indicator in the camera is not exactly dead on. People are reporting that the distance is off by a few feet (half a meter or so). I've got news for you guys, the distance scale of any camera (film or digital) is never dead on. It's close but it's not a measuring tape.
So what's the moral of this story? Nothing's perfect. Camera manufacturers sometimes screw up. But with the Internet, word spreads instantly. So they are listening and they'll eventually remedy the situation.