Fujifilm Fujinon XF 18mm f/2 R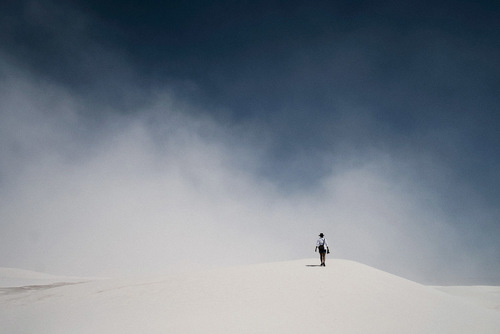 Skyvandrer [Danish: Cloud- or Skywalker]. Walk on clouds. Free. To Live a creative live feeling free. Chasing the dreams of a 10 year old. My time spent in New Mexico is unique in this aspect. Mad mix of unfiltered emotions, freedom, making pictures, filming a documentary. Mad and Magic New Mexico. A long term work-in-progress collection of images from New Mexico and the American South West.
See more great pictures on www.flemmingbojensen.com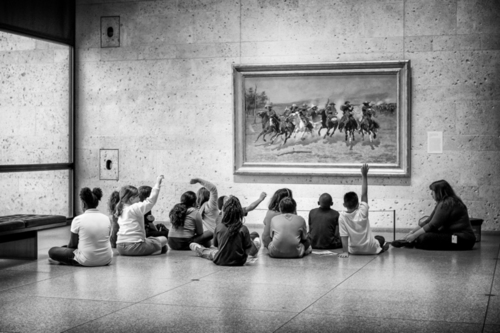 The Fuji X-System cameras and XF lenses have come a long way thanks to Fuji's commitment to fixing problems with firmware updates, rather than just releasing another camera or lens to replace the one with problems. Meet the Fuji XF 18mm f/2 lens, a lens that initially started with some problems, but after several firmware updates, performs quite well and with more than acceptable image quality:
Pros
Solid image quality on par with other professional grade lenses including some full-frame digital-SLR lenses from Canon and Nikon. In fact, in testing I performed, the Fuji lens actually outperformed several of these lenses. Compact and lightweight, almost to the point of looking like a pancake lens. No complaints here when it comes to compactness, especially if you're trying to keep a low profile for candid or street photography shots. The weight of lens is next to nothing which keeps the entire camera system very easy to hold and use for extended periods of time. Fast autofocus. Issues with autofocus have previously plagued the X-Series, but, with firmware updates, these problems are nearly non-existent at this time.
Cons
Construction of the lens seems a little on the flimsy side to me, mainly due to how loose the aperture ring feels when turning it, even though I know it's digitally controlled and not mechanical. While I love how lightweight the lens is, I can't help but to think that the build quality may have taken a hit to achieve the weight. Unlike the XF 35mm f/1.4 lens, which is tack sharp at f/1.4, even out to the edges, the XF 18mm f/2 isn't quite as sharp in the corners until you get the aperture stopped down to f/5.6 or greater……
See more pictures on www.paulkomarek.com
Long exposure… The more I do it the more I like it. This week I walked into Dublin city centre to take more photos of my current hometown. I did a few shots then a mini storm broke out, I had to take shelter and the closest thing was a pub, why not. I had a pint of the good stuff and a bit of a time to think of where to go next. I photographed some of the bridges and buildings along the River Liffey, then it started to rain again and it was time to call it a night. All images were taken with the Fuji X-Pro1 and the 18mm lens…..
See more pictures on gaborimages.blogspot.de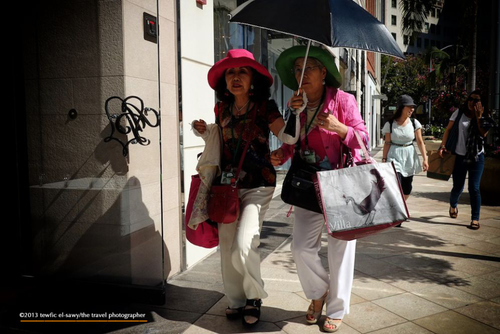 This is gallery of photographs made with the Fuji X Pro-1 and a Fujinon 18mm, and all were shot from the hip (except one). I wanted to be as unobtrusive as possible, and shooting from the hip allowed me to capture candid expressions I may not have been able to otherwise. Rodeo Drive of Beverly Hills, California is a 4 block stretch of road north of Wilshire Boulevard and south of S. Santa Monica Boulevard, known for its luxury-goods stores. The street is home to some of the most sought-after stores, and is the target of Japanese tourists arriving by the busload every day…..
See more pictures on thestreetleica.wordpress.com

Sample Shots from Montana
See more pictures on www.facebook.com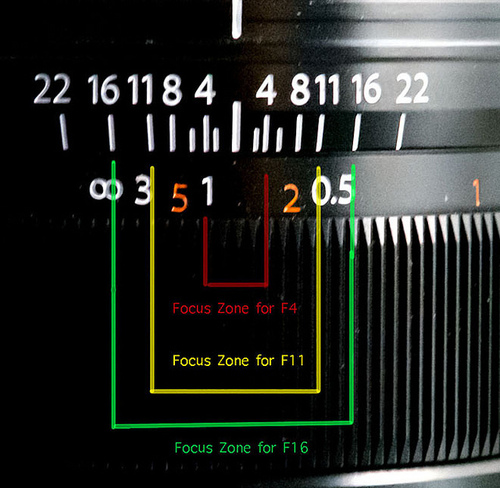 This is a quick guide on how to set up your Fujifilm X-E1 for general street photography: Amazingly easy with the 14mm, since all we have to do is switch to manual focus mode, and check the "zone of acceptable sharpness", indicated on the DOF scale for the chosen aperture. This caused confusion because the digital indicator does not correspond to the markings on the 14mm and some of you emailed, wondering if you were reading the markings incorrectly. For a given image format, depth of field is determined by three factors: the focal length of the lens, the aperture and the camera-to-subject distance. On the Fujinon 14mm, at F16, when focused near the 1m mark, the markings on the lens barrel indicate an acceptable focus zone from infinity to approximately 0.5m. This covers quite a range and I found it to be a realistic estimation of what I consider "sharp enough", your mileage may vary, since the acceptable circle of confusion varies relative to the amount of magnification of your image. The digital DOF indicator shows a much shorter zone when focused near the 1m mark, from about 0.75m to approx 2.5m. (If you are super critical or make huge prints or projections, this might be the scale to go by) which corresponds roughly to the f8 on the lens barrel. When shooting with the 18mmat f5.6 for instance, I found the DOF indicator very conservative and in general assume when focused around the 3m mark to get everything from 2m to approx 5m in focus, the digital scale indicates about 1/2 of that. The only gripe when zone focusing on the 18mm is the lack of a focus lock, see the image below for my solution:) It is very easy to accidentally turn the focus ring and ruin your capture, the rubber band holds the focusing ring in place. Not a problem on the 14mm, since we can check the focus setting right on the lens and don't have to look at the LCD or through the EVF, which allows us to set focus BEFORE we lift the camera to frame the shot. The way Fuji implemented manual focus, in addition to the small size and light weight, makes the Fujinon 14mm a real winner in practical shooting situations…..
See on www.mikekobal.com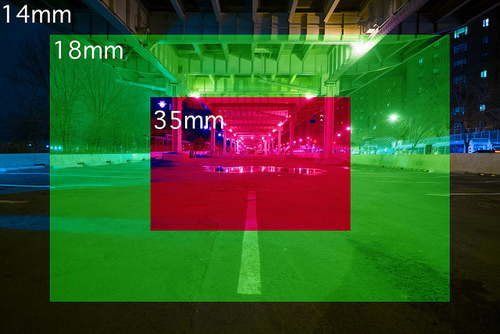 Here is the angle of view comparison you guys asked for  Fujinon XF 14mm, Fujinon XF 18mm, Fujinon XF 35mm.

See on www.mikekobal.com
Just before Christmas I spend a long weekend in London, the main reason was to visit as many photographic exhibitions as possible. Friday Day 1 I spent looking around the victoria and albert museum where they have the Light from the Middle East: New Photography exhibition on. Plus all the other exhibits in the victoria and albert museum are well worth seeing. After that I had time to look around the natural history museum, a museum I haven't been to since I was at school. Saturday Day 2 had a delayed start due to 3:30am late night in Camden at the Underworld with some great friends, but I did manage to get to The Tate Modern where they had a William Klein and Daido Moriyama exhibition. Sunday Day 3 was just spent walking around London doing the bit of Christmas street photography using my Fuji x pro 1 and a 18mm F2 lens, here are a few images from my three day London trip, shame the weather was so bad but I did get some great skys, well it is England in December! I would encourage anybody to spend a day or two in London looking around the Art galleries and Museums, most are free to enter.

Peter is a Documentary Wedding Photographer based in Harpenden. Covering weddings, and engagements, in Harpenden, Redbourn, St Albans, Hertfordshire and the surrounding counties. With a non-intrusive reportage style with a mix of contemporary wedding photography.
See more pictures on blog.peterhearlphotography.co.uk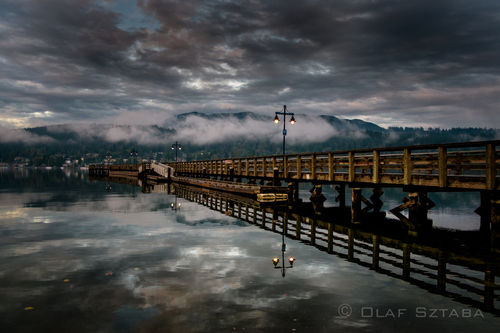 The September-October period is my favourite time of the year for photography. It is the time when the summer "blue skies" days are over and instead you begin to encounter morning fog, stormy skies and the sun trying to find a space to get through. Recently, I was driving my son home from his late-afternoon activity. The conditions outside were plain horrible – dull light and never-ending rain (it is Vancouver, after all) – the kind of afternoon when you wished you had stayed home. As we were driving I noticed a sudden clearing from the west accompanied by fog and misty air. I quickly parked near Rocky Point Park in Port Moody and took out my Fuji X-Pro1. As I started walking toward the pier I couldn't believe my eyes. The dark rainy clouds had turned into a beautifully coloured mosaic. Fog was flowing above the water and naturally diffused golden rays accompanied the park lanterns, which were just turning on.
In this magical moment I shot about 15 images, each of them without a tripod. In a few minutes it had all disappeared. The openings in the clouds closed and the rain started. Once again, one of my favourite images was taken unexpectedly. All shots were taken with the Fuji X-Pro1, Fujinon XF 18mm F2 and processed in Lightroom 4.
See more pictures on olafphoto.wordpress.com
See on Scoop.it – Fuji X-Pro1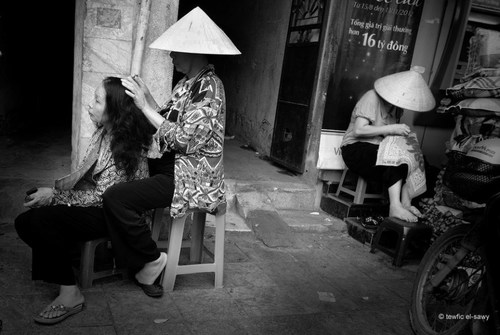 If there's anywhere that lives life on the street, it's Hanoi.
So here is a gallery of 12 monochrome photographs made in its streets. For these I used my Fuji X Pro-1 and the Fujinon 18mm f2.0 lens and most were shot from the hip. I didn't know this while on my last month's photo expedition-workshop, but it's said that Hanoi's Old Quarter consists of 36 streets (in reality, there's almost twice that number), each originally named for a traditional trade, and those eventually forming guilds. For instance, Hàng Muối (salt) Street was where the salt traders converged to sell their ware. Not surprising, since Hanoi's Old Quarter has a history that spans 2,000 years.This has now changed to a great extent, with some exceptions such as Hang Bac street (which I walked up and down many times) and that was and still is where goldsmiths and silversmiths plied their craft/trade. Most street names in the Old Quarter start with the word Hàng. Hàng means merchandise or shop. In Vietnamese, the formal term for street is đường phố; the latter word not be confused with its delicious signature soup, but which is a staple of its streets.
See on thestreetleica.wordpress.com