Fujifilm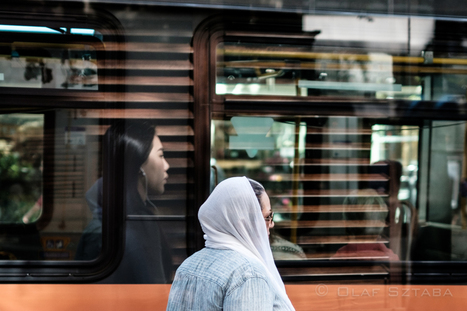 Although I love music, I am well aware of my shortcomings, politely speaking, in this matter. If I hired a music teacher and practised for years, I might be able to sing one song without turning the audience hostile and violent. I am well aware that singing will never be my strong suit, and that's fine; however, I do have other strings to my bow. It is not a secret that "seeing" comes naturally to some people. Others have to work hard to achieve similar results. In either case, taking care of your seeing is a must. I often see talented photographers who stop challenging themselves, training, or practising their seeing. Over time, their seeing becomes lazy and stiff – more of a habit. On the other hand, I have met some people who had a rough start in the world of photography but they persisted and challenged themselves over and over again……
Source: olafphotoblog.com
To be honest I have kept away from the blog for a long period now as we have been concentrating on developing our wedding photography business. So please excuse the long winded article. I am not a fantastic blog writer so please bear with me. As always happy to answer any questions you may have which you can direct to me on Face Book, Twitter or indeed in the comments section of the blog. Moving camera systems is not a decision any professional photographer takes lightly. Once you choose a camera system for professional use the addition of lenses flash systems and spare camera bodies starts to represent a very significant investment indeed and as professionals we need to make sure we get a return on our investment as well as ensuring we have the right equipment available to do the specific job we need it to do…….
Source: steveashtonphotography.co.uk
From the moment I truly began to pursue photography, I strived to distinguish my work from the millions of images flooding digital media across the world. In doing so, I've always been an advocate of doing whatever it takes to get the shot. Whether that means hiking a treacherous mountainside all night to capture the beauty of first light from an unseen perspective, or hanging from an abandoned bridge 2,000 feet above the ground, capturing timeless moments are what I live for. Through my experiences, I have learned that photography is a key factor in the difference between being alive, and actually living. Abiding by this principle, I set out on road trip from Los Angeles to Seattle accompanied by two talented friends and an arsenal of Fujifilm X Series gear…….
Source: fujifilm-blog.com
I've been looking forward to the X-Pro2, Fujifilm's flagship mirrorless camera, ever since switching over to the X Series 18 months ago. To understand why, you need to know a little about me. I've only really been taking cameras seriously for seven years. My first came in 2009, a slightly battered old Nikon D40. Three years, three Nikons (I upgraded twice) and three additional lenses (35mm, 40mm and 50mm fixed) later, I was tired of lugging around a giant camera, and even more tired of the small selection of good lenses available in my price range. I then tried out a mirrorless Sony camera, but Sony's lens selection at the time was pitiful if you weren't willing to spend big money. It wasn't until an old colleague of mine showed me the Fujifilm X100T, a compact camera with a 35mm-equivalent fixed lens and an innovative viewfinder that's both electronic and optical, that I knew what I wanted. Within weeks I'd thrown my Sony in a drawer and bought an entry-level X-M1 and a pair of lenses to give Fujifilm a shot……
Source: linkis.com
Nick Cudworth is an internationally acclaimed artist based in Bath, with paintings and drawings in countless public and private collections around the world. Nick was born in Derby and achieved a BA Hons. at Chelsea School of Art. He has been a practicing artist for over 35 years. Nick also enjoyed an early career in music as a piano player with the band Siren and recorded several blues/rock and roll albums in the 1960's on John Peel's label. His successful reputation as an artist has been gained by having exhibited in group and one man shows in galleries throughout the world including London, Milan, Winnipeg and New York. He joined The Portal Gallery in Piccadilly in 1997 where he has since had several successful one man shows…….
Source: www.afshoot.com
For a couple of weeks I have been inundated with emails about the rumor that Fuji has decided not to make the 120mm f 2.8 Macro lens that goes 1:1!  First I do not know whether that is true or not.  I'm sure Fuji will produce some kind of longer focal length Macro lens, until they do I have a my Macro System; the 90mm f 2!! Below is a series of images made with the 90mm lens, each are labeled.  The 90mm f 2 is one of the very sharpest lenses I've ever shot, maybe "the most"!  If you have the two Fuji automatic extension tubes ( the MCEX-16 and the MCEX-11), and if you can pick up a high quality two element diopters like the old Nikon 5T and 6T you can do a lot of close-up work to beyond life size or 1:1……
Source: billfortney.com
There are many photographs which are taken in 'the moment' where something happens and if you know your camera well enough you'll be able to quickly respond and get the shot. However, sometimes you have an image or story in you head that you simply can't move past. In this new series we are going to look at some examples, where photographers have to dig deep, problem solve and follow their vision. Hopefully lifting the veil on the phrase "Wow you were so lucky to be there just at the right moment, all of those factors came together". What I've come to realise over the past few years is that if you look at the great photographers of our time, many have one thing loosely in common – time. Time to hone an idea, experiment with a subject, to get under the skin of a location, ultimately to fulfil an idea……
Source: fujifilm-blog.com
I am getting married and for our photoshoot we decided to save a bit of money and take the photos ourselves. I recently sold my Sony A7II gear and bought myself an aging but ever-so charming X100T. It was not about the image quality. I just have more fun shooting with an X100T. It's like wearing a glove that grows on you and fits you more after a certain period of time. With the Sony A7II (I also owned a A7s prior to that) I never had the feeling I was holding an intimate tool, but rather a computing device. Not sure how else to express it. That was all. I knew, that the X100T is not really build for a task like that, but with the additional Teleconverter, I dared to give it a try…..
Source: www.dpreview.com
For the second leg of our Peru journey, my son and I climbed aboard a small bus with four other people, a driver and a guide, and set out on an eight hour tour of the Sacred Valley. Small group, beautiful landscape, informative guide: Perfect day! ……
Source: photo.stjeanm.com
When the announcement hit that Fuji was adding the X70 to the family, I shrugged and rushed to look at the X-Pro 2 instead. I wasn't interested in a new compact camera. Then I got a chance to spend a couple of months with the X70, and from the moment I picked it up and started shooting I realized my mistake. The X-Pro 2 is a professional's dream, but this…this is the camera that's going to put the X Series in the hands of more people than ever before. X70 vs. X100T: The Obvious Comparison. There are two or three cameras that people have been comparing the X70 to. The most obvious is its own sibling, the X100T, but beyond that we have similar compacts like the Ricoh GR and Sony's RX100 series. What stands out to me is how well the X70 manages to bring together the best aspects of those cameras…….
Source: mariusmasalar.me