fujifilm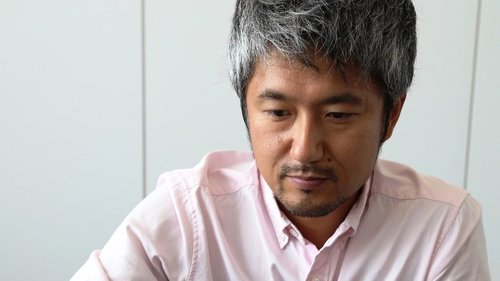 Like many professional photographers, Irwin Wong, who shoots pictures for Japanese magazines, relies on digital single-lens reflex cameras for the bulk of his work — "bulk" being the operative word. "It's a beastly camera to carry around," Mr. Wong said of his Nikon D800, which weighs 2.2 pounds, and a whole lot more when used in combination with a selection of interchangeable lenses. "You can't replace a DSLR for work. But it's just not that much fun." To lighten his load, and to inject a bit of levity into his photography, Mr. Wong this year bought a new camera, the Fujifilm X-E1, to supplement his Nikon. He liked that one so much that he added another Fujifilm model, the X100S. He is not the only member of the unofficial Fujifilm fan club. Over the last decade, as rival Eastman Kodak was descending toward bankruptcy — it recently emerged from Chapter 11 proceedings — Fujifilm was transforming itself from a maker of 35-millimeter film into a provider of digital imaging technologies. These include a new line of digital cameras, the X series, that blend Fujifilm's digital technology with retro aesthetics reminiscent of cameras from 60 or 70 years ago. At a time when sales of other cameras are slumping, the X series is selling briskly……
See on www.nytimes.com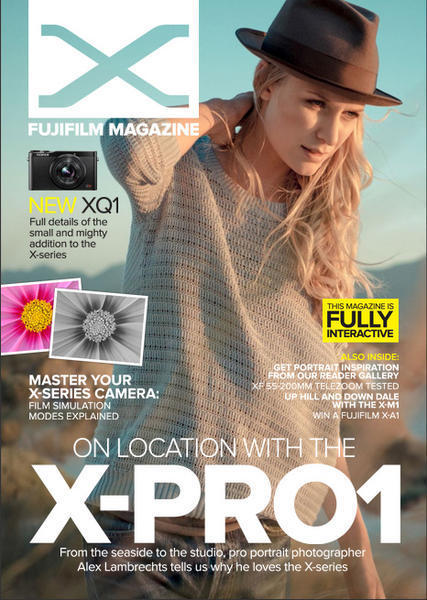 Fujifilm has launched a unique digital magazine to help X-series users across the world get even more from their cameras, lenses and accessories. The free magazine is available in six languages and can be viewed through web browsers and both iOS and Android devices for a truly universal appeal…..
Highlights from the launch issue include an interview with fashion photographer and X-Pro1 user Alex Lambrechts, how to get more from the Fujifilm Film Simulation modes and a gallery of stunning portrait images from X-series users around the world…..
See on www.fujifilm.eu


Firmware Version of Lens for "Phase Detection AF" and "Lens Modulation Optimizer" Functions of X-E2. Please update the firmware of each lens to enjoy "Phase Detection AF" and "Lens Modulation Optimizer" functions of X-E2. "Lens Modulation Optimizer" function will not be added to XC lens series even if firmware is updated.
Please update following lenses:
XF14mmF2.8 R
XF18-55mmF2.8-4 R LM OIS
XF35mmF1.4 R
XF55-200mmF3.5-4.8 R LM OIS
XF60mmF2.4 R Macro
XC16-50mmF3.5-5.6 OIS
Firmware, manuals, specs, reviews and sample images of Fujinon XF and XC lenses:
http://www.tomen.de/fujifilm-fujinon-lenses/
See on www.fujifilm.com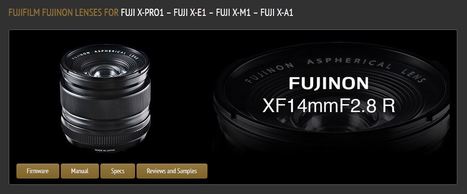 Firmware, Manuals, Specs, Reviews and Samples
Overview of all Fuji XF and XC lenses ……
See on www.tomen.de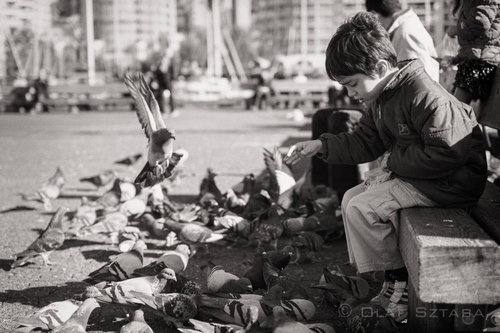 Our last write up, "The Photographer's Camera," has met with a great response. Thank you all for your comments and thoughts. No, we are not switching to Nikon or Sony. The purpose of this article was to share our thoughts about the industry and compliment companies that push the envelope. Some of you interpreted my article as a restart of a "full frame vs. APS-C" argument. Let me clarify. I don't think it is necessary for Fuji to go full frame at all. The current Fuji X-series line-up is excellent. The whole hysteria around full frame is way overblown if you take a look at how people use their cameras or even look at prints (how many people actually print their photos?). For our work, Fuji X-Pro1, Fuji X-E1 and X100s are more than adequate. Most importantly, the "feel" of those cameras and how they engage a photographer and let him/her focus on key elements is much more important to me than discussion about full frame or not. After all, the Fuji X100s is the camera that I breathe in my daily photographic life. This leads to the subject of design and philosophy. When I said, "the ball is in your court" when referring to Fuji, I meant please don't stop innovating and improving/simplifying your products, especially the high-end of your line-up. I do believe that Fuji with their X-series strikes a chord because photographers like me have had enough of do-it-all, heavy and non-engaging cameras……
See on olafphotoblog.com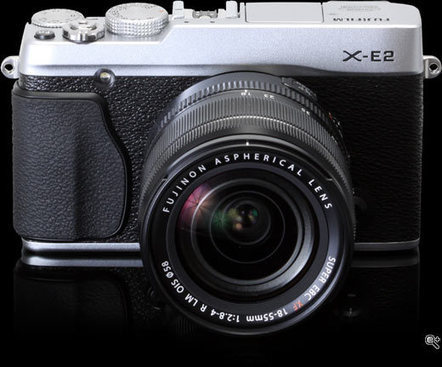 A little over a year ago Fujifilm announced the X-E1, the second body in its X system of mirrorless interchangeable lens cameras, designed as a more-affordable option for enthusiast photographers than the unashamedly high-end X-Pro1. We liked it a lot for its combination of 'old school' handling and excellent image quality, giving it our Gold award in our review, and since then the X-E1 has received a couple of substantial firmware updates that bring real improvements too. Now it's time for Fujifilm to to reveal its replacement – logically enough, called the X-E2.
The X-E2 is superficially very similar to the X-E1, with the same basic body design and control layout; at a quick glance it's almost impossible to tell them apart. It keeps the same top-plate layout, including analogue shutter speed and exposure compensation dials, and has the same 2.36M dot OLED electronic viewfinder. The rear of the camera is still covered in buttons in much the same places as the X-E1, but their functions have been rearranged. The headline updates are the sensor and processor: the X-E2 sports the same X-Trans CMOS II sensor as we first saw in the X100S, which includes on-chip phase detection elements for autofocus, and in concert with the EXR Processor II allows Fujifilm to claim the 'world's fastest autofocus' (although inevitably with caveats). There's also a much nicer rear screen: a 3″, 1.04M dot 3:2 aspect ratio unit, and a whole host of further tweaks and improvements. The net result is a camera that retains all the best bits of its predecessor, but has also been improved many respects…..
See on www.dpreview.com

FUJIFILM Corporation (President: Shigehiro Nakajima) is proud to announce the launch of the stylish FUJIFILM X-E2, a premium interchangeable lens camera with the latest APS-C X-Trans™* CMOS II sensor and world's fastest AF** speed.
Main features of the FUJIFILM X-E2
Building on the global success of the highly acclaimed FUJIFILM X-E1 — awarded 2013′s Best Expert CSC by the Technical Image Press Association — the X-E2 takes image quality to a dynamic new level that is comparable with full-frame cameras. It delivers even more beautiful color reproduction, higher definition image capture, and that world's fastest AF speed of 0.08 seconds**.
This is achieved by more than doubling the processing speed*** of the EXR Processor II. It is able to harness the information taken from over 100,000 phase detection pixels incorporated in the X-Trans CMOS II. The hybrid AF also combines phase detection AF and contrast AF to ensure accuracy when shooting low-contrast subjects and dark scenes.
The 16.3 million pixels APS-C sized X-Trans CMOS II Sensor incorporates an original color filter array. This eliminates the need for an optical low pass filter that typically minimizes moiré but does so at the expense of resolution. Instead, the X-Trans CMOS II sensor can capture unfiltered light from the lens for an unprecedented level of image clarity.
Quality is further improved by the Lens Modulation Optimizer (LMO). Its high-precision processing of the various lens parameters, as well as data from the screen centre to the edges, corrects diffraction blur when shooting with a stopped down aperture and compensates for the slight blurring in the lens periphery. The result is edge-to-edge image quality with incredible sharpness. LMO will be compatible with every XF lens.
The X-E2′s prestigious feel continues with the combination of aperture ring on the lens and shutter dial on the top of the body as seen in its predecessor. This allows full shooting control while keeping your eye to the viewfinder. The X-E2 is available in solid black or two-tone black and silver.
Fast and accurate focusing
Thanks to the X-E2′s ultra-fast response you won't miss a photo opportunity. In addition to achieving a world's fastest AF, the X-E2 has a rapid startup time (0.5 seconds*4), virtually no shutter lag (0.05 seconds), and high-speed continuous shooting of 7.0 fps (up to approx. 28 frames)*5.
Accurate and comfortable focusing comes courtesy of the hybrid AF. It combines a contrast AF that is strong in low light situations and a phase detection AF that provides high speed response and the camera automatically switches between the two AF modes. With the improvement of the detection algorithm, it's easier than ever to focus on difficult low contrast subjects and horizontal striped patterns. Focusing continues right up to the moment the shutter is pressed half way during continuous AF.
Better image quality
The X-Trans CMOS II sensor controls moiré and false color generation by using an original color filter array with a highly randomized pixel arrangement. This removes the need for an Optical Low Pass Filter (OLPF) that degrades resolution. This is the same sensor as used in the highly acclaimed and award-winning FUJIFILM X100S.
Image quality is further increased by the inclusion of the first Lens Modulation Optimizer (LMO) for interchangeable lens cameras. The EXR Processor II image engine corrects even slight blur at the edges of the lens, as well as diffraction blur caused when narrowing the aperture. This advanced technology has been made possible by the integrated development of lens, sensor and processor and is based on the optical performance and characteristics of individual lenses. The camera is able to maximize the resolving and individual imaging power of each lens.
Ultimately, the sensor and engine combination achieves astonishing resolution, extends dynamic range, and reduces noise at high sensitivity. Fujifilm takes great pride in the resulting rich color reproduction and beautiful gradation of tones.
Superb functionality
The X-E2 continues to use the combination of a manually adjusted aperture ring and a shutter speed dial on the top plate that was well received by X-E1 owners. It allows the user to shoot and operate the camera without needing to look away from the viewfinder. Exposure compensation has been increased to the scope of ±3 EV. Every X-E2 owner can also customize up to 4 buttons on the top and back of the camera to suit their own shooting style.
Accurate and comfortable framing and focus checking is assured via the high resolution approx. 2.36 million dot OLED viewfinder and Fujifilm's original optical design gives a distortion-free field of view. The premium clear LCD monitor size has been increased to 3.0" but the body is thinner. It has a high viewing angle and 1.04 million dot reinforced glass. The scratch-resistant surface reduces reflections and improves visibility, making it easier to check image quality.
Manual focus made easier
Manual focus has been made easier by the inclusion of Digital Split Image*6 technology. This helps the user achieve pin-sharp focusing by simply adjusting focus to line up the four stripes displayed in the central part of the live view and match the left and right split images. Focus Peaking Highlight, the highlighting of the outline in high contrast areas of the subject during focusing, further assists the user achieve critically sharp shots.
Improved movie performance
The X-E2 shoots Full HD video (1920×1080) up to 60fps and the AF tracking performance in movie mode has been improved with good focusing speed, accuracy and smoothness. Quick focusing on the subject is possible in a variety of situations, such as when panning and zooming, or when the subject moves closer to or further from the camera. Film simulation settings and exposure compensation (±2 EV) can be used during movie recording. Also a high bitrate (36Mbps) has been enabled.
Wirelessly transfer your images
You can easily transfer images wirelessly from the X-E2 to your smartphone or tablet after installing the free FUJIFILM Camera Application app. There are no troublesome ID and password settings; just press the Wi-Fi® button of the top of the camera and then add the images instantly to your blog or share them with friends on your social networking site. You can also use the X-E2′s built-in Wi-Fi to save your photos to your PC.
Creative modes
Choose your own image style with the Film Simulation Mode and recreate Fujifilm's unique film heritage. By selecting from one of 10 variations you can shoot your images how you want them. Velvia gives vivid colors, ASTIA shows faithful smooth tone reproduction, PROVIA offers a natural all-rounder, while the softer Pro Neg.Std and sharper Pro Neg.Hi are perfect for portraiture. Sepia film simulation is also possible while creative black & white photography can be enjoyed using three different filter effects. Film simulation bracketing is also handy for generating three film styles from one shot.
Multiple Exposure imaging is achieved by combining two shots in one frame. After taking the first image, you can display it in either the EVF or LCD monitor as reference for taking the second image. This ability helps users produce highly creative results. In addition, there are eight Advanced Filter options for extra creativity, including Toy Camera, Miniature, Dynamic Tone, Pop Color, Soft Focus, High Key, Low Key, and Partial Color.
Extra functions
Through the in-camera RAW development function, a RAW image can be converted to JPEG without a computer, while 14bit RAW capture enables RAW conversion with richer tonality. The built-in Super Intelligent Flash gives the right amount of light for the scene, while overexposure when using a flash for macro photography is also controlled, helping the user capture nature-looking images.
Handy accessories
Perfectly fitting the X-E2′s compact and lightweight body, the BLC-XE1 is an authentic quality leather case. Including a separate cloth wrap for protection when storing the camera away. To further enhance the handling experience and performance you can add the HG-XE1 hand grip and one of three models of dedicated external flash.
FUJIFILM X-E2 Key features list:
16.3 million pixels APS-C X-Trans CMOS II Sensor
Original color filter array to control moiré and false color without an optical low pass filter
EXR Processor II
FUJIFILM X Mount
Lens Modulation Optimizer for improved image quality
Extra high resolution 2.36 million dot OLED electronic viewfinder
±3 EV Exposure Compensation dial
3-inch (1.04 million dot) premium clear LCD (High contrast, High Brightness and Wide viewing angle)
Built-in pop-up Flash (hot shoe attachment also available for external flash)
ISO200 – 6400, extended ISO 100, 12800, 25600, Auto (maximum ISO setting from ISO 400 – ISO6400 available)
AF speed 0.08sec**
Q (quick) button to shooting menu settings
In-camera RAW converter
Film simulation modes (Velvia, ASTIA, PROVIA, Monochrome, Sepia, Pro Neg.Std & Pro Neg.Hi)
Artistic features inc. Multiple exposure, Panoramic shooting, and eight filter effects
Selection of Bracketing functions (AE/ISO/Dynamic Range & Film Simulation)
Full HD Movie
Microphone/shutter release input (φ2.5mm)
Approx. 350 shots per battery charge
FUJIFILM X-E2 accessories list:
Dedicated all-leather case BLC-XE1
Compatible with all Fujinon X Mount lenses
M Mount Adapter for additional lens compatibility
Hand Grip HG-XE1
Three dedicated flash models to choose from depending on requirements (EF-X20, EF-20, EF-42)
Protector filters (PRF-39, PRF-52, PRF-58 and PRF-62)
Remote release RR-90
* X-Trans is a trademark or registered trademark of FUJIFILM Corporation
** Fujifilm research as of September 2013. Compared with other digital cameras equipped with APS-C size sensor or larger, based on CIPA standards, and using internal measurement methods under high performance mode. Attached with XF14mm F2.8R lens.
*** Compared with EXR Processor Pro
*4 In high performance mode with XF27mm F2.8 lens
*5 JPEG format: Use a card with SD speed class with class 10 or higher
*6 Digital Split Image is a trademark or registered trademark of FUJIFILM Corporation
See on www.fujifilm.com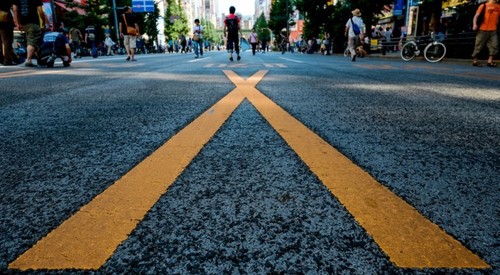 A couple of weeks ago I asked you what you'd like to see in the future X-series from Fujifilm as I had the unique opportunity to travel to Tokyo to meet the people behind my favorite camera system. I managed to squeeze all your input and mine into my luggage and headed to Tokyo. Zack, Kevin and David came well prepared too. We received a great welcome in Fujifilm Tokyo head office. At the ground floor they have a very neat camera museum and we took our time to explore all these beautiful pieces of history….
See more pictures on confessionsxl.com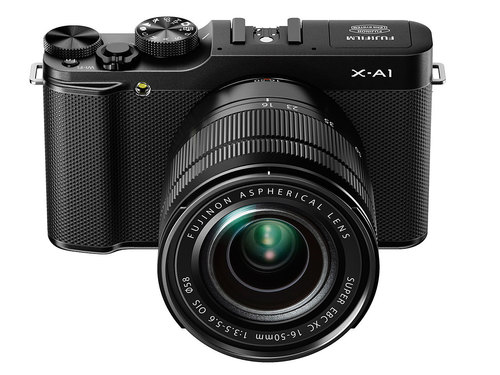 Fujifilm has announced the X-A1, its most basic X-mount mirrorless camera yet. The X-A1 shares a body with the X-M1 but is based around a 16MP sensor with a conventional, Bayer color filter array, rather than the X-Trans design that's been used elsewhere. Despite its lowly position in the lineup, the X-A1 retains the 920k-dot tilting rear screen and Wi-Fi offered by the X-M1, yet is being launched with an MSRP of $599 with the XC 16-50mm F3.5-5.6 OIS standard zoom – $200 cheaper than the X-M1 cost at its launch.The company has also announced the Fujinon XC 50-230mm F4.5-6.7 OIS lens, a relatively small, lightweight zoom for Fujifilm's mirrorless cameras, designed to complement smaller bodies like the X-M1 and X-A1. It features optical image stabilization for sharper handheld pictures, and uses a stepper motor for fast focusing. Like the XC 16-50mm F3.5-5.6 OIS, but unlike Fujifilm's more-expensive 'R' type lenses, it doesn't have an aperture ring – instead this is controlled from the camera body. This means that X-Pro1 and X-E1 owners will need to install the latest firmware to use the lens……
See on www.dpreview.com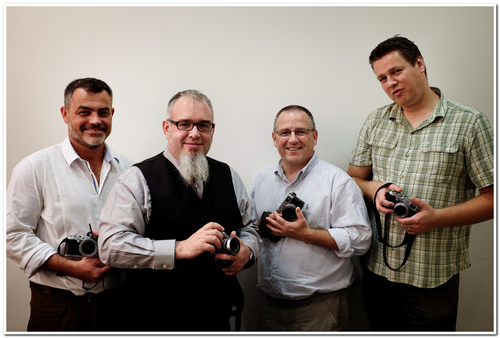 Did I ever tell you I was afraid of flying?  Terrified of it I am.  It's ridiculous but there you go – every one has their phobias and mine is being hurtled at a tin can at 600mph around 37,000 feet in the air. So, imagine my surprise to find that, at the end of August, within the space of nine days I would fly from Spain to the UK, from the UK to Rome (for a wedding – more on that in another post) and then from Rome to Tokyo….and Tokyo to London four days later.  By my calculations that's around sixty five billion miles in the scary tube in the sky but let me tell you something…..every single mile was worth it.  Very much worth it. I'm going to concentrate on my trip to Tokyo, as a guest of Fujifilm in this post. I was absolutely humbled and privileged when I was invited to spend some time in Tokyo with the marketing team, designers, engineers and other members of the X-Series team. I wasn't alone, of course, there was myself and three other X-Photographers meeting up in Tokyo.   Apart from the great team at Fujifilm, I spent time with world renowned photographers Zack Arias, David Hobby and Bert Stephani. The point of the trip was for Fujifilm two fold.  Us (the photographers) were to give a presentation and interviews to press, staff of Fuji and other photographers.  This was then followed by the best part of two days of us being interviewed by the R&D Team, the Marketing Team, the Product Planning team, the Colour Reproduction Team, the Lens Design Team and the Camera Designers. So let me explain further;  Fuji flew us all to Tokyo to give them feedback on the X-Series of cameras;  The X-Pro1, X100/S, X-M1, X-E1 etc…..
See more pictures on www.kevinmullinsphotography.co.uk