fujifilm
This is an official guidebook for the premium interchangeable lens camera, FUJIFILM X-E1. It is intended to help users enjoy photography even more with tips on how to use each of the various functions. It also includes an interview of photographer and some gallery of their works.
See on fujifilm-x.com

At the launch of the XF55-200mmF3.5-4.8 R LM OIS lens, Fujifilm will upgrade the firmware for both the X-Pro1 and X-E1 cameras. Thanks to a new algorithm, the firmware will be able to harness the full capability of the lens enabling both cameras to search the contrast AF quickly throughout the full range of focal length. The focus speed will be as fast as 0.7 sec. even if it searches from infinity to the Minimum Object Distance at the telephoto end. By upgrading your X-Pro1 or X-E1 with new firmware you will also improve the AF speed with other existing XF lenses.

*** The firmware will be available to download from www.fujifilm.com nearer the launch of the XF55-200mmF3.5-4.8R LM.
See on www.fujifilm.com
Following the recent public release of Adobe Camera Raw 7.4, we've updated our studio comparison database with new raw conversions of files from the Fujifilm X-Pro 1, X-E1 and X100S. We've been using the release candidate version of ACR 7.4 for some time, which contained significant improvements to Adobe's treatment of files from Fujifilm's X-Trans sensors. The official public release version of ACR 7.4 brings some further (very minor) tweaks. Follow the links below to the studio comparison pages in our X-Pro 1 and X-E1 reviews, and X100S preview, now with final ACR 7.4 raw conversions.
See on www.dpreview.com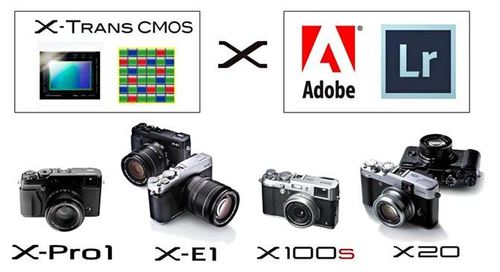 FUJIFILM Corporation (President: Shigehiro Nakajima) announced that Fujifilm and Adobe Systems Incorporated have been working together to improve image processing of X-Trans and EXR-Sensor based raw captures. X-Trans CMOS has a new type of sensor filter array developed by Fujifilm to improve image quality. The release of Adobe® Photoshop® Lightroom® 4.4 and Adobe Camera Raw 7.4 today offers significant improvements in the processing of X-Trans raw files for the X100S, X20, X-Pro1 and X-E1, resulting in better Moire reduction and enhanced performance in color reproduction. "We worked closely with Fujifilm to increase the quality of image processing of X-Trans and EXR-Sensor based raw captures," said Tom Hogarty, group product manager, Adobe. "Lightroom 4.4 and Adobe Camera Raw 7.4 demonstrate the results of this cooperation and provide remarkable improvements in the raw file rendering." Lightroom is the essential digital photography workflow solution, helping amateur and professional photographers quickly import, manage, enhance and showcase all their images within one application. The Photoshop Camera Raw plug-in provides fast and easy access to raw image formats produced by many leading digital cameras.
See on www.fujifilm.com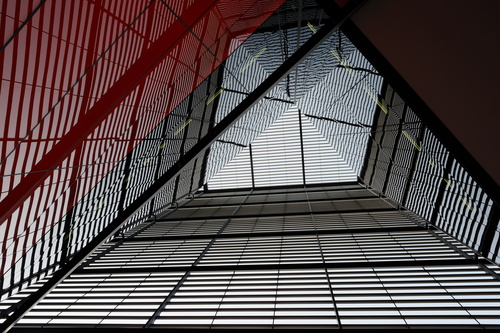 Overall conclusion
The XF 14mm F2.8 R is a relatively rare example of a genuinely wideangle, high quality prime lens for any camera type other than full frame SLRs. The closest comparisons lie with the Olympus M.Zuiko Digital ED 12mm 1:2 for Micro Four Thirds and Pentax's smc DA 15mm F4 ED AL Limited for its APS-C SLRs, both of which also offer premium metal-barrelled construction and 'proper' manual focus rings with distance and depth of field scales. Indeed the 14mm's push/pull manual focus switchover mechanism bears more than a passing resemblance to Olympus's version. They're not strictly alternatives, of course; they all work on different camera systems. But of the three, the 14mm offers the widest view.
The 14mm is a pretty expensive optic, so needs to perform well to justify its price. Thankfully, it does just that – in fact it turns out to be an exceptionally good lens. At the apertures you'd most often shoot a wideangle it's exceptionally sharp right across the frame, and it's almost perfectly-corrected for distortion and chromatic aberration. Vignetting is quite strong at F2.8, and never quite goes away on stopping down; however it'll only be visible to RAW shooters, as it's corrected automatically by the camera's JPEG processing. The drop-off in brightness across the frame is also quite gradual, rather than abrupt in the extreme corners, which means that visually it's not so objectionable anyway.
Perhaps the nearest the lens has to a real flaw is rather soft edges and corners when shot at F2.8. This could be a real problem for photographers who shoot a lot handheld in low light, especially as there's no image stabilization available. But as sharpness picks up dramatically even at F4, and wideangles can safely be shot at relatively slow shutter speeds without fear of camera shake (allowing use of smaller apertures without having to raise the ISO) we suspect it won't be too much of a concern for the majority of users.
Autofocus isn't especially fast, but it's very accurate, and for many typical uses of a wideangle lens focus speed isn't especially important anyway. Manual focus is extremely well-implemented; the focus ring is well-damped and very responsive, making precise manual focusing very straightforward. Switching from auto to manual focus is very quick, requiring just a quick pull back on the focus ring. This reveals a distance and depth for field scale for zone focusing, which many users will be pleased to hear is calibrated conventionally, as opposed to the very conservative version Fujifilm displays in X-system camera viewfinders.
One point worth knowing, though, is that there's no way of combining auto and manual focus, so you can't use AF to prefocus then make adjustments manually. Instead switching the lens from AF to manual resets it to the last-used manual focus position. But again, this is a function that's arguably rather less useful on a wideangle lens than on a telephoto. Overall the 14mm offers perhaps the most convincing implementation of MF we've yet seen on an 'focus-by-wire lens, and is streets ahead of the existing XF lenses.
Build quality is very good, with the metal-skinned barrel and chunky metal focus ring offering a real feeling of solidity. On our sample this was slightly let down down by rather loose click-stops on the aperture ring, making it too easy to change by accident. Of course with the aperture setting constantly displayed in the viewfinder there's less risk of shooting lots of images at the wrong setting, but this does demand you get into the habit of checking your settings whenever you take the camera out of the bag for shooting.
See on www.dpreview.com
I made my way to the Fujifilm Stand in this years Focus on Imaging show, Birmingham UK, for an exclusive interview. Adam, one of the Fuji reps, demonstrates Digital Split Image focussing, and Focus Peaking on the new X100s, and answers a few questions about the possibility of silver XF lenses, release dates, and future firmware updates for the X-Pro1 for auto ISO and Focus Peaking. I also take a closer look at the upcoming lenses.
See on www.youtube.com
Photographer David Airob talks on FUJIFILM X100S.
Experience a higher level of photoshooting! With the bright viewfinder, the fusion of the superb Fujinon lens, new X-Trans CMOS sensor II and high-performance EXR Processor II takes you to a new dimension.

See on www.youtube.com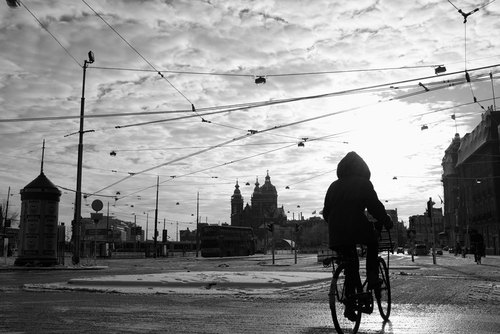 Fujifilm 100S Sample Images
See on www.fujifilm.com


Jim talks about the "first romantic camera" the Fujifilm X100, the new updated X100S and why he uses them in the work he does….
See on www.youtube.com