Gene Lowinger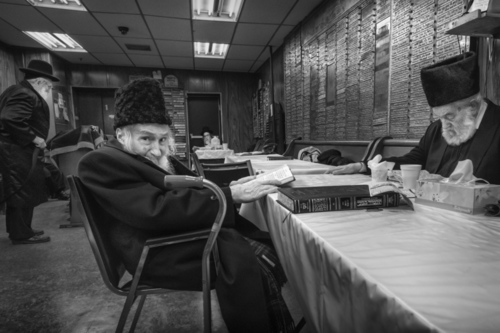 A little more than three years ago, before I restarted my documentary work on the Lower East Side, I took a walk through the neighborhood. I happened to meet this rabbi standing outside the House of Sages on East Broadway. It's one of a number of small synagogues in the neighborhood that occupy one floor in a brownstone building. Many years ago there were many tiny synagogues that coexisted with the larger congregations of the Bialystoker, the Roumanian American, and the Chaim Sofer synagogues. The House of Sages was established as a place of retreat and study for aging/retired rabbis. A few days ago I was in the neighborhood and happened to be at the House of Sages just before the daily late afternoon service began. This same rabbi was kind enough to allow me to come in a take a few photos before the service began…..
See more pictures on genelowinger.blogspot.de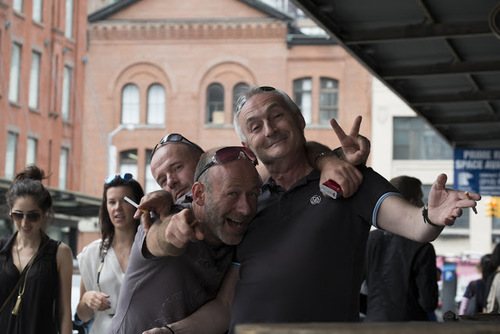 I don't usually talk about equipment stuff or technical settings on this blog, but today will be an exception. I'm off to a bluegrass festival on Sunday to meet up with some old friends from Nashville who will be performing. One of the reasons I splurged on the new Fujinon zoom lens is to be able to shoot concert and festival performances, so this is the first opportunity to put this puppy to the test in a real life situation. I spent the afternoon today in the Chelsea district an the High Line of Manhattan to test out various functions and settings, and to get comfortable with using the EVF. Most importantly to see how sharp the IQ is at the full zoom distance, and to see just how many stops the Optical Image Stabilization will buy for me. I've got a bit more learning to do with using the EVF and the image stabilization, but I'm really pleased with the results I got today. I examined all the images at 100% and was quite surprised to see that I can easily hand hold the camera at 1/60th second. In some cases down to 1/30th second, and in one example below even to 1/15th second (although in a real life situation I wouldn't go slower than 1/60th second).
All the images below were shot RAW and turned into jpegs in Lightroom with no other processing, so there's some noise in the images shot at faster shutter speeds. I'll be posting some of the individual shots in the next few days after I process them for noise and do my usual b/w conversions….
See on genelowinger.blogspot.com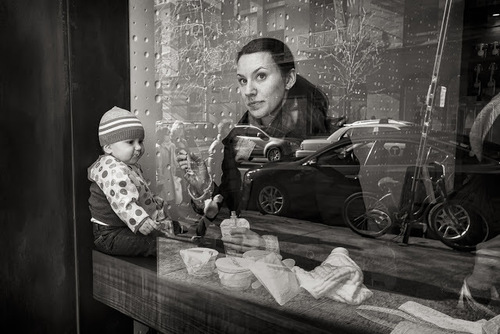 Wow, was it ever cold in New York on Sunday! The wind chill was brutal, but I was itching to try some focus tests and I was blown away by the results. But first some clarification. Hyperfocal distance is the closest distance that a lens will be in focus and still be able to keep focus at infinity reasonably sharp. Zone focusing requires that the lens have distance indications on its barrel for each appropriate aperture setting, thus allowing the photographer to set the range of distances within which any objects will appear reasonably in focus. When I shot film in my Leica M6 I often used zone focusing, but rarely  the hyperfocal distance. With a very wide angle lens, such as the 14mm, I'm shooting to create a perception of great depth, I don't really care that objects in the far distance are out of focus. But when I shoot street, and especially when shooting from the hip, sometimes the autofocus on the camera either doesn't understand what I want to be in focus (it's often an object or person at one side of the frame, while the focus point for the sensor is set for the center of the frame) or the autofocus lag (even at 1/10th second) misses the shot. The first case scenario happens more than I'd like, the second case much less often – so much less that it's not even worth considering.
When I decided to run this test I wanted to err on the side of caution, so I opted to shoot part of the afternoon in autofocus, just to make sure I'd get some good shots to show for my afternoon of braving the cold. The zone focus shots were taken at f8 (less than that would have narrowed the depth of field unacceptable for the test) and 1/250th second, which put my exposures in the high ISO range – not a problem for the X-Pro1 processor. Here's a calculator to play with to discover acceptable in-focus distances. Remember that this calculation has nothing to do with the quality of the lens, the parameters that affect the calculation are the lens focal length, the aperture setting, and the distances involved. All the rest is pure physics and math. If I set my 14mm lens at f8 and the focus at a distance of 4 feet, my nearest acceptable in-focus distance will be a tiny bit over 2 feet away and the farthest will be 243.5 feet. If I set the focus point for 1/2 foot closer, 3.5 feet, that range drops from 1.9 feet to 24.9 feet. So to achieve a difference of about 1/10 foot closer, I'd have to loose about 220 feet in distance. Given the way I shoot, in close, I'd go for the closest possible I can get and still bet some reasonable distance focus. Even at a focus point of 3 feet I can get an acceptable image from 1.75 feet to almost 10 feet. That last zone is probably the best for me. That's why I love using very wide angle lenses. I would suggest to anyone that they play with this calculator to get a feel for how the calculations work, so that out in the field there is a lot less guessing. If you happen to be a math wizard, you might want to make note of these formulae and when your out in the field do your own calculations (while I take the pictures)….
See on genelowinger.blogspot.de
Oh goody! I just received my Fujinon 14mm f2.8 lens today. I'd been waiting for it since September. Hopefully, if the temperature is not too brutal for my old bones, I'll get out and shoot with it this weekend. When I was shooting film with my Leica M6 my favorite lens to use was the Leica 21mm, the equivalent to the Fuji lens in focal length. So I'm going to have a chance to dig deep into my bag of tricks (that's a euphemism for trying to remember old techniques). We shall see…..
Both these shots were made with the 18-55mm zoom lens. I would like to have been able to zoom out wider for the first image, but street happens so fast that's not always possible. Would have been a much better shot with some space at the top of the frame. But I still like her expression. I caught this gentleman with the very cool beard on 34th Street just after leaving a critique session at B&H Photo. There's just something about facial hair, whether on a man or woman, that's so much fun to shoot.
See on genelowinger.blogspot.de
To date Adobe Software hasn't come up with reasonable raw processing for the Fuji X-trans sensor. The way the new sensor captures and processes light requires new thinking on their part and as yet Adobe has been satisfied to rework their current formula to produce acceptable, but not outstanding images. The jpeg processing in the Fuji camera can do it, SilkyPix can do it (albeit through a rather arcane user interface), and Phase 1in the beta release of their raw processor – Capture 1 – has apparently been able to do it. I gave a beta version of Capture 1 (which includes updated processing for the X-trans sensor and Fuji X series camera profiles) a test run. If it works as well as touted, I'll have to think long and hard about switching from Lightroom which for me so far has been OK …. just. To have two different cataloging systems – for Lightroom and for Capture 1 – is a bit daunting for me.
Now onto the XP1 and the 18-55 zoom lens. I was out on the streets in New York City yesterday with the intention of shooting most of my images at the 55mm setting with OIS (Optical Image Stabilization) turned on. Previous to my outing yesterday, I discovered information about how the OIS works between the camera and lens, and understanding how to use it affects both image quality and battery life. There is a new setting in Shooting Menu 5 called 'IS Mode' for which there are two settings with descriptive names of IS1 and IS2 – oh so helpful. In the IS1 option OIS is on and running continuously whenever the camera is turned on and a lens which has the OIS functionality is mounted and the function on the lens is acctivated. In the IS2 option OIS is activated only when the shutter is depressed half way before shooting.
Ah me, there's always trade-offs in life, and especially in photography.
If IS1 is selected, the OIS runs continuously which creates a serious drain of battery power. But it also means that the teeny weeny gyroscopes in the lens are always engaged, running, and ready to stabilize without the slightest delay. This, not surprisingly, results in a very large percentage of the images shot in this mode being completely unaffected by lens motion or shake at slow shutter speeds.
If IS2 is selected, the OIS kicks in only when the shutter is depressed half way. So power from the battery for the OIS is used only at that time which, of course, results in a significant saving of battery power. However, in the time it takes for the battery to get the gyros up and running, and to stabilize the image the camera can still fire the shutter if the button is depressed quickly in one continuous motion. This resulted in a significant number of images shot on Friday (in this mode) being not optimal.
Sometimes the story or the expression of the person in an image is significant enough that I process and post it even with its technical shortcomings. So here's what I got from my outing on Friday. The first was shot at 55mm and, with the OIS set to IS2, was one of the few at that focal length that were spot on…..
See full article on genelowinger.blogspot.com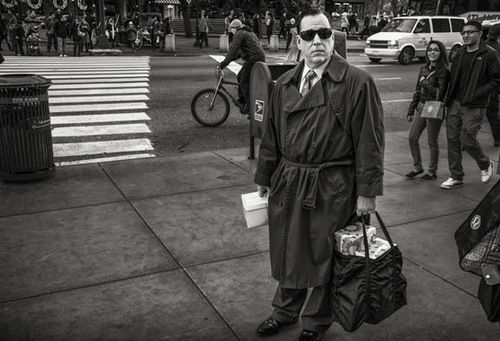 After reviewing my images from my outing on the streets of New York, one thing is very clear to me. I need more time with this lens to get my zoom/longer focal length chops back to snuff.
Drat it! I guess I'll just have to go out and shoot a lot more. Just to recap what I said yesterday: the focus speed is very good at 18mm and 35mm but a little slower (not by a big factor) at 55mm, the IOS (image stabilization) works extraordinarily well so that I can hand hold at 1/30th second and get good shots, I miss not having the aperture indications on the aperture ring but as this is a variable aperture lens (f2.8-f4) those indications would be meaningless, and the lens hood mounting leaves something to be desired in terms of a secure fit on the front of the lens.
The images below were shot RAW, processed minimally in Lightroom and then put through my workflow with NIK filters. The first two shots below were at a focal length of 18mm, f6.4, and 1/125th second. Since I keep my camera set on auto ISO it varies – the first shot was at ISO 5000 and the second at ISO 6400. In my film days an ISO of 6400 would have resulted in practically no definition in the small details. The first NIK processing is with Dfine to manage the contrast noise, then into Color Efex Pro 4 to optimize the color contrast with my special (wink wink) tweaks, and lastly into Silver Efex Pro 2 for the conversion also with my special (wink wink wink) tweaks.
In the first two images, the woman on the right was quite striking looking (nothing gets my camera finger more twitchy than a pretty lady) and yet so sad…..
See on genelowinger.blogspot.com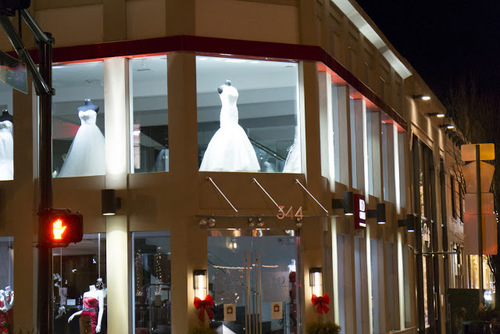 …. I looked for chromatic aberration at 18mm, and found it. It's about the same as the CA on the prime 18mm lens – so that's no big deal, easily corrected in Lightroom. I turned off the image stabilization on the zoom (more about the IS later) and took a few test shots at 18mm and 35mm so that I could compare the sharpness to the two prime lenses. At 18mm it's pretty much the same. At 35mm the prime has a thick hair's advantage.
I didn't have any complaints about the focus speed of the prime lenses right out of the box, clearly this wasn't a clunky DSLR with huge, heavy lenses so I had realistic expectations. After the firmware updates the speed of focus was a non-issue for me. At 18mm and 35mm the auto focus speed of the zoom lens is the same as the primes. The response is a little slower at 55mm, but I don't have the 60mm prime to compare.
I had only one lens for my Nikon D700 with image stabilization, a 70-300 f3.5-5.6 zoom. I rarely used the lens, so I have nothing to which I can compare the Fuji's IS. I am, however, totally impressed with the increase in flexibility that the IS allows. I have been able to hand hold the camera and shoot comfortably at shutter speeds down to 1/30th second. I pushed some shots one stop slower – to 1/15th sec. – and the results are quite satisfactory considering that the slower shutter speed buys some ISO speed and lower noise in the image.
The first of these shots was taken at 1/60th second, f4, ISO 5000, these are jpegs, generated from raw data by Lightroom, without any processing…..
See on genelowinger.blogspot.de
See on Scoop.it – Fuji X-Pro1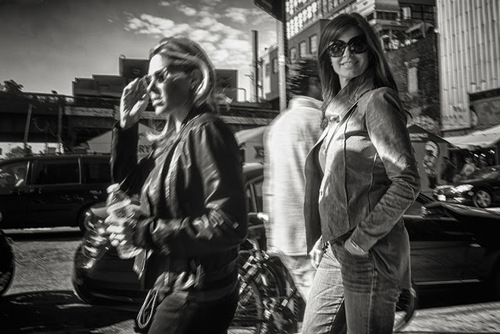 I always enjoyed the New York Halloween parade on Sixth Avenue in Greenwich Village. I made a resolution this year to go again and photograph the creative costumery. Even though the XP1 is wonderful in low light, at ISO 6400 there won't be enough light to get great shots, so I sprung for the Fuji EF20 flash. It's a neat little package, not a very high guide number – I think 20 at ISO 100 – but it will be fine for my close up shooting style. Flash photography doesn't come naturally or intuitively to me. I really have to think about everything I'm doing, and it requires special settings on the camera. I've played with the flash around my house, but there's nothing like a live field test, so I took the camera and flash out on the streets of New York with me this afternoon. The sun was bright and the sky a brilliant blue, which gave me an excellent opportunity to do some fill-flash shooting. I walked around the Chelsea/Meatpacking district of Manhattan – near the lower end of the Highline on Tenth Avenue. I sat on a wood bench under an overhang, and as people walked by I tried to get a flash shot of them in the shadows with the bright sun in the background. I was moderately successful, as I said – flash photography doesn't come naturally to me. I had a conversation with this gentleman who introduced himself to me as an attorney, not a photographer – even though he was carrying a Nikon DSLR and was out for the day to shoot. He took a photo of me, and reciprocated by being very patient while I tried several different settings for the flash. The shot was with the 35mm lens set at f8. The only post processing was in Lightroom to crop a little, fix the white and black clipping, and adjust the clarity ever so slightly. The flash was off camera, tethered with a dedicated sync cable. I like being able to make the light come in a bit from the side, rather than directly forward just above the lens. My only problem with that is that I have to always hold the flash in my left hand, and I haven't yet figured out how to make the light come in from the right. In any case, I think the flash and camera did an admirable job in balancing the light between the very bright blue sky and the details on his face. The sync speed of the XP1 is 1/160th second, which I think is a little slow, so sometimes moving things got a little blurred. I'm sure part of that had to do with my lack of experience using the combo, but that's what practice is for. The spot I chose to sit in was a constant parade of very interesting people, lots of very pretty and stylishly dressed women. A few actually gave me a present of a beautiful smile. Converting flash photos to b/w is a bit more complicated than my usual processing. It's going to take some investigation.
See on genelowinger.blogspot.fr
See on Scoop.it – Fuji X-Pro1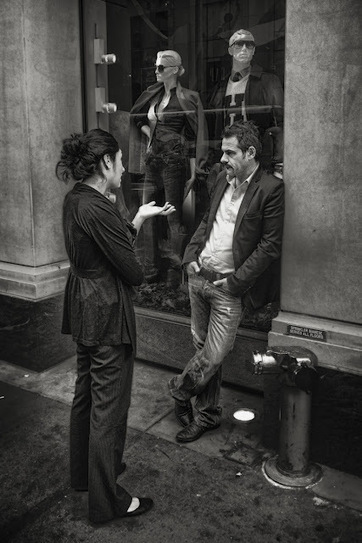 A lot has been said about the new Fuji X-E1 camera since its release, in comparison to the Fuji X-Pro1. For me the most significant difference is the lack of the ability to switch between optical and electronic viewfinder with the X-E1. The X-E1 has a 'better' EVF and a built-in flash, but neither was of any interest to me.
I come from a generation of photographers who cut their teeth shooting film, especially with the old Leica M cameras – in particular the M6. I also shot with a Nikon 8008 SLR. They were two very different cameras for very different shooting situations. At the time I was working as a documentary photographer for which the Nikon was indispensable. I learned my craft as a street shooter using the Leica. When I picked up the Nikon I knew I'd be looking through the lens and with the Leica through the rangefinder.
Starting my digital journey with the Nikon D700 was a natural transition for me, but I found it to be cumbersome for street work. When I got my hands on the XP1, being able to frame the image with the OVF made me realize just how important having that tool enhanced my ability to shoot effective street. I try to compose my shots so that no cropping will be necessary – to get everything in the frame that I want to be there, and nothing that I don't want to be there. But given that street work requires a fast response to capture a quick moment, it's not always possible to frame exactly. Better too much information than not enough. And better to be able to see what's outside the frame lines to decided whether or not to include it in the shot.
See on genelowinger.blogspot.fr
See on Scoop.it – Fuji X-Pro1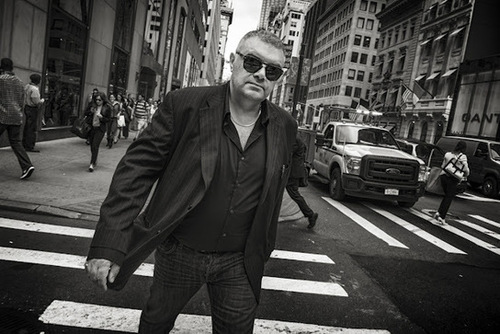 I was out for a photo walk yesterday afternoon in the midtown NYC area. I needed to give the most recent firmware update for the XP1 a real-time street test. I've liked using this camera since the first day I've had it, and until now have learned to live with its few quirks. The most recent update has completely solved all but one of them. My greatest concern was with focusing. Now the autofocus speed is snappy and the manual focus is much more responsive. Accuracy is a non-issue. The camera is a joy to use.
My one remaining beef with Fuji is with the auto ISO function. The X-100 allows for setting the minimum shutter speed when in auto ISO. How or why the manufacturer missed including that functionality with the XP1 is a mystery. For now, if I want to use the auto ISO feature – and it's a function that is invaluable for street shooting – I have to set the camera in manual mode (for aperture and shutter speed) and check often that the settings are working well in the ever changing light and shadows on the street.
Both of these shots were taken on Fifth Avenue with the Fuji 18mm lens (28mm equiv.). I'm really looking forward to receiving the 14mm lens when it's finally released, hopefully in a few weeks.
See on genelowinger.blogspot.fr