Gene Lowinger
See on Scoop.it – Fuji X-Pro1

The Fuji X-Pro1's revolutionary sensor design has created some baffling problems for the tech wizards at Adobe – they can't seem to get a handle on how to interpret the RAW data from the sensor site configuration so that the pixel peepers are happy campers. I, however, not being one of them (pixel peeper, that is) have been quite satisfied, especially because most of my work gets converted to b/w. I am usually quite happy with how the tonal range captured by the XP1 fits neatly into my processing workflow. I liked this shot very much but had not much expectation that the deep shadows on the girl's face would have enough detail because of the brightness of the scene and the direct blast of sunlight falling on her hair and shoulders. As I started to adjust the local contrast on her 'shady' side, I saw that the camera had captured all the details and they just popped into place.
See on genelowinger.blogspot.fr
See on Scoop.it – Fuji X-Pro1

Shooting with the Fuji X-Pro1 makes me feel like a kid again. It's just so much damned fun to play with! I've gotten stuck in a rut with it, though. The 18mm Fujinon lens fits my style of shooting and is on the camera 98% of the time. Yesterday I was sitting on the wall at the Apple Store plaza on 58th street and Fifth Avenue, watching all the girls go by (Brother you can't go to jail for what your thinking, or for the woo look in your eye). Just for a change I switched over to the Fujinon 35mm lens, which got me a lot closer to my subjects than I am used to. It was a challenge to get the framing right. Bringing the subject so much closer adds an intensity to the image but also creates some difficulties in how to use surrounding figures and lines to support the composition.
See on genelowinger.blogspot.fr
See on Scoop.it – Fuji X-Pro1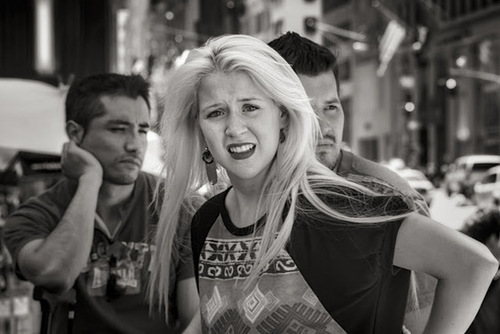 One of the most compelling reasons to have gotten the Fuji X-Pro1 camera was the announced intention of Fuji to make an m-mount adapter so that old Leicaphiles such as myself (the Leica part, not the old) would be able to make use of their wonderful Leica m-mount lenses on this yummie new type of camera. I was hot to get the adapter but resisted the temptation to get a cheaply produced third party adapter ring with no electronic/digital functionality. When I got the Fuji adapter I checked all my Leica lenses to see which lenses would or wouldn't be functional. There is a problem with some lenses because when focused to infinity the rear element housing protrudes from the back of the lens and hits an internal baffle in the adapter. I really wanted the adapter so that I could use my 50mm f2 lens and my 90mm f2.8 lens (on the DX sensor that translates into 75mm and 135mm respectively). I did all the setup stuff that Fuji recommended: adjustments for barrel/pincushion distortion, peripheral illumination, and color shading, and did some quick tests around town. Everything seemed fine…..
See on genelowinger.blogspot.fr
See on Scoop.it – Fuji X-Pro1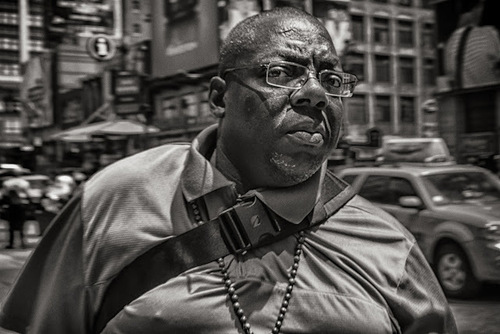 … In my film days most of my good street work was done with my Leica M6 and either a 35mm f2 or 21mm f2.8 lens. When I got back to work using my D700 I almost always used my 24-70 f2.8 zoom lens with it's lightning fast focus and everything else. I got lazy. Now that I'm back to my roots – with the X-Pro1 and one of two prime lenses – I find that the lack of immediate flexibility makes me more creative and inventive. And when I nail a shot I feel so happy. At the end of last week I took a walk with a friend of mine who was visiting New York for the first time. I like to shoot alone, and it wasn't my intention to zone in and do my street thing, but some shots were just begging to be taken….
See on genelowinger.blogspot.de
See on Scoop.it – Fuji X-Pro1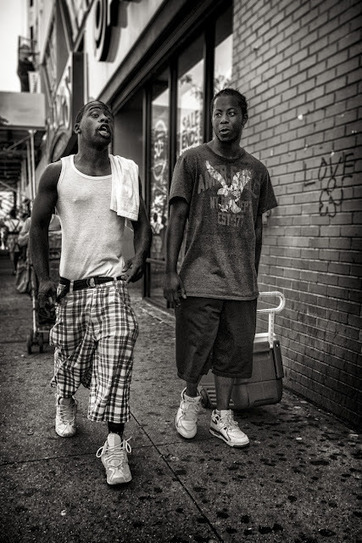 …. after giving myself some learning time with the Fujinon 35mm f1.4 lens on the X Pro-1, I switched it out for my favorite, the 18mm f2 lens. I've been playing with the Auto ISO to find a comfort zone with it. Auto ISO doesn't function the same was as on my D700, but finding some way to make it work for me was important because removing that restraint on my exposures definitely allows for more flexibility in the way that I shoot. Until Fuji comes out with a firmware update that allows for the setting of a minimum shutter speed while using Auto ISO, the best work around that I've found is to set the camera on Auto ISO with a max ISO of 3200 (I so wish I could set it to 6400 but that's only available if shooting JPGs) and manually control the aperture and shutter speed….
See on genelowinger.blogspot.fr
See on Scoop.it – Fuji X-Pro1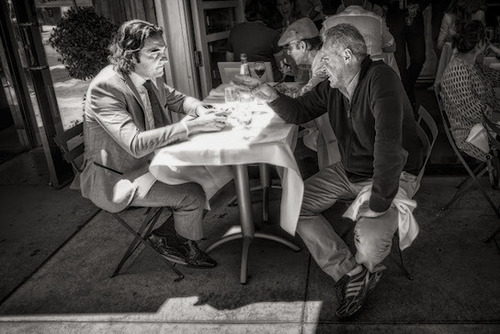 I'm going to a camera expo tomorrow where I'm hoping to get a good price for a trade in on several of my older Nikon prime lenses. Fuji has put out a teaser that there will be a major lens announcement on June 27th. Probably to unveil one or two new X-mount lenses for the X Pro-1 – a 14mm f2.8 and an 18mm-70mm f4 zoom. I've had to give a lot of thought to what direction I want to go with lenses for my XP1. My original motivation for getting the camera was because I had heard Fuji would be producing an M mount adapter for Leica lenses. That adapter was announced about a month ago and is expected in retail stores at the end of this month.
See on genelowinger.blogspot.fr
See on Scoop.it – Fuji X-Pro1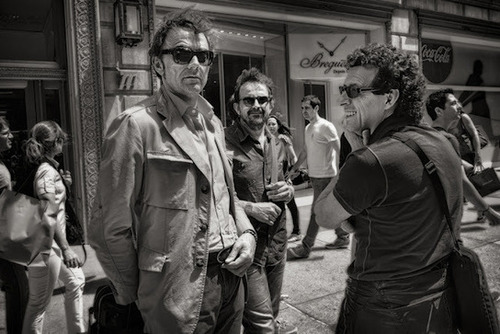 This afternoon on Scott Kelby's webcast of his program called The Grid his guest was Joe McNally. Joe spent an hour discussing and critiquing photographs that were submitted for consideration. His insights and suggestions were instructive and enlightening. I wish there were more of this kind of material presented in this format. The potential for learning on the web from wonderful practitioners and experts in their fields is just not realized often enough. There is a plethora of webinars presented by software developers about their products – my favorite is Nik Software – and often there are webinars about digital photography gear….
See on genelowinger.blogspot.fr
See on Scoop.it – Fuji X-Pro1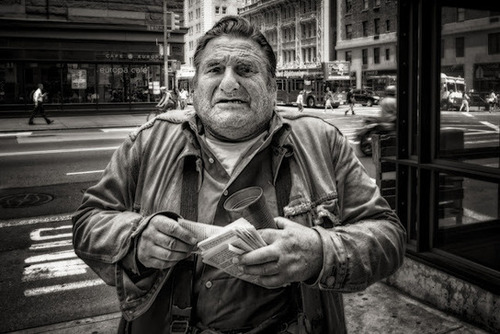 The only lens I have for my Fuji X Pro-1 is the 18mm f2 Fujinon X mount. That makes it effectively a 27.5mm lens with the APS-C sensor. It's just a tiny bit too long for my preferences. When I used my D700 for street shooting it was always mounted with the 24-70mm f2.8 zoom lens, and I rarely zoomed out from 24mm. My favorite lens to use on my Leica M6 was always the 21mm f2.8 which had incredible clarity and wonderful wide angle range. If I had my way, that's the focal length I'd have on the XP1. Rumor has it that the next lenses to be released by Fuji will be a 14mm f2.8 which translates into a 21mm effective focal length, and the first of the zooms for the camera which will be an 18-72mm f4 lens with image stabilization. The 14mm lens would be perfect for my shooting, and if the zoom image quality equals that of the 18mm prime lens, I'd be in lens heaven.
See on genelowinger.blogspot.fr
See on Scoop.it – Fuji X-Pro1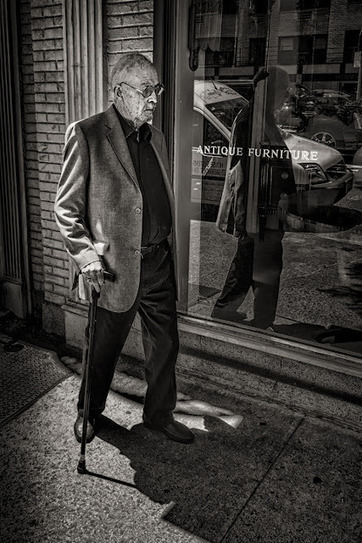 I love to shoot on overcast days. The light is even and easy to handle, and processing the raw image with today's digital tools (especially Nik plugins) gives me the flexibility to create striking images. But strong contrast – the stark difference between bright light and dark shadows – while being difficult to work with, can often allow for dramatic shots.
See on genelowinger.blogspot.fr
See on Scoop.it – Fuji X-Pro1

When I set out on my photo walk in Manhattan today I promised myself I'd not shoot from the hip, that all my shots would be made by looking through the viewfinder. It almost worked. There were a couple of shots that I simply had no time to prepare for, but it was a great exercise in discipline for me.
Now for what I learned ….
See on genelowinger.blogspot.fr