High ISO
This past Saturday evening I had the opportunity to kill a couple of hours in Chinatown and North Beach while waiting for my Apple Store appointment time to roll around. I decided that it'd be a good time to see what my present street photography setup was capable of in low light. The results were mainly satisfactory with a couple of hiccups, as is to be expected when shooting moving, uncooperative subjects in low light. I have read and agree with many others' findings about the X Pro 1 and its prime lenses for street photography – that the 35mm is too slow and its autofocus too inaccurate to be counted on when speed is crucial, particularly at night. Also, 35mm (52mm full frame equivalent) is too long for how I like to shoot, while 18mm is too wide. I find that the 24mm lens, zone focusing, a generous depth of field and the X Pro 1′s OVF allow me to get many shots I might otherwise miss while the 35mm/1.4 dilly-dallies around trying to focus. I love that lens and the images it makes, I just don't love that its autofocus is slow enough in bright light to be noticeable and didn't want to stake the evening's results on that lens. Another gripe is that the refresh rate of the EVF on the X Pro 1 gets awfully choppy and grainy the lower the light levels get. In some of the brightly lit shots, it's a non-issue. In the case of the man on his phone in front of the shadowy sidewalk, it was tough to get the image in focus. In fairness, that shot is more about the shapes and shadows than it is a portrait, anyway, but I'm a pretty harsh critic of what I create. So, what's the verdict? Well, heck – I love this camera and lens combo at night, too. Sure, I missed critical focus many times. Sure, people moving around makes for great backgrounds with extra grainy/blurry people. At 1/125, though, I think the results are good enough to share. Post processing is done in LR4.2. Although I'm a fan of black and white, for this exercise I eschewed black and white as I like several of these in color and feel that the colors contribute significantly to several of the images.
All from X Pro 1, Canon FD 24mm/2.8 SSC at f4.0 or f5.6, 1/60 or 1/125, ISO3200 or 6400.
See pictures on gimletsandfilm.wordpress.com
See on Scoop.it – Fuji X-Pro1



One of the things that I have found the X-Pro1 has enabled me to explore more is the possibility of a new approach to my jazz photography. Because it is so good in low light shooting at 6400iso, and because it is so unobtrusive in use, I have been able to move amongst musicians in a way that I have not felt able to do before. There is also another 'low noise' side of the camera, the sound of the shutter firing is so minimal that it is not like the gun shot of a DSLR. In fact, at the touch of a button, it is totally silent. Musicians concentrating in an empty auditorium can find that sound of a DSLR shutter very distracting – and recording engineers or film crews will threaten to lynch you if you are not careful! Clarinetist Evan Christopher is from New Orleans (although born in California) and is one of the best around. These are two of the images I took at sound checks/recording of his group Django a la Creole a recent concert in Southampton using the 35mm lens at 1/125th @ f1.4. The iso was 6400, and I processed the image in Lightroom 4. I find that Lightroom is great for handling the raw files from the X-Pro1, and the black and white conversions are very simple. The tone control is as good as Evan manages on the clarinet!

See on gerrywalden.wordpress.com
See on Scoop.it – Fuji X-Pro1

I'm not a PixelPeeper. seriously not. But even I noticed the amount of "watercolouring" in some X-Pro shots containing very fine details, when processing them in Lightroom 4. I achieved the best results in terms of details and sharpness with the SilkyPix software that came with the X-Pro, but wasn't satisfied with a "2-app-workflow" consisting of SilkyPix (->16bit Tiff->) and Lightroom. This becomes a pain in the arse as soon as you have to edit more than 3 images per session. So like most of us X-Trans users, I was waiting/hoping for Adobe to improve the support for our beloved .RAF files in LR 4.2…
Officially, there was nothing changed in the updated demosaicing/processing engine. They just added the new Fujifilm X-E1 to the list of supported cameras. so actually, I was expecting to see the "same shit" even on new RAWs in the latest version of Lightroom. But I gave it another try, and took a shot of my sleeping pug and his very fine detailed coat for a single PixelPeeping-session. Even though they changed nothing (or at least claimed they haven't), I'm quite happy right now with the results I get out of LR 4.2 when processing and handling X-Pro.RAFs just like "normal" RAW files.
See on patrickbraun.net
See on Scoop.it – Fuji X-Pro1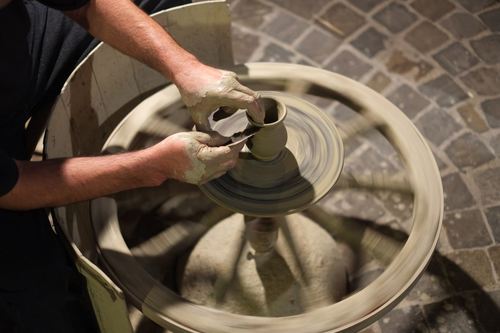 Freehand Shots By Night. No words, only X-Pro1 shots.
See on 500px.com
See on Scoop.it – Fuji X-Pro1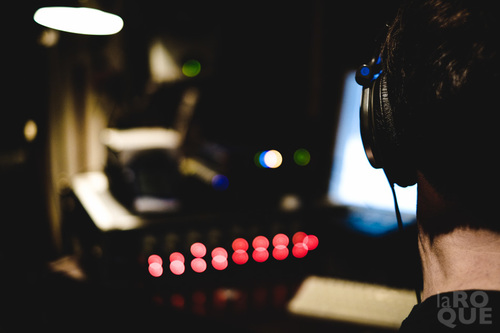 You can barely hear anything from the street, just a faint and distant heartbeat when the rhythm rises. Several inches of padding and a few thick doors have done the trick. It's nice to be back here, moving amongst the amplifiers, the instruments, the suitcases and makeshift sound makers as the band experiments with grooves and various sonic realities. There are no limits, no preconceived formats. It's a limitless canvas, crazy full of the eclectic & the odd, the screeching & the Felliniesque. Fat synth pads to rattle your bones and guitars that scream & wail. I could do this all the time. I could shoot musicians, dancers, actors in this intimate act of performance and experimentation day in, day out. I'd never get bored. Ever. I could live inside the incubator.
See on www.laroquephoto.com
See on Scoop.it – Fuji X-Pro1

Over the past two days I've had some time to work with the new Fujifilm X-E1. I am shooting the camera with the Fujifilm XF lenses 18mm, 35mm, & 60mm. ISO is varies from 200-2000. Here are some images from the Fujifilm XF lenses the other night for the World Trade Center memorial beams of light. They are a bit faint in the distance, above. If you'd like to see what the beams look like check my other post here –http://brandonremler.blogspot.com/2012/09/world-trade-center-twin-tower-beams.html. These are all quick jpegs.
See on brandonremler.blogspot.it
See on Scoop.it – Fuji X-Pro1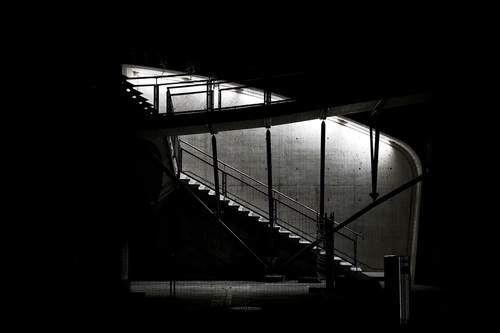 Google Translater
http://translate.google.com/translate?sl=de&tl=en&js=n&prev=_t&hl=de&ie=UTF-8&layout=2&eotf=1&u=http%3A%2F%2Fleichtscharf.de%2Ffotografie%2Fzurich-nighttime-fuji-x-pro1-high-iso%2F%23&act=url
Nach dem ersten Sneak Peek aus Zürichs Nacht ist nun endlich die Serie fertig. Entstanden alles auf dem Rückweg von einem Abend­essen zum Hotel. Ich ging zu Fuss, vernach­läs­sigte das Taxi. Denn: Ich hatte meine neue Fuji X-Pro1 dabei.
Ergo hab ich mir das 35/1.4er geschnappt, Blende (meist 1.4, ab und 2.0) und ISO (meist 1.600 oder 3.200) fixiert. Der Belich­tungs­zeit ließ ich dann mal freies Spiel. Und bevor die Schlauen um die Ecke kommen:
Ja, ich weiß, dass das nicht optimal für die Bild­qua­lität ist. Besser wäre sowohl Blende als auch Belich­tungs­zeit fix. Aber ich hatte gute Gründe für dieses Setup. Natürlich.
1.) So umgeht man den Quirk mit dem Auto-ISO bei X-Pro1.
2.) Ich wollte einfach mal die X-Pro1 bei hohen ISOs testen. 6.400 kannte ich schon, geht — nutze ich aber nur in Ausnahmefällen.
3.) Ich hatte 4 Spritz intus. Da denkt es sich im Drei­klang Blende — Belich­tungs­zeit — ISO einfach nicht mehr so leicht.
See on leichtscharf.de
See on Scoop.it – Fuji X-Pro1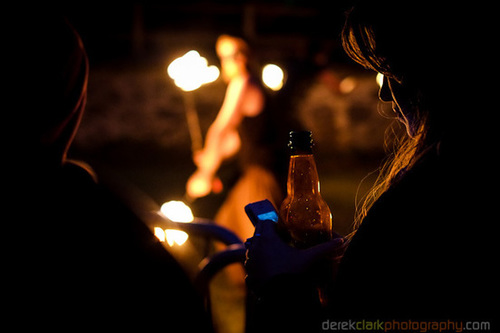 Balladrum Music Festival near Inverness in Scotland is a pretty interesting place and it's full to the brim with interesting people. I was there as a musician playing last on the second stage..
There's no fear at shooting 3200 iso with the X-Pro1! There's also no fear shooting at wide apertures, you just simply compose and let the camera do the rest. This first shot was at f2 and 1/60 of a second. I was shooting the performers in the background playing with fire, but I found the foreground more interesting.
Dereks great black and white shots on his 35mmstreet site:
http://35mmstreet.com/2012/08/23/fujifilm-x-pro1-black-white-at-3200-iso-belladrum-music-festival/
See on Scoop.it – Fuji X-Pro1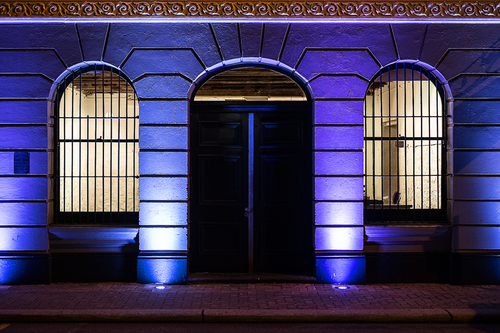 You don't need carrots to see in the dark – you simply need a Fujifilm X-Pro 1. Hopefully the photos and story show just how this camera performs in low light when using high ISO – no need for those carrots anymore!
PART 2:
Motionless, beat up and lost the door stood as a gateway into a darker world. The urban rustic weathered paint was a reminder of the harsh abandoned life this building had become custom to. The distant street light shed new life on the neglected doorway. My X-Pro 1 picked up the little available light with ease. ISO 5000 had never looked so clean against a decrepit dirty background….
See on Scoop.it – Fuji X-Pro1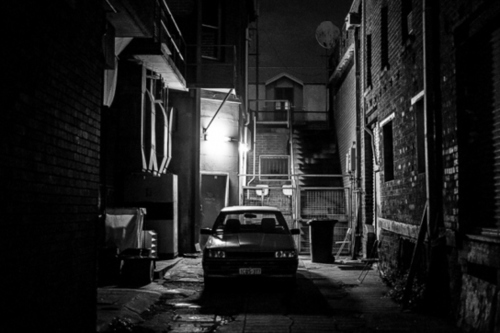 You don't need carrots to see in the dark – you simply need a Fujifilm X-Pro 1. Hopefully the photos and story show just how this camera performs in low light when using high ISO – no need for those carrots anymore! The soles of my shoes were wearing thin. Darkness surrounded me, I was now in the back streets of Fremantle. Rain was softly falling wetting my brow as I clutched my Fujifilm X-Pro 1 protecting it from the unknown surrounds. My backpack felt light as I picked up my pace. The sound of crackling leaves burst into the air as I stepped along the long cobbled paved path. Winter still had a hold on the air as I grasped my jacket ensuring zips were closed. The engineered 35mm lens was fixed tight onto the camera and my ISO control was set to extremely high. As I gazed around me the leaves on the trees were hanging onto flexing branches desperate not to fall.