Lightroom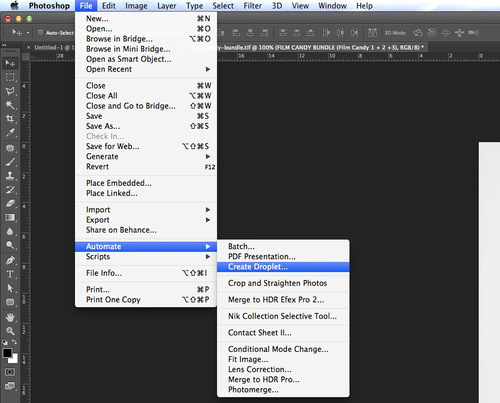 Here's a handy little tip I discovered recently. You can use Photoshop's droplets to make Lightroom Plug-ins. Ok, that might be over-selling it slightly, but, by creating an action in Photoshop and then saving it as a droplet, you can then assign that droplet to work like a plug-in in Lightroom. Here's how I've used it… To start, as part of my on-going quest to get the most out of Fuji X-Trans files, I had been working on a way to clean up the weird edges that Lightroom can give with x-trans files. I ended up with quite a complex photoshop action, which actually works quite well (more on that in a future post) and also adds some sharpening and a few other things. I don't know what made me think of trying it as a droplet, but I'm glad I did. Anyway, the process is pretty simple, so here's how to do it. In this example I'm using another action I created, for sharpening 24mp images……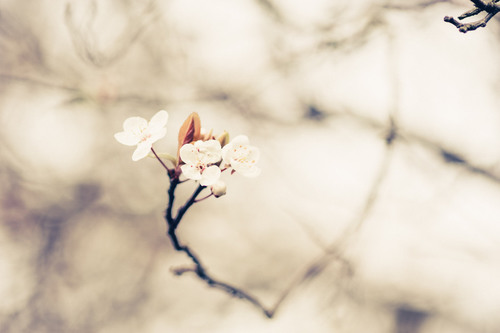 Film Candy was originally developed for Aperture, and there have been three versions. I've been getting requests for some time to port them to Lightroom, and it turned out to be more difficult than I first thought, however I think the result was worth the wait. The original Aperture versions were small preset packs containing a few presets each. Film Candy for Lightroom combines styles from all three of the original Aperture versions, and creates similar looks for Lightroom. Unfortunately though, because of the differences in both applications, it's not possible to get the looks exact, and so they are instead based on the same ideas rather than exact duplicates. The Lightroom version also contains the ToolBox that isn't in the Aperture Version. Incidentally, I'm also working on porting Quick Lux and Monolith to Lightroom too. Getting the Lightroom version ready and available for sale took quite a bit of work, as it involved, not just creating and testing the presets, but also writing the documentation, and also setting up a new store and e-commerce system. By the way, If you're wondering what the name is all about, it started as kind of a joke, It was the idea of candy you get when you go to the movies. As development progressed I started using various types of sweets (as we call candy here in Europe!) as codenamed for the various presets I was working on, and the idea stuck. Thus "Film Candy" was born……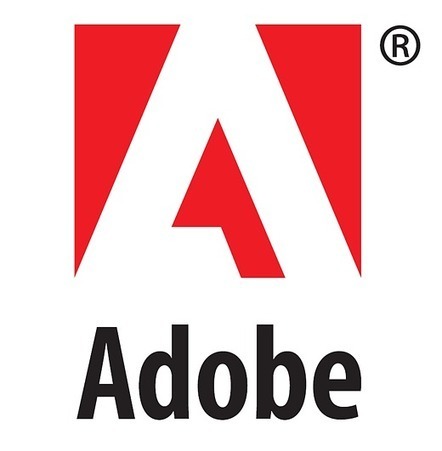 Adobe has announced the final versions of Camera Raw and DNG Converter 8.3, along with Lightroom 5.3. Different versions for ACR 8.3 are available for Photoshop CC and Photoshop CS6 – both from Adobe.com and through the update mechanisms in the software. DNG Converter is available for free for users of older versions of Photoshop. The latest versions brings support for 20 cameras, including the Nikon Df and Nokia Lumia 1020 that weren't in the release candidate versions.
The latest version becomes the first to offer camera color profiles for Olympus cameras.

Press statement:
Newly added support for Tethered Capture in Lightroom 5.3
Canon EOS Rebel T4i / EOS 650D / EOS Kiss X6i
New Camera Support in Lightroom 5.3
The following new cameras are now supported:

Canon EOS M2
Canon PowerShot S120
Casio EX-10
Fujifilm XQ1
Fujifilm X-E2
Nikon 1 AW1
Nikon Coolpix P7800
Nikon Df
Nikon D610
Nikon D5300
Nokia Lumia 1020
Olympus OM-D E-M1
Olympus STYLUS 1
Panasonic DMC-GM1
Pentax K-3
Phase One IQ260
Phase One IQ280
Sony A7 (ILCE-7)
Sony A7R (ILCE-7R)
Sony DSC-RX10
See on www.dpreview.com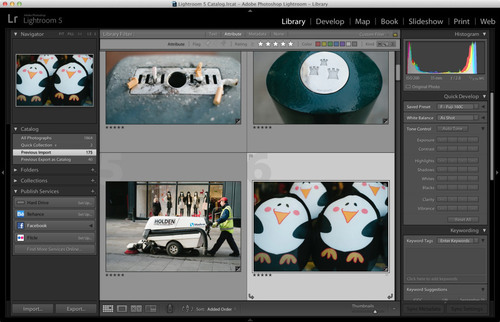 Despite the fact that I'm probably best known for my Aperture work, I actually use Lightroom a lot. In fact, It's pretty much my main tool now that Aperture has only seen minor revisions for nearly three years. I really like Lightroom but there are lots of little areas where eI think it could do with some improvement. I've been keeping a list of things I'd like to see as an ongoing note in Evernote, and it's getting quite large, so I thought I'd share my thoughts. Just so there's no misunderstanding, I'm not criticising the software. I'm also not really talking about big features, or major changes, but just some little things that I think would help with the workflow significantly. Well, in my opinion anyway. I'm sure everyone has their own views as to what improvements Lightroom should have, and I'm sure there could be lots of heated discussions, but for now here's my thoughts…..


Just for fun, I'm doing a little giveaway here on my blog! As a photographer who shoots both Fujifilm and a Fuji X-E1 digital camera, I've had great interest in emulating the pastel look of overexposed, pro lab scanned Fuji Pro 400H film for my digital work to get cohesive results with both mediums. What began as a personal quest has found its way into my upcoming Pro Set II for Lightroom and ACR, which will be released next week. So, here is the challenge: look at the above images (you can click to see them larger). Then post in the comments what you think each image was shot on, Fujifilm Pro 400H, or the Fuji X-E1 post-processed in Lightroom with one of my new Pro presets.
The first one to guess both correctly wins, and gets to choose between:
3 boxes (15 rolls) of 120 Fujifilm Pro 400H
My new Lightroom & ACR Pro Set II …
See on www.rebeccalily.com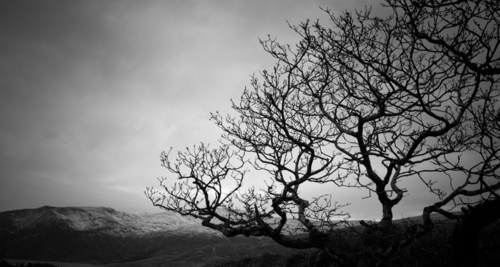 Well it is here, Adobe have released version 5 of their brilliant Photoshop Lightroom photo management and editing software.
I have been using Lightroom from the initial beta and have watched it grow from strength to strength. Just over a year ago I celebrated the release of Lightroom 4 which brought with it considerable improvement in image quality, especially when it comes down to image noise.
Lightroom 5 brings a strong focus on the photographer's workflow and some of the new tools really are brilliant, I suspect even less time in Photoshop as a result of the 'advanced healing brush' alone.
It is now possible to paint out larger areas of an image for correction but the big bonus is the fact you can be much more accurate. For example in this image I had to use a large circle to remove a bird yet the new brush means I can create a smaller circle and heal only the pixels necessary.
The vertical straightening tool is particularly intelligent in auto mode. This image was taken at the bottom of a waterfall at a slightly skewed angle to ensure all of the fall is in the shot. Lightroom was able to bring the wall forward to correct the vertical perspective…..
See on www.flixelpix.com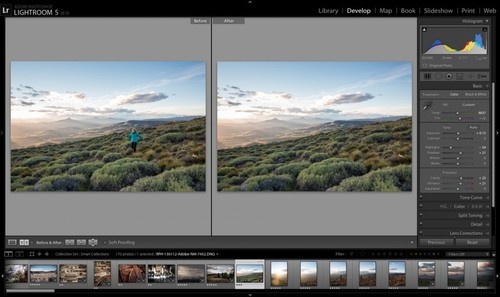 The Lightroom team is proud to announce the availability of Lightroom 5 as a standalone license and as part of Creative Cloud! Lightroom 5 is now available to try or buy on Adobe.com, and as a free update to Creative Cloud members. A number of you downloaded Lightroom 5 beta, and we are thankful for the valuable feedback that you provided during the last couple of months. Thanks to your input on our public forums, we've made more than 400 tweaks since releasing Lightroom 5 beta. It truly was a team effort that we can all be proud of. Thank you. Lightroom 5 has all of your favorite features from Lightroom 5 beta including the Advanced Healing Brush, Upright, Radial Filter, Smart Previews, improved photo book creation, and slideshows that mix video and still images. The final version of Lightroom 5 also contains several new updates including more than 400 bug fixes, the ability to share photos using the Behance Publish Service and an expanded range on the Radial Filter's feather slider….
See on blogs.adobe.com

While it may have taken around three years to do so, Adobe is finally giving a sneak-peek at some high-end photo-editing software for the iPad. The app previewed – which seemed to be quite in the beta stages – would be something along the lines of an iPad equivalent of Lightroom, obviously a bit limited with editing, due to horsepower constraints. Tom Hogarty, product manager for Lightroom, previewed an early prototype of the application on Scott Kelby's The Grid.
There's no promise as to when the app will ship or how it will fit into their current RAW image workflow right now, but for now, I'm sure many – myself included – are happy to see a working prototype. Below is a list spelled out by CNET as to some details Hogarty laid out.
The ability to edit photos taken in raw photo formats, including Lightroom develop-module parameters like exposure, clarity, shadows, highlights, and white balance. • Cloud-synchronized editing so that changes made on a tablet arrive on the same photo on the PC. • The ability to zoom all the way to 100 percent for checking photo focus and details.
Another quote worth noting is in reference to his own, personal desire to be able to sort, flag, and/or reject photos within the app. To this, he said "I spend couple hours computing on the train," he said "I'd love to be able to sort and select images."
Adobe seems to be stepping up their game more and more, especially since the rise of Creative Cloud and seeing their actually working on apps for organizing and editing RAW images on-the-go is another step in the right direction. One possibility I can think of as to how Adobe can minimize CPU strain on mobile devices (which in turn drains the battery faster) is to utilize a feature they're implementing into Lightroom 5, which is "Smart Previews." From our news article on the Lightroom 5 beta:
This feature creates smaller, lossy .DNG images of your full-sized RAW files on your computer, keeping them as previews in a cache of sort.
If they were to include this ability in the application, you could edit a smaller, iPad optimized .DNG and once the photos are uploaded to your computer, the .xmp information could be transferred over to the full-sized image. It's a rather obvious solution, albeit one which Hogarty didn't quite hit on. It will be interesting to see what features make it and what features are specialized for the mobile workflow. It's worth noting the images shared within this article are of the prototype meaning little to no UI design is implemented, which is why it looks much more complicated than we can expect the final product to be whenever it does go live.
See on twoeight.co
Adobe has released the first beta version of their popular photo editing and library management tool – Adobe Lightroom, which now reached version 5. This update includes all the features in Lightroom 4, especially the new cameras added in the 4.4 update. I am a long time user of Lightroom, and have used it as my photo editing tool of choice for both my Canon DSLRs and my new Fuji cameras. I really like the integrated approach Lightroom has for both image library management, keywording, image adjustment (the main photo editing module) and printing or exporting. For me Adobe Lightroom has almost replaced Photoshop, for most of my images. I say almost because some image adjustments could only be done in Photoshop. At least until Lightroom 5.
Important updates:
upgraded spot removal tool (with brush system)
offline images editing
auto-adjustments to straighten photos
new tool: radial gradient filter – the best thing since, well…linear gradients
support for a ton of new cameras, of interest to me being the Fuji X-E1 and X100s
Will I get the Lightroom 5 upgrade? Let's start the beta test……
See on andreinicoara.com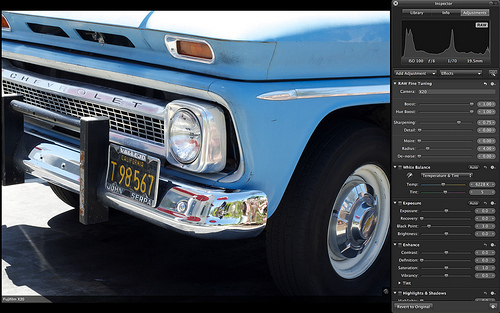 Adobe made a little noise with the release of Lightroom 4.4 and its working closely with Fufifilm to provide top notch decoding of .RAF files from Fujifilm X-Pro1, X-E1, X100S, and X-20 cameras. This lead to some speculation that Apple would be left out in the cold with Raw decoding for X-Trans sensors.
Well, apparently not. Apple today released Raw Compatibility Update v4.05 with support for these very same cameras. So how do these two applications stack up for Fujifilm camera owners?
No image editing was enabled in either application. Files were saved out at the highest export settings. So what you see here is essentially how each application decoded the .RAF files from a Fujifilm X-20 camera. (Imagine how the Raw files from the X100S look!). In my opinion, both applications do an excellent job of handling .RAF files. And the fact that both Apple and Adobe had the RAW updates so quickly after the release of the new X-Trans cameras (X-20 & X100S), says that both are taking these cameras seriously. Well done….
See on thedigitalstory.com