Mark Hilliard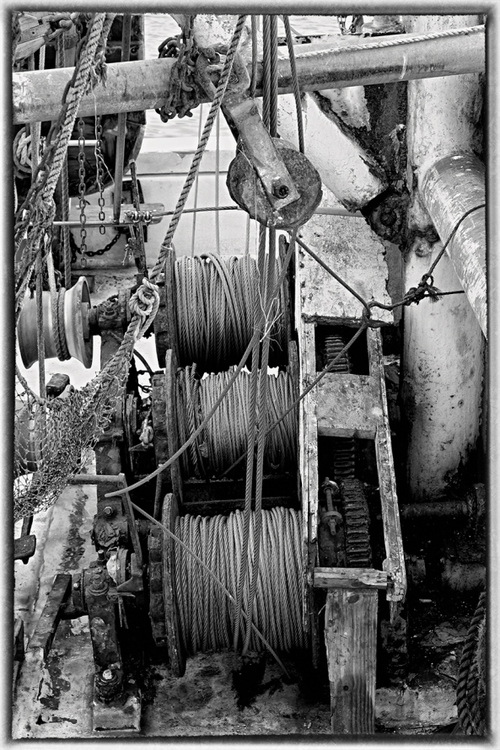 I moved to Fuji after a long search for a small light weight camera system after loosing 80% use of both hands and arms.  I went through ALL of the micro 4/3 systems (and even kept 2!).  I sold $40,000 in Canon bodies and L glass and have NEVER looked back!  In the Fuji, not only have I found perfections but being a range finder styled system it is like going home to mom! I have a X100s that I use for most of my walk around work, it is just so tiny and generates amazing images.  So when Fuji announced the X-E2 with the same sensor and with even more upgrades I ordered one from Amazon.  Much to my amazement it shipped a week later!  I have had it in hand now for about 2 weeks and just yesterday took it out to a local fishing port for a bit of creative work.  I love the upgrades and how fast this camera is.  It even passes the X100s in ability.  I originally purchased the X-E1 in order to take advantage of its electronic remote shutter release.  It enables me to hook it up to devices like a lightning trigger and my water drop collision system.  The X-E1 did a great job with these devices and I expect no less with the X-E2 but that is for another day……
I was invited to visit Moore Farms in Lake City South Carolina last week to evaluate them as a workshop location for future workshops.  They have developed a great botanical garden destination that has more plant potential than most other places that I have visited! For the visit I decided to take along my Fuji X Pro 1, Fuji X100s, Fuji 18-55 and the Fuji 55-200mm lens.  I also picked up the new Photoasy Extension Tube Set which has a 10mm tube and a 16mm tube with the communications connections so that the camera can still talk to the lens!  This was ONLY available on Ebay but recently Amazon Prime has started offering this great set! The ENTIRE time I was shooting the X Pro 1 it had the Fuji 55-200mm lens installed with the 16mm extension tube.  I shot on the tripod the entire time with a remote shutter release.  A lot of my shooting with in high sunlight (sometime you cannot help this) and I forgot to bring along a translucent panel to modify the light to a more gentle form.  All of these things aside the camera/lens/tube combination worked great!  I am VERY pleased with the results (please view the Passion Flower above!).  I used an aperture of f/5.6 or f/8 (subject dependent) the entire time and usually had the lens set between 180mm to 200mm…..
See mpre pictures on markhilliardatelier.wordpress.com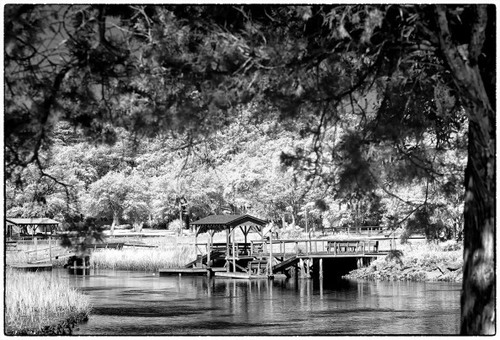 Yes, the new Fuji 55-200mm lens arrived for my fuji camera systems!  I am currently shooting with a color X-E1, a color X Pro 1 and a IR converted (720nm) X Pro 1.   I know how well the 55-200 works on the color bodies but what I really needed to know how did it work with the IR system!  Would it give hot spots as so many of the Fuji lenses do?  This post is the report of my findings.  The final verdict is that it works very well and as long as you do not go higher than f/16 there are no hot spots to worry about at any zoom range! To me this is a really big deal. So far only the 14mm and 35mm Fuji lenses are usable in infrared. So the addition of another lens really helps. I am going to give you some examples of how this lens actually does at both the wide and long ends of the zoom range wide open and closed down so that you can get a feel of the usable Infrared range that you can use.  Next week I will do a posting using the lens for color work only.
The Fuji X Pro 1 has turned out to be one of the best Infrared camera systems that I have ever used… period!  The only good Fuji lenses for Infrared have proved to be the 35mm f/1.4, the 18mm f/2 and the new 14mm.  The Viogtlander 75mm f/1.8 has also proved to be a STUNNING lens also!  So, the camera has proven its infrared capability, now it is time to discuss in detail the recipe for post processing!  It is all quite simple but there are a few requirements that you must understand in order to follow my workflow with understanding.
Needed:

Photoshop CS5 or CS6
Nik Filters, Viveza, Define Silver EFX Pro plugins for Photoshop, NOT LIGHTROOM.  (You can now purchase the entire library of Nik filters for $149)
Kromography False Color Action which can be downloaded here from the right menu bar under the box menu.  You can simply  click on it to download to your computer then drag it to photoshop to install.
A converted Infrared camera system capable of generating enough color data to make Faux Color images.  This means 720nm, 665nm, 630nm and 590nm conversions.
The ability and desire to experiment!
As you move your RAW (shoot only RAW for IR because of the ability to shift the white balance easily) onto your computer you should automatically tell yourself that you are going to process each selected image in Faux color and B&W. Sometimes you will notice that the un processed image looks great also (wonderful bronze tones) and decide to do a version like this as well!
Lets talk about the RAW conversion process a little bit.  Photoshops ACR built in RAW converter will NOT apply the white balance correctly and your images will appear deep red.  For this reason I use Capture One version 7 from Phase One.  It is simply the BEST RAW converter that I have ever used.  You can download a trial version and decide for yourself if what I am telling you is true!
See full tutorial on markhilliardatelier.wordpress.com
I spent last Sunday in Georgetown, SC.  I had a gallery change out in a gallery that I am a member of (Co-Op).  The change out only took about an hour so I decided to take the rest of the day to scout new locations and just shoot! There are several places there that I love to visit.  As you drive North on Front Street out of the Down Town area you start passing several side streets on the right.  Each of these leads to a marina with several Shrimp Boats (and in 1 case many!).  I like walking around the docks and working each group of boats then moving in closer and doing detail images. These vessels are not long to be with us so if you have the chance to visit and photograph them you should youmake it a priority to do so! The choice between Color and B&W is a tough one for most photographers.  For me, I like B&W much better but I will porcess both for each and every image that I take.  So I will have the choice as to what I eventually use readily on hand! I do not normally shoot intentional lens flair but for this image I composed the image with it in mind! This generated such a perfect series of light beams that they were visible in front of the boats cabin door! Again, the choice between Color and B&W was a no brainer for me! ….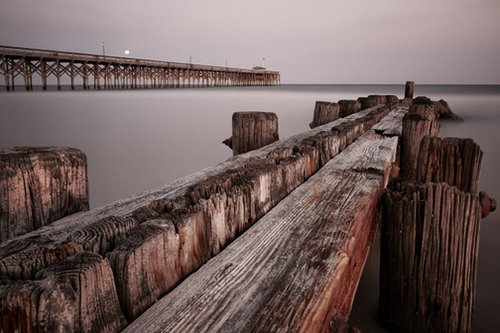 The long exposure game, is one of compromises: fighting too little light, balancing the moon and its reflections, cameras and lenses, camera meter or external meter! Long exposures are one of the more difficult photographic styles and one that takes experience and patience to master.  As such, the photographer needs every helpful trick that they can gather into their bag of tricks in order to generate, stunning etherial images! …..
See tutorial on markhilliardatelier.wordpress.com
There is something about Shrimpers… I cannot get enough of them and find myself visiting them again and again.  I love the dilapidated nature of them and even though they are in such rough condition they seem to venture out into the deep time after time.  Perhaps they are a reflection of the men who sail them, rough hewn, salty men, eking out a living from the sea.  Regardless, they are things of photographic beauty and deserve to be documented for history. You see, they are vanishing from sight.  Shrimp seems to mainly come for fresh water farm ponds in the lower americas and soon these beautiful boats will be a thing of the past.
The Japanese concept of Wabi-Sabi:  "connotes a way of living that finds beauty in imperfection and accepts the natural cycle of growth and decay. Characteristics of the wabi-sabi aesthetic include asymmetry, asperity (roughness or irregularity), simplicity, economy, austerity, modesty, intimacy and appreciation of the ingenuous integrity of natural objects and processes.
Thus begins my exploration of Sabi…
You had better get out and enjoy them while you are able too..
Here captured in Black and White, is a detail shot of the shrimper Lila Lee.  She is resting in the boat grave yard in Georgetown, SC. The older shrimpers seem to be abandoned along the shore here in Georteown till they sink.  We have some sitting on the bottom growing trees and weeds from their decks.
See article on markhilliardatelier.wordpress.com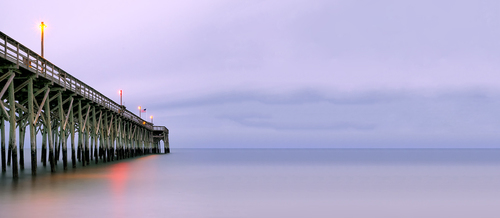 Ultra long exposure photography can be a very fulfilling pursuit and generate etherial images that draw your viewer into them leaving them week in the knees! As a photography master generalist I can tell you that there are a few speciality areas that can really excite me and force my juices to flow!
Specifically they are:
Ultra High Speed photography: Water Drop Collision Photography, Daytime Lightning Photography & Hummingbird Photography
Infrared Photography
Grist Mill Photography
Ultra Long Exposure Photography.
This post is a tutorial on Ultra Long Exposure photography using the Fuji X-E1 camera with its 18-55mm lens, a 6 stop B+W ND filter and a Sekonic L758DR spot meter.
Fuji X-E1 with its 18-55mm lens
The Fuji X-E1 is my 3rd in the Fuji line. I started with the X100 and moved to the X Pro 1 in order to have interchangeable lenses, then to the X-E1 to take advantage of its Electronic Shutter Release. I have always been a Canon shooter with closets full of L lenses.  But due to a spinal operation that went dreadfully wrong I lost 80% use of both hands and arms.  No longer able to hold heavy camera equipment I started on a long journey searching for high quality camera system that was small and light weight and produce world class images.  A long story shortened, I settled on the Fuji X lineup and their fine quality lenses along with a few CV and Leica M mount lenses.
Now, the Fuji X-E1 with its electronic shutter allows me to hook it up to my water drop machine, Lightning Trigger and Hummingbird control system!
The only lacking item is its short lens lineup.  With the introduction of the new 55-210mm lens this spring even that will no longer be a problem for me!
Long exposure has several issues that you must overcome to successfully create the etherial, emotionally charged image.
Long Shutter Speed: Even in low light you will find it difficult to get a shutter speed at f/8 (sharpest).
Difficulty Focusing:  Darkness you know…
Unreliable Metering: Especially with an installed ND filter.
Camera Shake:  Requires a STURDY tripod and REMOTE SHUTTER RELEASE.
The Long shutter speeds generally can range from 15 seconds to 20 minutes. These are difficult to reach unless you shoot at night with light from the moon.  What I find that I do is shoot at dusk on or just before sunrise to overcome this issue.  Usually I will add a Neutral Density Filter (ND) to reduce the total amount of light reaching the image sensor. This will allow you to shoot with more ambient light and generally make this style of photography easier……
See full article on markhilliardatelier.wordpress.com
I just got back from leading an advanced photo workshop & excursion to the outer banks on Nags Head Island in the Outer Banks! The subject was HDR and Long Exposure Photography. It was an amazing workshop filled with great students and we visited amazing locations. What was so special about this was the sunrise locations at the Avalon Pier (which was broken into 3 parts) and the Outer Banks Fishing Pier. The wave conditions were a little high due the the North Easter having just passed and made for tough long exposures due the the required shutter speeds!
As you can see with the image on the left, the waters surface was still a little bit misty even with a 30 second exposure. The light was simply too bright and the waves too large to get a slower shutter speed. Still, the image is pleasing and as you can see from the blue sky it is just after the sunrise was finished. Ok, some discussion on equipment is in order here. A sturdy tripod is a must. It must be able to hold the camera steady even if the water washes over the tripod legs. I use a large Gitzo Carbon Fiber Tripod with the Really Right Stuff large ball head on top. The X Pro 1 has the Really Right Stuff L bracket installed. This system works very well.A remote shutter release is also a must. The X Pro 1 can only use a mechanical one so I have two in my bag, a 14 inch and a 40 inch. Both have a BULB lock which enables you to lock the shutter open.A 10 stop and 6 stop ND filter. I like the B+W versions due to their German Schott Glass construction. BUT, be aware, the X Pro 1 (in fact most camera systems) cannot meter through the 10 stop ND filter. If you have a hand held spot meter you can get accurate exposures even with the ND filter!A lens hood is an absolute must for long exposures. This will keep light from striking the objective element of your lens and reducing contrast and causing lens flare.Know where the sun is going to rise! There are several great apps for smart phones out there that will tell you this right on the spot! For rough seas, the longer you can get the exposure the smoother the water will become. The X Pro 1 will allow up to a 30 second exposure in the T mode. You simply use the arrow keys to change the exposure up or down, but 30 seconds is the max. For longer, you must use the BULB mode. The Fuji has a very well designed BULB mode! When you trip the shutter, a counter will start on the back LCD screen counting up! This makes for very easy timing control…..
See on Scoop.it – Fuji X-Pro1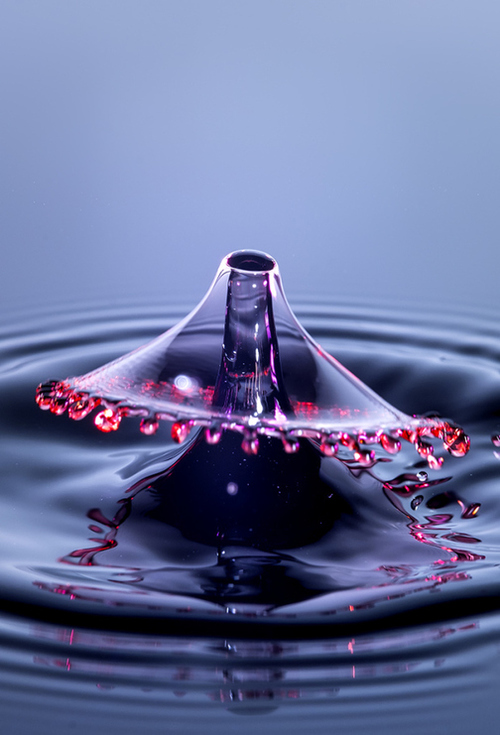 Macro photography is hard work. There are so many technical issues to overcome that you have to be a very patient person with the correct camera equipment. Now, add in the complexity of HIGH SPEED WATER DROP COLLISIONS to the mix and you are faced with one of the more complex camera and photographic setups and skills necessary to capture great images. Most people think that water drop photography is purely luck or done with high speed computer controls. While this statement is partially true, you still have to overcome the normal issues associated with macro photography in the 1:1 image ration realm. By this I mean that a penny photographed is the same size as if laid on the camera sensor, hence 1:1!