Mark Hilliard
Don't you have the feeling sometimes of not reaching that creative high so that when you return home you are almost like an empty husk? Well me too, and sometimes I really need to stretch my artistic legs.  Going out with a Color Camera will just not get the job done and leaves me feeling empty.  Working in Film is a lot better and scratches an itch that I just cannot reach otherwise… But when I am really feeling creatively down and mentally cramped I usually turn to my Leica M Monochrom system. Working directly in B&W is a soul expanding exercise that will re-inflate my creative side quickly and effectively.  I am the type of photographer who can actually think and see in B&W. Actually generating those images in the field with a capable B&W rangefinder system really is like going home to Momma.  It leaves me with that ohhhh feeling, or is it OHHHHH… Yep, that is the feeling that I am talking about! ……
Source: markhilliardatelier-blog.com

---
Leica M Monochrom
Do you love my work and want to support me? If you're planning on buying camera gear, you can check out above-noted links. Prices remain the same for you, but a small percentage of your purchase value is valued back to me. Thank you!
---
About a month ago, my truck was broken into and a camera bag was stolen with several Leica lenses, cameras and accessories.  After the insurance was paid, I purchased the amazing Leica M Monochrome and the Tri-Elmar 16 – 18  – 21 mm lens to replace 3 missing lenses and 1 camera. The M Monochrome is truly an amazing camera and the images are beyond stunning! I have found that I actually enjoy using it more that the M 240.  So far, I have used it for ultra long exposures in the Outer Banks, family pictures of my grand children during Christmas and on a just completed trip to Boone, NC for the New Year.  I am NOT going to do a review here rather I will just show the capabilities of this camera system while photographing my favorite subject matter …..
Source: markhilliardatelier-blog.com

---
Leica M Monochrom
Do you love my work and want to support me? If you're planning on buying camera gear, you can check out above-noted links. Prices remain the same for you, but a small percentage of your purchase value is valued back to me. Thank you!
---
Normally you do not see much in the way of Long Exposure  photography in the Infrared world.  The reason is that it is necessary to use Neutral Density filters (ND) to cut down the amount of light reaching the sensor to enable very long shutter speeds.  The infrared spectrum will reduce the the effective value of any ND filter that you attach to your lens from between 20% to 30%.  Have you ever taken a photograph of a person wearing a pair of sunglasses in infrared and noticed that they are totally clear?  This is the effect that I am talking about.   The general rule is that the cheaper filters suffer much greater loss in infrared and the variable ND filters do not work well at all (yes, even the expensive Singh Ray). Should you desire to pursue this style of photography I strongly suggest that you purchase and use B+W ND filters which loose around 20%.  I am also told that Lee filters do not loose too much effect as well but I have not yet tested them even though I own them all…….
Well, in a wild turn of events I have picked up some new camera equipment… This is a really no surprise as it is a sickness or rather addiction! But onward and upward!  I do have to tell you that I am REALLY excited over acquiring these new systems though. And unfortunately, one thing has let to another and thus a long journey has also been started into the realm of film again! But first let me highlight the "What"! As you can see in the top image, the newest body is the new Leica M240 24 full frame 24 mega pixel body. It also has a true "live view" which allows use of all sorts of other lenses like the Leica R series that you would NOT normally be able to focus. This means everything from long telephotos to true macro (subject of the next post!). After a few months of use I can tell you that this is the BEST digital system that I have ever used!  Along with it I also picked up several lenses. First, the main lens is the Leica M 50mm f/1.4 Summalux ASPH lens in silver.  This is a HEAVY lens.  If attacked by a bear I could use it to beat him half to death.  The lens itself has turned into my main lens that I use 60% of the time. It has a built in leans hood and takes 46mm filters. The Bokah that this lens can generate is amazing beyond description. It is extremely smooth and easy to use and generates images that are truly amazing …..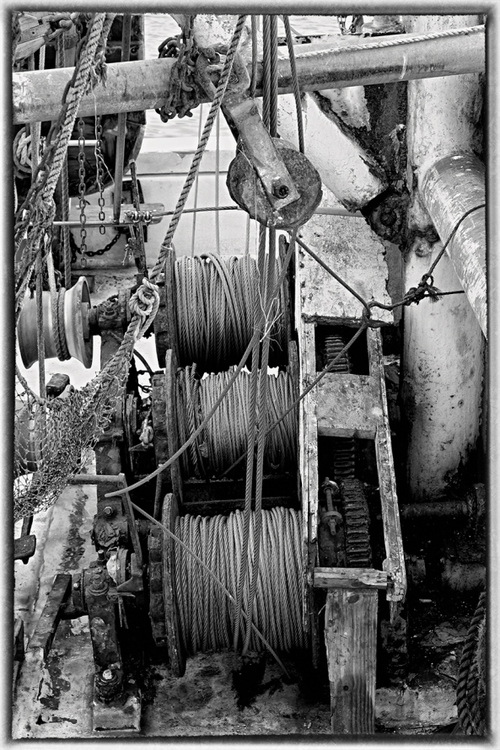 I moved to Fuji after a long search for a small light weight camera system after loosing 80% use of both hands and arms.  I went through ALL of the micro 4/3 systems (and even kept 2!).  I sold $40,000 in Canon bodies and L glass and have NEVER looked back!  In the Fuji, not only have I found perfections but being a range finder styled system it is like going home to mom! I have a X100s that I use for most of my walk around work, it is just so tiny and generates amazing images.  So when Fuji announced the X-E2 with the same sensor and with even more upgrades I ordered one from Amazon.  Much to my amazement it shipped a week later!  I have had it in hand now for about 2 weeks and just yesterday took it out to a local fishing port for a bit of creative work.  I love the upgrades and how fast this camera is.  It even passes the X100s in ability.  I originally purchased the X-E1 in order to take advantage of its electronic remote shutter release.  It enables me to hook it up to devices like a lightning trigger and my water drop collision system.  The X-E1 did a great job with these devices and I expect no less with the X-E2 but that is for another day……
I was invited to visit Moore Farms in Lake City South Carolina last week to evaluate them as a workshop location for future workshops.  They have developed a great botanical garden destination that has more plant potential than most other places that I have visited! For the visit I decided to take along my Fuji X Pro 1, Fuji X100s, Fuji 18-55 and the Fuji 55-200mm lens.  I also picked up the new Photoasy Extension Tube Set which has a 10mm tube and a 16mm tube with the communications connections so that the camera can still talk to the lens!  This was ONLY available on Ebay but recently Amazon Prime has started offering this great set! The ENTIRE time I was shooting the X Pro 1 it had the Fuji 55-200mm lens installed with the 16mm extension tube.  I shot on the tripod the entire time with a remote shutter release.  A lot of my shooting with in high sunlight (sometime you cannot help this) and I forgot to bring along a translucent panel to modify the light to a more gentle form.  All of these things aside the camera/lens/tube combination worked great!  I am VERY pleased with the results (please view the Passion Flower above!).  I used an aperture of f/5.6 or f/8 (subject dependent) the entire time and usually had the lens set between 180mm to 200mm…..
See mpre pictures on markhilliardatelier.wordpress.com

---
Fujifilm Fujinon XF55-200mm F3.5-4.8
Do you love my work and want to support me? If you're planning on buying camera gear, you can check out above-noted links. Prices remain the same for you, but a small percentage of your purchase value is valued back to me. Thank you!
---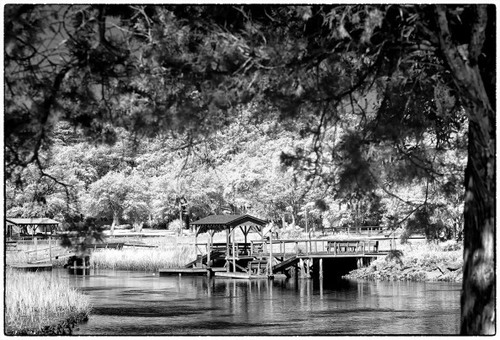 Yes, the new Fuji 55-200mm lens arrived for my fuji camera systems!  I am currently shooting with a color X-E1, a color X Pro 1 and a IR converted (720nm) X Pro 1.   I know how well the 55-200 works on the color bodies but what I really needed to know how did it work with the IR system!  Would it give hot spots as so many of the Fuji lenses do?  This post is the report of my findings.  The final verdict is that it works very well and as long as you do not go higher than f/16 there are no hot spots to worry about at any zoom range! To me this is a really big deal. So far only the 14mm and 35mm Fuji lenses are usable in infrared. So the addition of another lens really helps. I am going to give you some examples of how this lens actually does at both the wide and long ends of the zoom range wide open and closed down so that you can get a feel of the usable Infrared range that you can use.  Next week I will do a posting using the lens for color work only.
See on markhilliardatelier.wordpress.com

---
Fujifilm Fujinon XF55-200mm F3.5-4.8
Do you love my work and want to support me? If you're planning on buying camera gear, you can check out above-noted links. Prices remain the same for you, but a small percentage of your purchase value is valued back to me. Thank you!
---
The Fuji X Pro 1 has turned out to be one of the best Infrared camera systems that I have ever used… period!  The only good Fuji lenses for Infrared have proved to be the 35mm f/1.4, the 18mm f/2 and the new 14mm.  The Viogtlander 75mm f/1.8 has also proved to be a STUNNING lens also!  So, the camera has proven its infrared capability, now it is time to discuss in detail the recipe for post processing!  It is all quite simple but there are a few requirements that you must understand in order to follow my workflow with understanding.
Needed:

Photoshop CS5 or CS6
Nik Filters, Viveza, Define Silver EFX Pro plugins for Photoshop, NOT LIGHTROOM.  (You can now purchase the entire library of Nik filters for $149)
Kromography False Color Action which can be downloaded here from the right menu bar under the box menu.  You can simply  click on it to download to your computer then drag it to photoshop to install.
A converted Infrared camera system capable of generating enough color data to make Faux Color images.  This means 720nm, 665nm, 630nm and 590nm conversions.
The ability and desire to experiment!
As you move your RAW (shoot only RAW for IR because of the ability to shift the white balance easily) onto your computer you should automatically tell yourself that you are going to process each selected image in Faux color and B&W. Sometimes you will notice that the un processed image looks great also (wonderful bronze tones) and decide to do a version like this as well!
Lets talk about the RAW conversion process a little bit.  Photoshops ACR built in RAW converter will NOT apply the white balance correctly and your images will appear deep red.  For this reason I use Capture One version 7 from Phase One.  It is simply the BEST RAW converter that I have ever used.  You can download a trial version and decide for yourself if what I am telling you is true!
See full tutorial on markhilliardatelier.wordpress.com
I spent last Sunday in Georgetown, SC.  I had a gallery change out in a gallery that I am a member of (Co-Op).  The change out only took about an hour so I decided to take the rest of the day to scout new locations and just shoot! There are several places there that I love to visit.  As you drive North on Front Street out of the Down Town area you start passing several side streets on the right.  Each of these leads to a marina with several Shrimp Boats (and in 1 case many!).  I like walking around the docks and working each group of boats then moving in closer and doing detail images. These vessels are not long to be with us so if you have the chance to visit and photograph them you should youmake it a priority to do so! The choice between Color and B&W is a tough one for most photographers.  For me, I like B&W much better but I will porcess both for each and every image that I take.  So I will have the choice as to what I eventually use readily on hand! I do not normally shoot intentional lens flair but for this image I composed the image with it in mind! This generated such a perfect series of light beams that they were visible in front of the boats cabin door! Again, the choice between Color and B&W was a no brainer for me! ….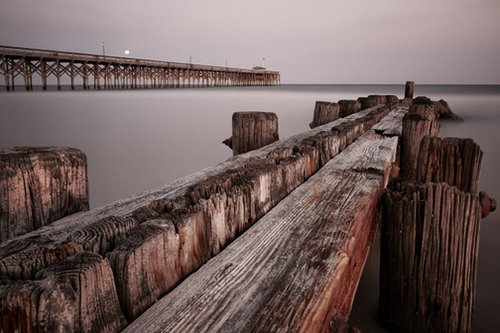 The long exposure game, is one of compromises: fighting too little light, balancing the moon and its reflections, cameras and lenses, camera meter or external meter! Long exposures are one of the more difficult photographic styles and one that takes experience and patience to master.  As such, the photographer needs every helpful trick that they can gather into their bag of tricks in order to generate, stunning etherial images! …..
See tutorial on markhilliardatelier.wordpress.com