New York
Well here they are, photos from a trip I've wanted to make for a very long time. While I had every intention of making this a "photography" trip, taking my time wandering the streets, composing carefully, looking for unique shots that haven't already been done a millions times over by the endless sea of tourists that descend on the city every day, it turned out to be the complete opposite. It was tiring and hectic, and photography was very much at the bottom of the list of things to do. Which may have been for the best as you can just end up viewing everything through a viewfinder and not actually experience anything while you're there. The simple pleasure of spending the whole time looking up and around,  taking in the views and magnificent architecture with wide eyed enthusiasm, and experiencing all the city had to offer was worth a few lost photo opportunities…….
Source: www.pnaharphoto.com

---
Fuji X-T1
Do you love my work and want to support me? If you're planning on buying camera gear, you can check out above-noted links. Prices remain the same for you, but a small percentage of your purchase value is valued back to me. Thank you!
---
Whenever I go to the Big Apple, I try to do at least a few hours of hardcore street-photography, preferably shooting Black and White with a prime lens. For you non-photographers out there, a prime lens is a lens with a fixed focal lens; the opposite of a zoom. As an example, your iPhone or Android phones all have prime lenses. Last week, I got a Fujinon XF 23mm f1.4 lens on loan from Fujifilm Middle East, which I took to New York. I do own the 27mm pancake lens (right in the image above), but have been hesitating to purchase the 27mm (left in image above) for a while. What is below, is not going to be a full on review, but rather a practical look on how I used the lens for my street photography in New York city. So why a 23mm prime? Depending on who you speak to, scientists claim that humans see around a 24 to 35mm focal length. Given I shot the lens on a 1.5 cropped sensor, i.e. Fujifilm X-T1; the 23mm becomes a 35mm full frame equivalent…….
Source: bjornmoerman.blogspot.de

---
Fujifilm Fujinon XF 23mm F1.4
Do you love my work and want to support me? If you're planning on buying camera gear, you can check out above-noted links. Prices remain the same for you, but a small percentage of your purchase value is valued back to me. Thank you!
---
Continuing my exploration of the Fuji Monochrom and the achromatic capabilities of the X100s, I took the Fuji for a stroll around the southern tip of Manhattan. The city that never sleeps always offers up great images. Lately, however, it seems that midtown and points north are becoming more deserted at night, while downtown all the way to the end of Canal Street is quite busy. Soho, Chinatown, and the East Village were all relatively heavy with pedestrian traffic, providing good chances for street photography. Maybe Midtown has finally gotten expensive enough that the only people who are able to afford to live there are trapped in offices. The majority of these images were shot with the X100s. A few, however, were shot on the XE-1, which I've set the same as the X100s. The XE-1 allows me the occasional use of wider angle lenses, so it's always in the bag. Both cameras use the X-Trans CMOS sensor (though the X100s has version II of that sensor) and the images are of identical quality………
Source: effeleven.blogspot.fr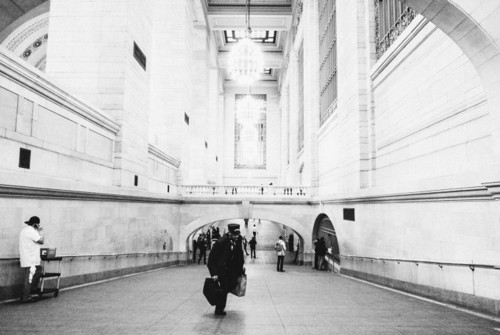 After years of shooting with my Canon 5D and other big camera's I bought a Leica M8.2 a little over a year ago along with two nice Elmarit lenses. In the end, it wasn't for me. I loved shooting with and getting that Leica feeling, but the ISO performances were so bad that I could not justify it. Thought of buying a M9 instead, but even for the extra money I could not just do it. I also bought the Fuji X100S when it came out and loved it. I did sell it after 2 months because the fixed focal length wasn't for me. So I sold everything and bought the Fuji X Pro 1 with the 18mm 2.0 and the 35mm 1.4. Fell in love with it. Wasn't the Leica M but it was what I was looking for. So when I went to New York for the first time in my life (actually flying for the first time in my life after being scared of flying my entire life) I brought the X Pro. One day… I will go back to Leica… but for now… the Fuji helped in capturing the people of New York. Just wanted to share! …….
See on www.stevehuffphoto.com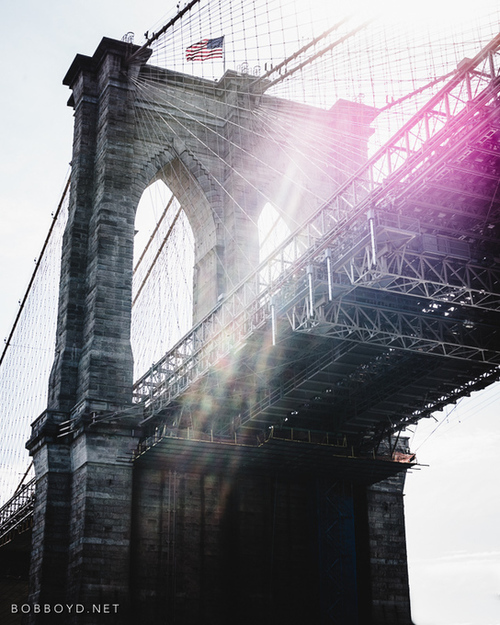 With the opening of the 9/11 Museum today, I was looking back through images from a family trip we took this March to New York City. The Memorial is always such sobering place to visit and I was moved to see single white roses placed on some of the names. New York is a favorite for me and my wife and except for one evening of heavy rain, we had a beautifully bright, sunlit week and the images definitely reflect that. My travel kit consists of the M and 4 lenses: 21, 35, 50, and 90mm…….
See on www.stevehuffphoto.com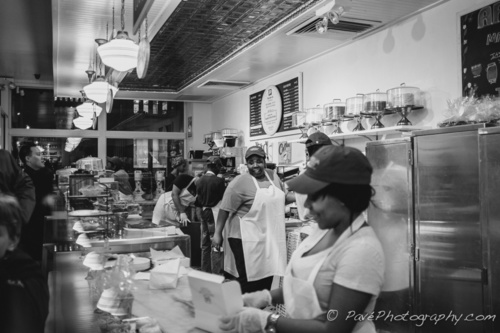 Our second day of Big City Little Cameras started off by riding the subway from Central Park to Chelsea and walking to the Chelsea Market.  The market is located in a renovated Nabisco factory where the Oreo was invented.  There are all sorts of shops, places to eat, and people to watch.  Connected to the market is The High Line, which I highly recommend.  The High Line is a section of elevated train tracks that has been reclaimed and made into a walking path, with overlooks, picnic areas, and flower gardens.  It opened in 2009 and it appears that it is being expanded. After walking we stopped for some drinks and eats, and then continued onto Grand Central Station.  This building has been on my list to visit for a while, and I am glad that I had the chance.  If you recall in my Day 1 post, I mentioned that I knew I would miss out on a shot or two due my limited kit I was traveling with.  This particular stop is probably where I missed having a super wide angle lens the most.  I wish I would have been able to get wider for the interior.  With that said, I am extremely happy with the results I was able to obtain.  Sue was nice enough to just hang out and people watch while I shot, shot, shot, and shot some more.  We went to the whisper wall, and then hopped a train back towards Central Park……
See on www.theyellowbelt.com
I was a little nervous before arriving in New York that I had only brought my Fuji cameras, leaving my Canon 5D MkII and lenses at home.  The part the made me nervous was not being able to get extra wide angle shots of street scenes and skyscrapers.  I had to think through my shots a little bit more, some times walk a little further, and know that I may have to sacrifice a few shots along the way.  What I gained was a new perspective on travel photography, more thoughtful and composed images, and a back that wasn't sore at the end of the day.  Below is how our day progressed and some of my favorite images I captured along the way. We decided to fly in on Thursday morning, drops the bags at the hotel, and then hit the subway to start our "photo walk."  Our first stop was the World Trade Center Memorial, and if you ever get the opportunity you should definitely go.  There was a line, which moved quickly, and we were in the memorial in no time at all……..
See on www.theyellowbelt.com
New York City, Fuji XPro 1 Fujifilm XF 18-55mm f/2.8-4 R LM OIS Zoom Lens, Flatiron Building, Empire State Building, View From Empire State Building……
See on rorylewis.tumblr.com
The weather dictated the theme of weekly photo project. It has been raining for three days straight in New York with some occasional mist and haze — just the kind of weather I love to photograph. I sent my X-T1 off to Fujifilm Repair to have the light leak fixed so it was time to dust off my X-Pro1 and take it out for some exercise. From the point of view of design, the X-Pro1 is still my favorite camera, but it is beginning to get treated like a poor cousin as its newer relatives have been receiving all the updates. I usually like to give myself some restrictions whenever I do these exercises. This time, in addition to using the X-Pro1, I primarily shot with the 55-200mm zoom. For the close-ups I carried along a Nikon 5T and 6T set of 62mm close-up lenses, which have found a new life on my 62mm Fuji lenses……
See more pictures on aboutphotography-tomgrill.blogspot.de
2013 is an exciting year for photographers. The race amongst camera makers continues. Competition is good, it accelerates innovation, keeps pricing somewhat sane and gives us plenty of choices. The last thing we need is a single company monopolizing the market. Without healthy competition, two of my favorite, most amazing cameras probably wouldn't exist, the Fuji X100s and the Ricoh GR. I love walking the streets of NYC, observing the flow of life, one of my favorite things to do when I am not on assignment. I find it relaxing and it keeps me alert at the same time. I am addicted to it. This addiction got a lot worse or better?  since I acquired the Fuji X100s and the Ricoh GR. I have been shooting with these two cameras since the day they were released. I love the X100s and the GR, like for many, these cameras have rekindled my enthusiasm for photography just like I remember it from the film days. Every time I reach for either the X100s or the GR I have a smile on my face, like a kid picking up one of his favorite toys. The X100s is a "positive camera" or a "people friendly camera", it doesn't scare the one being photographed…..
See on www.mikekobal.com