New York
I was a little nervous before arriving in New York that I had only brought my Fuji cameras, leaving my Canon 5D MkII and lenses at home.  The part the made me nervous was not being able to get extra wide angle shots of street scenes and skyscrapers.  I had to think through my shots a little bit more, some times walk a little further, and know that I may have to sacrifice a few shots along the way.  What I gained was a new perspective on travel photography, more thoughtful and composed images, and a back that wasn't sore at the end of the day.  Below is how our day progressed and some of my favorite images I captured along the way. We decided to fly in on Thursday morning, drops the bags at the hotel, and then hit the subway to start our "photo walk."  Our first stop was the World Trade Center Memorial, and if you ever get the opportunity you should definitely go.  There was a line, which moved quickly, and we were in the memorial in no time at all……..
See on www.theyellowbelt.com
New York City, Fuji XPro 1 Fujifilm XF 18-55mm f/2.8-4 R LM OIS Zoom Lens, Flatiron Building, Empire State Building, View From Empire State Building……
See on rorylewis.tumblr.com
The weather dictated the theme of weekly photo project. It has been raining for three days straight in New York with some occasional mist and haze — just the kind of weather I love to photograph. I sent my X-T1 off to Fujifilm Repair to have the light leak fixed so it was time to dust off my X-Pro1 and take it out for some exercise. From the point of view of design, the X-Pro1 is still my favorite camera, but it is beginning to get treated like a poor cousin as its newer relatives have been receiving all the updates. I usually like to give myself some restrictions whenever I do these exercises. This time, in addition to using the X-Pro1, I primarily shot with the 55-200mm zoom. For the close-ups I carried along a Nikon 5T and 6T set of 62mm close-up lenses, which have found a new life on my 62mm Fuji lenses……
See more pictures on aboutphotography-tomgrill.blogspot.de
2013 is an exciting year for photographers. The race amongst camera makers continues. Competition is good, it accelerates innovation, keeps pricing somewhat sane and gives us plenty of choices. The last thing we need is a single company monopolizing the market. Without healthy competition, two of my favorite, most amazing cameras probably wouldn't exist, the Fuji X100s and the Ricoh GR. I love walking the streets of NYC, observing the flow of life, one of my favorite things to do when I am not on assignment. I find it relaxing and it keeps me alert at the same time. I am addicted to it. This addiction got a lot worse or better?  since I acquired the Fuji X100s and the Ricoh GR. I have been shooting with these two cameras since the day they were released. I love the X100s and the GR, like for many, these cameras have rekindled my enthusiasm for photography just like I remember it from the film days. Every time I reach for either the X100s or the GR I have a smile on my face, like a kid picking up one of his favorite toys. The X100s is a "positive camera" or a "people friendly camera", it doesn't scare the one being photographed…..
See on www.mikekobal.com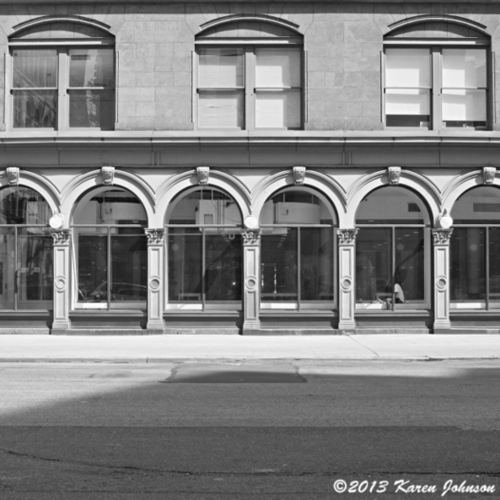 I was out and about with my new street camera the Fuji x100s and I love it!  I had my setting to shoot in a square format and in monochrome.  All the shots are from a Jpeg and not raw.  I did process for in  Capature One 7 to tweak exposure, contrast, and a little punch and then played with the contrast a little more in Nik ColorEfex Pro 4 Pro Contrast.  I love this camera for street photography because it is relatively small and very unassuming.  I look like a tourist with it so no one pays attention to you when your shooting with it.  The images are crisp and clear and I expect nothing less from Fuji…..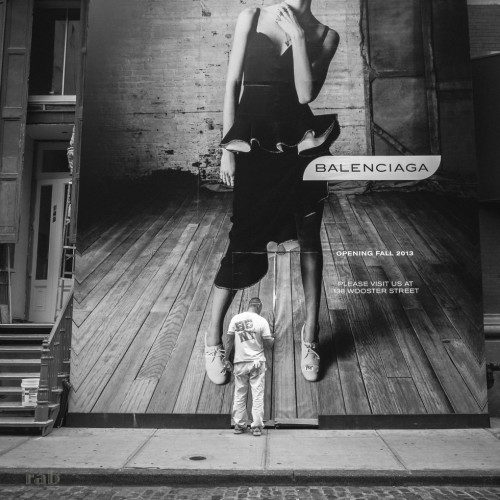 Had an amazing few days walking around Manhattan with my Fujifilm X-Pro1 at the end of last week.  Took along my 18-55mm zoom, 35mm f/1.4 lens and an old Nikon 50mm f/1.4D (using an adapter). On some days I also brought along an old medium format Yashicamat 124G TLR to shoot some film, but haven't developed it yet. This was my 3rd visit in the last four years, and the first using a smaller mirrorless camera instead of a big, bulky, heavy, conspicuous DSLR. What a difference! The Fuji doesn't draw much attention (except from other photographers, who want to ask questions!), making it perfect to blend in on the streets. I could (and did) walk the streets all day without even noticing the gear I was carrying. For outdoor walking around, I would normally set my camera around f/8 1/250th and auto-ISO and zone focus about the distance people would be as I'd pass them by. Camera would be mounted around my neck with the zoom at 18mm, with my finger on the shutter. If I saw something/someone interesting, I'd take a photograph. Didn't always get the shot, but my hit rate was certainly better than if I had tried to bring the camera to my eye and composed a quick shot…….
See more pictures on rodneyboles.com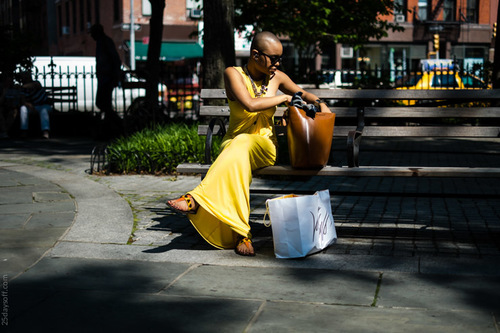 Epic?  Awesome? Fun? Just fantastic?  I don't know how to introduce New York without saying something that's probably been said a million times over. All I know is that we had the best time and I remember coming back home so depressed and wanting to just move out there for good (those feelings have now resided – probably because this post is about three months overdue – sorry!). It's weird how familiar NYC seems when you go there, probably because of all the movies and stereotypes and cliches. And it actually really is all like that.  The yellow taxis, hot dog stands, Lady Liberty, the "I <3 NY" t-shirts, skyscrapers – I mean wow these are only a few of the things about NYC that have become so iconic world around. I guess that alone is a sentiment of the city and how special it is.  This place has a real impact and as soon as you step out of the subway you're immersed in it – there's no having to look on the map and search for it because it'll hit you in the face….
See more pictures on www.25daysoff.com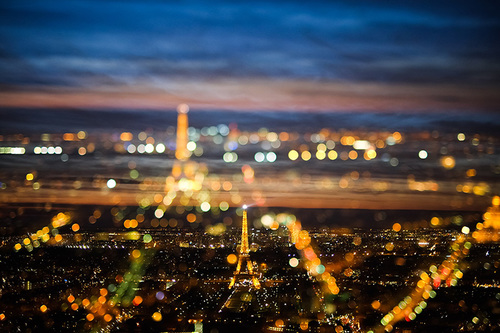 From my reader Vincent:
"I was lucky enough to get my hands on an x100s just before I begun my travels this year and I think it is the single most important photographic equipment I have ever bought. I carry it with me everywhere, it fits into my pockets effortlessly and it just becomes an extension of who I am. As a result of having the x100s in my pocket where ever I go and the travels I have coming up over the next few years, I thought it will be fun to create X-PLR. X-PLR is derived from explore and a play on the X series cameras. My aim is to explore as many different countries and cultures as possible and I will be documenting  99% of my travels with the X100s. X-PLR is still at an experimental phase but I  plan to visit some interesting places, my aim is to document things as I go along, so I am excited to see how things develop over the years…."
See more pictures on vopoku.com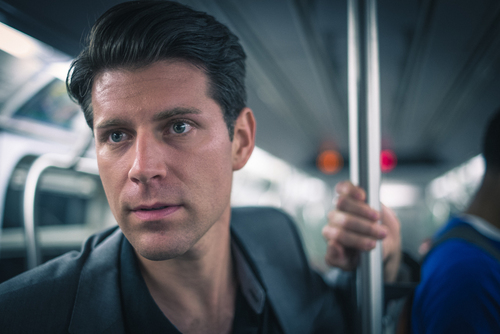 Often times in the summer I find myself needing a recharge creatively. It's hot outside, business is usually slower, and a cold beverage by the pool seems to be the only thing on my mind. So I have to look for a way to shake things up. This year, I decided to spend a week in one of my favorite places with two very good friends. So I jumped on a plane and headed for the Big Apple. A week immersed in the energy that is New York was going to be just what the doctor ordered. Now if you know me at all, you know that I cannot travel without finding a way to include photography on the trip. I had some ideas of what I wanted to shoot this time so I called New York actor Craig Maravich. I had the pleasure of working with Craig a few months ago on the promotional photography for The Arkansas Repertory Theater's production of Arthur Miller's "Death of a Salesman." Thankfully, Craig was just as excited about working with me again as I was with him. So we set it up. After a few days with my friends, wandering the city with nothing but a Fujifilm X-Pro 1 in my hands, I was becoming very inspired about what I wanted to do with Craig's shoot. I really wanted to showcase his unique ability to create characters on the spot, but to do so while capturing him in his city. I was hoping that using the X-Pro 1 would allow me the freedom to do this without causing the normal ruckus that comes with showing up in public spaces with a large DSLR (a Nikon D800 in my case).  Thursday came and I met Craig at my friend and mentor Peter Hurley's studio in Chelsea. The only wardrobe instructions I had given Craig were to show up with a few changes that would represent how he would spend a day in the city. He arrived dressed very casually cool, a look that I liked. We began with some warmup shooting using with the X-Pro 1 and some nice window light.  After a few moments I asked to see what other wardrobe choices Craig had brought. It was then that he revealed a custom made Hugo Boss suit. Instant inspiration…..
See on johndavidpittman.com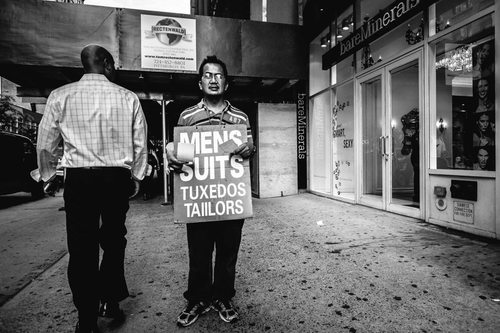 A week ago at this time, I was on a train heading to New York. I was going on business and unfortunately, I was only staying for two days. Despite being off Sunday through Tuesday, I had to rush back for a Saturday shift that none of my colleagues were willing or able to pick up. I would have loved to stay in NYC for a few more days. Although I've been recently trying my hand at street photography, I wouldn't call myself a street photographer. I prefer landscapes and other subjects. Perhaps a big part of that is the city that I've done most of my urban photography in – Washington, DC. Anyone who knows me well will tell you that after 20+ years, I've had enough of this place. I'm long overdue for a change and hope to end up in a 'new' and colorful city very soon. The next chapter of my life likely won't be played out in New York City. But being on the streets there with my Fuji X-Pro1 – even if only for a few rushed hours – was a real pleasure. I could see myself indulging in street photography everyday if I lived there. A marvelous stage with a plethora of various characters. I must go back soon…..
See more pictures on blog.karimhaddad.com