Olaf Sztaba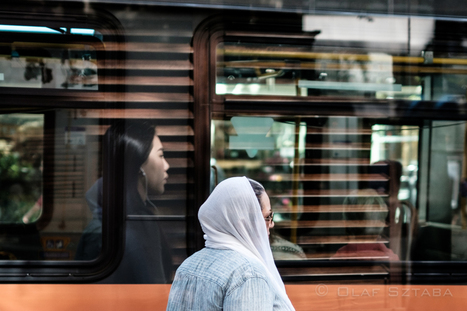 Although I love music, I am well aware of my shortcomings, politely speaking, in this matter. If I hired a music teacher and practised for years, I might be able to sing one song without turning the audience hostile and violent. I am well aware that singing will never be my strong suit, and that's fine; however, I do have other strings to my bow. It is not a secret that "seeing" comes naturally to some people. Others have to work hard to achieve similar results. In either case, taking care of your seeing is a must. I often see talented photographers who stop challenging themselves, training, or practising their seeing. Over time, their seeing becomes lazy and stiff – more of a habit. On the other hand, I have met some people who had a rough start in the world of photography but they persisted and challenged themselves over and over again……
Source: olafphotoblog.com
Usually when Kasia and I are on the road, our itinerary is all about photography. No wonder our 16-year-old son prefers to stay home! After all, who at his age would enjoy driving thousands of kilometres only to watch two overexcited "old people" running around with their eyes glued to square boxes. Therefore, whenever we convince (and bribe) Oli to go with us we try to make it a family adventure. It doesn't mean that our seeing goes out of the window, not at all. I guess this addiction of ours of observing, composing and seeing cannot be brought to a full stop. I know that my only window of opportunity to immerse myself in seeing is early in the morning when my family is still asleep. And that's exactly what I did…….
Source: olafphotoblog.com
Named after the bituminous sands, Bitumount is a place where the story of the Oil Sands really began. Between 1925 and 1958, experiments separating oil from sand were performed and led to the birth of the technology used today. The Great Canadian Oil Sands started the first large-scale mining operations in 1967. However, due to the high cost of extracting oil from bitumen, the investments and production didn't pick up until 2000. Along with the rise in the price of oil, massive investment has been made, rapidly expanding the operations. Extracting oil from sand has a large impact on the environment. Forests have to be cleared in order to establish open-pit mining. The mines might have a depth of 80 meters……..
Source: olafphotoblog.com
This land stretches 54,826 square miles, an area larger than England. Structures such as the toxic tailing lakes are some of the largest human-made structures in the world – so large that they can be seen from space. The land has been rearranged, altered and manipulated by human activity to the point that it is barely recognizable but so visually appealing – so ugly but strangely beautiful. Kasia and I have thought about photographing the Canadian Oil Sands for a long time. Even though we approached the subject from a purely visual perspective, what we encountered made a huge impact on us. Over the course of the next few weeks we would like to take you on a visual journey to this unusual place, telling the story of this fabricated landscape and its people. Here is a small teaser of what's to come. The entire project was shot with the Fuji X-Pro2 paired with the XF 50-140mm or XF 14mm F2.8 and Fuji X100S……..
Source: olafphotoblog.com
Should I get the X-Pro2 or wait for an X-T2?
The X-Pro line and the X-T line are cameras tailored to different kinds of photographer. The X-Pro1/2 is a rangefinder-style camera perfectly suited to documentary/street photography; the X-T1 has a lot of similarities to an SLR. Assuming that you are dealing with the same generation – X-Pro1/X-T1 or X-Pro2/X-T2 – the image quality will most likely be the same because Fuji uses the same sensors in their higher-end models. It's all about the style of shooting and your personal preferences. Kasia and I prefer the X-Pro1/2 rangefinder style. It fits our way of shooting better. We enjoy having a viewfinder on the left side of the camera (the X-T1's viewfinder is located in the middle). However, some of you may like the larger viewfinder in the X-T1/2 and the SLR feel, and that's fine. About "waiting for the next model." Don't! If you don't have a camera, buy one and start shooting today. There will be always a better camera just around the corner. What really matters is what you create today…….
Source: olafphotoblog.com
Last time we had a good time (and a laugh) having a conversation with the X-Pro2. We received great feedback for which we are both very grateful. Today we will continue to cover this new camera but we'll approach the subject in a slightly different way. Each time a new camera hits the market the Internet goes berserk. There's a plethora of reviews, technical comparisons and samples being shared and discussed (we share in the blame). Interested buyers visit technically oriented websites where cameras are being compared. It is common to show two cameras side by side where all the possible technical details are compared. Resolution? Check! Video? Check! Panorama? Check! And so on. There is no question that many people like it this way. Not only do we find such comparisons misleading but we believe that they do more harm than good for buyers. For many photographers, a camera is much more than just a physical object. As the facilitator of the creative process, a camera should not only complement but support the photographer in this difficult but highly rewarding endeavour. Therefore, a well-designed camera will make the interaction between photographer and camera intuitive and fluid……..
Source: olafphotoblog.com
Olafphoto (O): It's good to have you here! It's been a very long wait!
X-Pro2 (X): It took me a while but hey, don't you think I was worth waiting for?! O: OK, you got me there but please make sure your next incarnation won't take that long. Some of us got really impatient. X: Let me explain. My creators approached the process of designing me a little bit differently from the others. The intention was to create a camera as a photographic tool that is an extension of the photographer: something that doesn't get in the way of seeing, but complements it. That kind of camera would amplify the soul and spirit of the image. This objective is very difficult to achieve and requires years of planning, collaboration and consultation……
Source: olafphotoblog.com
Welcome to the first interview in this series, featuring the work of photographers who inspire me.  The impetus for this series came last year when I watched a few artists step on each other to climb the industry ladder.  Honestly, it saddened me as we all have so much we can learn from each other.  This makes us all better, and raises the quality of the art we create and share.   I have been fortunate to have great success in my life in several industries, and my greatest successes have always come as a result of collaboration and networking.  I have learned something from every artist I hope to feature on this site, and if I can share their work with a few new people I'll count that as a huge win. For this inaugural interview I am featuring the work of Olaf Sztaba, a fellow Vancouver based photographer.  I first found Olaf's work two years ago, and was immediately caught by the beauty created in his images.  Olaf has a well developed  eye for light and composition.  Look at the image at the top of this post:  The bold light, those clouds, the colours, the composition, that lone tree… there is so much happening in that image……
Source: ianmacdonaldphotography.com

---
Fuji X-T1
Do you love my work and want to support me? If you're planning on buying camera gear, you can check out above-noted links. Prices remain the same for you, but a small percentage of your purchase value is valued back to me. Thank you!
---
There is no place like it. Kasia and I first drove through the Canadian Rockies twenty years ago. I will never forget the impact of these incredible mountain ranges. The sheer size, beauty and toughness of this land gained my respect, absorbed all my senses and provoked a deeply spiritual experience in my inner being. Almost every year since then, Kasia and I have made a pilgrimage to this land of giants. But there is more. We were living in two Canadian cities, Vancouver and Calgary, and the trip through the Rockies became a rite of passage for our family. It has become a road of joy, sorrow and redemption. This road led me to Calgary where I nearly lost my life. Then I travelled through the mountains to a lengthy recovery process here in Vancouver. Through all these years and experiences, Kasia and I connected with this landscape as with no other……..
Source: olafphotoblog.com

---
Fuji X-T1
Do you love my work and want to support me? If you're planning on buying camera gear, you can check out above-noted links. Prices remain the same for you, but a small percentage of your purchase value is valued back to me. Thank you!
---
As this year comes to an end it is our turn to look back. Although 2014 was a year of transformation, search and renewal, this year could best be described as full-steam ahead. Our way of seeing has evolved and become more demanding. The general appeal of pretty, attractive, colourful and easy has gradually been replaced by unique, creative, emotional, difficult and simplified ways of seeing. As a result, 2015 was a year when the fruit of our 2014 detour ripened and we regained control on our route to seeing. Fortunately, we are not alone on this journey. You used your valuable time to visit our pages, view our imagery and read our essays. What a privilege! We are especially thankful for your commentary and for sharing your stories and experiences. We read them all and enjoyed every contact. There are so many people to thank for your generous support that it is impossible to name everyone. Thank you all. You know whom we are talking about……
Source: olafphotoblog.com

---
Fuji X-T1
Do you love my work and want to support me? If you're planning on buying camera gear, you can check out above-noted links. Prices remain the same for you, but a small percentage of your purchase value is valued back to me. Thank you!
---