Paris
Every time before I pack my travel photo bag, I try to envision what kind of photos I expect to take on location for the job or portfolio work. In my early days of photography I was prepared for every possible photo situation by bringing most of my gear. I recall one time where I lugged 20 kg (40 lb) of DSLR gear in a backpack through Paris. That was an awful experience! Since my switch to Fuji X cameras 3.5 years ago, thankfully my travel photo bag has become a lot lighter. The night before this trip to Paris I decided on the following gear to bring:
Fuji X100S
WCL-X100 (wide conversion lens) for the X100S
Fuji X-Pro 1
Samyang 8mm f2.8 fisheye lens
Fuji XF 14mm f2.8
That's 2 camera bodies plus 4 fast prime wide angle focal length weighing around 1.6kg (3.5 lb)!!! Add spare batteries and ND filters and you're still well below 2 kg (4lb) in your bag. That is only 10% of the weight of the gear that I took along a few years ago…….
Source: fujixfiles.blogspot.de

---
Fuji X100S
Do you love my work and want to support me? If you're planning on buying camera gear, you can check out above-noted links. Prices remain the same for you, but a small percentage of your purchase value is valued back to me. Thank you!
---
Ende Mai ging es für 4 Tage nach Paris. In unserer kleinen Fotogruppe sparen wir monatlich 20,- € an, um gelegentlich davon Fototouren zu planen. So kam es dazu, das wir dieses Jahr mit unseren Lebenspartnern über das lange Christi Himmelfahrt Wochenende in die Stadt der Liebe fuhren. Morgens erst mit dem Auto bis nach Leverkusen, dort sicher geparkt ging es dann per Regionalexpress bis zum Kölner Hauptbahnhof, von dem wir mit dem Thalys direkt zum Pariser Bahnhof "Gar du Nord"starteten. Ich hatte lange überlegt, welche Objektive ich zu meiner X-T1 mitnehmen soll. Die Zooms 18-55 und 55-200 zusammen mit dem 14er, oder nur Festbrennweiten? Letztendlich habe ich mich dann für die 3 Festbrennweiten 14-2.8, 35-1.4 und dem 56-1.2 entschieden. Allerdings hatte ich Angst, das mir die 85mm des 56 Objektivs am langen Ende nicht reichen würden, und so nahm ich vorsichtshalber noch das 55-200 mit. Nach kurzer Zeit (vielleicht 2 Stunden), wurden mir alle Objektive dann doch zu schwer, so das ich mich dazu entschloss, das Zoom mit den knapp 640 Gramm im Hotel zu lassen. So sind nur 2 Bilder in den 4 Tagen mit dem 55-200 gemacht worden. Ob ihr sie wohl findet !?
When I lead one of my photo safaris to Tanzania, I'm used to taking a lot of heavy gear. By the time I put more than one DSLR in my bag along with several big lenses, it's common to take over 30 pounds of it. Because of this, I'm always on the lookout for ways to reduce baggage size and weight. I've been following the development of Fujifilm's X system because of its reputation for being small and light but with high image quality. When I had the chance to travel again to France a few weeks ago, I knew it would be a perfect opportunity to leave the big gear behind and try using the Fuji system for street photography. The X-T1 is significantly smaller and lighter than a full-sized DSLR and that extends to Fuji's lenses as well. I brought a kit with the X-T1 plus 4 lenses: 14mm, 35mm, 18-55mm, and 55-200mm. All performed beautifully and even though the 18-55mm is a kit lens, it showed excellent sharpness. The entire kit weighed 7 pounds including a few extra batteries and other accessories in my bag. A far cry from my safari gear!……
Source: www.daveburnsphoto.com
The photo workshop continues. We are all having so much fun roaming the streets of Paris for miles every day. Spending a week with people who share the same passion for photography is so awesome. I don't shoot much when I teach a workshop but I grab a shot here and there with my little Fuji x100s whenever the opportunity arises. Do you have any favorites in the series below? Please leave a comment :)
Source: valeriejardin.wordpress.com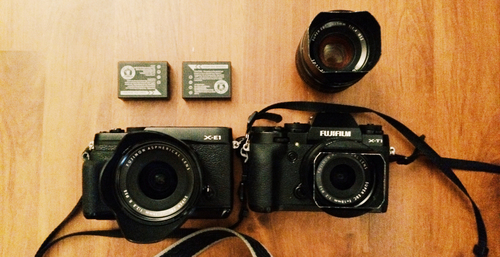 I just got back last week from an amazing 11 days in Europe, mainly in Paris and Amsterdam. When you get to do what you love time passes quickly and sometimes you look up and it's been 2 years since you've been able to take a vacation. So was my wife and my situation. So after a snap decision we booked our plane tickets. As any obsessive photographers might admit, when planning a trip, one of the biggest anxieties is what will I need ? How much gear can I squeeze in my carry on?. This was my first time out of many trips to Europe where I brought a small kit, and left my DSLR at home. For this trip I packed one of my favourite cameras I've ever owned the Fujifilm X-E1 and the brand new Fujifilm X-T1, 3 batteries, and for lenses the XF 18mm f2, XF 14mm f2.8 and the beautiful 35mm f1.4. All this fit into my small shoulder bag, versus the backpack I used to have to lug around. Outside of my fashion, beauty and commercial work I consider myself a documentary photographer, not for any other reason other than telling my story to the world, and making photographs of things that  move me, sadden me, and enlighten me. Having spent almost 4 years living in Paris, and being the birth place of my love and now lifelong obsession of making photographs, I was excited to see the city through new eyes after not visiting for almost 3 years. At the end of 11 days spent in Paris and Amsterdam I shot about 400 photographs with my X-E1 and X-T1, and 2 rolls of film with my little Canon Canonet, all photographs were processed with VSCO presets for Adobe Lightroom…….
See on www.kalejf.com
What a question. Well to be honest I cannot answer this question for you. But I can tell you what I like about black and white photography and how I post process my photographs to give them "my" look. Why do I like black and white photographs? It´s all about the motive! It is not the color that is catching the eye, it is the motive. It is the story the photographer is trying to tell us. Reduced to black and white! What I want to show you with this post is how easy it is to get stunning results out of a picture that in color looks good but is nothing that spectacular. Motives that you have seen many times before but this time the catch your eye. It´s simple! You can use Adobe Lightroom if you have this software. Or as I do most of the time Nik Silver Efex Pro2. I love the Nik software tools. They are so simple to use and the results are awesome……
See on stockografie.de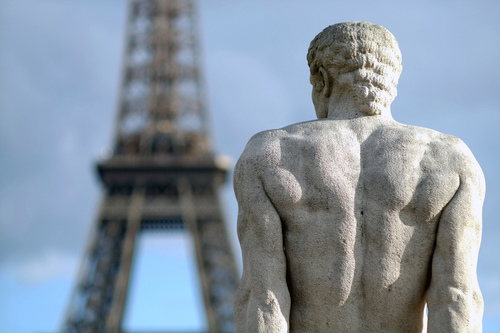 I was in Paris for work and we finalized our meetings around 3pm. That left a few hours of great light on a gorgeous day in France. I grabbed my Fujifilm X-Pro 1, a 8mm, 35mm and 85mm lens a got moving with a few colleagues…….
See on danielincandela.com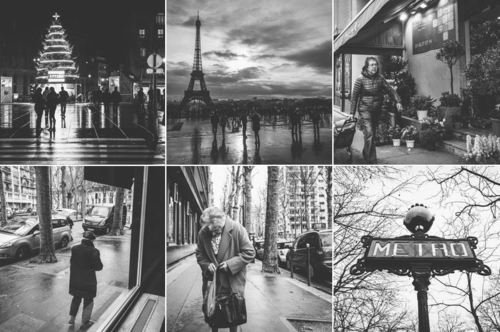 A second set of images from our recent trip to Paris. All taken with the Fuji XF 35mm & 18mm lenses and processed with VSCO Film…..
See on samburtonphoto.com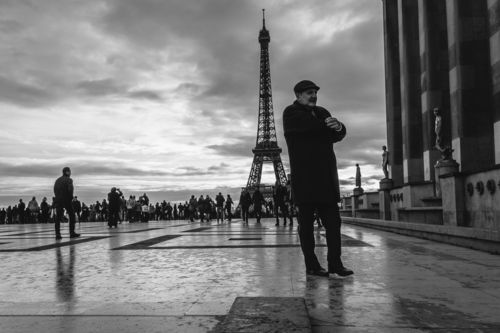 We were lucky enough to go over to Paris for a few days to take in the new year. It really is a beautiful city with plenty to photograph. Its a great place just to wander around and take in the surroundings. The weather wasn't too good for the first couple of days with a lot of rain. It finally cleared on our last day with clear skies and bright winter sunshine. Luckily we had left it to the last day to go up the Eiffel tower. We were only able to get up to the second level as the elevator to the top was broken, this still meant incredible views over the city. Here is a selection of some of my favourite shots from the trip, I plan to post another set soon. All the images were shot with the Fuji X-Pro 1 using the XF 35mm and 18mm lenses, processed with VSCO film and Rebecca Lilly presets…..
See more pictures on samburtonphoto.com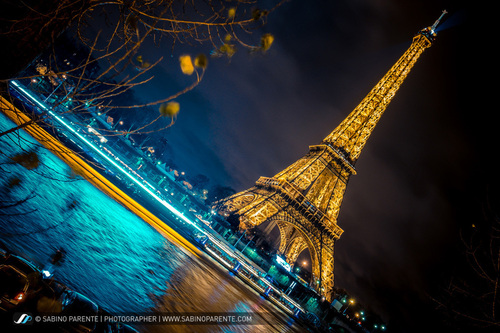 I have been several times in Paris but never had the opportunity to take pictures at the famous Eiffel tower at night. This time was the "reveillons", the new year's eve night and i had the Fuji X-E1 and a tripod with me and the tower was lit up for the celebrations and i could not miss it!….
See on www.sabinoparente.com