Reviews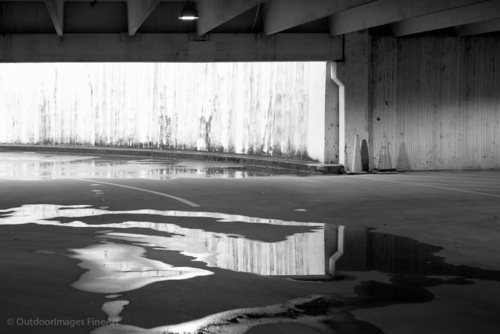 You don't always know if you made the right decision until sometimes well after you made it.  This was the case with the Fuji X-T1.  I already had an X-Pro1, and X100s and an X-E2.  Why did I want an X-T1?  I labored over that thought for a few hours the day the newest Fuji body became available for pre-sale.  I ultimately decided the purpose of EBay was to trade up camera equipment. Somewhere along the way, EBay decided they could sell so much more…
So after nearly 18 months of using my X pro 1, I decided to purchase a second Fuji mirrorless body. My original choice was the addition of the Xe2, as I had a play with one whilst out on a Landscape tuition day. I had been very impressed with how responsive it was. Then Fuji made the announcement in late January about the new Fuji Xt1. Having read everything there was to read about the new camera, I bought one along with the 18-55 mm zoom. First impressions are that its a well made piece of kit, as per the usual Fuji standards. It still keeps it's retro coolness, very good build quality, nice weight, great feel, and those dials, wow! super impressed. Startup response is good, the EVF is fantastic, no lag at all. I like the superwide view mode. Perfect dioptre adjustment, something I sadly missed on my X pro 1, where you have to buy screw in dioptres that eventually unscrew and you spend another few pounds replacing it. The viewfinder is really excellent with some excellent tricks up its sleeve, like dual focus zones for manual focus. Shoot in portrait view and the viewfinder changes axis. All good. The dials I find are ideal, people have compalined about the fact you have to press a button to twist the ISO, no big deal. They would moan even more if it just span round on its own. I also like the stiffness to the exposure compensation dial cannot really knock that out of place, well I haven't so far. Alll in all the top plate setup is very nice, the dials have a nice expensive feel, and a positive feel when you alter them. My one gripe about the top plate setup is the video on button which sits just to the right of the shutter button, is very easy to knock on. Then you realise your shooting video. I suspect a firmware release will hopefully have a disable video in the menu…….
See on www.thebigpicturegallery.com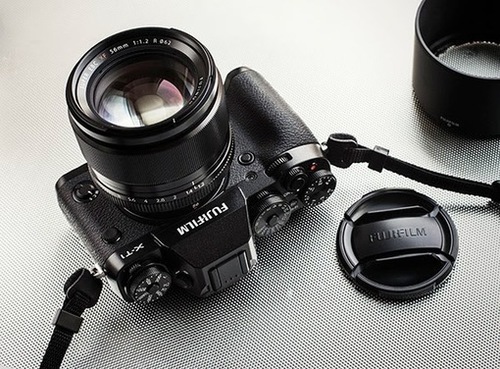 Conclusion:
In terms of both its optical quality and quick, silent auto focus this is probably the best lens in the entire XF optical line up, and that is saying a lot because the Fuji lens line up is quite impressive. Rarely do you see a lens perform this well at a maximum working aperture of f/1.2. On top of all that, and unlike other full frame counterparts of this focal length, the XF 56mm is comfortable to hold and does not seem to dwarf even the small X-E2. If this lens is a sample of what is to come with future pro lenses in the Fuji lens lineup, I say: bring them on and the sooner the better……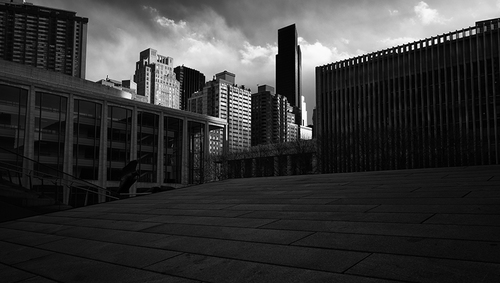 Now, first off, there have been reviews of this floating around by Fuji professionals who have had the camera for a period of time before the official release. But, being one of a mildly disturbed group of childishly obsessive adults, I was lucky to be in the first wave of purchases. I actually picked up the XT1 from Service Photo in Baltimore on the way to NYC for a presentation. So, I took it out of the box and started shooting immediately. So, on a more visceral level, let's have look at what the camera feels like and how it operates in the field, as well as specific features that I like and what may need improvement. Ok, to get started…..I LOVE this thing! When you first pick up the camera, it has a solid feel and sits well in hands. People with larger hands may want to add the vertical grip for about $250 to have more to grab on to. Also, there is no L-bracket made for the XT 1 as of yet, and the earliest ETA for Really Right Stuff is a few weeks…….
See on tonysweet.com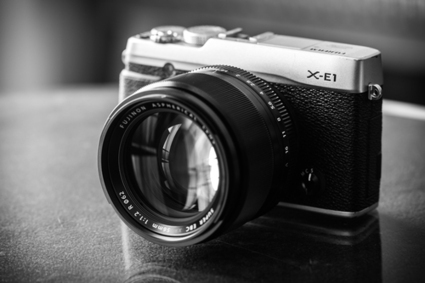 Conclusion
Fuji just keeps knocking them out of the ballpark and this stunning prime is no different.  The build, the feel, and the optical quality of the Fuji 56mm 1.2 R are simply top notch.  You toss in the fact that it's under $1000!!!  Unbelievable!  If you want a super fast 85mm equivalent prime…don't think twice about this beast!  If you don't know what chromatic aberrations are, don't worry about buying new gear just yet, you have things to learn first grasshopper…….
See on sebimagery.com
Its official, I dub the FUJINON 56mm F1.2 king of the hill and knight thy lens as one official BOKEH MONSTER! 85mm equivalent (after taking the 1.5 crop factor into account on the APSC sensor sized FUJI X series) is the stock standard focal length when it comes to portrait photography, hence there will be many dusting of their microscopes examining prints and pixel peeping to see if this lens sings our tune. 85mm has always been my favourite, I shot an entire Euro trip with the single Canon 85mm F1.2 in my kit . If this does not illustrate my passion for this field of view I do not know what will. The announcement of the 85mm focal length with a juicy aperture of F1.2 made this one hot tamales and object of desire world wide. I have been itching, tossing and turning for nights awaiting its arrival and finally it has landed on our shores! Lets consider the price, although it is currently the most expensive prime in the FUJINON lens range, there really is not a lot to complain about when you examine how much glass you get for your coin. Looking at the competition in both the Canon and Nikon camps, a lens of this calibre will easily set you back 2.5x the price of the FUJINON. However, with low cost (relatively speaking) comes the anxiety of performance. Luckily the recent prime lens releases (14mm f2.8, 24mm f1.4) from FUJINON have been singing a tune sweeter than the high notes a alter boy hits during mass. We can only pray for history to repeat itself with the new release of the 56mm…..
See more pictures on www.bokeh-monster.com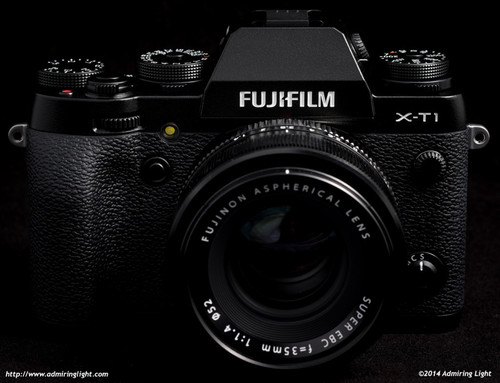 Conclusion
Pros
Ruggedly built body is weather-sealed against dust and moisture and feels incredibly solid in the hand
Hand grip is extremely comfortable to both hold the camera and shoot
Outstanding manual control dials provide direct access to all major shooting parameters without turning the camera on
The X-T1 is a responsive camera with quick startup and speedy card writing speeds, along with short shutter lag
Autofocus is quite good in single shot mode, providing very fast AF in good light and decent speed indoors (though still a step behind some other mirrorless cameras)
Continuous Autofocus is the best on any mirrorless camera I've used, providing accurate predictive AF during 8 frame per second burst shooting
Simply gorgeous Electronic Viewfinder provides an absolutely huge view with good clarity and extremely low lag.
Image quality is excellent: outstanding color and dynamic range and very good noise control
Tilting rear screen is bright and clear and the tilting mechanism is very solidly built
WiFi implementation is the best yet on a Fuji camera, offering the same image transfer functions but adding very well done remote control capabilities
Built-in intervalometer provides easy setup and outstanding power management by shutting down between exposures
Excellent manual focus aids including focus peaking, digital split image and the new Dual View feature that allows you to view the full scene and an enlarged crop simultaneously
A deep buffer allows nearly 3 full seconds of burst shooting at 8 frames per second in RAW
Cons
Some of the buttons, especially the four-way controller buttons, provide poor tactile feedback and feel mushy to the touch
The rear command dial is recessed too far and is difficult to turn
The front and top programmable function buttons are poorly placed.  The front button is too easy to activate accidentally and the top button is hard to reach in between the shutter speed and exposure compensation dials
Bracketing is still limited to a paltry 3 frames one stop apart
Video mode is severely lacking in control and settings
Can't assign certain controls to the programmable function buttons, such as Flash Exposure Compensation
ISOs above 6400 and below 200 are still only available in JPEG
See on admiringlight.com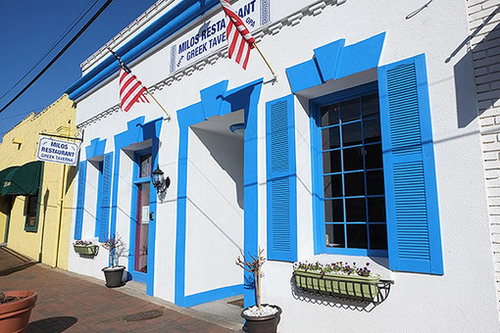 We've just published our review for the Fujinon XC 16-50mm f/3.5-5.6 OIS, the kit lens paired with the Fujifilm X-M1 and X-A1, and we were thoroughly impressed with the results from this lightweight and well-built wide-to-medium-tele zoom lens. Despite the "kit lens" connotation, this Fujinon lens is another one to break the traditional mold of a mediocre optic. With excellent sharpness, even wide-open, as well as minimal CA, and low vignetting and distortion, the Fujinon XC 16-50mm is a very solid performer that produces excellent images. It feels solid, despite its all-plastic construction, and well-balanced on Fuji's lightweight mirrorless cameras. A fairly straightforward lens, it does feature 3 aspherical elements and 1 ED element like it's more expensive sibling, the XF 18-55mm f/2.8-4 lens, as well as Fuji's EBC coatings for reduced flare and ghosting. Plus, it has built-in Optical Image Stabilization to help with those slower shutter speed shots. It's an all-around great choice for Fuji shooters looking for a high-quality and affordable everyday lens for things like landscapes, travel and portraiture…….
See more pictures on www.imaging-resource.com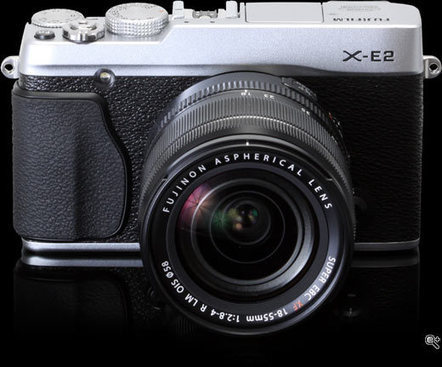 Conclusion:

The X-E2 is an interesting camera – its shape and reliance on more traditional, dedicated external controls means it probably isn't going to make a big dent in sales of mid-range Canon and Nikons. There may not be a huge theoretical difference between a dedicated aperture ring or shutter speed dial and a modern DSLR's control dials, but the practical difference is two-fold. Firstly, it risks intimidating the casual shooter who wants better shots without necessarily wanting to learn photography. But, for those people who have learned or want to, it can help engender a real sense of connection between the operator's actions and the outcome. For those people who 'get' what the X-E2 is about, though, it's a top-notch photographic tool – engaging, responsive and regularly delivering excellent images. It's small enough to be portable and has the classic looks (and, increasingly, the lens range), to satisfy keen photographers. Its price puts it squarely into competition with the D7100/EOS 70D/K-3 class of DSLRs, but we think the smaller size, dedicated lens range and retro charm mean the X-E2 offers plenty those cameras can't. The excellent F2.8-4.0 kit zoom should be another plus in the 'X-E2′ column, for many, as optically it's a cut above the lenses supplied with most SLRs. There are many things the X-E2 isn't, a movie camera being foremost amongst them, but it excels at its core purpose of being a purist photographers' camera……
See on www.dpreview.com

Conclusion
Does the X-T1 deserve the hype? Definitely. The X-T1 is a powerhouse that delivers stunning, pin sharp images with the almost breathtaking dynamic range we have grown to associate with the Fujfilm X-Range. I struggle to find fault and I hope you understand what I mean when I say I could look at it for hours, it is a remarkable piece of technology. The controls are extremely accessible on the body of the camera and there isn't hardly an aspect of the device that isn't customisable or adjustable. The viewfinder and LCD screens are stunning and if that isn't enough you can even control the camera via live view on a mobile device. The X-T1 has all the bells and whistles and underneath is a powerful, remarkable image maker that is as usable in the hands of a new photographer as it is in the hands of a pro. The X-T1 is not only a top performer but it is a joy to use and the ergonomics are excellent. I am in awe of the Fujifilm X-T1 and don't have the capacity to see where the company will take the X range from here. I know the lens roadmap is very exciting and I can see the X-T1 making a considerable dent in the digital SLR market. Notable is the fact that every photographer I have spoken to (who has used the X-T1) has nothing but love for what has to be the most desirable camera of 2014…….

See on www.flixelpix.com