Reviews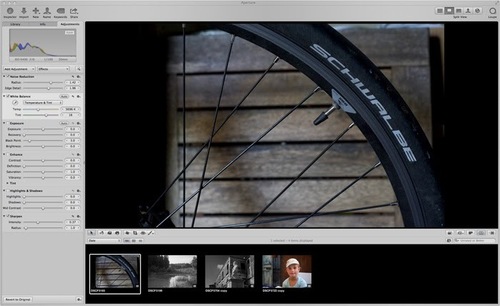 As the title suggests this is the third and for the time being the last of my RAW converter comparisons.  This time we will look at how each converter handles high ISO's files, conversions to black and white (monochrome), skin tones and leafy landscapes.  In the first comparison I left all of the examples at the default settings.  This time I tried to get the most out of each image in each of the seven converters.  For these comparisons the converters will be presented in alphabetical order and not in preference. In addition to the six previously used converters, I have added Lightroom 4.4 and upgraded Iridient Developer to 2.2.  These are not the only RAW converters out there.  AccuRaw to name one, however I feel these are the most accessible and known programs, albeit a couple are Mac only….
See on gambofoto.blogspot.de
With miraculous timing, the latest Fuji XF 27mm Lens turned up on my doorstep, at the same time as visiting family from Blighty. So it got attached to the X-Pro1 immediately, and got almost exclusive use during a two week blast around California's theme parks and zoos. The lens is very distinctive, and is quite a departure for the X series, in that it's a compact pancake model, with no lens-mounted aperture ring, and no lens hood. This completely changes the look and feel of the camera – making it a very pocketable system, with a very low visual impact (excellent for street work). The lack of hood was a concern at first – but Fuji made great claims for the new lens coating, which have been born-out in use – the lack of hood is a non-issue as far as flare is concerned. The lack of aperture ring was odd at first – it was a key feature of the X system, and indeed the pre-production lens I saw at CES had an aperture ring on it. In practice, I quickly adapted to using the aperture 'dial' on the back of the camera – and although it's a change, it is a complete non-issue in daily use……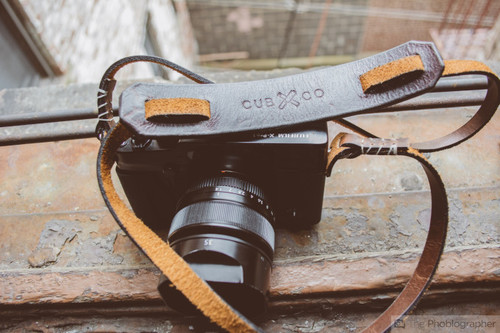 Cub and Company is one of the strap makers in the United States joining the growing list of those getting involved in the fashionable accessory game. Made in Long Island, NY by photographer Joel Chavez, these straps have an alluring vintage appeal to them while maintaining a semi-upscale aesthetic that would appeal to those looking for something with a youthful edge. We wouldn't exactly call them hipster, but we'd sure as hell say that they're for the discerning shooter……
See on www.thephoblographer.com
…
Should I buy the Fujifilm X-M1?
The Fujifilm X-M1 is by no means a cheap camera, currently price around £679 with the kits lens. This means that it's more expensive than some impressive rivals, such as the Panasonic Lumix GF6 and the Sony NEX-5R. These rivals arguably have stronger specifications as well, and therefore it seems like the X-M1 is set to struggle. However, the Fujifilm X-M1 is beautifully designed, handles fantastically and offers some of the very best image quality in its class. So, despite a few issues and a specification that is lacking in comparison to its rivals, it's certainly an entry-level CSC to consider.
Verdict
What the X-M1 may be lacking in specification – as well as in the value stakes – it more than makes up for it with striking design and the standard of image quality. If you're in the market for an entry-level CSC, it's well worthy of consideration…..
See on www.trustedreviews.com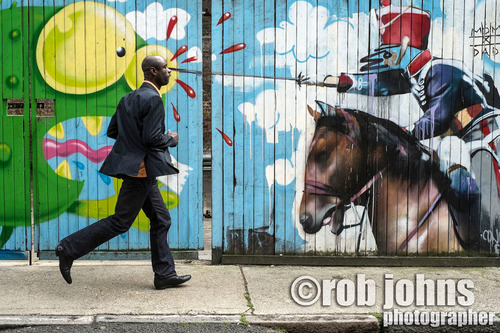 ….
Conclusion
So is the DSLR dead? Well, yes and no. It depends entirely on the type of photography you do. The X-Pro1 is ideal for street, documentary, photojournalism, editorial and travel photography, but in the studio it feels awkward and has operational limitations. If Fuji were to address the operational limitations and release an optional studio grip that would make the ergonomics similar to a DSLR, then the demise of the DSLR would most certainly be one step closer. But to be fair to Fuji, I don't think the camera was ever produced with the studio in mind. It's great for certain types of photography and I would hate to see it evolve into an oversized 'one camera fits all' monster. It is precisely the small size and lightweight combined with the image quality that are its strength. The reality is that most professional photographers have an armoury of lenses and cameras to use according to the type of assignment they are working on. Look at other trades, have you seen how many types of screwdrivers are available on the market! Now, if Fuji were ever to produce a medium format digital camera specifically designed for studio use, that certainly would cause shockwaves in the industry and offer a real threat to the current line-up of medium format digital cameras. Remember you read it here first. Without doubt the X-Pro1 is a great camera. It's not for the beginner or the faint-hearted and thankfully there are no picture styles to choose from, the film emulsions can be forgiven. It is a serious imaging tool capable of exceptional results. Fuji have demonstrated their commitment to the product by continuing to release firmware updates. The latest version 3.01 released only recently at the end of July. They also continue to expand the range of XF lenses. It is also encouraging that a camera manufacturer is prepared to listen to feedback from photographers and long may that continue….
A few weekends ago I popped up to see Pacific Rim on the IMAX in Waterloo, and thought I would try and get a spot of street photography in down at the Southbank by the river. The lovely thing about the Southbank is the sheer variety of people you see wandering about, and while I'm still working on my confidence in terms of approaching people for photos, there is certainly a lot of scope for getting some great shots. I thought I would round up a few of the shots that I took, and do a bit of a breakdown on the settings I used and reasons why, so others can hopefully benefit. The great thing about street photography is that it doesn't need any fancy equipment or even expensive lenses – photos usually have a deep depth of field, so any lens will do, and whether you use a zoom lens or just use a prime and zoom with your feet is up to you.
Use a small camera
I was using a Fuji X-E1 as it's smaller than the average dSLR, and doesn't draw much attention to itself, so I could walk around with it on, and just lift it to my face, compose and fire in a matter of seconds. If you have a digital camera (or film for that matter) that can be set to manual mode then all the following applies, but for street photography, I would advise a smallish camera…..
See more pictures on alpower.com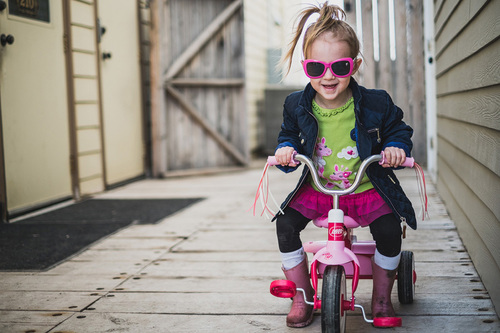 If you're a street or travel photographer, you've likely already read every review out there (and there are about a million) so you already know how this camera operates in those circumstances. I'm not a street or travel photographer, I'm a portrait photographer that operates in controlled environments, but I'm also a father of two, which was the main driving force behind my decision to get this camera. In 2011 I picked up the Fuji x100, and it fell short. The focus was slooooooow, and seeing as I had purchased it to take photos of my daughter (my son had not yet entered the world at that time) and she was entering into that "I just learned how to walk and I am going to tear ass all over the place" phase, I missed 8 out of 10 photos that I wanted to take. Needless to say I sold it to someone who didn't have children……
See more pictures on nathanelsonblog.com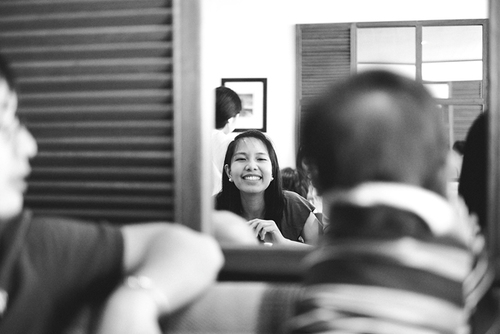 The Fuji X-E1 is the best ever camera I've ever owned!
It's not like I've owned tons of cameras already,  but I've been through the same journey as a lot of you did. I started with a big badass DSLR, a Canon 500D (which is small by the way as its an entry level DSLR). It was the camera that brought me to the world of photography and expenses. A few years with it, and I got settled with a 35/1.4 and 85/1.8 setup which was the best combo for my style of photography, but mostly it was the 35L that I got to use 90% of the time. After a while, I found it too cumbersome and heavy to be packing all the gear, when we went into trips or just went out with family or friends. I didn't enjoy having to bring a big and heavy camera just to capture precious moments…..
See more pictures on mikeangphoto.blogspot.fr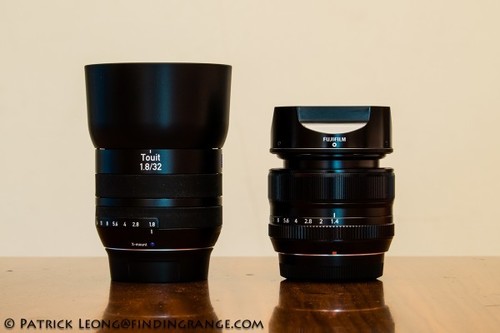 The Fuji XF 35mm F1.4 R lens is one of the most popular lenses for the Fuji X Series.  It was the lens that I was looking forward to most when I first purchased my X-Pro1, and I'm sure it's a first lens for many people.  It's fast, it's well built, it's compact, and it produces fantastic image quality.  Recently though, Zeiss has entered the game with their Zeiss Touit series of lenses. So far, Zeiss has produced two lenses for the X Series: a 12mm F2.8 and a 32mm F1.8.  I really enjoyed my time with the 12mm F2.8.  However, that's not to say that Fuji's XF 14mm is bad in any way. In fact, I've only heard great things about the Fuji.  But the Zeiss is a great option as well if you want something wider than a 21mm equivalent. With the Zeiss 32mm, things are a little different because I believe the focal length is a lot closer to Fuji's XF 35mm lens yet it costs $300 more.  If you think about it, that's 50% more then the XF 35mm, which many think is one of the best lenses for the Fuji X Series.  Is the Zeiss worth the extra money?…..
See on findingrange.com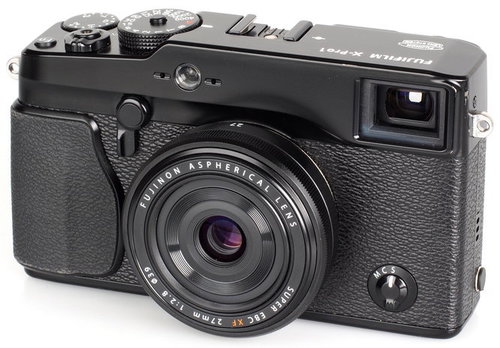 Gary Wolstenholme reviews the Fujifilm Fujinon XF 27mm f/2.8 compact prime lens, with a field of view equivalent to a 41mm lens on a 35mm camera and a bright f/2.8 aperture…
Value for money
This lens currently retails for around £380, which seems a touch expensive for a pancake lens with a maximum aperture of f/2.8. For example, Olympus do a 17mm f/2.8 pancake lens for Micro Four Thirds system cameras that costs around £200 and Sony offer a 20mm f/2.8 pancake lens for their NEX series cameras for around £300.
Fujifilm Fujinon XF 27mm f/2.8 Verdict
Those looking for as compact a lens as possible for their X-series camera have no other option as lightweight and compact as this lens available to them at the moment. This lens delivers very high levels of sharpness in the centre of the frame, and although adequate, the performance towards the edges of the frame isn't on quite the same level.
The price at launch may seem slightly high when compared to established lenses available for other camera formats, but as this lens is freshly launched, that may change in time. However as the build quality of this lens is so high, that goes some way towards justifying a higher price tag.
Fujifilm Fujinon XF 27mm f/2.8 Pros
Great sharpness in the centre
Good build quality
Low falloff and distortion
Low CA
Fujifilm Fujinon XF 27mm f/2.8 Cons
Autofocus can hunt in low light and at close distances
Not as sharp towards the edges of the frame
Loss of contrast when shooting into the light

See on www.ephotozine.com