Reviews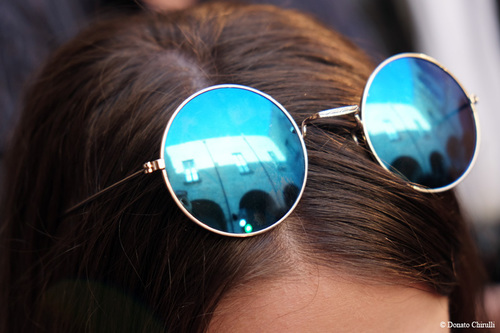 We don't know why, and  we don't know if this type of policy is really useful for the manufacturers , but we have to take note of a fact: The rumors about the new models of many of the most famous photographic brands on the market. actually come many months before the respective official presentation and, even more , before the real marketing of those items . The fever of news, data , specifications and technical practice tests affects so more and more fans, in constant search of the " Philosopher's Stone" which allows , with minimal effort , to transform the " lead" into " gold." Improve ie , the level of the photographs taken by the ever-increasing technical capabilities of the devices. At riflessifotografici .com, we have particular philosophical approach : we appreciate the technological improvements only when these are , really , satisfying the need for daily practice in the field. A technical improvement, in fact , has a real reason to be, when a photographer (amateur or professional ) can get a tangible benefit in his daily practice. Let us not be charmed by " glitter and sequins ," or " bait and switch " that serve only to attract the potential customer , and then not really giving anything really useful to the latter, but the knowledge that you have bought .. . the last, glittering model ….. And it is for this reason that, generally , we take it easy when we do our tests. Even with the risk of publishing them when they seem almost obsolete …… We can not , however, prevent us from publishing our " First Impressions " , when we have the chance to try out a preview of a new camera and / or new lenses. In this case, we could handle for a couple of days ( exclusive  in Italy) the new Fujifilm XE -2, accompanied by a number of different lenses , including (also in preview ) the Fujinon XC 50 – 230 mm , on the occasion of the National Day of the amateur photographer , worthily organized by the tireless members of the Cultural Photosintesi of Casarano (LE) …….

See more pictures on riflessifotografici.com
I'm using a Fuji X-pro 1 mirrorless camera for almost a year and I LOVE it. And I HATE it. But then again… I LOVE it!!! When this camera was released back in 2012, I must admit, I fell for looks of it. That was my firs impression not knowing how it performs. Loved that rangefinder style, compact size and OVF/EVF combo. So… these were my thoughts before I even read some reviews or seen some image samples. I've done my research and Zack, David and Bert (among many others) were convincing enough to decide to purchase one for myself. First of all, I bought mine at B&H photo (great service, very satisfied with them since I'm living in Bosnia – I've got a package just a four days after purchase). After first ten minutes of looking at the camera and touching it, playing with OVF… (that was the thing I was eagerly awaited for the most – that OVF… but I'll get there), I realized that lens hood that was provided with a lens I bought (35mm f1.4 Fujinon lens), even if it doesn't look so bad on a lens has a terrible hood cap (with that kind of lens hood it was impossible to use a lens cap since shape of lens hood attached is square). That lens hood cap was falling off  without any force engaged to it. It was falling off while carrying camera around, putting it in a bag, or if you succeeded to put it in a bag while cap still on a hood it will fall off for sure when you grab your camera out of  the bag. Next day – I bought a metal lens hood with a cap on ebay for a few bucks. I think, having a small lens hood on every lens will provide you some extra protection against accidental direct hit in a crowd or in narrow spaces. Next thing I did was to order that great looking (and even better feeling) Lance strap……..
See on igormotl.com
We loved the original Fuji X-E1, so we were looking forward to checking out its replacement, the X-E2. Fortunately, legendary photographer Nathan Elson was available to help us review the camera…..
See on www.youtube.com
….. I will reserve any comments about image quality till after I run it through a proper shoot but all-in-all, I'm happy and welcome all the improvements implemented on the X-E2. Physically, it looks like the same camera, but only after using it will you realize the differences and improvements are significant. It addresses a lot of the concerns actual users have pointed out with the X-E1 and to top it off, Fujifilm has managed to merge some of the great features of the last few X series cameras into it as well. I've only had the unit for about a week now and I can't wait to finally test it out in the field. Also, the great guys at Vanguard and Phottix Philippines sent over some awesome stuff that I will be showing you in the next few days and I will be working them along with X-E2 as I head to the land of BB cream and Kimchi in a hours from postings this……
See on www.randallcipriano.com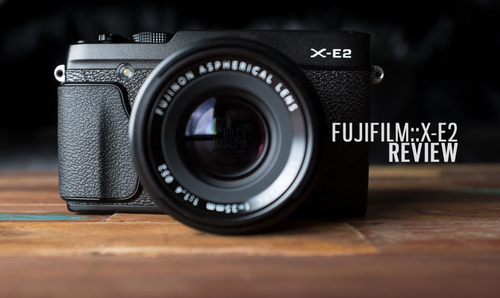 I bet people were thinking that. I know I was.. just not on October 18th. I was privy to the brand new X-E2 a few weeks ago. To be honest it did not get me excited. I have been looking for a back-up body since selling all of my dSLR gear a few months ago. I borrowed a X-E1 from Fujifilm Canada for a month and I just didn't like it. It wasn't as solid as the X-Pro1, the LCD was shabby, no optical viewfinder and it did not fit in my hand as well as the X-Pro1. Which was strange because I have girly hands and the X-E1 is pretty compact. I was given the opportunity to try out a pre-production Fujifilm X-E2 along with 3 of my X-Photographer pals Kale JF, Patrick Laroque & Don Craig. I was last in the chute to try it and it arrived about 7 hours prior to Fujifilm's big announcement (In my time zone the announcement was actually on October 17th at 10:30pm). I wanted to have something done at launch time but my schedule and crappy light made it not to be. I planned to wake up early the next day and really put the camera to the test for my style of photography. What I was expecting was a slightly upgraded X-E1. But what I found was very different…….
See more pictures on rileyjoseph.com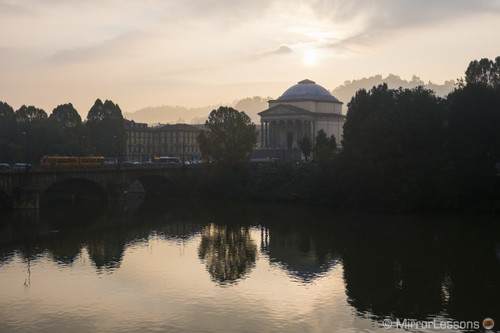 The release of the Fujifilm X-M1 marks an important step in the X line for the Japanese firm. Up until now, Fuji has concentrated its efforts on high-end interchangeable lens models such as the X-Pro 1 and high-end compact cameras such as the X100/s and X10/20 line. With the X-M1, Fujifilm has expanded its product line to include low-end mirrorless cameras and puts itself in direct competition with products like the Sony Nex-5/6 series or the Samsung NX300. At the time of writing this article, the X-A1, Fujifilm's newest entry level model, has just been announced and the QX1 (same sensor as the X20) is also on the way. Some have criticised Fujifilm for spending more time on cheaper cameras instead of updating their high-end models, but that is going to change soon with the imminent announcement of the X-E2. Also, while the release of all these new models may lead us to think that Fujifilm wants to imitate other brands and saturate the market, in my opinion it is a simple consequence of a company wanting to increase its earnings. Actually, if you think about it, Fuji started the opposite way: the first models were for professionals and advanced enthusiasts and it has now turned its attention to the rest of the market, which of course cannot be ignored. Simply, what Fujifilm is doing is filling new low-end cameras with technology that has been tried, tested and approved by professionals. I won't dig more into Fuji's marketing strategy because it isn't my domain, but if we are to take anything away from this discussion, it is that the X-M1 may seem like a compromise for many things but not the most important aspect, image quality……

See on www.bestmirrorlesscamerareviews.com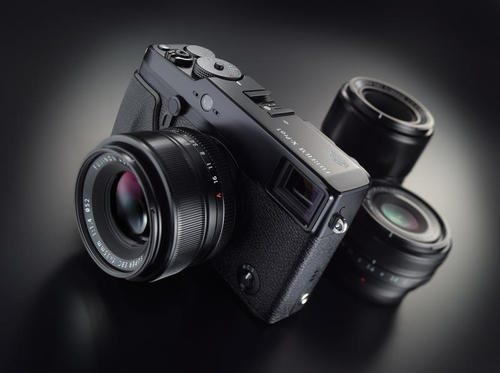 As you may know, I'm not one to recommend a product unless I own the product myself and can attest to its worthiness to make my list of recommendations, and that holds true for any product whether it's an inexpensive filter or a multi-thousand dollar camera system. In fact, until now, I have not recommended a camera system outside of Canon's lineup simply because I haven't found one worthy of recommendation. That changed when I got my hands on Fuji's X-Pro1 camera system and began putting it through its paces. To start, this is not your typical pro camera–it's not a bulky SLR or a point-and-shoot, but rather a mirrorless, hybrid rangefinder system. In fact the closest thing I can relate this camera system to is the Leica M9 digital rangefinder. The Leica M series rangefinders have been in a league of their own for years, however, that has now changed with the birth of the Fuji X-Pro1. I know that by saying that, I'm making a very large claim to fame for the X-Pro1 but in this review, I intend to show you why Leica now has some competition–in fact, with a price point of $1,200 compared to Leica's $7,900, it's some serious competition! Fuji initially introduced the FinePix X100 which was a large-sensor compact with a cool retro style, very much mimicking the Leica bodies with its manual control knobs and sleek, sturdy build. Underneath that sleek, sturdy build, however, was an array or modern technologies aimed at producing pro-grade image quality. It was no surprise then when less than a year later Fuji announced the X-Pro1 with its interchangeable lens system–the first mirrorless camera system aimed specifically at professional photographers…..
See on www.paulkomarek.com
Conclusion
This lens will be added to my kit. I do own a X100s but having the same field of view with a faster aperture on the X-Pro1 will definitely benefit me. I will not be selling my X100s.. probably ever. It has the leaf shutter with crazy fast sync speeds, it is small, compact and gorgeous to look at. The lens retails for $900 Canadian which I know seems expensive. But that is definitely cheaper than the Canon 35mm 1.4 and the Fuji is much sharper wide open in my opinion. And I'll end this post with one more shot of Curtis taken, of course, with the XF 23mm lens. If you want to see these photos larger as well as a few more taken with the XF 23mm head over and follow me at  my Tumblr.
See on rileyjoseph.com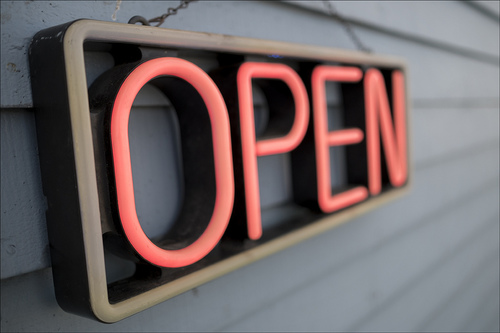 Just in from Japan, and due for release in the US and UK from next week, Fuji have finally delivered on the much anticipated 35mm equivalent lens for the X Series cameras. The XF 23mm f/1.4 R. The new Fuji 23mm lens is a beast – as fast as the excellent Fuji 35mm lens (at f/1.4), but with the latest AF drive and pull focus ring from the 14mm. The build quality feels superb – this lens is a chunky guy, with some reasonable heft, and a rather impressive girth. It takes a 62mm filter – which is annoying, as non of the other Fuji lenses I have take 62mm! It also has a HUGE petal shaped hood – which no doubt is technically wonderful – but looks out of place on the Fuji X series retro bodies. Maybe I'll swap it out in time, for a smaller 3rd party hood… Mounted on the X-Pro1, the camera really has a very nice weight and balance – especially with the Fuji grip attached. I also have a thump grip, and would recommend this to potential 23mm lens purchases, as it really helps to brace the heavier lens and camera body. AF is fast and smooth – manual focus feel is excellent, and the focus ring is very smooth to operate. One downside of the large lens body (and hood), is that it protrudes into the OVF by a huge amount. Even taking into account the smaller image area within the bright lines – you're loosing the ability to see the bottom right quadrant of the frame. This pretty much forces you to use EVF if you want to see what is in frame accurately. A vented hood would improve things somewhat, I might experiment at a later date…..
See more pictures on realphotographersforum.com