Sample Images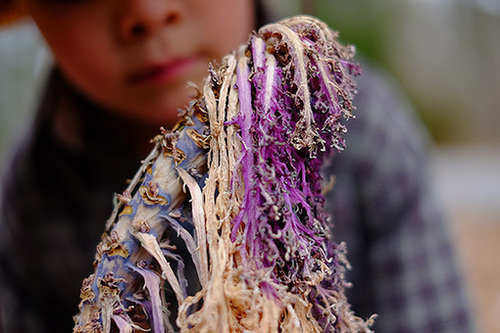 I got lucky, and was the only person at IR headquarters when the Fuji X-T1 arrived. Who was going to stop me from taking it out for a weekend stroll?!? We'll have you our lab First Shots soon, but in the mean time head over to our Fuji X-T1 gallery page and dive right in for some real world examples of what the X-T1 is capable of delivering. Our test sample didn't arrive with a kit lens, so I shot with the Fuji XF 35mm f/1.4 lens, and tried for a good variety of shot types, field depths and ISOs given the short time that I had for this initial batch……
See more pictures on www.imaging-resource.com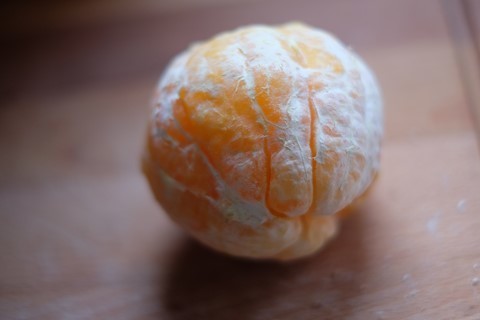 A factory-fresh Fujifilm X-T1 arrived in our office last week, and editor Barnaby Britton spent the weekend trying it out, taking a range of sample images in different environments, with several lenses. Highlights of the X-T1's specification include a 16MP X-Trans CMOS II sensor with on-chip phase detection, high-resolution EVF and 8 fps continuous shooting with AF tracking. Click the links below to view our gallery and detailed first-impressions review…..
See more pictures on www.dpreview.com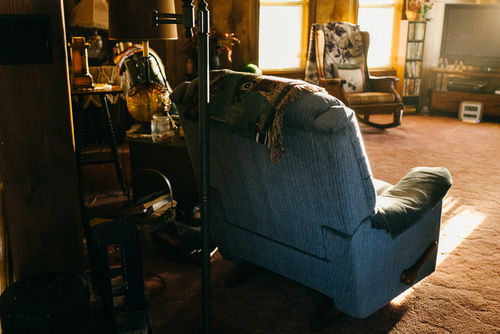 A week and a half ago, my wife's grandmother passed away. They were very close, as she was and is to all of her grandparents. As her grandfather had already passed, the house now stands empty. Well, that's not entirely true. Though the physical presence of her grandparents are gone, the memories and the reminders of love still fill the home. It is fascinating to see what people keep near to them. Her chair was her home base…..
See more pictures on mwaltonstudio.com
In 2012 I made a big decision, to ditch my dslr in favour of a small compact that had just hit the market with very little known about it. On paper the camera sounded like everything I wanted at the time, a compact with all the controls a photographer needs to hand and in a small body. My dslr was starting to be a pain, heavy and cumbersome to use with simple photographic needs stuffed in menu after menu. I just wanted a great travel photography camera that didn't give me a back ache but gave me great images. With trips to Italy and Japan planned, I decided to take a big chance, im not rich so laying down £1000 is a big deal to me. I've no regrets. The first real test was a trip to Italy followed by Japan. At the time I was very interested in way a using shadow as composition, the little X100 was a joy to use allowing me to focus on the concept. Not only was I able to do conceptual photographs but the standard style of photographic images were fantastic in terms of colour and sharpness…….
See more pictures on srphotoblog.blogspot.de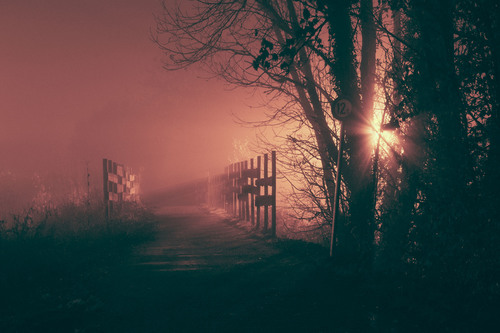 Winter in Belgium is way different in 2013 than it was in 2012. We reached the 15°C when last years it was… -10°C! Therefore, last year's white mantel let place to water, fog and sun. The short days and christmas decorations helped to play with the high iso settings or long exposures. I recently bought the 18-55mm lens. As I never had a wide angle / zoom lens before, (except on this test) it took me a few shots before getting confortable with it. In fact, to tell the truth, I'm still not confortable with it… but at least I now like it. Because, yes, two weeks after I bought it, I tought I would sell it back. Compared to the 35mm 1.4 it wasn't fast enough and I wasn't taking any good picture, neither wide nor zoomed. Now I know a bit better when to use it or not. I know how fast it focuses at 18mm and what to expect from the image stabilisation. Now I know my 35mm is still the best, in low light and how versatile the 18-55mm is. Two more things I prefer about the 35 is it's size and it's marked aperture ring. One more thing. I bought a ND filter for long exposures and wide aperture in full light. The seller told me a 64x would be ok. He was right… and not right. It works for long aperture under a cloudy sky but not on a sunny day. I didn't have the chance to try the wide aperture in full light yet. FYI I put the ND filter on the 35mm……
See more pictures on www.regislessent.com

I had the honour of shooting my wedding yesterday with a pre production Fujifilm X-T1. It was a very special day for me, not only was it my 200th wedding, it was also my first wedding without a Canon in my hand. I had the XT-1 since it's launch on Wednesday and decided to leave my Canon Mk3 and Mk 2 at home yesterday when I went to my wedding, instead I used the Fujifilm X-T1 as my main camera and a Fujifilm X-E2 as my second camera. I am definitely sure that this is the first wedding in South Africa shot with a X-T1, the camera was only launched 3 days ago and there is only two in the country. It will be interesting to know if somebody else has photographed a wedding with the XT-1 since it's launch. I took the following lenses with me:

Fujinon XF 56mm F1.2R
Fujinon XF 23mm F1.4 R
Fujinon XF 55-200mm F3.5-4.8 R LM OIS

I'm not going to try and do a review of anything here, I don't find reviews interesting, and what's more, there are people in the world that knows a lot more about this kind of stuff than I do…I'll leave it to them. I use a camera because I like the look and feel and the way my photos turned out. So, that means that  I like absolutely everything about the Fujifilm X-T1……..
See more pictures on www.jccrafford.com
I surprised myself with a Fuji X100s before christmas. Like probably many of you I was thinking long enough whether to get the camera or a 23mm f1.4 lens for my X-Pro, it wasn't an easy decision, but I'm happy with the outcome. My wife reaction was 'Oh, an other camera again, but it's cute…' Probably my first digital camera where she showed some interest and wanted to give it a try too. Here is one of the photos she took of me.But I don't want you to get bored(or scared) while watching images of me, so that's enough. The following shots are the result of the first couple of weeks with the camera which pretty much became my go to camera during this period…….
See more pictures on gaborimages.blogspot.de
When I decided to ditch the DSLR, the lens I knew I was going to miss the most was Nikon's 14-24 ultra-wide zoom. When my FAS (Fuji Acquisition Syndrome) first began, the 10-24mm ƒ/4 was already on the roadmap so I knew I'd eventually be ok. With an equivalent focal length of 15mm at the wide end, it's the slightest bit less wide, but it also reaches out to just past 35mm equivalent so it's more than a reasonable tradeoff. It's also an ƒ/4 fixed aperture, which of course, is a little slower the the ƒ/2.8 of the 14-24. But then the 10-24mm ƒ/4 has OIS (or VR or IS in Nikon's and Canon's parlance, respectively), which gets you extra handheld stability in low light. In fact, it would be more accurate to describe the 10-24mm ƒ/4 was a 16-35 VR that goes much, much wider. And it's smaller. And lighter. And the build is better. I would chose this lens any day over any of the ultra wide zoom offerings from the full frame systems. The rings on this lens are all very satisfying. Not quite as satisfying as the 56mm ƒ/1.2, but really, nothing is. The inner-most ring which controls the aperture has the exact same feel as the FUJINON XF 18-55mm ƒ/2.8-4. The zoom ring is a little stiffer than the 18-55mm. Whether or not this is better will come down to preference. I should note again that I'm working with a pre-production unit so things could be different with the shipping product. The focus ring also feels just like the split focus ring on the kit lens. Nice and smooth…….
See more pictures on www.fujivsfuji.com

---
Fujifilm Fujinon XF10-24mm F4.0
Do you love my work and want to support me? If you're planning on buying camera gear, you can check out above-noted links. Prices remain the same for you, but a small percentage of your purchase value is valued back to me. Thank you!
---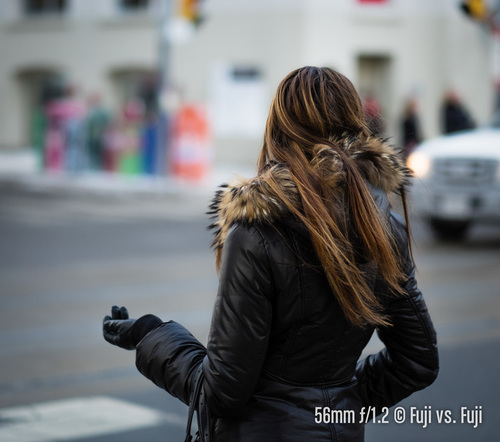 If you've visited this site before, you might already know that this lens is part of my "Ultimate Prime Kit," which consists of the 14mm ƒ/2.8, the 23mm ƒ/1.4, and the 56mm ƒ/1.2. These lenses all have excellent handling traits with one potential exception being the 14mm ƒ/2.8. Some people were finding the aperture ring a little loose on the 14mm. In fact, the first one I got was a little loose. Fortunately, I was able to exchange for one that is nice and tight. From my sample size of three 23mm ƒ/1.4's, there have been no issues with aperture rings and happily, even the pre-production unit of the 56mm ƒ/1.2 has an excellent aperture ring. The way it gracefully slides into automatic aperture mode is just like my 23mm ƒ/1.4. Though I don't think you'll want to use this lens like that too often. Switching between apertures has just the right amount give. I don't find it moves out of my chosen aperture too easily. The focus ring on the 56mm ƒ/1.2 is a different story. It might be my favourite focus ring of any lens I've ever used. Ever. This includes a bunch of Nikon AIS lenses which are regarded by many as the gold standard of focus ring dampening. The 56mm ƒ/1.2 has a gloriously "heavy" feel and weight to the ring. It's yearning for you to flick the switch to MF……
See more pictures on www.fujivsfuji.com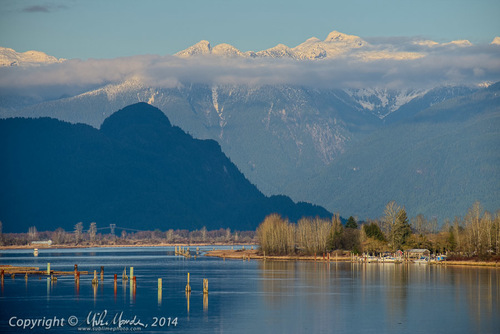 This gallery has images shot with my Fujifilm X-E2 body and mainly the Fujifilm XC 50-230mm f/4.5-6.7 OIS zoom. Only frames 1, 2, 5, and 11 were shot with the Fujifilm XF 55-200mm f/3.5-4.8R OIS zoom. Photos 1-4 were take from the Pitt River Bridge. Photo 5 was at the shore of the Fraser River in Coquitlam and photos 6-10 were taken on a foggy evening just west of Granville Island. Photos 11-13 were taken at Vanier Park, 14-23 were taken at Boundary Bay, just east of Tsawwassen and lastly, 24-25 were taken east of Kilby, BC. Only photos 5-11 were taken with a tripod, the rest were handheld……
See more pictures on www.sublimephoto.com

---
Fujifilm Fujinon XF55-200mm F3.5-4.8
Do you love my work and want to support me? If you're planning on buying camera gear, you can check out above-noted links. Prices remain the same for you, but a small percentage of your purchase value is valued back to me. Thank you!
---