Soundimageplus
This is the first part of some comparison tests between the Fuji X-E1, fitted with the 18-55mm and Leica X Vario cameras, with the fixed 18-46mm. Looking at image Quality. This first post deals with the difference between out of camera jpgs. with particular regard to high ISO quality.
This was the test subject – tripod mounted, f/8 selected on both lenses…..
FUJI X-E1 and LEICA X VARIO Comparisons:
See on soundimageplus.blogspot.de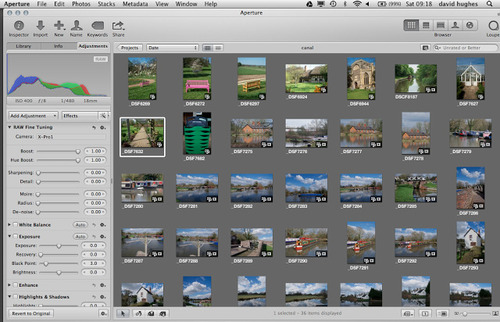 This morning I've been processing a few and uploading them to picture library websites. At the moment I'm bulk processing the files initially in Aperture, using a preset that gives me good control over highlights but adds no sharpening, saving them as .tif files and then finishing them off in Photoshop. I'm doing it this way, because I'm still unconvinced by many of the Aperture settings, I don't know it as well as Photoshop and like all other versions I've used, its pretty slow, even on on my i7 laptop. So its a two software programme conversion which is not ideal, but I find it worth doing because of the sharp files that are produced.
Over a year ago, I declared that the results I got from the Fuji X-Pro 1 were the best image quality I'd ever seen from a camera I owned. Despite all the problems with the raw files, I still stuck by that, mainly based on what I had seen using Raw Photo Processor 64. This software did produce excellent images which showed that sharpness this sensor is capable of. However I found it difficult to get the colour I liked from that software. No such problems with Aperture however. The colour is excellent. I'm able to get my digital version of Fuji Velvia without any problems. (Incidentally the Velvia option for jpgs. on the Fuji cameras is actually nothing like it.) I do prefer the colour much more than the Adobe rendition which is somewhat muted and desaturated. Seemingly a consequence of what Adobe are doing to the files to cut down colour noise.
The Aperture solution is much more to my taste and lets me decide how much noise reduction I want to use and on what parts of the image. I prefer it because it simply 'lets more through'. Adobe, Capture One and the Fuji / Silkypix software all seem intent on filtering the raw files before letting us work on them. I don't really see what they are afraid of and what they are so keen to filter out. The X-E1 files via Aperture remind me a lot of Leica M9 files. Yes there is some colour noise, yes there is some moire, but its far from a serious problem and it can be easily removed either globally or selectively in the file, without seriously affecting the sharpness and colour rendition. I can't believe that Apple are any better at working the demosiacing algorithms than the engineers at Adobe etc. I think that they have just made different choices and are pretty much letting what the camera takes stand, so that we can make our own choices. I can't say this for certain of course, but it does seem to me that is what is happening. Anyway, whatever the reasons, the X-E1 now turns out really good files that are what I've wanted to see for the last year. And so yet again, this time with some justification, I can say that the X-Trans sensor image quality are the best I've used. With the top-class jpgs., class-leading high ISO performance and now ultra-sharp low ISO images I haven't used anything better. The question of course, is where do Fuji go from here? There are two things I think that need to be adressed. The first of course is how do PC users get the options that Aperture and Raw Photo Processor 64 offer? Since both are Mac only programmes, they only have   Photoshop / Lightroom, Capture One and Fuji / Silkypix, in my opinion the worst three options, to choose from. The second is an improvement to the cameras.
Fuji have produced a sensor that can handle pretty much anything. With its peerless ISO performance I can't think of any photographic work that is beyond it. The files upsize to 24MP with no problem at all, so lack of pixels isn't a problem. The quality of the sensor means that there is no need to go to 35mm size to get low noise. And Fuji have shown that they have lost none of their skills as lensmakers. The problem however is in the cameras. Fuji could probably grab more of a share of all kinds of markets, including the professional one, with this sensor technology, if they just sorted out a few things. Battery life has to be longer and there has to be a proper power use meter. AF certainly has to be faster, the menu system has to be overhauled and they have to get serious about video. I know a lot of people don't care about it, but a lot do and this is an area that is going to become more and more important as time passes. Just bringing it up to standard of my Nikon 1 V1 in terms of all this would be a start. While I've been raving about how great the V1 is to use, the Fuji is vastly superior in tems of image quality and I can't see how a few simple tweaks can't be implemented fairly easily. Plus Fuji have to decide if they are serious about manual focus third-party lenses being used on their camera. In which case they have to add focus peaking ASAP. Like most companies I imagine that they really want to say 'We don't really want you using other peoples stuff, we would much rather you buy the Fuji lenses'. But Sony offer it, as now do Leica. Its what people want, just read the forums.
I doubt we are going to see a 'Pro DSLR like' manifestation of the X-Trans sensor. I think Fuji are wedded to the Rangefinderesque, Lookaleica, old-school design ethic, but that doesn't make 'Pro' type features impossible. The X-E1 is in fact a really nice camera for handling with a good EVF and live view screen. Its just that when I use it, I'm constantly aware of the absences I outlined above. I really need to know how much battery power I have left, as I missed a great shot yesterday because the camera ran out of power at the crucial time. If I had known how much juice I had left then I would have changed the battery before. Plus 150 shots on one battery just isn't good enough. Using my Voigtlander 90mm I would have appreciated focus peaking and there were occasions when the AF 'hunted' in decent light, which again is not good enough.
To my mind, Fuji have done the hard part, producing a sensational sensor, which achieves the impossible of producing files at low ISO's that aren't far off the Sigma DP Merrills I had, but with better colour and of course much superior high ISO perfromance. Surely it isn't that difficult to get the cameras better? ….
See on soundimageplus.blogspot.de
See on Scoop.it – Fuji X-Pro1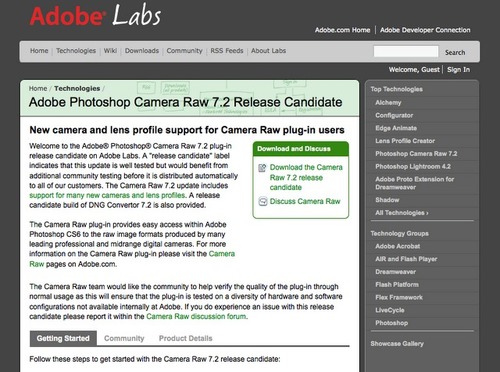 I was also interested to see whether conversions for the Fuji X-Pro 1 are any better, since I have a lot of files waiting to be "developed". Unfortunately no improvement there. Still the same old mush. So it looks like I'll have to go with whats available or just use the jpgs. A shame and a somewhat disappointing lack of response from both Fuji and Adobe.
http://labs.adobe.com/technologies/cameraraw7-2/
See on soundimageplus.blogspot.de
See on Scoop.it – Fuji X-Pro1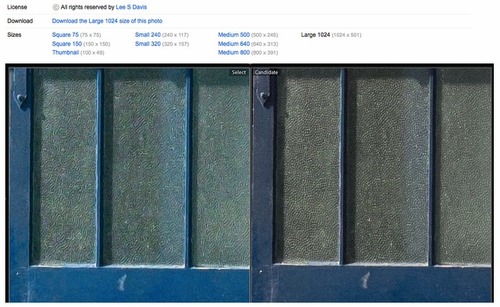 As you can clearly see, processing raw files from the X-Pro 1 in Raw Photo Processor 64 is much better at reproducing the fine detail that gets lost in Adobe Camera Raw. I've tried this myself and it does in fact work very well.
However you should be aware that Raw Photo Processor 64 is dcraw based software and takes a while to get used to. I also found that it does increase the amount of work needed to process files, and I personally find it very difficult to get the colour right. The beta version that supports the X-Pro 1 is also Mac only.
See on soundimageplus.blogspot.it
See on Scoop.it – Fuji X-Pro1

Questions:
"So, if by using this complex workflow you can eventually obtain files similar to what you get with your other cameras, why would you actually do it and not use the easier cameras and raw files only ?
Putting aside per pixel sharpness, is the resolution of a no AA filter 16Mpixel sensor not comparable to the AA filtered 24Mpixel sensor of the nex7 ?"
See on soundimageplus.blogspot.it
See on Scoop.it – Fuji X-Pro1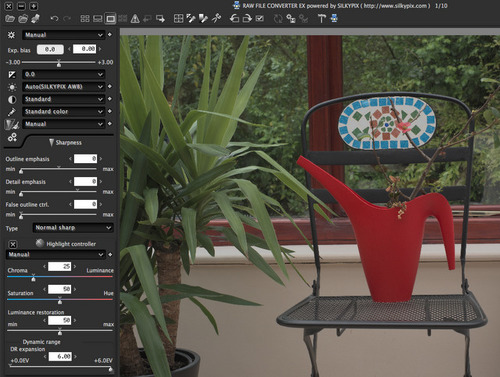 I've decided not to give up on the X-Pro 1 yet, and have gone back to using a (revised) version of the workaround I posted some time ago. This involves creating a raw file. First I create a Tiff from the raw file in SilkyPix using a modified Super Neutral Setting. This involves making the file low contrast, turning all sharpening off and setting the dynamic range expansion slider to maximum.
See on Scoop.it – Fuji X-Pro1

If by street photography we mean the recording of candid, semi social-documentary shots of (mainly) city life, then many photographers such as Cartier-Bresson and Robert Doisneau, did use Leicas. But then Doisneau and photographers like Vivian Maier used twin lens Rollieflexes as well. Somehow the Fuji's seem to be seen as tools for this genre, possibly simply because they "look the part", and possibly because of the frameline optical viewfinder, which is similar to a Leica. I've often wondered what his reaction would be if a time traveller handed Cartier-Bresson an AF mirrorless camera with live view and a zoom lens. Would he have said "No I'll stick with my manual focus Leica and fixed lens" or bitten someones hand off to use it?
See on Scoop.it – Fuji X-Pro1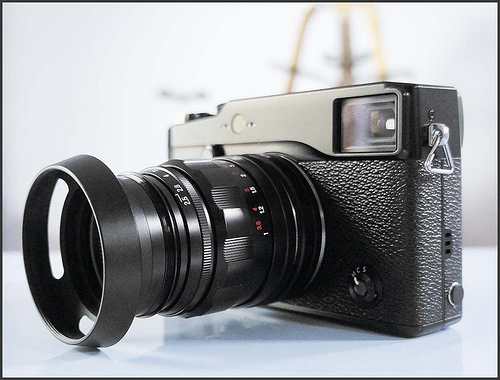 At this moment in time the only adapters that I know of are made by Kipon. I got mine via ebay. I have one already for Nikon mount lenses, which was excellent and this one for m-mount lenses is also very good quality. The lenses fits well with no movement and likewise the adapter slots nicely onto the camera and the whole thing feels very secure. Also like my Nikon adapter, infinity is infinity. This is very useful, as it allows for accurate zone focusing using the hyperfocal distance with the depth of field markings on the lens. On several occasions yesterday I just set the lens at infinity, confident that what I was photographing would be in focus.
See on soundimageplus.blogspot.it
See on Scoop.it – Fuji X-Pro1

It always surprises me that more people don't use Nikon D lenses when using adapted manual focus lenses. There's always lots of words written about Leica and M-mount lenses but very little about these little black wonders. They are (mostly) excellent lenses with excellent optical performance and many of them are small, light and relatively inexpensive.
See on Scoop.it – Fuji X-Pro1


I wanted to do a comparison between the X-Pro 1 and a Sony NEX-7. Difficult because of lens systems and different sensor sizes.
I decided to do it this way. I used the Voigtlander 28mm f/3.5 lens via adapters on both cameras. I used f/11 which is pretty much the lenses optimum aperture. Fuji jpgs. are regarded as being slightly better than the Sony equivalents, so to even it up and also to take account of the fact that the Sony's primary advantage would be seen as the larger file size I decided to upsize the X-Pro 1's jpgs to the same size as the NEX-7.
See on soundimageplus.blogspot.de