Street Photography
Photograph by Rinzi Ruiz (All photographs in this article provided by Rinzi Ruiz)
My good friend Nicholas Susatyo recently recommended a book to me: "Zen in the Art of Archery." In-fact, it was the book that Henri Cartier-Bresson said had the deepest influence in his photography. I have been meaning to read it for a while, so on my flight to Philly I decided to give it a go.The book is written by Eugen Herrigel, a German philosophy teacher who went to Japan for several years and learned the art of archery (while teaching philosophy at a Japanese university). He heard about the art of archery, and was fascinated with the zen philosophy which was embedded in the art.
As we all know, archery is no longer practiced in the "real world" in battles and such. When Herrigel wrote "Zen in the Art of Archery" in the 1940′s, it was a very closed art– only reserved to local Japanese who were serious enough about it. To teach a foreigner the art of zen and archery was considered heretical. However with some good luck (a good introduction by a Japanese friend) and some persistence, Herrigel was able to go under the wing of one of the greatest archers in Japan. And with his experiences learning under him for 6 years, he wrote his brief book in "Zen in the Art of Archery." The book was an enjoyable read to me, because he explained the zen philosophies (which are often cryptic) in a way in which westerners could understand. Being Korean-American myself, it was the perfect balance of Eastern Philosophy with Western analysis. After finishing the book, not only did I learn many insights which I plan on applying to my practical everyday life, but also to my street photography. Some of these philosophies may seem a bit cryptic, but I will share what I personally got out of reading the book. And of course, I am not an expert of zen–and one of the biggest difficulties is that there are so many branches of zen that all the practitioners have subtly different philosophies. Please feel free to share your thoughts and also corrections in the comments below……
See on erickimphotography.com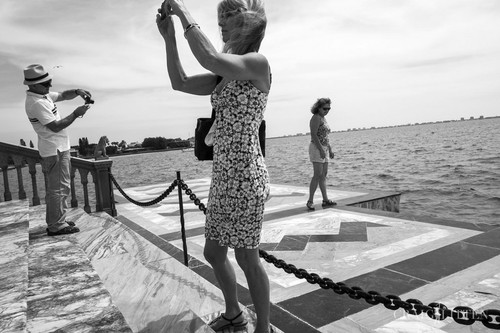 I'm a photojournalist by profession, a documentary photographer by choice, and a street photographer in my heart, but before all of that, I just love photography, and l love to take pictures. Enter in the Fuji X-Pro 1. Very recently, less than one month ago, I sold all of my DSLRs, fast glass and long lenses and purchased two Fuji X-Pro 1 bodies, the XF 18mm f/2 (approx. 28mm equivalent), the XF 35mm f/1.4 (approx. 50mm equivalent), and the XF 18-55 zoom and I couldn't be happier. For nearly two decades I've wanted a Leica film body (M6), but in my career as a newspaper photojournalist and with all of the professional sports I had to cover, I just couldn't justify it. In the late 90s I bought the amazing Contax G2 and loved it dearly. But as film started to fade and digital started to pick up speed, the M6 dream also faded. I finally sold the Contax in 2005 while it was still had value. As Leica released the M8, and I saw that the price was significantly higher than the already pricy M6 (I was never really interested in the M7), and that it was not a full frame sensor (because I really wanted a 35mm Summicron–Leica's 35mm f/2 lens), I lost interest. Then the Leica M9 was released which caught my attention, but I knew that as a working photographer, I could never afford nor justify the cost of one camera and one lens, let alone a complete system. I love Leica, but it simply cannot be justified in its cost (for me personally), thus out of my reach. Leica used to be the camera of the working photojournalist, and many legends of photography have made iconic photographs with them, but the world has changed, and making a living with photography is harder than ever. With new amazing technology, and steep competition, working photographers are now using new tools that get the job done. There was a time in my career that if a photographer showed up for an assignment with anything but a Nikon or a Canon, they were looked at as an amateur, but not anymore. One of the big attractions of the Leica, to me, is its simplicity; in this it's unbeaten still today. I applaud Leica for (mostly) remaining true to its heritage with the digital M cameras, and I hope they always will. No other camera system even comes close to the workmanship and quality build and materials of a Leica. If you've ever held a Leica lens, you know exactly what I'm talking about. Fuji, analogously, has invented a camera system that gets back to the basics. Things like a real shutter speed dial, check, a real aperture dial, check, a real optical viewfinder, check. But Fuji also added a real exposure compensation dial that's even better than the ones the old Nikon's used to have on their film bodies. Also, the wondrous beauty of Fuji's hybrid viewfinder, where the user can switch, on the fly, from optical (OVF) to electronic (EVF), is the icing on the cake to me. This camera is a breath of fresh air to photograph with. The buttons are perfectly placed and they are few (only what's needed). Today I chose to slow down and shoot just for the sheer joy of it. While photographing with the X-Pro 1 I was able to switched from optical finder, to rear LCD, to electronic viewfinder, to changing the ISO, the aperture, etc., etc. all effortlessly and without a thought. It was so much fun. In fact, it was pure joy. I really haven't had this much fun shooting with any camera since my Contax G2. Imagine that, a professional photographer actually enjoying shooting when not getting paid to do so. (By the slightest chance if anyone from Fuji happens to read this article, I ask you to PLEASE not change a single thing on the X-Pro 1 camera body with the future X-Pro camera body, but instead just install dual, quad-core processors (for a little more speed) and we're good to go. This camera is that good! …..
See more pictures on streetphotoworkshops.com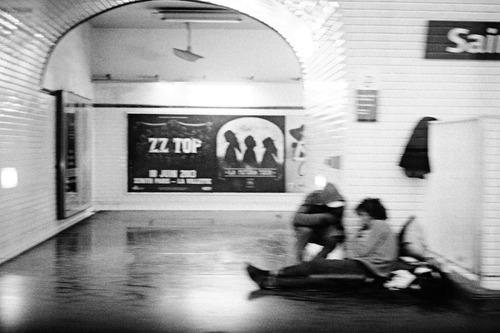 b/w . paris . france

Fuji X-Pro1 with 35mm f1.4 and Minolta MD Rokkor 50mm 1.4 …

See more pictures on nighlines.tumblr.com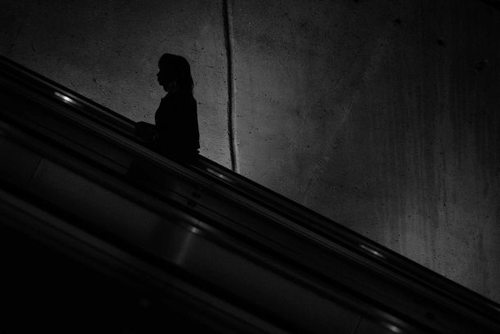 That's what we call the subway in DC. It's usually very crowded and often not working in certain places… but overall it's not too bad (if there's a stop near you). Maybe if I used it more often, I'd be singing a different tune.
A few weeks ago, I went to run an errand near  Capitol Hill. I rode from Woodley Park to Eastern Market and back, transferring trains at Metro Center. Here are some of the pictures I took along the way. They were all shot with my Fuji X-Pro1 and 35mm lens. Nothing too special… but a good reminder that while I'm here, I need to take the metro more often (good thing I'm in Trinidad)!
See on blog.karimhaddad.com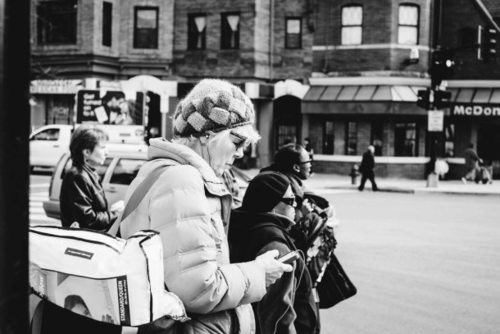 I've been trying to shoot more people lately. It's not always easy though, especially for someone like me. I was raised to be considerate of others, so the cognitive dissonance that comes with traditional street photography is often hard to shake. Still, I persevere. I wait. I sneak around, or I distract and disarm. Then I take my shot. It's never been ideal and every now and then I even need to shoot blind. Missed opportunities abound. I feel like a creep most of the time. But sometimes I'm not creepy enough. The other day, I had to eat my lunch at a restaurant while listening to some airhead 'like' talk endlessly about 'like' utter nonsense. I wanted to walk up to her, take a few shots, and then do some show and tell on here for everyone's benefit. Maybe if it had lasted just a little bit longer… but I've already given her more props than she deserves! DC is full of interesting people. Some are more unique and 'photogenic' than others. The city itself is constantly evolving, but I have a feeling the cast of characters will remain largely unchanged. If I can capture some of these characters in this particular space and time, I'll be satisfied. The most memorable street photos usually tell a story. Maybe I'm biased, but I'd like to think that most of the images below tell some kind of story. Some are obviously better than others. Surely I'm not lying when I say that I've come a long way from my last similar post… but I also know that I still have a long way to go. All of these pictures were taken sometime in the last few weeks with my Fuji X-Pro1. If you follow my blog, you know I only have the 35mm lens (for now). As you'll see, I still haven't been able to get very close to my subjects. I'm not sure that I'll ever be comfortable getting up in someone's face for a candid shot, but I'll keep trying to move closer. And I'm still getting a wider lens, although I'm not sure which one yet.
See more pictures on blog.karimhaddad.com
Wie Millionen Iren in aller Welt feiern auch die Münchner Iren und ihre Freunde ihren Nationalfeiertag. Am 17. März fand in München die Parade zwischen Münchner Freiheit und Odeonsplatz statt. Das Motto lautete – Let´s paint the town green! Und während der Winter den Norden Deutschlands noch fest im Griff hat konnten wir uns in München über etwas Sonne freuen. Beste Voraussetzungen also, die Parade mit der Fuji X-Pro1 und dem Fujinon XF 18-55 F2.8-4 R LM OIS zu begleiten. Die Flexibilität des Zooms kam mir dabei wirklich entgegen und so konnte ich problemlos zwischen Weitwinkel und leichter Telebrennweite wählen. Außerdem ist die Fuji für solche Zwecke natürlich besonders geeignet, da sie wesentlich unauffälliger als eine große DSLR ist. Dies hatte ich zu Beginn meiner Arbeit mit den Fuji X Kameras oft unterschätzt. Aber es macht wirklich einen Unterschied ob man einer Person mit einer X-Pro1 oder mit der D800 vor der Nase rumfuchtelt. Einziger Wermutstropfen: Der manchmal verflixte Autofokus – ja auch mit dem Zoom gibt´s Momente wo die Kamera partout nicht scharf stellen will…und der Moment ist dann vorbei…die Parade weitergezogen. Nach all den neuesten Firmware updates habe ich sogar manchmal das Gefühl, dass das 35er in manchen Situationen schneller fokusiert. Ich werde das in den nächsten Wochen mal genauer vergleichen und wieder berichten. Bis dahin – enjoy the pics!
See more pictures on www.cleareye-photography.com
There's a distinguished looking ol' fellow sitting at the bar. He has silver hair and laugh lines around his eyes. He's well dressed. Well groomed. Well traveled. You can tell he's seen a lot in his time. His classic Morgan is parked outside. There's a pretty young girl on his arm listening to his stories of being a globe trotting documentary photographer. He sips his 50 year old Chivas Regal. His name is Leica. Yeah, he's the world's most interesting man.
In the corner we have Olympus, Panasonic, and Sony. They're in a heated debate about Dungeons & Dragons or something. Sony is smart. He's a brilliant guy. Ugly as hell. Clunky. Clumsy. Out of balance… but very smart. Olympus is more fashionable than his friends Sony and Panasonic but you can tell he's just trying too hard. He's cute, but sitting next to Sony shows he's not that smart. Panasonic is just staring into his beer. A single tear drops into his IPA. He just released the GF5 and has realized it's a total pain in the ass of a camera and wishes he could go back to the good ol' days of the GF1.
"Remember when I created cult followings guys? Remember that? Remember?" Sony and Olympus share glances and mumble something about the wizard losing his potion. "Hey, at least we aren't those two assholes over there." as they point to Canon and Nikon. Canon and Nikon. They're the two old men at the bar who are always arguing. You can't tell if they're the best of friends, brothers, or sworn enemies. Either way, there they sit… every night… arguing and arguing and arguing. One says he can drive a car faster. One says he got laid at the '84 Olympics far more than the other. The other talks about how big his lens is. The only thing they ever agree on is they are both sick and tired of all the young kids in the bar these days taking their space. You get a feeling that if they just melded into one the world would be better for it. Please don't get either one started about iPhone and her friend Instagr.am. There's a sound of an old shovelhead rolling up in the parking lot. A young good looking kid walks in the door. Tattered 501′s. Grease stained tee. Three days of scruff. He walks with confidence. All the ladies take notice of him. The cougar den at the table next to Sony, Oly, and Pana all perk up and freshen their lips and shorten their skirts. His name is Fuji and everyone but Leica avoids making eye contact with him. Leica turns on his bar stool and gracefully nods his head to Fuji. Fuji, knowing he's in good company at the bar, fires a grin and a wink at the old man. Leica sees himself as a younger man in this Fuji kid. Back before he opened his stupid boutique stores and started a line of t-shirts and baseball caps. (Leica should have never listened to his old friend Ferrari.)
Fuji orders a classic English bitter and starts talking to the two girls next to him.  Phaseone pulls the perfect pint and serves it up. No one serves it up better than Mr. Phase. Phase then tells Polaroid to take the trash out. Polaroid goes out the back door and stops to share a smoke with Kodak. Kodak asks if Polaroid could spare some change. "Sorry man. Not today." The young girl that was sitting with Leica heads out the door but not before slipping her number into Fuji's back pocket. Fuji sips his beer and quietly tucks it deeper into his pocket so he doesn't lose it.

And that folks… is why I say Fuji is the new Leica and the x100s is the greatest camera I've ever owned…..
See full review on zackarias.com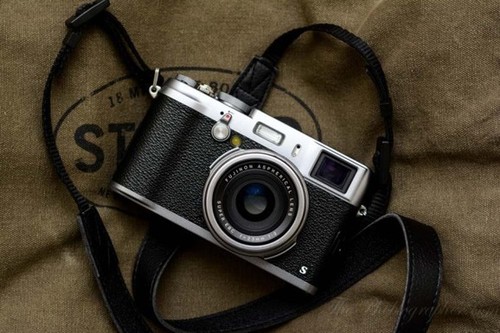 We've been working on the Fujifilm X100s review for almost a month now, and we have to say that the camera is really quite the awesome piece of hardware. At first, I wasn't so smitten for it but it has started to warm up to me after sticking around as a constant companion image taker. The company has truly made this an extremely capable camera and has indeed improved on some of the biggest problems that they faced with the X100–the camera's predecessor.
I've been testing it in the streets of New York City–the perfect proving grounds for the audience that this camera is targeted towards. And despite some admirable performance and improvements from its first incarnation, the camera will still face some issues.
When I hold the X100s, it reminds me a bit of a large point and shoot. It didn't really make me think about a Hexar AF or even a Leica CL–let alone my Voigtlander Bessa R. And with that fact, the camera perhaps already started an awkward relationship with me. When I first started using it, my mind was already so accustomed to using the X Pro 1 and my Voigtlander Bessa R that this thing felt very toyish. Seriously, how could something of this build quality think that it could steal my away from my metal rangefinder and my professional backup camera of choice?
And then I gave it a chance. One of the biggest things that I needed to remember is that this camera isn't meant to take on those other cameras that I'm so much more used to using for my documentary and street work. Instead, it is meant to complement them. To that end though, it became a fun camera for me to use–but that was really it. And when my brain accepted this, I started to appreciate the X100s' build quality for what it is–a fixed lens camera meant to be small for the silent street photog…..
See on www.thephoblographer.com
All pictures taken with Fujifilm X-E1 and 35mm f/1.4 lens. No tripod, no lamp. This time I shot in RAF+JPG and must admit I am disappointed. It took me a lot more time in Lightroom to recreate the quality of JPG images, which came straight out of the camera. At the same time there was little to no added value from post-processing RAF files. I will wait for LR 4.4 and republish the pictures once again to see if it will bring any significant improvement.
See on www.jakubpuchalski.com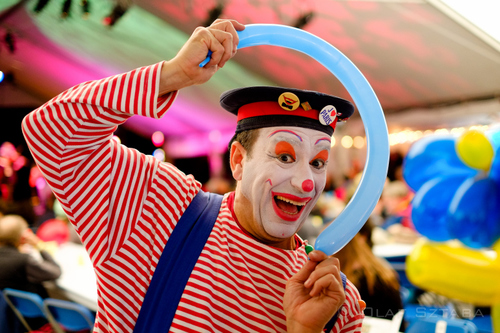 Last weekend I had the chance to visit a "Festival du Bois" in Coquitlam, BC. This festival celebrates French culture with fantastic live performances, exhibits and cuisine. Since I had my Fuji X-Pro1 and XF 35mm F1.4 with me, I took a few images. We usually shoot RAW and process our images with the Capture One Pro 7 and Lightroom 4. However, since many people like to shoot JPGs (for good reasons), we got many inquiries to present some images straight from the camera. Our only comment: to our eye, Fuji has the best Jpegs of all camera manufacturers, period. This is especially true for photographing people – skin tones are just marvellous. See for yourself. All images are jpegs from the camera. Astia (S), Saturation +2, Sharpening +2. WB – Auto, only minor contrast adjustments in Lightroom 4.
See more pictures on olafphotoblog.com