Street Photography
It is a beautiful Sunday here in Dubai, and it is my day off "work". I arrived last Wednesday from London after 2 weeks of teaching workshops, and I ended up doing a few workshops for Gulf Photo Plus (a photo organization in Dubai). I had a great time teaching the workshops here in Dubai, and also ended up shooting a lot of personal photos for myself (around 5–6 rolls of medium-format Kodak Portra 400 on my Hasselblad and a Mamiya 7 I borrowed from my friends Imraan and Mo. Anyways, I also met the Fujifilm representative (Yuta-san) and he gifted me a Fujifilm X100T (no strings attached). Fujifilm was generous enough to sponsor my 2 workshops here (a 1-day Conquer your Fear of Shooting Street Photography course, and a 3-day intensive Intermediate/Advanced Street Photography Workshop focused on projects). They let the students play with a bunch of X-T1's, X100T's, and lenses…..
Source: erickimphotography.com
I am no expert in the politics or issues of my country. Nor am I a pure street photographer. But I do like to tell stories of my country's people and the city I live in with my images. Now, in my city Johannesburg – Jozi or Joburg as locals call it – we have areas where you would avoid going alone, especially with a camera. But there is a number of good things happing all over the city, thanks to some very cool and interesting projects. I took a few other photographers for a little walk in one of these areas, called the Maboneng Precinct. It is safe, has a good vibe and is a great place for food and social……..
Source: www.neillsoden.co.za
Ever since I saw some photos by Alex Lambrechts, I've been wanting to do a shoot mixing street and fashion photography and finally the dream has become reality. A few weeks ago, I contacted a friend of a friend who does some modeling and hired her for a couple hours. We went to Milan and I asked her to just walk around or interact with people on the street, pretending to ask directions, sitting in a café, looking at books in a stall, or talking on the phone. In the end I got some nice ones. Even though they are staged, I  think they have a candid street look to them, whereas I wasn't really able to convey the fashion aspect. I just can't pretend to be as good as Lambrechts after one day, but I'm reasonably happy with the results and we had lots of fun doing this. An experience to be repeated, for sure. I shot everything with the Fuji X-E2, alternating between the 35mm F1.4 and the 60mm F2.4 lenses. We also shot some posed portraits that aren't included in the gallery below, but are in this Sticky Album (open the link on your mobile device to add the album to your home screen)……..
Source: blog.ucphoto.me
This is our second Street Of The World segment where we focus on a specific location with a local street photographer. This week, you're on a 48 hour layover in Hamburg, Germany and Marco Larousse is your guide. You're in for a treat! Discover the best spots to shoot street photography in Hamburg, the best times to be there as well as the safety and cultural considerations to keep in mind. After you listen to the show, make sure you visit Marco's website, and connect with him on Twitter @HamburgCam. Marco kindly made this great interactive Google Map to match the locations he mentioned on the show. he also marked a few extra buildings, churches and landmarks on the map that are not part of a specific quarter but maybe a bonus if someone is close to that area……
Source: thisweekinphoto.com
I always think about the meaning of life— and you can probably notice that this blog has become heavily philosophy-based the last few months. This is due to the fact that I have been thinking much more about living a purposeful life as a photographer. Not only that, but I have also had a few close encounters with death— which always prompts myself to ask why I shoot photography, and what kind of life I want to live. In this "search for meaning" — I recently came across the Wikipedia page for "Human Condition." I never really considered or thought what the phrase "the human condition" referred to. I know it is often thrown around in street-photography circles, so I inspected the page closely. It defines the "human condition" as the following:
"The human condition encompasses the unique features of being human, particularly the ultimate concerns of human existence. It can be described as the unalterable part of humanity that is inherent and innate to human beings and not dependent on factors such as gender, race, culture, or class. It includes concerns such as the meaning of life, the search for gratification, the sense of curiosity, the inevitability of isolation, and the awareness of the inescapability of death." ……
Source: erickimphotography.com
Currently I'm putting Fuji's highly acclaimed X-T1 through its paces. It came with the standard 18-55 zoom but I have managed to borrow a remarkable little pancake, the 27mm f/2.8. I reckon it is just about the bee's knees when it comes to street photography. My first question, though, is how this combination compares with the lionised X100/S/T, the camera that started Fuji on to X series road in 2010. It seems incredible now that we have seen the X cameras spawn like crazy from such a simple beginning. But, more important, Fuji has launched perhaps the most comprehensive array of pro-quality lenses ever seen in such a short period. The X100 range with its 35mm-equivalent fixed focal length and ingenious hybrid viewfinder has rightly won its place high on the list of streettog desirables. This little Leica M3 lookalike is probably the most popular go-to camera for street enthusiasts……
Source: macfilos.com
I know a lot of street photographers who have gotten into film recently, and have recently invested in film Leicas (specifically Leica m6's). I wanted to write this guide to share everything I personally know about shooting on a film Leica based on my 3 years of experience. Disclaimer: I am not a Leica expert, nor do I claim to be. But I will to share some practical tips and insights about film Leicas and how to shoot them on the streets…….
Source: erickimphotography.com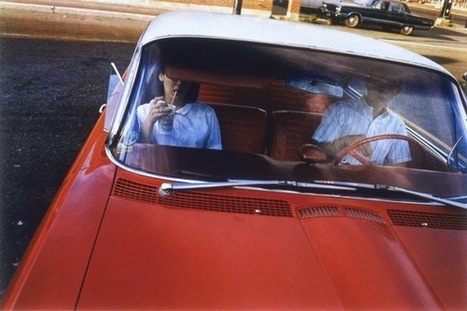 Ich versuche mich fortlaufend fotografisch weiterzuentwickeln, und auf diesem Weg bin ich eigentlich ständig auf der Suche nach Inspiration. Eine solche Inspiration habe ich vor einigen Monaten erhalten, als ich zufällig auf einen Dokumentarfilm über den Fotografen William Eggleston gestoßen bin. Schande über mein Haupt, ich kannte ihn bis dato nicht, aber der Film hat mich sehr neugierig gemacht und ich habe mich weiter mit seiner Arbeit beschäftigt. Ich kann vorwegnehmen, dass die Arbeit von Eggleston einige meiner bisherigen fotografischen Denkmuster, insbesondere in Bezug auf Street Photography, geändert hat. Die Einflüsse Egglestons auf mich habe ich unten in 5 Punkten zusammengefasst…….
Source: www.oz50.de
Here's the second set of images that I shot with my X100s while in Paris. The first set of images were shot in Italy which can be seen in this post: http://www.dpreview.com/forums/post/54391556 Thanks for looking…..
Source: www.dpreview.com
As followers of this blog may know, Mathieu and I spend every summer in Wales where my parents live. Whereas most years we travel straight from Turin to their house, the first stop on our journey back to our "home away from home" this time around was the vibrant city of Edinburgh. Waiting for us there were not only my parents but also two family friends from Canada who I've known ever since I was born. To my surprise, one of them had bought a Fujifilm X-E2 especially for the trip after discovering mirrorless cameras through this blog. Since I'd only ever tried the X-E2 once at Fujifilm Touch and Try session in Italy, we decided that it would be fun to switch cameras for the day: he would use our X-T1 and we would take his X-E2 out for a spin…..