Street Photography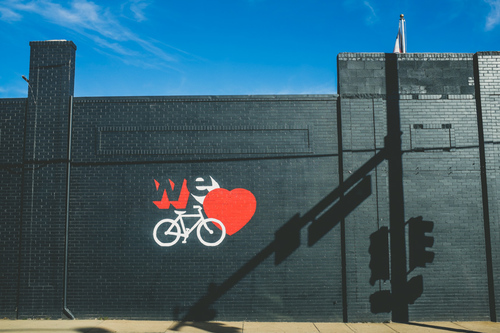 After receiving the new X100S from Fuji yesterday (see initial photos), I got to hit the streets of Denver today for a couple of hours. I took the camera for a little spin and it did not disappoint. I shot all these photos as jpegs files. It's such the perfect walk around camera. Its small size and silent operation make it easy to fit in to the activity on the streets around you and discretely photograph what you want. The added functionality and performance over the X100 make it that much more of a treat to use. I am keeping an account of my findings with the new camera–its pros and cons–and will be periodically updating and adding my thoughts. Check back for that, but also be sure to check back in about a week–as my next big outing with the X100S will be to shoot an entire wedding with it.
See more pictures on www.briankraft.com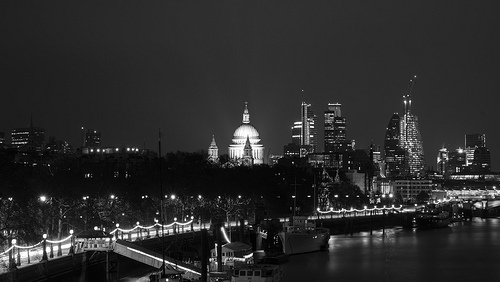 Sample Pictures by Peter Tachauer
See more pictures on www.seriouscompacts.com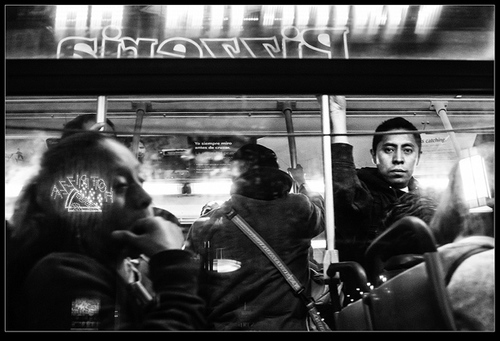 As part of a project focusing on public transportation, Mark Rosales caught this photo of pensive bus passengers and the reflection of a pizzeria on Feb. 19 at the corner of Broadway and 8th Street in downtown L.A. He used a Fujifilm X-Pro 1 with an Olympus OM 24mm Prime Lens.
Rosales typically shoots through the windows of subways and buses, and always asks himself where his subjects are coming from and what their stories are.
"Such a mix of people all coming from different places that led them all to such a confined space and every each one of them going to their own different destinations," he wrote. "You never know what you're going to witness."
See on latimesblogs.latimes.com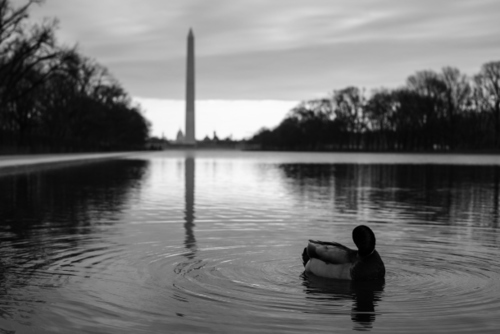 It's not something I'm used to doing. But every now and then, it's good to get out of your comfort zone. Most of my photography so far has been rooted in travel. I've taken quite a few pictures in the DMV, but the majority of them have been urban landscapes near tourist spots. I took my new Fuji out with my 5D recently to the Lincoln Memorial. Both performed splendidly, but there was something special about the look of my Fuji photos, even the ones that weren't necessarily  the best of the shoot. I can't wait to take my new camera with me on a trip overseas. Although the X-Pro1 is not pocket size, it's a lot easier to carry around with than a dSLR. Even after I buy new lenses, I can still carry the whole kit around in a small bag. It also makes me want to take pictures of the most mundane things in my neighborhood that I hadn't bothered to look twice at before. I've started to look around more. I'm not a street photographer by nature, but I can see myself moving further in that direction. It's different. Usually I like to take my time composing shots and exerting as much control as possible. On the streets you have to react quickly and you have very little control over anything. It's not just about shooting in the streets…especially not walls and windows. It's about shooting anywhere in public, anywhere that gives a sense of what life might be like in that time and place. One of the best places for that is any city's public transport system. But for those used to framing photos without people in them, this can all be quite a challenge sometimes. Getting shots of people is tougher than you might think. First and foremost, you need to know your camera – using it should be second nature, as if it was a part of your body. Luckily, the X-Pro1 helps with that. It's only big draw back is the clumsy focal point selection system. Framing shots and getting them in focus can be difficult when you need to move fast. I need to work on my stealth, so I can do my thing without coming off as a weirdo. I don't know whether to smile more, or focus on discretion. The key to taking pictures of people publicly is doing so smoothly. Whether your shooting faces or silhouettes, you need to be like a shadow in the corner. Ideally, you don't want your subject to notice until it's too late. But stealth isn't the only challenge. Movement can also stand between the shooter and the shot he seeks.You can be walking down the street and notice the perfect shot in your peripheral; by the time you get your camera up and fram your shot, it's either too later or you've blown your cover. Other times, your subject is moving in a way that makes it difficult to get the shot. Every now and then you have no control over your motion, like when you're in a moving vehicle. Timing becomes crucial. One of the funnest things about shooting in the streets is the unexpected result. Any shot that conveys the feeling of the moment is usually a keeper (at least in the eyes of the photographer). Not all memorable shots are perfectly framed or well focused. A close up candid of an old wrinkly face is nice, but sometimes a more abstract shot can be just as powerful, especially when it tells a story… no matter how vague……..
See more pictures on blog.karimhaddad.com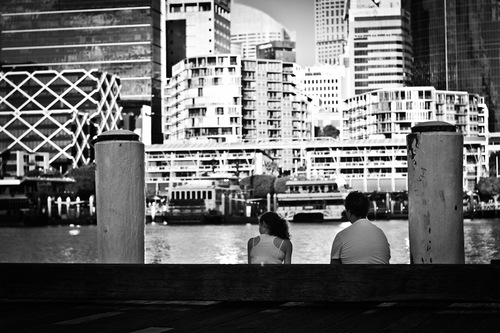 Since the purchase of my Fujifilm X-E1 and have built up my kit for it I have changed a lot as a photographer in my style of shooting as well as my ability to see shots out of just my general surroundings. Going from a large DSLR to the small mirrorless was quite a jump for me, and then adding manual focus lenses was another very big jump that I had to get used to. One major difference that I noticed when photographing in the street with a DSLR compared to the Fuji was when you pull out the X-E1 no body takes any notice of you, blending into the scene becomes so easy. And being able to blend in and go unnoticed while photographing in the street is a very important to get those candid moments. I love using the Fuji with the manual focus lenses, you really have to take your time and think about the shot you want to take. Photos aren't just snapped away with a heavy trigger finger like when I am photographing sport, I have to slow down and think which can being some terrific results. I have found that even though I am not as quick with the manual focus combo compared to my quick autofocus DSLR's I think more about my photography as a whole and not just technique and simple settings. Another thing I love about this kit is how easy is it so travel with, walking around for 5 and 6 hours with my small Think Tank bag carrying my X-E1 kit compared which is a lot smaller and lighter than my DSLR even with just one zoom lens (I have the 2.8 L's) and the fact that the Fuji produces such beautiful photos in such a small size is brilliant. Practice with the manual focus lenses has also made me faster with focus than I originally thought I would be which is also a nice surprise. Even though I have only recently taken to street photography I have taken some photos that I really like and I feel that this type of shooting has really improved me as a photographer and made me more aware of my surroundings. I am developing the ability to see something out of nothing which has made me a better photographer and my confidence in my work has also improved.I will be heading to the UK towards the end of this year and I am very much looking forward to walking around London again with a much smaller kit. I did it last year with my DSLR and large lenses and got some nice shots that I was happy with, although I do very much like the idea of walking around London for 6 hours with a bag that weighs less than half the one I used last year. Below are some of my street photos from my last trip to London.
See more pictures on twhitakerphotography.com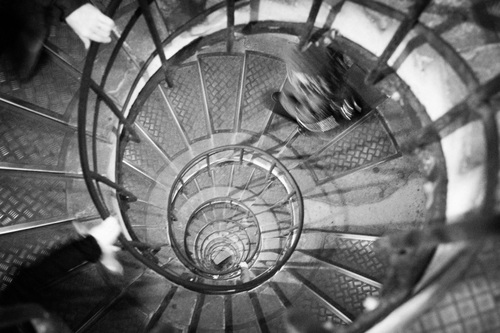 Paris is beautiful.  Whatever the season is. Maybe I like Paris the best in the winter. Less tourists, the foliage is not hiding the beautiful buildings, the wet streets can make nice reflections and the light is soft. On my long walks I certainly am not enjoying to haul around loads of equipment  Ideally my camera gear will fit in a Domke F-803. That results in a Leica M with a few lenses or lately the superb Fuji X-pro1 with the 60mm, 35mm, 18mm and a Voigtlander 15mm. This fits easily in the bag and is so light that I hardly notice carrying it around when I do my photo walks in Paris. The Fuji X-pro1 is even lighter than my Leica M7 and the same is true for its excellent lenses. With the latest firmware update the auto focus is faster than I can do with my Leica. Do the pictures look the same as the analogue ones? No, but the Fuji is the first digital camera I really like and the pictures are different but beautiful.
See more pictures on parisphototours.wordpress.com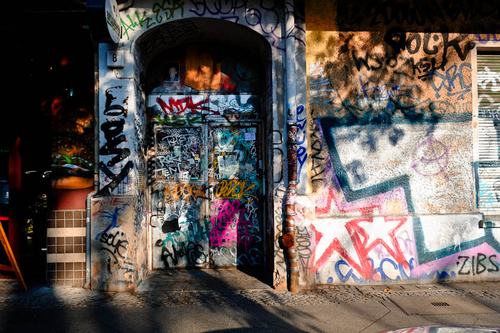 I'm rarely negative on Yomadic. Mainly, because I've been travelling for five months, three continents, and a big handful of countries – so far.  I've gained a big serving of perspective on the world we all live in. Which brings me to Berlin. If there's one thing I truly can't be negative about – its Berlin street art. Call it graffiti if you will. I'll continue to call it street art in this article. I have no preference. Either way, I find it difficult to think of a single example of street art or graffiti that has negatively effected any city, on any country, on Earth. When I say "destroyed", I mean it. As in "we destroyed that breakfast buffet, that bacon was unbelievable!". It's street slang thang. People, it's time for some perspective. Cities around the world spend a sizeable fortune every day, removing street art and graffiti in the name of cleanliness and beautification. As with most things I disagree with, I can only assume this is due to the wishes of a vocal minority. Most cities have far higher priorities than removing graffiti – which by it's very nature is temporary. Indeed, in an Ironic twist, London authorities are now spending serious cash to protect some street art from decay, such is the appeal. Copenhagen Denmark, a success story when it comes to urban planning, embraces street art. As does Berlin. Berlin street art is, in a word, prolific. In areas like Friedrichshain – a hip inner city Berlin district – tags, paintings, murals, political statements, fine art, and sculpture cover everything from houses to shop fronts, to trains and historical monuments. Sometimes, cars. And unless there had been an enormous influx of artists in the last few weeks, it's safe to say nobody is too interested in removing any of the art.
See more pictures on www.yomadic.com
I've just spent 3 days in Marrakech on a business trip, and packed the Fuji X-E1 and 35mm in the hope of getting a few hours off to explore the old city. I'd been before with the 5D MkII and some lenses, but found photography very hard work owing to the local's distaste for having pictures taken. (At least some genuinely do not like it on the grounds of their religion, whilst the more tourist facing people don't mind if they are paid for having their photo taken). Like in any public place, the wielding of an SLR seems to scream "photographer" and make you conspicuous. So this time I tried with the little Fuji in my short time off (just two hours ). I found it a much better camera for this type of environment than the DSLR. I felt less embarrassed wielding a smaller camera, and it was clear to me that people were not as bothered about having their pictures taken even when they noticed I was there. It's funny how the size of the camera seems to make so much difference (I'm sure more seasoned street photographers than me will find this blindingly obvious). Of course, the most important thing is to treat the subject with respect, but I really did find that the camera also made a difference. Here are some shots – the camera and lens performed really well it what were often very low levels of light. Very few mis-focussed shots, excellent exposure and colour. I love the rendering from the XF35m F1/4 wide open too. This is not my particular forté in photography – I'm not well practiced in "street photography" so any comments more than welcome!
See more pictures on forums.dpreview.com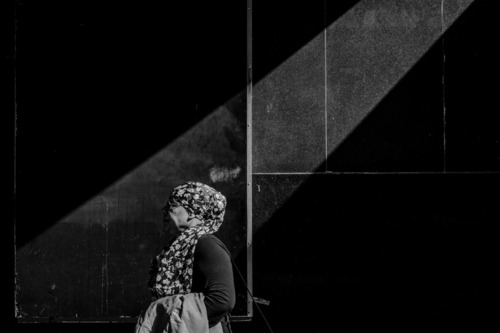 Lady in Ray – Black and White Image by Rinzi Ruiz

Rinzi Ruiz is a Los Angeles based street photographer. He is playing with Lights and Shadow and creats perfect black and white images. One of my favourite!
Visit his website at: http://www.rinziruizphotography.com/
See more pictures on streetzen.tumblr.com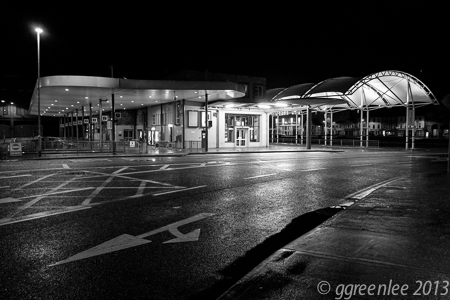 Cork city, at 5am. Irelands second largest city. A ghost town, I walked for over 30 mins before meeting another person. Patrick Street was empty, there wasn't  even a bus at the station. But slowly the workers arrive, and the deliveries start.

All shots Fuji Film X-Pro1, 18mm,  ISO3200, Handled at speeds 1/13-1/250th
See more pictures on wideanglecafe.wordpress.com