Street Photography
The Japanese concept of Wabi-Sabi, as described in Brainpickings, "connotes a way of living that finds beauty in imperfection and accepts the natural cycle of growth and decay. As objects age, it adds on layers of "battle scars" and accumulate what I would term as "character". Urban Decay celebrate these "battle scars" and "character" exhibited in daily Urban objects.

See more pictures on lucpher.wordpress.com
To date Adobe Software hasn't come up with reasonable raw processing for the Fuji X-trans sensor. The way the new sensor captures and processes light requires new thinking on their part and as yet Adobe has been satisfied to rework their current formula to produce acceptable, but not outstanding images. The jpeg processing in the Fuji camera can do it, SilkyPix can do it (albeit through a rather arcane user interface), and Phase 1in the beta release of their raw processor – Capture 1 – has apparently been able to do it. I gave a beta version of Capture 1 (which includes updated processing for the X-trans sensor and Fuji X series camera profiles) a test run. If it works as well as touted, I'll have to think long and hard about switching from Lightroom which for me so far has been OK …. just. To have two different cataloging systems – for Lightroom and for Capture 1 – is a bit daunting for me.
Now onto the XP1 and the 18-55 zoom lens. I was out on the streets in New York City yesterday with the intention of shooting most of my images at the 55mm setting with OIS (Optical Image Stabilization) turned on. Previous to my outing yesterday, I discovered information about how the OIS works between the camera and lens, and understanding how to use it affects both image quality and battery life. There is a new setting in Shooting Menu 5 called 'IS Mode' for which there are two settings with descriptive names of IS1 and IS2 – oh so helpful. In the IS1 option OIS is on and running continuously whenever the camera is turned on and a lens which has the OIS functionality is mounted and the function on the lens is acctivated. In the IS2 option OIS is activated only when the shutter is depressed half way before shooting.
Ah me, there's always trade-offs in life, and especially in photography.
If IS1 is selected, the OIS runs continuously which creates a serious drain of battery power. But it also means that the teeny weeny gyroscopes in the lens are always engaged, running, and ready to stabilize without the slightest delay. This, not surprisingly, results in a very large percentage of the images shot in this mode being completely unaffected by lens motion or shake at slow shutter speeds.
If IS2 is selected, the OIS kicks in only when the shutter is depressed half way. So power from the battery for the OIS is used only at that time which, of course, results in a significant saving of battery power. However, in the time it takes for the battery to get the gyros up and running, and to stabilize the image the camera can still fire the shutter if the button is depressed quickly in one continuous motion. This resulted in a significant number of images shot on Friday (in this mode) being not optimal.
Sometimes the story or the expression of the person in an image is significant enough that I process and post it even with its technical shortcomings. So here's what I got from my outing on Friday. The first was shot at 55mm and, with the OIS set to IS2, was one of the few at that focal length that were spot on…..
See full article on genelowinger.blogspot.com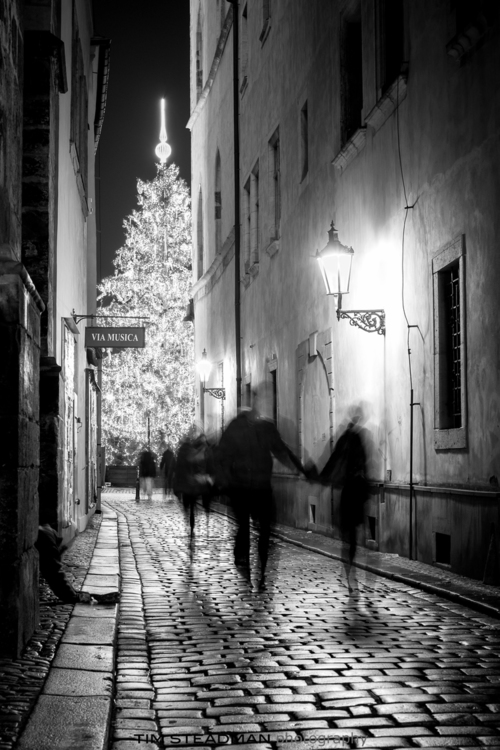 Below are a few photos taken in Prague during the Christmas Market this past week.  It is a magical city that really turns on its charm during the Christmas season (maybe except for the time the local school kids danced to Gangnam style on the large stage :) ).  All photos taken with the Fuji X Pro-1 with 18mm or 35mm lens.  Photos processed in Lightroom.
Tim Steadman is a freelance photographer based in New Delhi, India, specializing in portrait and travel documentary photography.
See more pictures on timsteadmantravel.squarespace.com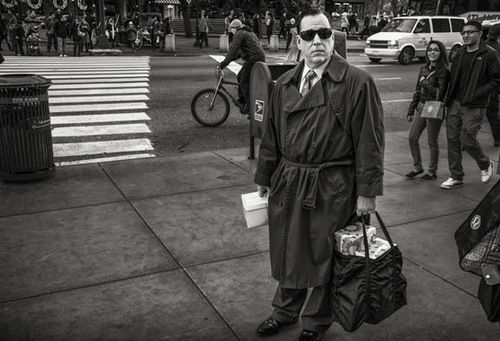 After reviewing my images from my outing on the streets of New York, one thing is very clear to me. I need more time with this lens to get my zoom/longer focal length chops back to snuff.
Drat it! I guess I'll just have to go out and shoot a lot more. Just to recap what I said yesterday: the focus speed is very good at 18mm and 35mm but a little slower (not by a big factor) at 55mm, the IOS (image stabilization) works extraordinarily well so that I can hand hold at 1/30th second and get good shots, I miss not having the aperture indications on the aperture ring but as this is a variable aperture lens (f2.8-f4) those indications would be meaningless, and the lens hood mounting leaves something to be desired in terms of a secure fit on the front of the lens.
The images below were shot RAW, processed minimally in Lightroom and then put through my workflow with NIK filters. The first two shots below were at a focal length of 18mm, f6.4, and 1/125th second. Since I keep my camera set on auto ISO it varies – the first shot was at ISO 5000 and the second at ISO 6400. In my film days an ISO of 6400 would have resulted in practically no definition in the small details. The first NIK processing is with Dfine to manage the contrast noise, then into Color Efex Pro 4 to optimize the color contrast with my special (wink wink) tweaks, and lastly into Silver Efex Pro 2 for the conversion also with my special (wink wink wink) tweaks.
In the first two images, the woman on the right was quite striking looking (nothing gets my camera finger more twitchy than a pretty lady) and yet so sad…..
See on genelowinger.blogspot.com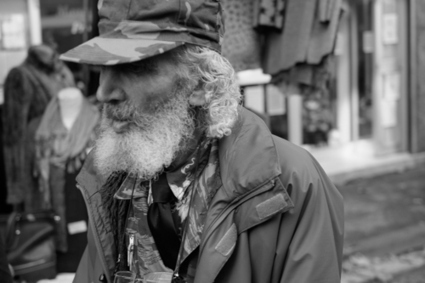 Most street scenes worth photographing happen only a couple of meters in front of you. At that distance the X-Pro1 AF really can not keep pace with the movement of the subject, at least not with the 35mm/1.4. To be fair the X-Pro 1 is not alone in this as the subject's speed of movement across the frame at short distances is tough for most cameras to keep up with…
When shooting candid shots the camera just has to get out of the way,  you don't want any distractions or delays. The Ultron combined with the X-Pro1 almost achieves that goal. There is no shutter lag and framing is easy through the EVF. An inaccurate focus distance however is a major distraction, and it took me most of the morning to start to get to grips with it. I am sure if I were to stick at it then it would become second nature. If my other M mount lenses would all behave slightly differently in this regard it would make working with this adapter a big distraction.
The image quality however  I think  is quite fine for this type of work, and the look is quite different to the Fuji glass. I think it is a combination that is worth continuing to experiment with.
As for manual focusing….lets face it the X-Pro1 is really a AF camera. Lets hope the new range of Fuji lenses perform better in the AF department.
See full review on wideanglecafe.wordpress.com
I have had the Fuji X-Pro 1 and the 18mm, 35mm & 60mm lenses since March this year but most of that time was spent in Cambodia.
Last month I was back in Melbourne, Australia and had the chance to shoot with the X-Pro 1 in a more modern, urban setting. All of these photos were taken with the 18mm and it captured Melbourne's summer light, colour and vibrance beautifully.
The 18mm is my walkaround lens and because it's so versatile i always leave the rest of the kit at home.
See more pictures on 500px.com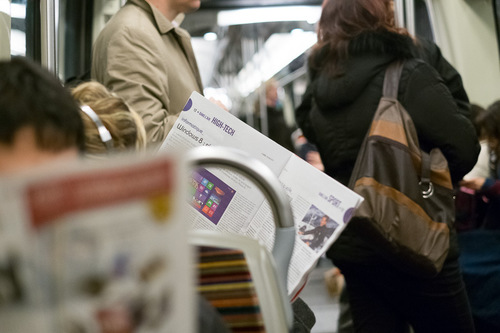 Metro rides can be boring, even in Paris. Unless you have a camera with you!
In between photo walks or in the evening when going back to the hotel in the city of light, the metro is the way of transportation of choice.Until I got the excellent Fujifilm X-Pro1 I used mainly B&W film when strolling through Paris. Shooting this kind of pictures in the metro with B&W film is possible but with a digital camera with live view on the back, great high ISO capabilities, very silent operation and auto focus it is much less of a gamble. Not much post processing was needed on these photos. Some minor exposure adjustments due to user error and some white balance tweaks on a few photos were the only adjustments needed. The liveview and the people being so self engaged make this kind of photography very easy. When doing well you do not get noticed at all.
See more pictures on parisphototours.wordpress.com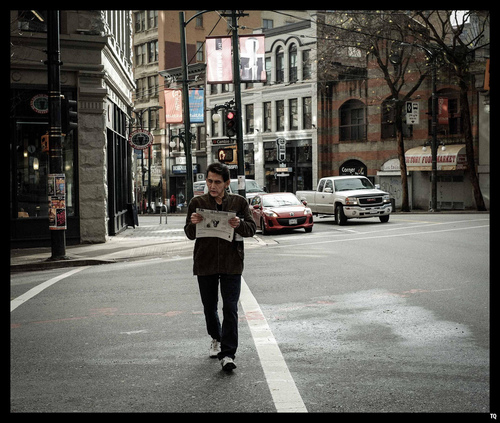 It's not a focal length that I feel very comfortable with. I prefer going an UWA zoom in the 18-35mm range or to go longer, but it's not a bad compromise for such a fast, sharp lens. I'm willing to crop in PP to fix my crooked horizons and slightly mangled compositions when shooting from the hip or blind. Oh and the AF is unimpressive. It's like street shooting with the panasonic 20mm for m43 if that helps put it in context.
Shot from jpeg using Astia film mode for the color shots, then with some lightroom tweaks to add a WB tweak, some clarity/contrast and slight grain.
Visit Trevor on Flickr:
www.flickr.com/photos/t-quan/
See on www.seriouscompacts.com


Sample images with Fuji X-E1 by Ariel Broitman

See pictures on www.ariel-broitman.com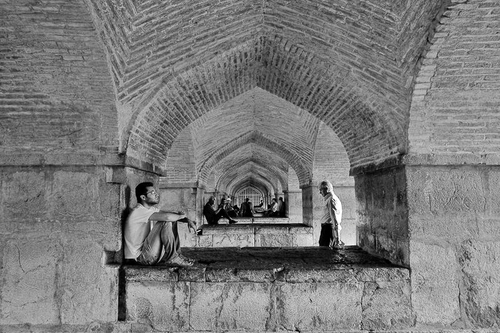 Street photography Iran. There's three words I had no idea I would be writing any time, ever. As many Yomadic readers already know, I have just returned from spending a month in the mind-blowingly incredible country of Iran. Indeed, it has gone to the top of my "best holiday destinations list". I've now seen 37 countries, most of them multiple times, and Iran really is a unique, spectacular, life changing, moving, and memorable place to visit. But, what you might want to know is – what are the people like? And, just how difficult and repressive is street photography in Iran?
In the western world, we have all been force-fed a steady diet of paranoia when it comes to countries like Iran. Terrorists. Muslims. Not to be trusted. Suspicious of anything and everything from the west. Quite simply, almost everything you have ever read about Iran, is inaccurate at best, and propagandish lies at worst. When you interpret these photos, please try your best to keep your mind open. Like you, I had a lot of pre-conceptions about Iran, and I'm happy to say that during the course of a month – they were all shattered. When it comes to street photography, I really found Iran difficult. But, not necessarily for the reasons you would think. Firstly, there just aren't many tourists around. Phillipa and I stuck out like the proverbial sore thumbs. Therefore, the opportunities for candid street photography were very limited. People spotted us a mile away, and more often than not, made a bee-line directly for us, simply wanting a chat.
From day one, I went out street shooting. However, I felt much more timid than normal. I really didn't know how far I could push my street photography in Iran. I had no idea how people would react to a strange Westerner putting a camera into their face. I wasn't sure what buildings I could take photos of. If there was a subway entrance, or a police station, or an army truck in the background of my images, what would happen to me if my camera was examined?
See pictures on www.yomadic.com