Street Photography


Sample images with Fuji X-E1 by Ariel Broitman

See pictures on www.ariel-broitman.com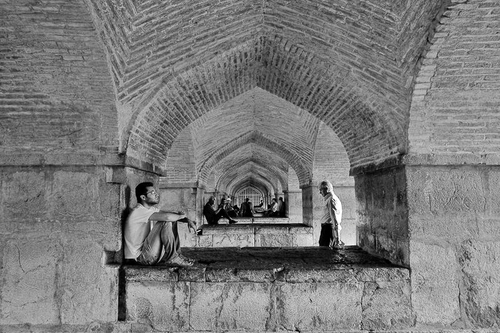 Street photography Iran. There's three words I had no idea I would be writing any time, ever. As many Yomadic readers already know, I have just returned from spending a month in the mind-blowingly incredible country of Iran. Indeed, it has gone to the top of my "best holiday destinations list". I've now seen 37 countries, most of them multiple times, and Iran really is a unique, spectacular, life changing, moving, and memorable place to visit. But, what you might want to know is – what are the people like? And, just how difficult and repressive is street photography in Iran?
In the western world, we have all been force-fed a steady diet of paranoia when it comes to countries like Iran. Terrorists. Muslims. Not to be trusted. Suspicious of anything and everything from the west. Quite simply, almost everything you have ever read about Iran, is inaccurate at best, and propagandish lies at worst. When you interpret these photos, please try your best to keep your mind open. Like you, I had a lot of pre-conceptions about Iran, and I'm happy to say that during the course of a month – they were all shattered. When it comes to street photography, I really found Iran difficult. But, not necessarily for the reasons you would think. Firstly, there just aren't many tourists around. Phillipa and I stuck out like the proverbial sore thumbs. Therefore, the opportunities for candid street photography were very limited. People spotted us a mile away, and more often than not, made a bee-line directly for us, simply wanting a chat.
From day one, I went out street shooting. However, I felt much more timid than normal. I really didn't know how far I could push my street photography in Iran. I had no idea how people would react to a strange Westerner putting a camera into their face. I wasn't sure what buildings I could take photos of. If there was a subway entrance, or a police station, or an army truck in the background of my images, what would happen to me if my camera was examined?
See pictures on www.yomadic.com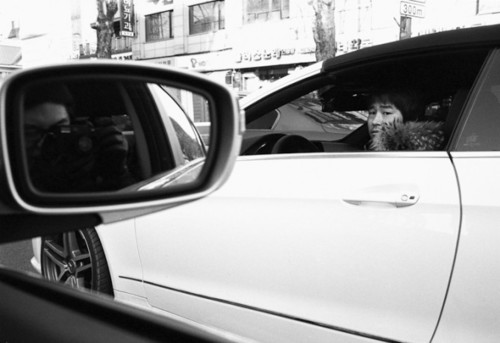 When I was in Korea earlier this year, my friend and fellow street photographer David Kim shared a TED talk with me titled: "How great leaders inspire action." David holds a leadership position at his job, and he told me that this talk changed the way how he lead others and how he leads his own life. Needless to say, I was fascinated by the talk and after watching it – it changed my life.
In the talk Simon Sinek makes the case that successful leaders/organizations/companies asked the question "why" before asking the "what" or the "how". For example, he used Apple, Martin Luther King, and the Wright Brothers as examples who focused on the "why" questions. For Apple, they follow the "why" question when it comes to making computers. Why does Apple do what they do? They want to inspire people through elegant, simple, yet powerful devices. For Martin Luther King, why did he want to see equality and freedom for all races in the states? Because he had a dream.
For the Wright Brothers, why did they work so hard to build the first flying airplane? Not to make money, but to create a technological breakthrough that would help all of mankind…..
See on erickimphotography.com
This past Saturday evening I had the opportunity to kill a couple of hours in Chinatown and North Beach while waiting for my Apple Store appointment time to roll around. I decided that it'd be a good time to see what my present street photography setup was capable of in low light. The results were mainly satisfactory with a couple of hiccups, as is to be expected when shooting moving, uncooperative subjects in low light. I have read and agree with many others' findings about the X Pro 1 and its prime lenses for street photography – that the 35mm is too slow and its autofocus too inaccurate to be counted on when speed is crucial, particularly at night. Also, 35mm (52mm full frame equivalent) is too long for how I like to shoot, while 18mm is too wide. I find that the 24mm lens, zone focusing, a generous depth of field and the X Pro 1′s OVF allow me to get many shots I might otherwise miss while the 35mm/1.4 dilly-dallies around trying to focus. I love that lens and the images it makes, I just don't love that its autofocus is slow enough in bright light to be noticeable and didn't want to stake the evening's results on that lens. Another gripe is that the refresh rate of the EVF on the X Pro 1 gets awfully choppy and grainy the lower the light levels get. In some of the brightly lit shots, it's a non-issue. In the case of the man on his phone in front of the shadowy sidewalk, it was tough to get the image in focus. In fairness, that shot is more about the shapes and shadows than it is a portrait, anyway, but I'm a pretty harsh critic of what I create. So, what's the verdict? Well, heck – I love this camera and lens combo at night, too. Sure, I missed critical focus many times. Sure, people moving around makes for great backgrounds with extra grainy/blurry people. At 1/125, though, I think the results are good enough to share. Post processing is done in LR4.2. Although I'm a fan of black and white, for this exercise I eschewed black and white as I like several of these in color and feel that the colors contribute significantly to several of the images.
All from X Pro 1, Canon FD 24mm/2.8 SSC at f4.0 or f5.6, 1/60 or 1/125, ISO3200 or 6400.
See pictures on gimletsandfilm.wordpress.com
Had to shoot an assignment in New York last weekend, I thought, since we were renting a studio in the Chelsea/Meat packing area and our hotel was 2 blocks away, that we would stay put in that community and just walk to the studio, restaurants and stores, etc. Since I did not have much free time, I brought the XPro everywhere and shot what I saw. over three days, I think I ended up with about 50 or so good images in my 10 min walks. Here are a few….
Visit Bob's Webite here.
See on www.seriouscompacts.com


A night out with the Sydney Street Photography meetup group proved a great first outing with my new FujiFilm X-E1 and the XF-35mm/f1.4. Shooting mostly at f1.4 and 1/125 second, I used auto ISO up to 6400 ISO. The low light capabilities of this camera make it excellent for night photography without a flash.

See on photomojomike.com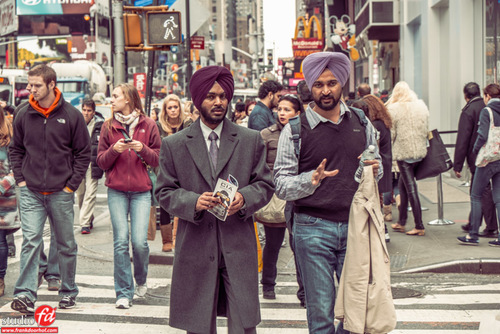 Let me start with the Fuji X-E1. Fuji got me this camera and the 18-55 f2.8-f4 zoom just a few days before we left for New York, so this is really my very first experience with this camera. I saw the camera at Photokina and was immediately very anxious to test this one out, the reason ? very simple, it's actually almost a X-Pro1 but for less money…. and yes it does miss some features and it's a bit smaller, but it has a build in flash (which I call the "Wall-E" strobe because it looks a lot like Wall-E) and it keeps the same image quality from the X-Pro1, which you probably already know is awesome. The moment I got the X-pro1 I was in love with the camera, for street photography and any photography where you don't want to be noticed it's a great "stealth camera", I always call it my "wolf in sheep clothes". There was one thing I really wished for in the system and that was a zoom lens… well Fuji got one (actually more now), for this trip I got the 18-55 with me which is a great walk around lens and gives you a very nice reach. The lens is relatively light stark starting at f2.8 and ending on f4 at the long end. I know that some people will start with "why not a constant f2.8?" but do remember that if you want that the lens would be a lot heavier and bigger and for most situations the f2.8-f4.0 coupled with the great noise performance in the X-E1 and X-pro1 actually work perfectly. Now one of the really nice things about the 18-55 is the fact that's is also a lens with stabilization, and I can report that it works really well. I don't know how many stops it will really do, but trust me when I say…. "it works really well". So how do I like the Fuji X-E1. Well you know from me that I'm always doing reviews from a standpoint of using the camera and not the pixelpeeping and 1:1 comparisons (there are many sites for that) so here is my personal opinion. I love the build in strobe, when shooting the camera for private use the build in strobe is great when you take for example a shot in a restaurant where you want your group to stand out and lower the ambient, it's also great as fill in flash outside and… well where you normally also use an on camera strobe for. Also the speed of the camera is great, the viewfinder is very nice, it responds very quickly and it's sharp enough to judge images. Working with the X-E1 on location is great, focus locks on VERY quickly, this was also a huge difference on the X-Pro1 after the 2.0 upgrade by the way. The image quality is just jaw dropping, the image quality of the X-E1 is without any doubt just as good as the X-Pro1. The only thing you have to note is that when importing the files into Lightroom all images come in cropped to 16:9 mode, so when you import make sure you make a new crop to 100% and sync that to all images…..
See on www.frankdoorhof.com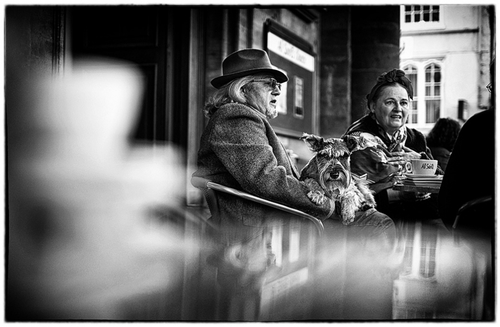 A couple of weeks back I had a Saturday off (I don't get many) and had the choice of going shopping or getting out with my camera, the shopping trip almost won but I didn't fancy leaving my cameras to collect dust so I signed myself up to an event called the Worldwide Photo Walk. I soon discovered this didn't actually involve walking around the world or even going on a trip anywhere more exotic than Northampton town centre. The Worldwide Photo Walk is organised each year by Scott Kelby and encourages photographers to meet up and do some street photography, events take place on the same day at many locations around the world with a prize for the winner of each walk and a prize for the overall winner. I'm not really into competitions but did fancy some street photography. The day came and I met up with 20 photographers for a coffee in the middle of Northampton and was handed a route map, looking around I noticed everyone had brought along a DSLR and I had just my Fuji X-Pro1 and a single lens which in my opinion is an excellent camera for street photography as it's small, discreet and importantly for me is not a heavy brick like most DSLR cameras.
So off I went for two hours looking for something a little different. In the end the best photograph from the day was one I took while sat in the cafe drinking coffee, I love the family resemblance between the dog and his owner. The photograph was taken on a Fuji X-Pro1 with Fujinon 35mm F1.4 lens. The photograph has won the Northamptonshire heat of the Worldwide Photo Walk and will now go through to the worldwide competition.

See on www.weddingphotojournalist.co.uk
See on Scoop.it – Fuji X-Pro1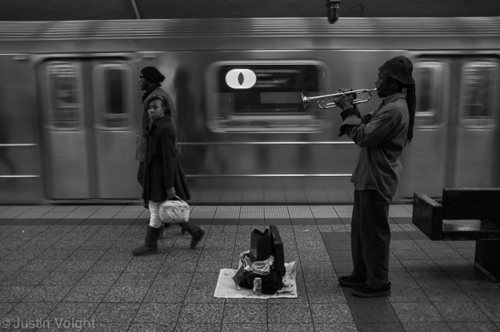 My photoblog has been created exclusively with the Fuji x100 and the x-pro 1. I'm not a reviewer or a gear head. I just have the need to be making images and I prefer Fuji's to any other camera I have ever owned.

See on justinvoight.wordpress.com
See on Scoop.it – Fuji X-Pro1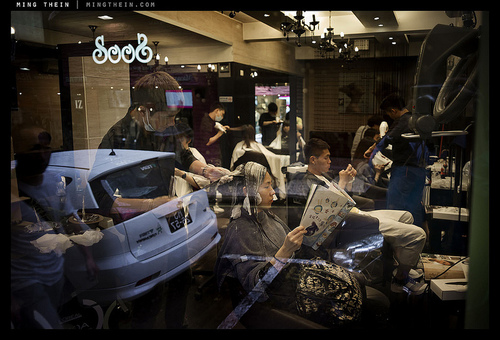 Continuing in this mini-series on street photography, there are a number of techniques that I use while shooting. Although it's possible to describe most of them in some detail, full understanding requires both demonstration and practice – this is where joining one of my workshops is ideal Together with the basic principles of balance, perspective, composition and what makes a good image – these techniques may be used singly or in combination to generate strong street images. In fact, they also apply to documentary and reportage work, too; the only difference between good street photography and photojournalism is that the latter has a consistent theme and subject. It's important to note that not every technique is suitable for every situation, and vice versa; as always, a good portion of making a strong image is knowing what to leave out. In a photographic situation where you have effectively zero influence of any of the elements in your frame except the composition and exposure, timing is the one key bastion of control that remains in the hands of the photographer. By making a conscious choice of when you push the shutter, you decide when each and every single one of the moving elements in the frame is in the position you want them to be in. However, it is too late to react only at the exact instant you see the composition you want. It is therefore important for photographers to be able to see a scene, visualize the potential contained there, and be able to imagine what the finished frame will look like once all of the desired elements are in place. It is then a matter of simply waiting for those elements to all come together, and being ready with the camera when they are. No matter how fast reflexes, or your camera, the fact is that if you react off to you see something, it's too late; training yourself to anticipate action is something that can give you the critical second or half-second which can make all the difference between getting the that and missing it completely…..

See on blog.mingthein.com