Street Photography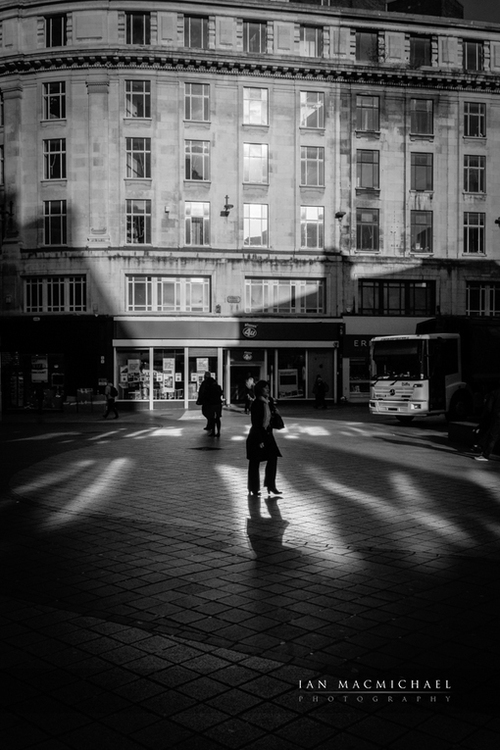 This week, I spent an hour or so around Liverpool City centre along with my Fuji X Pro 1 with the 18-55mm lens. Now, I'm a sucker for all things VSCO make and have had their film presets from pretty much when they first started with them. I was pleased to receive an email from them announcing that they had released Pack 05 with some classic mainstream films emulations. One of the main attractions for me was the inclusion of Kodak 400CN, one of my favorite films (currently in my Nikon FM2!) and a part of the Totally Rad Replichrome set. I have used the Replichrome emulation (and my version of it)  a lot recently, especially on weddings where we have used the Fuji X100s and the X Pro 1. Anyway, here are some images from the "photowalk" all edited with VSCO Pack 05 for Lightroom with a couple of my own tweaks added here and there, but not too many….
See on www.ianmacmichael.co.uk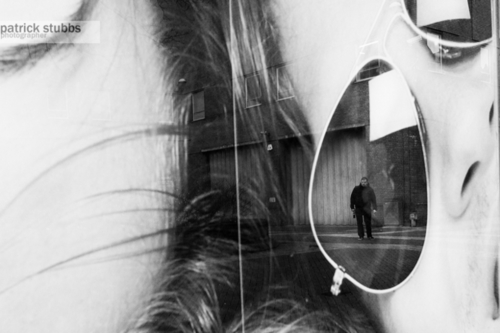 I went for a wander around Lincoln on Monday with the Fuji X-Pro 1 and one lens – the 18mm f2. This a scary lens for street photography for me because it means you sometimes have to get in seriously close – something I'm not totally comfortable with. When you look at some the great photographers and their work documenting daily life, it all looks so easy. It's not! For the first time ever with a digital camera, I shot everything in black & white – usually I'd photograph in colour and then convert. It all felt a bit strange at first, something not quite right, but I loved looking at the back of the screen and seeing the composition in black & white. I had the settings at Monochrome+R for the whole day, and sharpness set to +1. I love the optical viewfinder, so am pushing myself to master this – it's perfect for the general day-to-day, wandering around kind of photography that gives me that photo buzz. Again, strange using it at first, because nothing changes in the viewfinder when you focus – I'm so used to my Canon DSLR's now, and seeing everything snap into focus. But, I just loved using the OVF, it feels right to me and somehow gives me more feeling when taking the shots……

See on www.patrickstubbs.com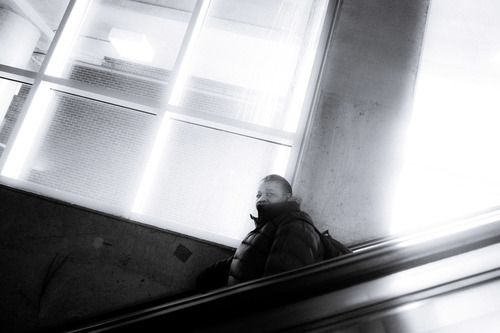 I've started a project that will continue. It's about how and why I make photos and it's on this blog. Apparently some are getting much out of it as some post were made and I have a fair amount of emails. Anyway, here on this post in the here and now with my eye, heart and mind…I'm digging into the XP1 again. One of the things bloggers do to generate income and traffic is to do reviews of popular cameras and lenses etc. I read a few but to be honest, I feel that I don't get the shooters real view as most bloggers have the camera for  a short time and have a responsibility to the supplier to make a review and then, go to the next. So when I write about the XP1 or XE1 or even the GRD4, it's because I am using them for way more than a few days. I also think that anyone reading anything I write expects a certain approach in truthfulness that I try to maintain. I'm not putting anyone down and not building myself up. I'm just explaining that I am a serious photographer and I don't care what someone tells me about how good a camera etc is, I want to find out first hand….and I do! I had the 18mm on the XP1. The lens suits my vision and is about perfect for the street.(Enter all the doom-slayers….it's not that sharp, it's not as good as the ….) I was watching these young kids talking and hugging and stuff. This old guy is right in front of me and he's kinda watching but I can feel he's uneasy. I could feel his anguish in being alone juxtaposed against the young love in front of him. Where does that put me…c'mon…the XP1 got exactly what I was feeling and wanted. sheeeesh…. shooters make photos!……
See on streetshooter.net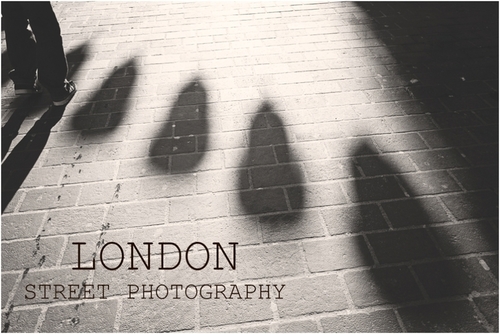 I headed into London on the 1st of February 2014 to meet up with some good friends, Steve & Chris for a chance to hang out, grab some food, have a laugh and to hit the streets for some practise with my newly purchased Fuji X-Pro 1. I have to say that compared to carrying around a Nikon DSLR and a few lenses, it was refreshing to finally have a camera that is lighter and more suited to me, to street photography and a great addition to my weddings. I've only had the camera a few days, so I'm still trying my best to find the best way to use the camera and to what settings work for me, but after shooting all day yesterday with the X-Pro 1 i was blown away by how great this camera really is and how detailed the images were. I only had the 18mm lens that came with the camera and i'm still waiting for the 35mm lens to finally arrive, but i loved the 18mm and throughout the day it makes you work for the image but with clean sharp images. Overall I'm still learning the camera and looking forward to using the X-Pro 1 when i fly to Vegas at the beginning of March and for some more street photography throughout the year, but so far, I'm very happy with the Fuji X-Pro 1…….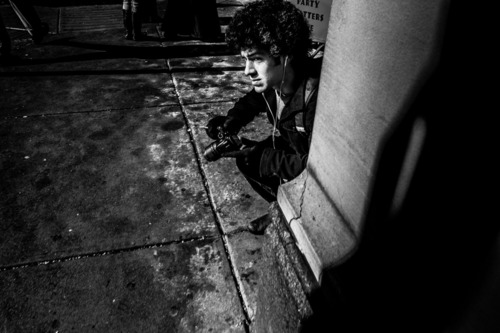 See that guy up there…yeah, yeah…the one in the photo. Well, he's a Philly street shooter named Anthony. As it turns out we are Flickr friends and we met in reality by accident. See, I was walking west on Arch by 13th and he was stooping down like in the photo. I saw him but don't think he saw me cause I'm like this stealth invisible camera toting shooter that no one can see until after the fact. Of course when I get home Tanya calls me an idiot and "Take the damn trash out"! So I raised the XP1 and knowing the 28mm focal length got into position. I clicked and Anthony looked at me. He didn't know I was me and I didn't know he was he. Imagine that…..
See on streetshooter.net
Spent some time in the London parks this weekend with a little bit of street photography. This gave me a different view of the London people and allowed me to document their outdoor pursuits. From skateboarders, inline skaters and scooters, people were out with their kids, sitting on benches, running with friends and more. Becoming lighter with my photo kit. This week, just the Fujifilm X-E2, 18mm f/2 and the 35mm f/1.4 in my bag. No zoom this time, as I was finding the zoom gave me another option before shooting. I would hesitate and miss perfect situations due to cropping/zooming. So it's out of the bag for street photography. The winter sun played a big part of the session. Low in the Sky and causing a whole bunch problems and cool effects. Lots of long shadows to capture and lens flares, silhouettes etc……
See more pictures on www.neilrsmith.com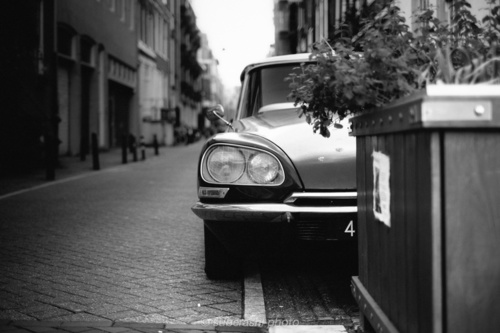 I love Amsterdam thats a fairly well know fact. Great walkable, creative diverse and beautiful place and the perfect spot to test out the Fuji X Pro that I have invested money research and trust into. This isn't a review or tech spec list, you can go look on line for that stuff. I don't have gear envy so tech specs, card tests all that I will leave to others, mainly as I didn't buy the camera to list it's stats and it's the image not the technology that is most key. How did the Fuji engage me? How did it do in conditions I want and need to use it those are the questions and things more key too me. Fitted with the amazing 35mm 1.4 the Fuji shone, I have come from the beast that was the 5d mkii but as amazing a FF camera it was it was never light or discreet. The X Pro looks like a non "pro photographer" camera and thats the trick. Lighter than it looked and on a full day it never felt like it was getting in the way…..
See more pictures on www.suberashi.co.uk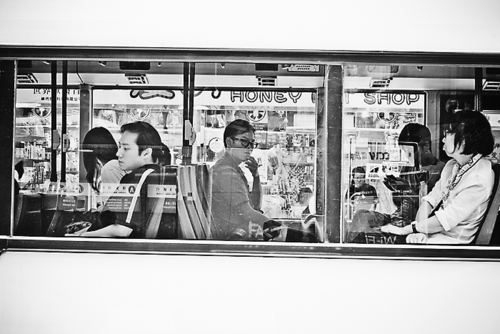 Back in September I was fortune enough to travel to Hongkong again. I just purchased the X-Pro1 with the fantastic 35mm and been renting the brand new 14mm prime lenses. Some pictures straight OOC with no post-production. Others were RAW files developed with Lightroom 3/Silver FX. As many other photo enthusiastics already posting in their blogs, I have to repeat this: the X-System is just fun to use and enjoying to take pictures again (after travelling one year before with my heavy Canon 5D Mark II). Thank you Fujifilm!
See more pictures on mingart.de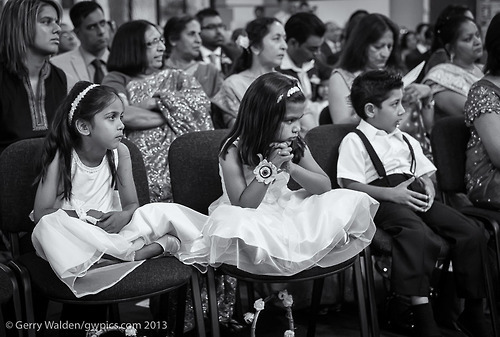 I am a freelance photographer living in Southampton, England. this Tumblr site is dedicated the work I do with the Fujifilm X-Pro1. I have been gradually adding new work to my 'Street Photography' gallery, and there is a slide show you can view by clicking on this link. I hope you enjoy the images, and maybe smile at one or two. I am afraid it appears the slide show may be a bit slow……
See more pictures on gerry-walden.tumblr.com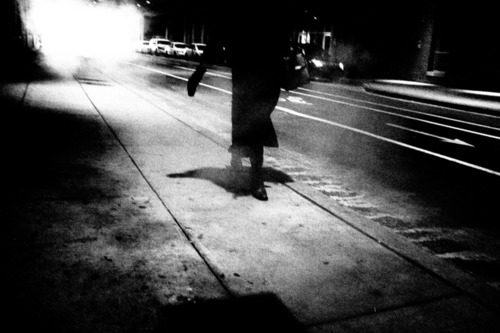 Don't get things wrong now, 20f is cold. I know, I know…my wife Tanya laughs at the Americans and spoiled way of living. So as she walked outside to the garden, it was obvious that America has worked it's way into her mind and heart. She comes back in and says…."You better dress warm because you can't take the cold like me". Well, of course she ran into the living room and got under a blanket to warm up. I smiled and just let her think she's still a Russian Comrade that doesn't flinch in the cold. But she did set the course for the day. See, I am told that I am not the sharpest pencil in the box…(yeah right)….but I know when it's cold. I also know that film will reticulated in cold but sensors aren't as sensitive to weather conditions. So I headed out with the XE1 and 21mm Skopar to just take a nice walk in the more than brisk cold……

See on streetshooter.net