Street Photography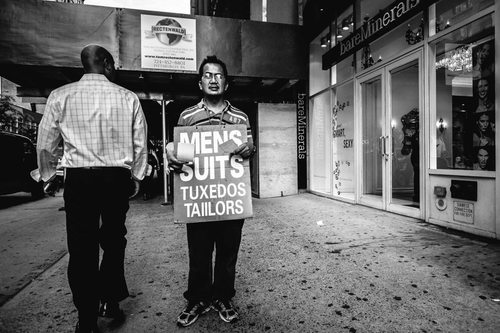 A week ago at this time, I was on a train heading to New York. I was going on business and unfortunately, I was only staying for two days. Despite being off Sunday through Tuesday, I had to rush back for a Saturday shift that none of my colleagues were willing or able to pick up. I would have loved to stay in NYC for a few more days. Although I've been recently trying my hand at street photography, I wouldn't call myself a street photographer. I prefer landscapes and other subjects. Perhaps a big part of that is the city that I've done most of my urban photography in – Washington, DC. Anyone who knows me well will tell you that after 20+ years, I've had enough of this place. I'm long overdue for a change and hope to end up in a 'new' and colorful city very soon. The next chapter of my life likely won't be played out in New York City. But being on the streets there with my Fuji X-Pro1 – even if only for a few rushed hours – was a real pleasure. I could see myself indulging in street photography everyday if I lived there. A marvelous stage with a plethora of various characters. I must go back soon…..
See more pictures on blog.karimhaddad.com
As a genre, street photography defies a single definition. For some, it's simply photography 'that takes place in the street', while for others, it's about capturing 'candid situations', whether or not an actual street is their setting. These two definitions are somewhat in tension, but in practice there's a large overlap in the work of most recognized street photographers. What exactly 'candid' means is not entirely straightforward, however. For some, it means taking a photo in which the subjects do not realize they're being photographed; for others it means sticking a camera right in the face of their subject in order to provoke a reaction.

As far as I can see, the most celebrated examples of street photography fall into four types: surprising juxtapositions or visual puns, as often seen, for example, in the work of Elliott Erwitt; people glowering into the camera, as typified by many of Bruce Gilden's shots; particularly pleasing combinations or correspondences of light, colour, and shade, as is the stock-in-trade of much work featured on Flickr's, Hardcore Street Photography; or penetrating observations on class or social mores, as found in some of Henri Cartier-Bresson's best work.

I find many of these photos fantastic, and recognize the special talent and extended time that must go into them. However, I'm not going to dedicate my life, or even the majority of my photography to this type of work. I'm as interested in photographing the everyday, the commonplace, as I am in capturing the extraordinary scenes that occasionally arise in a quotidian context.

For me, street photography is primarily an exercise in social documentary….
A fun and uplifting book I recently read was "The Tao of Pooh." To sum up the book, the author explains the philosophy of Taosim through (believe it not) Winnie the Pooh. Yeah, I know it sounds ridiculous, but the author does a superb job sewing the two concepts together– in a language relatable and easy-to-understand for the viewer. Having grown up on Winnie the Pooh, I can certainly say that it brought the concepts of Taosim to life for me. Similarly to Zen Buddhism, Taoism is a philosophy which was first introduced by Lao Tse in a book called: "Tao Tse Ching." The philosophy of Taoism advocates staying calm and happy in all circumstances, no matter how difficult or arduous the outside world can be.
So what is the difference between Buddhism and Taosim?
Buddhism sees the outside world in a much more negative light– describing "the bitter wind of everyday existence."
Taoism sees the world as "…not full of traps, but valuable lessons." Therefore through Taoism we should appreciate, learn from, and work with whatever happens in everyday life.
A great analogy explained is the analogy of tasting vinegar. Many different people often taste vinegar, and complain of how sour it is and groan. However the Taoist would taste the vinegar and regardless of the taste, still smile. The takeaway idea is that we should turn negatives into positives, regardless of the situation. There are lots of insights I've gained through Taosim and especially "The Tao of Pooh" that I can relate back to street photography. Also note I am not an expert on Taosim, so please correct any mistakes I make in the comments below……
See on erickimphotography.com
Sample Images Fuji X-Pro1
See pictures on www.larufoto.com
I took a couple of days off this week and was able to spend some time just shooting without the need to be somewhere else.  Not feeling the pressure of time freed me up to be creative and patient, and I believe the images reflect that creativity and patience.  Having the luxury of time totally transforms the street shooting process.  Standing in one spot for twenty minutes waiting for the right shot to come to me is not something I'm able to do ordinarily.  What a treat it was. Yesterday I packed along my X-Pro 1 with 35mm and my X100 for a walk from City Hall to Bush and Market via the Tenderloin. I took my time. Watched what was going on. Soaked it all in. I hadn't walked that way before. I noticed I was being followed and photographed repeatedly by a very animated young woman with a cell phone camera. She approached me at the corner of Turk and Hyde and asked (I'd have said demanded, but the conversation turned out fine) in a very suspicious manner what I was doing, why I was taking pictures. What I did with the photographs once I'd shot them. If I was working with the Police. It was a conversation that will stick with me for awhile because it was the first time that I had had to explain what street photography was to someone who had absolutely no idea what it meant, what it was or why anyone would take photographs of strangers doing seemingly mundane things. To her, I was a threat.  What I was saying didn't make sense, or she didn't initially believe me.  I hadn't taken her photo either before or after the encounter, but it was obvious she was looking out for her neighborhood and I had nothing to hide, so I was open and friendly and took the time to talk with her……
See more pictures on gimletsandfilm.wordpress.com
Photograph by Rinzi Ruiz (All photographs in this article provided by Rinzi Ruiz)
My good friend Nicholas Susatyo recently recommended a book to me: "Zen in the Art of Archery." In-fact, it was the book that Henri Cartier-Bresson said had the deepest influence in his photography. I have been meaning to read it for a while, so on my flight to Philly I decided to give it a go.The book is written by Eugen Herrigel, a German philosophy teacher who went to Japan for several years and learned the art of archery (while teaching philosophy at a Japanese university). He heard about the art of archery, and was fascinated with the zen philosophy which was embedded in the art.
As we all know, archery is no longer practiced in the "real world" in battles and such. When Herrigel wrote "Zen in the Art of Archery" in the 1940′s, it was a very closed art– only reserved to local Japanese who were serious enough about it. To teach a foreigner the art of zen and archery was considered heretical. However with some good luck (a good introduction by a Japanese friend) and some persistence, Herrigel was able to go under the wing of one of the greatest archers in Japan. And with his experiences learning under him for 6 years, he wrote his brief book in "Zen in the Art of Archery." The book was an enjoyable read to me, because he explained the zen philosophies (which are often cryptic) in a way in which westerners could understand. Being Korean-American myself, it was the perfect balance of Eastern Philosophy with Western analysis. After finishing the book, not only did I learn many insights which I plan on applying to my practical everyday life, but also to my street photography. Some of these philosophies may seem a bit cryptic, but I will share what I personally got out of reading the book. And of course, I am not an expert of zen–and one of the biggest difficulties is that there are so many branches of zen that all the practitioners have subtly different philosophies. Please feel free to share your thoughts and also corrections in the comments below……
See on erickimphotography.com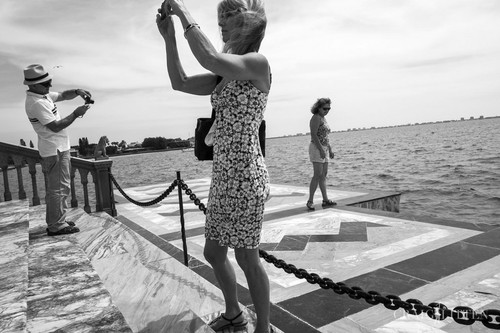 I'm a photojournalist by profession, a documentary photographer by choice, and a street photographer in my heart, but before all of that, I just love photography, and l love to take pictures. Enter in the Fuji X-Pro 1. Very recently, less than one month ago, I sold all of my DSLRs, fast glass and long lenses and purchased two Fuji X-Pro 1 bodies, the XF 18mm f/2 (approx. 28mm equivalent), the XF 35mm f/1.4 (approx. 50mm equivalent), and the XF 18-55 zoom and I couldn't be happier. For nearly two decades I've wanted a Leica film body (M6), but in my career as a newspaper photojournalist and with all of the professional sports I had to cover, I just couldn't justify it. In the late 90s I bought the amazing Contax G2 and loved it dearly. But as film started to fade and digital started to pick up speed, the M6 dream also faded. I finally sold the Contax in 2005 while it was still had value. As Leica released the M8, and I saw that the price was significantly higher than the already pricy M6 (I was never really interested in the M7), and that it was not a full frame sensor (because I really wanted a 35mm Summicron–Leica's 35mm f/2 lens), I lost interest. Then the Leica M9 was released which caught my attention, but I knew that as a working photographer, I could never afford nor justify the cost of one camera and one lens, let alone a complete system. I love Leica, but it simply cannot be justified in its cost (for me personally), thus out of my reach. Leica used to be the camera of the working photojournalist, and many legends of photography have made iconic photographs with them, but the world has changed, and making a living with photography is harder than ever. With new amazing technology, and steep competition, working photographers are now using new tools that get the job done. There was a time in my career that if a photographer showed up for an assignment with anything but a Nikon or a Canon, they were looked at as an amateur, but not anymore. One of the big attractions of the Leica, to me, is its simplicity; in this it's unbeaten still today. I applaud Leica for (mostly) remaining true to its heritage with the digital M cameras, and I hope they always will. No other camera system even comes close to the workmanship and quality build and materials of a Leica. If you've ever held a Leica lens, you know exactly what I'm talking about. Fuji, analogously, has invented a camera system that gets back to the basics. Things like a real shutter speed dial, check, a real aperture dial, check, a real optical viewfinder, check. But Fuji also added a real exposure compensation dial that's even better than the ones the old Nikon's used to have on their film bodies. Also, the wondrous beauty of Fuji's hybrid viewfinder, where the user can switch, on the fly, from optical (OVF) to electronic (EVF), is the icing on the cake to me. This camera is a breath of fresh air to photograph with. The buttons are perfectly placed and they are few (only what's needed). Today I chose to slow down and shoot just for the sheer joy of it. While photographing with the X-Pro 1 I was able to switched from optical finder, to rear LCD, to electronic viewfinder, to changing the ISO, the aperture, etc., etc. all effortlessly and without a thought. It was so much fun. In fact, it was pure joy. I really haven't had this much fun shooting with any camera since my Contax G2. Imagine that, a professional photographer actually enjoying shooting when not getting paid to do so. (By the slightest chance if anyone from Fuji happens to read this article, I ask you to PLEASE not change a single thing on the X-Pro 1 camera body with the future X-Pro camera body, but instead just install dual, quad-core processors (for a little more speed) and we're good to go. This camera is that good! …..
See more pictures on streetphotoworkshops.com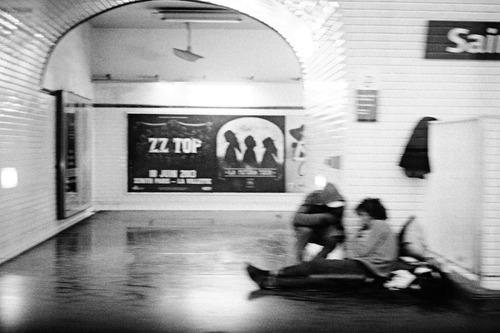 b/w . paris . france

Fuji X-Pro1 with 35mm f1.4 and Minolta MD Rokkor 50mm 1.4 …

See more pictures on nighlines.tumblr.com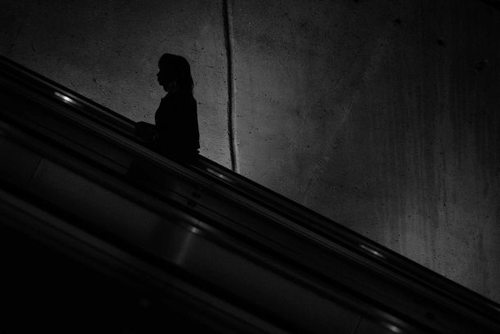 That's what we call the subway in DC. It's usually very crowded and often not working in certain places… but overall it's not too bad (if there's a stop near you). Maybe if I used it more often, I'd be singing a different tune.
A few weeks ago, I went to run an errand near  Capitol Hill. I rode from Woodley Park to Eastern Market and back, transferring trains at Metro Center. Here are some of the pictures I took along the way. They were all shot with my Fuji X-Pro1 and 35mm lens. Nothing too special… but a good reminder that while I'm here, I need to take the metro more often (good thing I'm in Trinidad)!
See on blog.karimhaddad.com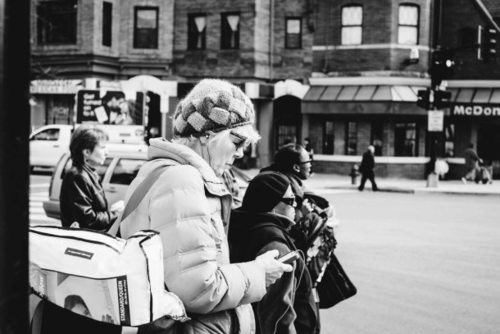 I've been trying to shoot more people lately. It's not always easy though, especially for someone like me. I was raised to be considerate of others, so the cognitive dissonance that comes with traditional street photography is often hard to shake. Still, I persevere. I wait. I sneak around, or I distract and disarm. Then I take my shot. It's never been ideal and every now and then I even need to shoot blind. Missed opportunities abound. I feel like a creep most of the time. But sometimes I'm not creepy enough. The other day, I had to eat my lunch at a restaurant while listening to some airhead 'like' talk endlessly about 'like' utter nonsense. I wanted to walk up to her, take a few shots, and then do some show and tell on here for everyone's benefit. Maybe if it had lasted just a little bit longer… but I've already given her more props than she deserves! DC is full of interesting people. Some are more unique and 'photogenic' than others. The city itself is constantly evolving, but I have a feeling the cast of characters will remain largely unchanged. If I can capture some of these characters in this particular space and time, I'll be satisfied. The most memorable street photos usually tell a story. Maybe I'm biased, but I'd like to think that most of the images below tell some kind of story. Some are obviously better than others. Surely I'm not lying when I say that I've come a long way from my last similar post… but I also know that I still have a long way to go. All of these pictures were taken sometime in the last few weeks with my Fuji X-Pro1. If you follow my blog, you know I only have the 35mm lens (for now). As you'll see, I still haven't been able to get very close to my subjects. I'm not sure that I'll ever be comfortable getting up in someone's face for a candid shot, but I'll keep trying to move closer. And I'm still getting a wider lens, although I'm not sure which one yet.
See more pictures on blog.karimhaddad.com