Street Photography
I know a lot of street photographers who have gotten into film recently, and have recently invested in film Leicas (specifically Leica m6's). I wanted to write this guide to share everything I personally know about shooting on a film Leica based on my 3 years of experience. Disclaimer: I am not a Leica expert, nor do I claim to be. But I will to share some practical tips and insights about film Leicas and how to shoot them on the streets…….
Source: erickimphotography.com

---
Leica M Type 240
Do you love my work and want to support me? If you're planning on buying camera gear, you can check out above-noted links. Prices remain the same for you, but a small percentage of your purchase value is valued back to me. Thank you!
---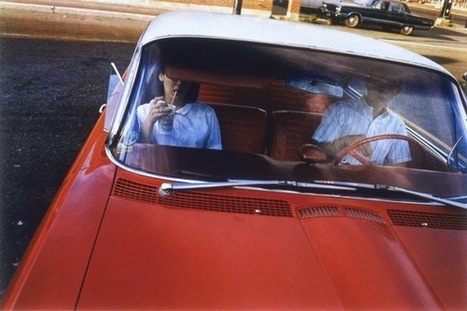 Ich versuche mich fortlaufend fotografisch weiterzuentwickeln, und auf diesem Weg bin ich eigentlich ständig auf der Suche nach Inspiration. Eine solche Inspiration habe ich vor einigen Monaten erhalten, als ich zufällig auf einen Dokumentarfilm über den Fotografen William Eggleston gestoßen bin. Schande über mein Haupt, ich kannte ihn bis dato nicht, aber der Film hat mich sehr neugierig gemacht und ich habe mich weiter mit seiner Arbeit beschäftigt. Ich kann vorwegnehmen, dass die Arbeit von Eggleston einige meiner bisherigen fotografischen Denkmuster, insbesondere in Bezug auf Street Photography, geändert hat. Die Einflüsse Egglestons auf mich habe ich unten in 5 Punkten zusammengefasst…….
Source: www.oz50.de
Here's the second set of images that I shot with my X100s while in Paris. The first set of images were shot in Italy which can be seen in this post: http://www.dpreview.com/forums/post/54391556 Thanks for looking…..
Source: www.dpreview.com

---
Fuji X100S
Do you love my work and want to support me? If you're planning on buying camera gear, you can check out above-noted links. Prices remain the same for you, but a small percentage of your purchase value is valued back to me. Thank you!
---
As followers of this blog may know, Mathieu and I spend every summer in Wales where my parents live. Whereas most years we travel straight from Turin to their house, the first stop on our journey back to our "home away from home" this time around was the vibrant city of Edinburgh. Waiting for us there were not only my parents but also two family friends from Canada who I've known ever since I was born. To my surprise, one of them had bought a Fujifilm X-E2 especially for the trip after discovering mirrorless cameras through this blog. Since I'd only ever tried the X-E2 once at Fujifilm Touch and Try session in Italy, we decided that it would be fun to switch cameras for the day: he would use our X-T1 and we would take his X-E2 out for a spin…..
I was out shooting some street photography earlier today with my trusty little Fuji X-E1 and I noticed that I had taken a lot of portrait orientation shots. As I was sorting through the shots I noticed that all the vertical images paired up nicely, so I thought I'd do a set of paired images, just for the fun of it. All of these were taken around the streets of Dublin city, using a Fujifilm X-E1 with a combination of the Fuji 35mm and the 18–55XF lenses. It was a lovely fresh Autumn morning and I was there early so the city was coming to life with the fresh energy of a new day, and for some reason I just had a really good time shooting. While these aren't award winning images by any stretch, I did catch a few quirky sights around the city. I'll post some more shots from this shoot over on my Photoblog. Processing was done in Lightroom, using various presets as the starting point. There's a combination of VSCO Film 01, 02 and 04 in there. The VSCO presets work really well with the Fuji sensor, especially if you want to create an authentic film look. I've started using VSCO 2 a bit more lately, and I'm really liking the look of the Fuji Superia film presets. I don't think that I've ever shot with that in actual film……
The Fujifilm X100S is no slouch. It doesn't have the pedigree or the history of the Leica M series cameras but at $1300, you can buy nearly 7 of them for the price of the Leica M and the 28mm f2.8 Elmarit lens. I got to use both cameras at the same time last Friday on 6th Street. A couple of days ago, I wrote about my thoughts on the Leica M with plenty of examples. This time, I'll do the same for Fuji X100S. All photos in this post are from the X100S. Keep in mind, this is not going to be a head to head comparison. That won't be fair. I've only shot the Leica M for a couple of hours, with at most, several hundred frames. I've had the Fuji since March and have shot close to 20,000 pictures with it. It takes a while to get to know a camera and optimize its usage and image post-processing. That said, I've tried to include similar photos, when possible. You can compare these images to the ones I took with the Leica M.……..
Source: blog.atmtxphoto.com

---
Fuji X100S
Do you love my work and want to support me? If you're planning on buying camera gear, you can check out above-noted links. Prices remain the same for you, but a small percentage of your purchase value is valued back to me. Thank you!
---
This year I had the great pleasure of spending 3 weeks in China. Not sticking to one place, but travelling through this vast and beautiful country. As I wanted to travel light I opted for the Fuji X-E1 with the 18-55mm, backed-up by the Fuji X100s. Anyhow, I took a lot of pictures of the locals and here is a brief B&W selection. Some of them are shy, others are happy, some are young and some are old. Others are painfully poor…but does it mean it should not be recorded……
Source: am-fotografie.blogspot.be
We have just got back from a few days in London which was a present for my 50th from the better half. It was a few days of excessive eating and drinking with a little bit of walking and photography, in fact we really blended in with the 1000's of typical tourists. I shot all the time with my Fuji X-Pro and the XF 18mm f2 except for a few of the night shots where I used the XF 18-55 f2.8 and then processed them with SilverEfex as I felt the B&W contrasty feel gave the look I was after.  shot both day and night and the X-Pro performed great, I really love this camera the quality of the raw files is top notch even at iso 3200…..
Street photography might seem daunting to some, I know quite a few folks that are intensely interested but never make the jump. To rememediate, here's 10 street photography tips for beginners to get started shooting.

1) Street Photography Doesn't start in the streets
Before I hit the streets, there's usually a mode of transportation to get there. That can be a bus, a car, whatever. The thing is, I never assume the shoot starts when I actually reach my destination. I have my personal driver, I mean wife that drives me on occasion but it's mainly bus and train……
Source: www.theinspiredeye.net
Well, if your a regular follower of this blog, you've noticed that I haven't posted too much in the last few weeks. No excuses either. No, I've been making some photos, not many but some. Nah. Not really sick, The VA with all the bad press, takes good care of me. We'll i do have a passing but recurring illness. It's a case of Igotlazytopostontheblogitis. Olivier was no help during this time of perpetual laziness. He just kept telling what needed to be done and the deadline. Ya know what I need from the world at this point of time is not photography and it's not my intent to say everything is just a pretty picture. I am and have always been a CNN addict. That just means that I want to know what is going on in the world. The new effects me in different ways. For example, I am near to the Cold War in the Home front. Tanya and I don't see eye to eye on the Ukrainian War. What does this have to do with photography? …..
Source: streetshooter.net