Street Photography
See on Scoop.it – Fuji X-Pro1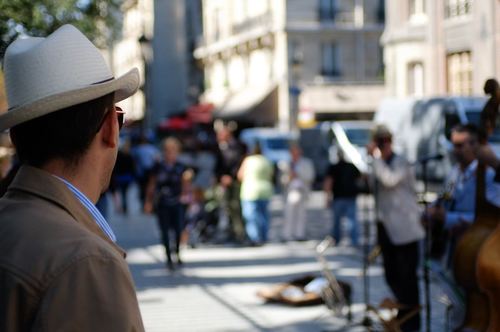 Just a quick review of a day with the fuji xpro1 with a leica like lens for street photography. I've tested it during two day , I've shot around 400 pictures.How to focus? In general the first question about the focusing. With the Xpro1 you have 3 ways to focus : The main screen : you can focus with the main screen, the resolution is high enough to focus precisely, the refresh rate is good even in low light. If you are really closed (less than 1.5m) to your subject and you want a very precise focus you have to use the magnification. The magnification (x10) it's easily accessible by a dial. It zoom on the center of the frame only, I've to admit that x10 is too much with a 35mm (50mm in FF). In street photography with 50mm (FF) you are rarely closely than 1.5 meter so you rarely use the magnification….

See on 500px.com
See on Scoop.it – Fuji X-Pro1

Last week I started my new project "Urban Landscapes", capturing the the symbioses of people, architecture, street life and nature in a city. My main subject for the next weeks will be Hamburg followed by Seattle in the fall / winter. I love to roam the streets with my camera and explore the city in new ways. I usually go for long walks, carrying 2 bodies with a 28mm and a 50mm lens. Sometimes a 35mm. My favorite camera right now is the Fuji X-Pro 1. It's light, has remarkable image quality and is very unobtrusive for shooting on the streets.

See on thomasmarek.blogspot.de
See on Scoop.it – Fuji X-Pro1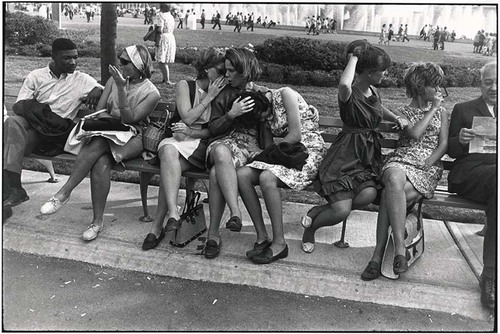 (Above image: copyright Garry Winogrand, World's Fair, New York City, 1964)
Garry Winogrand is one of my favorite street photographers that I have gained much photographic insight and wisdom from. He was in-arguably one of the most prolific street photographers of his time (he shot over 5 million photographs in his career) and one of the most passionate. I never understood a lot of the things that he said in street photography like why you should wait a year or two before developing your shots, why photographs don't tell stories, and how photographers mistake emotion for what makes great photographs. Although I didn't really get what he was saying, I was intrigued….
See on erickimphotography.com
See on Scoop.it – Fuji X-Pro1

(All images in this article are copyrighted by Stephen Shore)
While in Amsterdam I checked out the FOAM photography museum and picked up a book on Stephen Shore. For those of you who may not know, he is one of the early color pioneers in photography in America. Although his style is classified more as documentary and urban landscape, I think there is a lot of things we can learn from him as street photographers. If you are interested in learning more about color and street photography, read on!
See on erickimphotography.com
See on Scoop.it – Fuji X-Pro1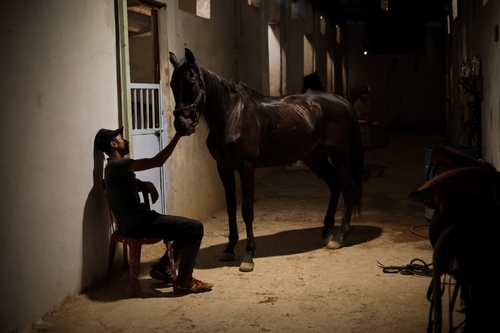 I've been taking my Fuji X-Pro 1 everywhere I go, and I can't stress enough how much better my shoulders feel already. It's a pleasure to shoot with this camera and although I'm just stuck with my 18mm lens at the moment it keeps on forcing me to try and get closer. In this post I'm posting some photos I shot in the past month in Amman, although the first photo was taken in Wadi Rum in a recent trip I took down there. I'll be moving down to the desert very soon for a couple of months where I will be producing a feature film , I'll also be doing the on-set photography so expect an abundance of photos from the desert in the near future. I wish I can post some of the photos from our test shoot but you'll have to wait a bit to see those…embargos are a normal part of any working photographer's life…

See on lmajali.wordpress.com
See on Scoop.it – Fuji X-Pro1

When I first started shooting street photography, I was always frustrated that my autofocus would always be too slow to capture the decisive moment. After trudging around the internet, I was first introduced to the idea of "zone focusing" by Markus Hartel on his blog. For those of you who aren't familiar with zone focusing you essentially use a high f-stop number with a deep depth of field (f/16 or f/11) and have your camera pre-focused to a certain distance to get your photos in-focus. This is beneficial because although modern autofocusing systems are quite good, they are not 100% reliable. Using zone focusing when shooting street photography allows you to get far more keepers.
See on erickimphotography.com
See on Scoop.it – Fuji X-Pro1

A walk along the shore provides so much subject matter for "street" photographers. Just like on a city street, you've got to have a bit of speed, a bit of luck, and be a bit brave. It's a bit easier though than the city, as people on the beach are relaxed and playful. I wasn't sure the lettering would be visible on the fire pit as the sky was extremely bright. The Fuji Xpro pulled through. Shots like this are a quick camera up, camera down, as you certainly don't want to spend too much time composing or you'll surely be noticed. Later I realized no one was really bothering to look my way. I felt brave at the time though. The evening hours provide nice contrast between the sky and silhouettes of people. The Fuji Xpro metering is so reliable, I know exactly what I'm going to get before each shot. It wasn't blasted out by the heavy sun on the horizon, even though my eyes were…..

See on valiantlight.com
See on Scoop.it – Fuji X-Pro1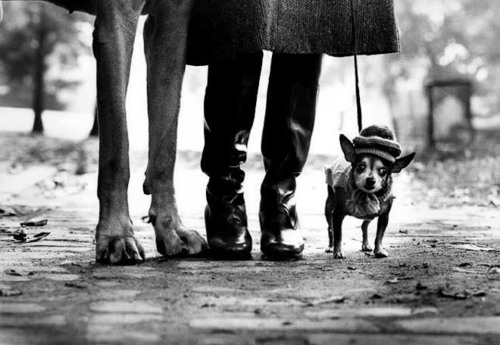 What advice would you give young photographers?
Try everything. Photojournalism, fashion, portraiture, nudes, whatever. You won't know what kind of photographer you are until you try it. During one summer vacation (in college) I worked for a born-again tabletop photographer. All day long we'd photograph socks and listen to Christian radio. That summer I learned I was neither a studio photographer nor a born-again Christian. Another year I worked for a small suburban newspaper chain and was surprised to learn that I enjoyed assignment photography. Fun is important. You should like the process and the subject. If you are bored or unhappy with your subject it will show up in the pictures. If in your heart of hearts you want to take pictures of kitties, take pictures of kitties. Alec Soth
See on erickimphotography.com
See on Scoop.it – Fuji X-Pro1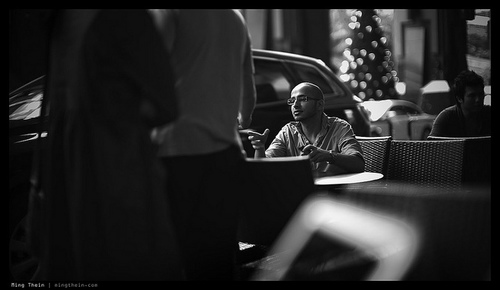 Street photography is a genre that every photographer will try at least once in their career. Its broad appeal stems from the fact that you can do it anywhere; there's a human element to the images that captivate the viewer, and if done well, can make for some extremely arresting images. However, it also requires balls. You have to get close enough to your subjects; and with people, invading personal space is uncomfortable (and possibly hazardous to health) for both photographer and subject. There's a slight snobbishness about shooting with a longer lens, too – it isn't seen as being hard core enough. In fact, these days, it seems if you're not at f8, hyperfocal distance and sticking your camera and flash right up to somebody's nose, then you're not really doing street photography.
See on blog.mingthein.com
See on Scoop.it – Fuji X-Pro1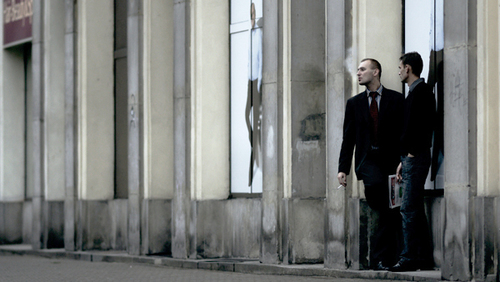 Just as with wildlife photography it is the shots that show behaviour, rather than the pure record pictures, that work best in street photography. To show that behaviour clearly, so that the viewer can recognise what is going on, you have to pick your moment carefully. You have to show the moment in which the action happens.
Decisive moment? This moment is often called 'the decisive moment', but the phrase is so over burdened with history and expectation that I prefer to just call it 'the right moment'.

See on www.wordsonpictures.com