Thomas Menk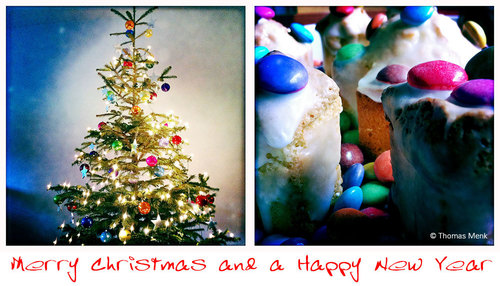 Hi Guys,
the year 2014 will be finished soon and I would like to thank you for your shares, your pictures, your reviews, for visiting my photographs and my blog at www.tomen.de. 2014 was really amazing. Perhaps some interesting stats:
TOMEN.DE: 2.134.648 site requests by about 1.073.032 visitors and almost 2.400 curations!
SCOOP.IT: 1.557.856 site requests by about 961.185 visitors and almost 2.300 curations!
FLIPBOARD: 1.252.528 page flips by about 59.150 visitors and almost 4.900 curations in two magazins!
Thank you dear photographers :)
I wish you and your families a happy new year, healthiness, inspirations and a lot of fun :-)
Best wishes – Thomas
---
This year's most popular articles on TOMEN.DE:
Thomas Menk defines himself as a fine art photographer, a designer, a philosopher, a composer, a father, a learner and a human being. He is undoubtedly all of those, but he's also an official Fujifilm X-Photographer and the curator of a growing and popular collection of links to blog posts and web pages about the Fuji X series of cameras. Based on my interaction with him, he seems to me a soft-spoken, humble gentleman that is not going to be changed by his popularity. If you read his answers, I am sure you will agree with me.
F Stop Lounge: Tell us a bit about you and your photography.
Thomas Menk: I am an entrepreneur with different sectors of activity and companies. Photography was and is my passion since more than 20 years. Through various exhibitions in galleries and in my own gallery my photography work became a lucrative sideline in recent years, so now I need a new hobby :) My focus is in landscape and travel photography. However, I also love street photography – but without people ;-) As a landscape and nature photographer, I think that people even disturb the peace and harmony of the composition. Nevertheless, I find it very nice to find places in towns without people and hold them. Sometimes quite a challenge. Photography is a nice balance to my other activities and I love the luxury of not having to earn my living with this…….
Read more on: www.fstoplounge.com
…. until end of August
Have a nice time :-)
I was surprised and delighted to see that this issue of Inspired Eye features two photographers with whose work I am already familiar thanks to our social networks: Kevin Mullins, a wedding photographer from the UK, and Thomas Menk, who many of you will recognise as the curator of the informative Fuji X-Pro Scoop page. Both use Fujifilm X series cameras for all their work and are X Photographers. Fans of Kevin's work will be interested to read how he started out in photography, what his primary influences are, and what his plans are for the future. Near the end of the interview, he makes brief mention of an upcoming project that would involve documenting the hours leading up to and following a cesarean birth, which I found interesting as I only just saw the incredible results of the project this morning. All I can say is that it is definitely worth checking out………
Inspired Eye Issue 11
I was delighted to be interviewed for the amazing Inspired Eye magazine this week :)
Inspired Eye is an online PDF magazine written by photographers for photographers. Unlike most other photography magazines, Don Springer and Olivier Duong's creation focuses, not on the famous masters but on working photographers today….
Content Issue 11:
The 11th issue of Inspired Eye contains 6 interviews with photography educators. John Free graces the cover for this issue as he is interviewed in it, other great photographers you can learn a thing or two from includes Gene Lowinger, Ed Vatza, Kevin Mullins, Thomas Menk, David Holliday. As the travel feature, a superb travelogue piece by Carl Valiquet on the Sumba Island. Also included is a time period photo-essay on London in the 80′s. The issue also has the monthly columns of In the Streets with Street Shooter and the Reader's gallery. Size: 340 pages in 171 spreads
Source: The Inspired Eye
Great, more than 3.000.000 page views on my Scoop.it page in less than 2 years!
Thank you so much for your supporting. You are an incredible creative and valuable community :-)
If you have great X-system pictures, story's about Fuji Photographers, reviews, tips and tricks, comparison tests, impressions and more about the Fujifilm X-Pro1 – X-E1/E2 or X100s and there lenses, feel free to send me your suggestion :-) If your are looking for a better categorization of these articles or better search functions you can visit my blog at: http://www.tomen.de/blog
Hope of further collaboration and good light for everyone :-)
Thomas
Official Fuji X-Photographer
Fuji's X-Pro 1 offers a retro homage to another era―namely the era of the Leica rangefinder, with the overall dimensions, handling, form factor, and style of shooting as an M camera (though the Fuji is not a proper rangefinder) … but with a truly state-of-the art bit of engineering in the form of its X-Trans sensor (you can read my early thoughts about the camera in detail here). Much like Nikon's new retro-inspired Df, the XP1 has created a lot of polarization in the photographic community. Search around the web and you'll find some folks regaling their readers with tales of how magnificent the file output is (it certainly can be) and how they can live with the camera's well-reported quirks. Others lambaste it for its slow overall operational speed, and are less than convinced about the quality of the X-Trans files…..
Launched on 20th June 2012, the X-Photographers website is an growing online gallery of images shot by photographers who use FUJIFILM X series cameras. It displays the high quality output and creativity that X series cameras offer photographers. Visitors get a true feel for what X series premium digital cameras can offer and why they are loved by so many photographers. Since end of December I'm part of this elitist circle: I'm an offical X-Photographer :-) Thank you very much Fuji. This is a great honor for me!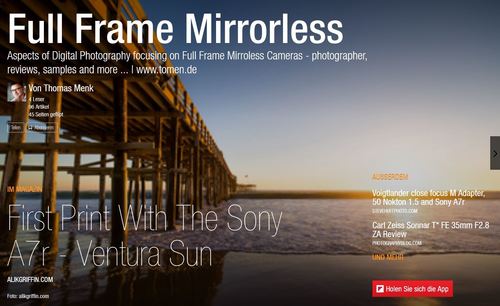 If you are interest on Full Frame Mirrorless News at Flipboard, please subscribe my new FULL FRAME MIRRORLESS magazine :-) Main themes are: Aspects of Digital Photography focusing on FULL FRAME MIRRORLESS SYLSTEMS like Leica M, Sony A7/A7r and soon Fuji. Stories, reports, reviews and pictures of great photographers from around the world shooting with Full Frame Mirrless Cameras. Flipboard is an app that aggregates news and other content and presents it in a personalized magazine-like format. It is available for iPad, iPhone, Android, NOOK, Kindle Fire and new: Windows 8.1. You can visit flipboard.com for more information on the features and functionality of the Flipboard app.
See on flipboard.com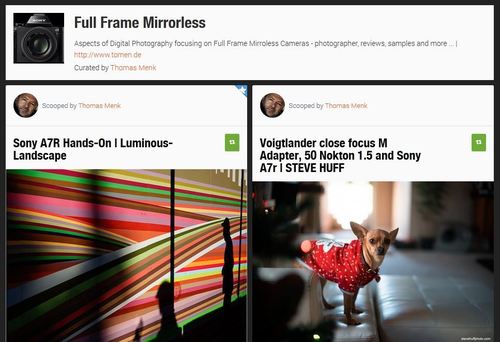 Visit my new Content Curation about Full Frame Mirrorless Cameras at Scoop.it. Starting my curation with Leica M and Sony A7/A7r but I think we will see a lot of new small and affortable products in 2014 (and a first mirrorless full frame camera by Fuji ;) ). Stay curious about it and join my side :-)
See on www.scoop.it