Tips and Tricks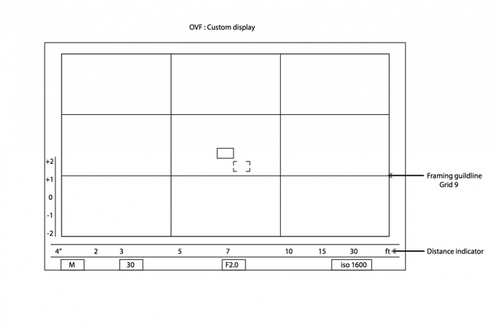 I shoot fujifilm exclusively; I use two X-Pro 1's and a X100s for my wedding work and travels. This set up works for me, however there was a learning curve involved, as the concept of these X-Cameras were different from the D-SLR's that I was used to. The biggest challenge I faced was learning how these cameras acquired focus, I spent hours online seeking relevant information and even more time applying what I read and testing things out. YES, they actually do focus, they just do it differently to my old D700 and a friend's 5D2 I had right next to it for comparison. As a result of the information I gathered and my personal experience over the last 8 months, I decided to put this article together and I hope that fellow X-Photographers out there and those considering buying one of these cameras might find it useful. Like Zack Arias, I believe that the Optical Viewfinder is a big deal on these cameras. The hybrid viewfinder is innovative and each mode serves a purpose, i.e for close ups where the Electronic Viewfinder is the better option. Nevertheless, I find myself using the Optical Viewfinder 90% of the time, I truly love it. The focus on this article will be focusing with these cameras (X-Pro 1 & X100s) with the Optical Viewfinder…….
See on vopoku.com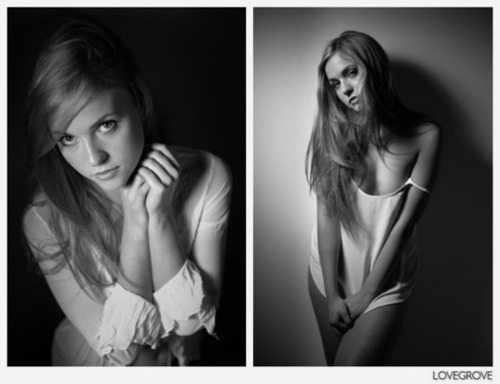 The X-E2 is the same size as the X100s, shares the same sensor, but has a lens mount enabling the use of the growing range of superb lenses made by Fuji and Zeiss. The X-E2 brings a whole host of new features to the ever expanding Fujifilm X system. Some of the features you will love and others you will rarely use. I mainly shoot portraits so I don't expect to be using WiFi or the video functions that much but it's good to know that they are there. I've had the Fujifilm X-E2 for just a couple of weeks but I've already studied the camera and the manual in detail to work out how I'm going to shoot with it. Here are three main ways I have established for shooting portraits with the Fujifilm X-E2 camera. I got caught out at times on the journey to making the camera work for me but where there is a will there is a way. Here are my three set-ups in detail…
See on www.prophotonut.com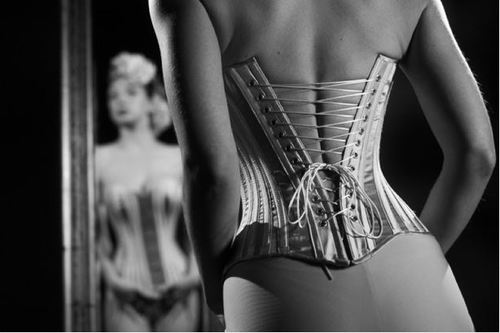 …. when I'm working with the Fujifilm X lenses wide open I use manual focus with the one touch focus lock. I adjust the position of the focus zone using the switches on the back of the camera. I use this system because the lenses are flat field design. That is, the edges of the frame focus at a further distance than the centre of the frame for any given lens focus position making the focus reframe method far less accurate. The great news is, that unlike a dSLR, the peripheral focus zones on the Fuji X cameras are very sensitive and completely useable. One problem though is I have yet to find a way of setting the focus area of the X-E2 to a smaller size. It remains a big rectangle. If you know how I can set a smaller focus zone when I'm using MF mode please leave me a comment. I have no problem with the X-Pro1 so I somehow think that this must be a system bug that will be corrected with a firmware upgrade soon. Fujifilm are very good at providing firmware upgrades on a regular basis……
See more pictures on www.prophotonut.com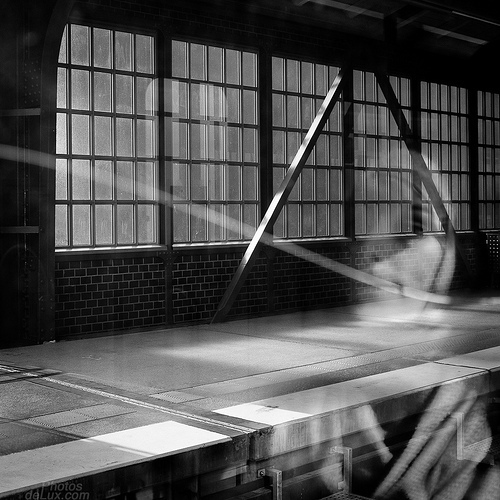 So let me share my "secrets" to getting great B&W results from the Fuji X100S with you. I started my photography with a cheap plastic camera from a grab bag and a roll of B&W film in the 70's. I must have been 5 or 6 years old at that time. I guess that is where my emotional attachment to B&W photography started. But when I switched to mainly digital cameras I shot generally in color. This was in big part due to the fact that I did not like the in camera results that the JPG B&W modes produced. And once the color file ended up on my computer, I often just stuck with color. But since I own the Fuji X100S this has changed! The Fuji X-Cameras create superb color files straight out of the camera. But for the B&W lover in you, Fuji has also created some wonderful B&W filters…..
See on fujixfiles.blogspot.de
So the forecast was looking good for some autumn landscapes. The plan was to visit Dovedale early around 6.30am.Shoot some atmospheric hill images. Forecast had said early morning mist that would burn off with the morning sun. Perfect for me. However the morning just got worse, with low cloud and drizzle. Revert to plan b, so did some long exposures of the River Dove, actually the weather for this was perfect, nothing worse when doing long exposure shots than the sun shining and creating specular highlights. My exposures were showing 4 mins at times, which is quite a long time considering your balancing precariously on bits of rock in the middle of a fast flowing Derbyshire river. All images taken with the X pro 1 14mm, 18mm, and the 55-200 zoom. Tripod mounted with attached 10 stop filter. Its great for shooting moving water…..
See on www.thebigpicturegallery.com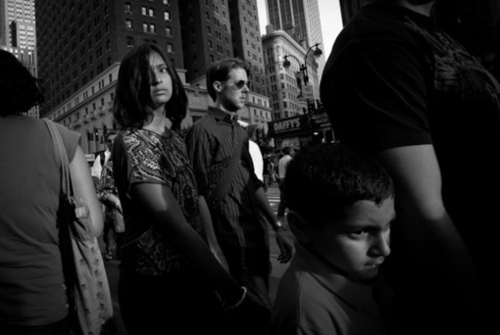 Capturing strangers candidly, yet tack sharp, is probably the toughest technical skill to learn in street photography. With a genre such as landscape photography, you can find your location, plan your shot, wait patiently for the correct lighting, and make sure that you are ready to pounce when the perfect moment hits.  But candid street photography is an entirely different beast. Often, you are presented with a moment so quickly that your reaction time is severely tested.  It is so tough to frame correctly, focus correctly, and capture a spontaneous shot at the right moment, all while trying to keep things candid. The solution?  Learning to zone focus.  Not every street photographer zone focuses, but the ones that do swear by it.  While I use autofocus when I can, I too swear by it.  And with a little practice, it's not all that hard to learn. Honestly, it's way harder to explain it than it is to actually do it…..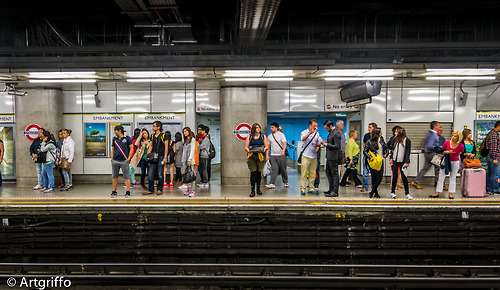 I've posted a number of images on my google+ and artgriffo.tumblr.com blog already. So here are a few recently taken on a photo walk about with my club pals. All images are taken with the Fuji X-E1 and 18-55mm/2.8-4 lens and to my eyes I cannot fault it. I set the camera mainly to 400 iso on aperture priority and set about looking for abstract and street photos. I was particularly pleased with the Monument tube station image (800iso) where the camera proved quite capable of getting the detail from the darker areas and at the same time handling the brighter lights of the station. All the images have been edited in LR4, where I have reduce the highlights and increase the shadow brightness. (a Serge Ramelli tip!) I have enhanced a little colour to taste as it was an overcast day, and with the architecture shot I have used a preset from Trey Ratcliff as a starter and then made some subtle changes to it. Overall I can't think of a single item of this camera that I would want changed. It focuses fast enough for me, its sharp, has a very easy menu to use. The lens is superb (18-55mm/2.8-4) and an absolute joy to use. This setup just makes me want to get out more and shoot ….
See on onecameraonelens.tumblr.com
On Monday the 23rd, Fujifilm released the firmware 3.00 for the X-Pro1 / X-E1 models. A couple of days later, they withdrew the firmware because it had been causing malfunctions in the movie mode. They restored it soon after, and the new version 3.01 works like a charm. There are several interesting updates, not least of which is the enhanced autofocus, but the feature that interests me the most is the new focus peaking function for manual focusing. A feature seen only on the X100s and X20 so far, Fujifilm is now implementing it on the X-Pro1 and X-E1 as well. It is a really great update and others brands should take note. Fujifilm has always been generous with firmware updates and this is probably the best example.
I've always considered the Fuji X-Pro1 an alternative to Leica, even though its sensor is smaller (APS-C vs Full Frame). The retro / rangefinder design, the quality of the build, the quality of the lenses and the attention to detail makes it extremely desirable to professionals. This is, I suppose, why among the official Fujifilm accessories for the camera, you will find a Leica M mount adapter with signal contacts, a function button and menu settings with different functions. A coincidence? I don't think so. Unfortunately, I didn't have this wonderful adapter but a simpler one by Quenox…..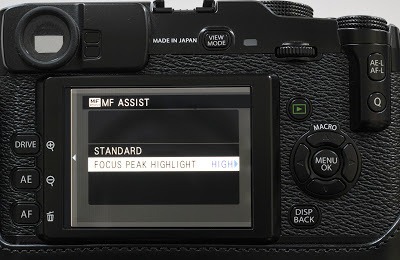 Last week, finally, Fuji implemented a long awaited focus peaking (FP) function with their latest FW update. I consider this and the previous update in June (to use Selector button to move AF point) as the most important, at least for me.  I have and using various old legacy lenses on a regular basis and those two functions are absolutely critical to achieve the best possible results, especially with fast lenses (f/1.8 or faster) when DOF is really thin and/or main focus point is not in the center of the frame. Once I installed all required updates (including 3.01:) I quickly realized that I can't use FP! I just couldn't clearly see FP highlights in the EVF without magnification! Yes, it was clear on LCD and at 3x mag in EVF, but not at default EVF settings. Then I recalled that several months ago, well before FP implementation,  one of the fellow photographers (mark-vdi) suggested to change jpeg setting to increase visibility of what was called "shimmering" effect in a standard manual focus mode. Since I don't care about jpegs I went to Shooting Menu (red icons) # 2 and changed parameters as following: Sharpness=+2, Noise Reduction=-2. I also increased EVF brightness to +1 ( go to Set Up (blue icons) #2, LCD Brightness +1). But you have to do it while looking through the EVF otherwise you will increase LCD brightness instead. Checked again and voilá I could clear see highlights! Now I was ready for the field test…..
See on vkphotoblog.blogspot.ca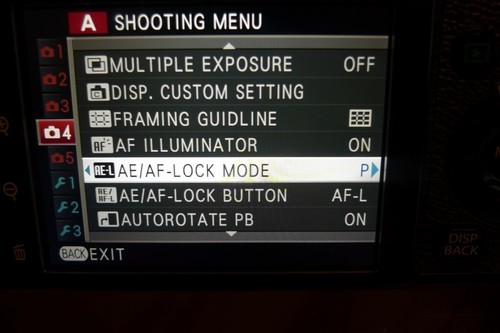 What is back button focus and why should you care?
I switched to using the back button (AE-L AF-L) to focus my camera a few months ago and can honestly say i could never go back to the traditional way of auto focusing using your shutter button. It will take a little getting used to at first, but if you stick with it, i can promise you will feel the same way i do. So what is it exactly? In the traditional way of auto focusing your camera, you would half press the shutter, which engages the auto focus system, get the camera to lock focus, and then take the picture by pressing the shutter button all the way down. Ok i am not undermining your intelligence by stating the obvious here, but i wanted to set a baseline for our discussion. With back button focus, you essentially disassociate the function of auto focusing your camera from the function of taking the actual image. You use two buttons instead of one which on the surface may seem quite odd and less efficient but works wonders once you get used to it. Things look even peachier (yes i said peachier) with the X-Pro-1 because the genius minds over at Fuji, know their ergonomics, and placed the buttons in a fantastic place. We will get to that in a minute, first lets continue exploring the idea of back button focus. Here is why you should care about this, and possibly give it a try….
See on paulsamolukphotography.com