Tips and Tricks
See on Scoop.it – Fuji X-Pro1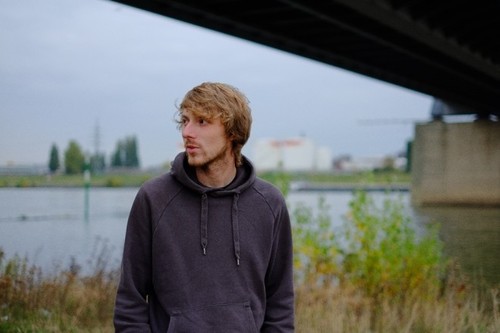 Was geht in Sachen RAW Entwicklung im November 2012, und hat sich mit dem Release der Lightroom Version 4.2 in der "Wasserfarben Effekt Affäre " was getan? Das erfahrt ihr auf sachlicher Ebene, und ohne Vernachlässigung wesentlicher künstlerischer Aspekte im folgenden Artikel! Grundlegend, dreht sich dieser Post um die RAW-Entwicklung von X-Trans Sensor basierten Kameras, wie der Fuji X-Pro 1 bzw. XE(die Bilder sind mit der X-Pro 1 und dem Fujinon 35/f1.4 enstanden) und lässt sich deshalb nicht auf Kameras mit einer klassischen Bayer-Matrix übertragen. Ein gewisses Grundwissen setze ich mal vorraus, wenn etwas unklar sein sollte fragt ruhig via Kommentarfunktion. Berücksichtigt wird hierbei das finale Ergebnis, das in diesem Fall in Sachen Colorit, Dynamik, Gradation, Korn und Schärfe(auch Bokeh) möglichst nah an eine beliebige Filmcharakteristik(z.B. Velvia, Provia, Portra 160 NC) angepasst werden soll. Dabei zeige ich einfach mal verschiedene Varianten, und wie man zum gewünschten Ergebnis kommen kann.
Google Translater (ENG)
http://translate.google.com/translate?sl=auto&tl=en&js=n&prev=_t&hl=de&ie=UTF-8&layout=2&eotf=1&u=http%3A%2F%2Fwww.janfervers.com%2F2012%2F10%2F22%2Fraw-prozess-teil-i%2F&act=url

See on www.janfervers.com
Dull frame lines make it almost impossible to use the OVF outdoors during the day with mount adapters But I found a way to change this. I apologize if I'm the last one to figure this out but here is a little tutorial on how you can trick the camera to brighten them if you didn't already know how. This isn't written in the manual as far as I know.
See on Youtube
See on Scoop.it – Fuji X-Pro1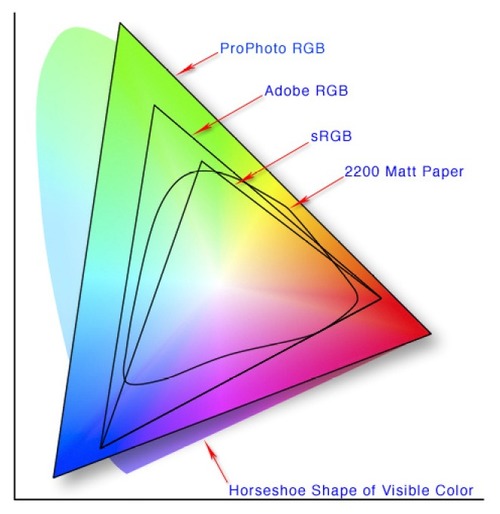 Starting from the start, a colour space defines all of the possible tones and hues that a single pixel may take. The values may take either a RGB value or CMYK value; the set of three numbers represents the amount of each colour present from a scale of 0-255, which gives 256 possible tonal values for each colour (red, green, blue or cyan, magenta, yellow and black). Combining every possible permutation of these gives you 16.7 million possible different colours for RGB. Note that you don't get 4.3 billion colours for CMYK, because the K (black) value controls the overall brightness and density rather than contributing another possible hue to the mix. The reason why we have different colour spaces is because they define the limit of reproducible tones for a particular reproduction method – be that screen, web, print, or TV transmission. The most commonly used colour spaces are either a type of sRGB or newsprint CMYK; both of these actually offer very limited reproduction potential. Many of you will notice that most images you see on the web, or in print, are lacking in depth and tonal subtlety; this is simply because the desired tone simply cannot be reproduced, and as a result lands up defaulting to the nearest possible colour value – which is obviously not going to accurately represent the original image. When a colour goes outside the possible range, this is known as gamut clipping. Some of the better proofing software can be configured to display a warning when this occurs; Camera Raw shows a small warning triangle in the upper-right near the histogram. For photographers, the important colour spaces you need to be aware of for digital display are Adobe RGB, sRGB and ProPhoto RGB. For print, it's whatever variant of CMYK your printer uses. Let's start with the former. Adobe RGB is the most common wide-gamut colour space available; almost every camera today – even compacts – has the option to output in this colour space by default – use it. sRGB is a limited, mostly web-safe gamut that varies slightly depending on the standard; one camera maker's sRGB won't be the same as another, and the sRGB displayed online will be different yet again – possibly depending on the browser, or your system settings, or any one of many other factors. Avoid this wherever possible. The final RGB – ProPhoto – provides the widest of all gamuts; however, most monitors aren't capable of displaying the majority of the possible colours, and few web browsers support it. I'm going to leave covering CMYK until the section dealing with print. Although the tonal limitations of each colour space depend very much on the specific colour space themselves, it's safe to say that in general, you'll see the difference between Adobe RGB and sRGB most prominently in the blues and greens. There's a particular shade of sky blue that seems to be nearly impossible to reproduce in sRGB, for instance. CMYK has similar restrictions to sRGB, but biases towards cyan instead of green and blue; overall, it lacks the vibrance and saturation that RGB can deliver – unsurprising given that the constituent colours are not red, green and blue! CMYK is used only for print proofing and is never found in camera or monitor; this is because the native components of these devices are formed of RGB photosites or pixels……

See on blog.mingthein.com
See on Scoop.it – Fuji X-Pro1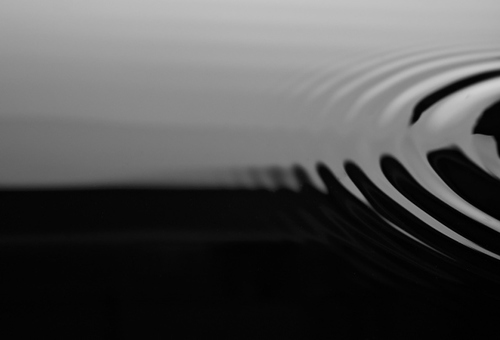 Today was gallery day for me. I really wanted to go out and shoot but decided that I needed to sit and be open. So… I dug out my high speed water drop kit and setup on my work table and decided that today I would test out my Fuji X Pro 1 and my Olympus OMD for water drops. This then is the X Pro 1 post! First, I can hear you asking, "How can you possibly use the X Pro 1 for water drops?", well the answer is both frightening and simple at the same time! I do several types of photography where the camera in use must have an electronic shutter release so that I can hook the camera up to a remote controller, like a Lightning Trigger or a Time Machine for water drops. But water drops really do not need to be triggered by the Time Machine since the exposure is about a second long to enable the machine to trigger the timed water drops generated for the collision, the size of the drops, the distance between them, the shutter release and lastly the strobes! This is all done in the following order:

User pushes fire button.
Camera opens the shutter for around 1 second.
Time machine drops the first drop at XXX size.
Time machine Drops the second drop at XXX size.
Time Machine waits a programmed delay.
Time Machine fires two external Canon 580 EX2 strobes set at 1/64 power.

Thats it! So, while sitting there taking about 600 OMD images of water drops and cursing the fact that the only macro lens I currently have is the 12mm to 50mm macro, I asked myself: "Hey Mark! Why dont you get out the X Pro 1 and put on the 60mm macro and set it up for water drops and simply push your mechanical shutter release at the same time you push the Time Machines fire button?". WOW, I was amazed by the simplicity of this thought and immediately got out the X and setup! The rest is history!

See on markhilliardatelier.wordpress.com
See on Scoop.it – Fuji X-Pro1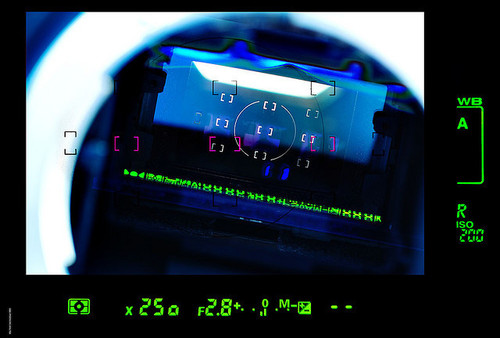 A recent email from a beginner/ amateur user on which camera settings to use under what conditions provided the motivation for this post. In addition to there never being a one-size-fits-all answer, it occurred to me that the reason why a lot of users are confused is partially down to poor product and UI design on the part of the camera companies, and overambition on the part of the user.

Cameras tend to come in one of two flavors: firstly, fully automated, dumbing down, hiding or completely eliminating all photographic functions/ controls or obfuscating them to the user behind language or parameters that doesn't necessarily make sense intuitively, such as 'blur control'. The second type of camera lets it all hang out: it's so manually intimidating and complex, offering control over everything from critical exposure functions to the color of the LCD backlight or number of images taken when using the self timer, and at what interval – that the new or even slightly unfamiliar user has no idea where to begin. And to compound things, camera makers often make inexplicably baffling changes to the UI between each generation – for instance, the +/- indicators on the exposure compensation scale for the D700/D3 generation runs in the opposite direction to the D800/D4. Why? Nobody knows. Maybe the person designing the silk screen stencil for the top panel LCD didn't refer to the previous model, or think that there might be photographers out there still using both generations of camera. (Sure, you can make the rotation direction of the dials match, but it doesn't help the fact that either way, one of the cameras is going to have the display move in an unintuitive direction in use – which may slow you down enough to miss a shot, or you ignore it and land up drastically over- or under- exposed.)…..

See on blog.mingthein.com
See on Scoop.it – Fuji X-Pro1
Comparison of out of camera Fuji JPEG with RAW file processed using Adobe Camera Raw into Photoshop CS6 (Mac).
There has been much discussion around this topic online – so I figured I post a video of my basic ACR workflow for people to view.
Applies to the X-Pro1, but also any ACR raw file processing. This gets me to the point where I then use NIK filters, so it's not a final product, but the end of RAW processing. Should apply to Photoshop and Lightroom.
See on www.youtube.com
See on Scoop.it – Fuji X-Pro1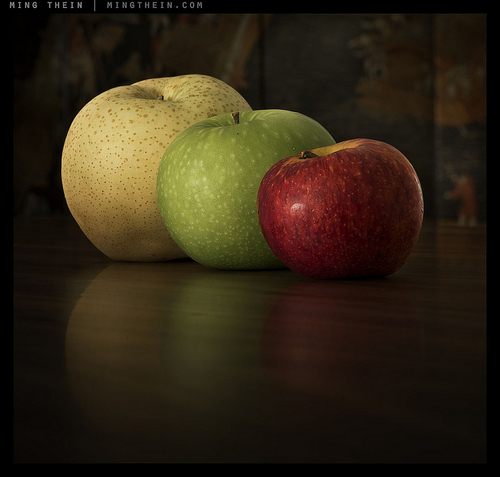 Of the 400 or so posts I've published up to this point, I recently realized that the one enormously gaping hole I haven't yet covered deals with the one of the major fundamentals: how do you actually determine if an image 'works' or not? What makes it good? What makes it outstanding? I think it was both a discussion on composition in our reader pool forum on Flickr, as well as the strongly mixed reactions to this photoessay post that did it – context, even a mini-article, sometimes simply isn't enough if you're missing a cultural familiarity, or local view. This is obviously not a simple question to answer; despite an extensive search online, I haven't been able to find any good articles that provided any sort of conclusion. (Clearly, I must be a bit of a masochist in deciding to write this article.) Perhaps it's because it's an extremely subjective question to begin with; or perhaps it's because to come up with an answer that makes sense requires a thoroughly multidisciplinary approach: strong images resonate technical, compositional, cultural, psychological and personal chords. And the final two are of course highly observer-dependant. In fact, it's a wonder that we have any images at all that are globally recognized and appreciated. Rather than analyze specific images, I'm going to spend some time looking into some of the more abstract characteristics and their implications for one's photography. I'd recommend finding a comfortable chair and grabbing a drink because this is a pretty heavy article. So heavy, in fact, I've decided to split it into two parts. It's also turned out to be one of the most difficult articles to write, occupying a good couple of days thanks to the extremely vague and ill-defined nature of the subject matter. Finding the right photos to illustrate the article was just as tough; excuse me if there are some repeats of previously-posted images here.
Part II
http://blog.mingthein.com/2012/10/07/outstanding-2/
See on blog.mingthein.com
See on Scoop.it – Fuji X-Pro1

One of the overwhelmingly popular requests I seem to get is for an article on lighting – specifically, how I achieve what I achieve with my images. This article will be the first in a series of five, covering various aspects of lighting and deconstructing the source. It'll also serve as a useful prelude to my studio lighting workshop tomorrow.
Before we do that, it's important to establish a baseline: if you don't know what it is you're using, then it's going to be both time consuming to explain, and difficult to understand. Thus, we're going to begin with an explanation – a quick 101, really – of common lighting sources, tools and modifiers – and an explanation of what they're useful for, and how one would deploy them. Please excuse the crude line drawings; I don't have a lot of these objects myself, hence a lack of source images. We'll go down the list in alphabetical order….

See on blog.mingthein.com
See on Scoop.it – Fuji X-Pro1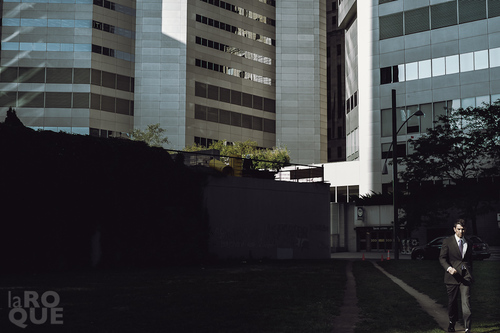 Back in January I told you my New Year's resolution would be More and Better. On some levels I think I'm on my way to accomplishing or at least approaching the goal I set for myself. Although the road ahead is often longer than we initially anticipate. I've made some very important decisions about what I want to be doing with my photography, the gear I want to use and the overarching philosophy behind it all. I'm writing tons of stuff down, trying to define how I see things to force myself into applying those principles in my work. I've come to realize that sometimes, to get ahead, you need to look reality in the eye and not be afraid to cut cords. And so with a fair amount of sadness I've made a profound decision that will probably surprise most of you: I'm moving to Lightroom. Yes. For real this time. In fact, I'm already settled. Everything you've seen here for the past three weeks (starting with the Feather post) was edited in Lightroom 4.1. And while I initially thought of keeping Aperture as my DAM using the workflow I'd described a few months ago, I quickly came to the conclusion that this would be more hassle than it was worth. So all new shoots are now being ingested directly into Lightroom. Is it as elegant as Aperture? No. But I'm adjusting and actually finding things I enjoy. Publish Services for one. The linear Modules approach goes against my natural way of thinking but cleaning the default UI and learning some shortcuts has made it somewhat less painful. I only wish we could customize the keyboard commands to make the transition easier….
See on www.laroquephoto.com