Tips and Tricks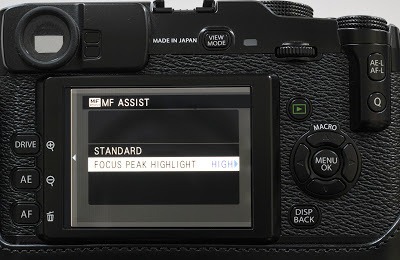 Last week, finally, Fuji implemented a long awaited focus peaking (FP) function with their latest FW update. I consider this and the previous update in June (to use Selector button to move AF point) as the most important, at least for me.  I have and using various old legacy lenses on a regular basis and those two functions are absolutely critical to achieve the best possible results, especially with fast lenses (f/1.8 or faster) when DOF is really thin and/or main focus point is not in the center of the frame. Once I installed all required updates (including 3.01:) I quickly realized that I can't use FP! I just couldn't clearly see FP highlights in the EVF without magnification! Yes, it was clear on LCD and at 3x mag in EVF, but not at default EVF settings. Then I recalled that several months ago, well before FP implementation,  one of the fellow photographers (mark-vdi) suggested to change jpeg setting to increase visibility of what was called "shimmering" effect in a standard manual focus mode. Since I don't care about jpegs I went to Shooting Menu (red icons) # 2 and changed parameters as following: Sharpness=+2, Noise Reduction=-2. I also increased EVF brightness to +1 ( go to Set Up (blue icons) #2, LCD Brightness +1). But you have to do it while looking through the EVF otherwise you will increase LCD brightness instead. Checked again and voilá I could clear see highlights! Now I was ready for the field test…..
See on vkphotoblog.blogspot.ca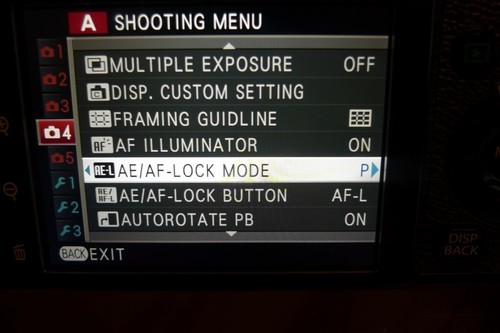 What is back button focus and why should you care?
I switched to using the back button (AE-L AF-L) to focus my camera a few months ago and can honestly say i could never go back to the traditional way of auto focusing using your shutter button. It will take a little getting used to at first, but if you stick with it, i can promise you will feel the same way i do. So what is it exactly? In the traditional way of auto focusing your camera, you would half press the shutter, which engages the auto focus system, get the camera to lock focus, and then take the picture by pressing the shutter button all the way down. Ok i am not undermining your intelligence by stating the obvious here, but i wanted to set a baseline for our discussion. With back button focus, you essentially disassociate the function of auto focusing your camera from the function of taking the actual image. You use two buttons instead of one which on the surface may seem quite odd and less efficient but works wonders once you get used to it. Things look even peachier (yes i said peachier) with the X-Pro-1 because the genius minds over at Fuji, know their ergonomics, and placed the buttons in a fantastic place. We will get to that in a minute, first lets continue exploring the idea of back button focus. Here is why you should care about this, and possibly give it a try….
See on paulsamolukphotography.com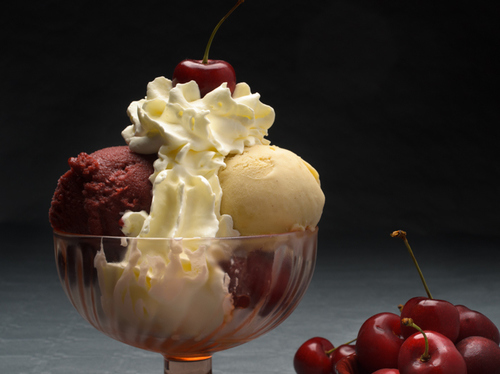 A friend of mine recently launched an Artisan Ice Cream company and it is really taking off for him at the moment. No doubt the hot weather helps, but the real attractions are the way the ice cream is made, from scratch with full cream jersey milk and 100% natural ingredients, and the flavours: Thyme and Honey, Ras Al Hanout, Vervain to mention just three. I then there are the chocolate and ginger ice cream cakes, man they are to die for. He is putting together his website and advertising and asked me to take product shots. We planned out two mornings for shooting at the Scaramouche parlour as it was not practical to shoot in my small studio. Ice cream has two problems. The first is from a photographic perspective it is not visually exciting. To avoid bland images you need to use lighting that emphasises shape and texture while adding some styling that does not detract from the core product. The second is that it melts, and in 30+ degrees it melts fast. So you don't have much time to mess about with lighting. I decided on a simple one light set up as shown below. The soft box creates a large light source relative to the size of the product and so minimises specular highlights. By putting it slightly behind and above the product I can get enough direction on the light to pick out  the texture of the ice cream. The reflectors allow me fill in shadows as required……
See on wideanglecafe.wordpress.com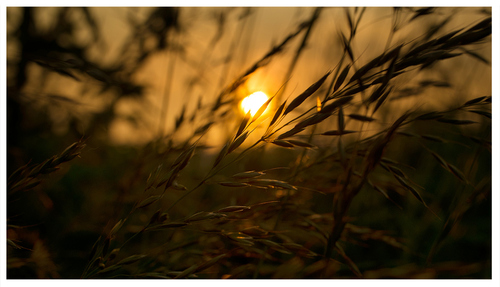 This is a short blog about Lee Filters, 3 Legged Thing and Fuji, and how these companies changed the way I shoot. I run a company called Ideas & Images. We provide both images and ideas to who ever wishes or wants them. Mostly we work within the Fashion world, the slow world of the landscape photographer seemed so far away…….
A while ago, I had a lovely e-mail from a lovely company who make Filters.
Lee Filters popped down to see me and left me with a set of filters specifically designed for CSC cameras.  The Seven5 System filters are smaller than the normal 100mm system. The  Filter Holder is designed for the compact system cameras and can hold the Lee Seven5 75x90mm filters. Lee also have a range of adapters for all the Fuji & Zeiss lenses. (The Zeiss pictured below is 52mm where as the 18 -55 lens is 58mm. Most of the lenses have different filter sizes).  Being a more from the fashion world, I had NEVER used a filter in my life that was a not a screw on style ND, a Polariser or generic camera filter. Seeing how they worked and how they could be used to shoot fashion would be fun (more on that here). Aside from filters and fashion for a moment though. I wanted to explain how 3 Legged thing and Lee Filters changed the way I use the Fuji. I have documented already how the Fuji changed what I shoot. This is the Landscape version of that story……
See on www.davepiper.org.uk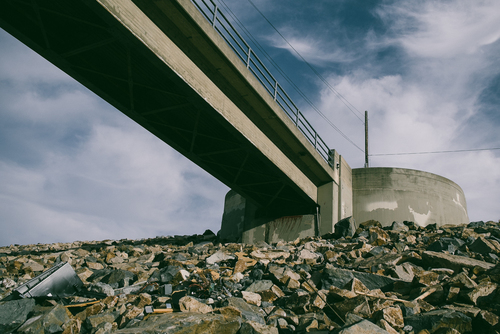 I've been using VSCO Film 02 for a week now and so far I like the results of the images I processed using the presets. Only time will tell whether or not I grow tired of the look the presets produce. The nice thing about the film pack and accompanying toolkits, however, is that they make it easy to dial back on "the look". The adjustments bundled into the film pack and two toolkits for Lightroom each have various versions which let me fine tune my edits quickly and easily. After a week, one of the biggest benefits I've noticed is that the presets speed up the editing process while allowing me to maintain a high level of consistency from image to image. True, I could have saved my money and created presets myself that gave me the look I was after. But sometimes, it's worth the investment to let someone else do part of the work for you, especially when they do it as well as VSCO has done here. Here's a set of images I shot yesterday and edited using the Fuji Superia 100 preset. For comparison, I also included the JPEGs processed by the Fujifilm X-Pro1 using the built in Astia film simulation mode. (For each set of images, the RAW files edited using VSCO Film are on top while the out of camera JPEGs are on the bottom.) ….
See more pictures on stephenip.com
I have been DSLR free for about two months and all is well. During the past two months I've been to Cuba, New York (x2), and Arizona. I feel I have hit just about every type, and kind, of job I do and my little Fujis have performed flawlessly. I really relied on them in Arizona where I was shooting for Land Rover. I shot that job with a mix of Fujis and the Phase One. Everything else has been Fuji only. I have no clue how many miles I have put on my Think Tank Airport Security roller bag. I love that bag and it has been everywhere with me for four or five years as my main camera bag. For the past two months I've mainly been living out of the Think Tank Airport Essentials backpack. Here's a fully packed bag that fits under the seat in coach. I never have to worry about it getting gate checked. Packed in there is a Fuji X-Pro1, X-E1, x100s (x2), a Fuji 60, 35, 14, and the new 55-200, Kung Pao (Yongnuo) 560, an external battery pack for the Kung Pao (JJC), Fuji EF-X20 flash, Wein Safe Sync IR transmitter, an OCF Gear 5 meter Canon cord, a Rainbow Imaging intervalometer and remote release controller (for the X-E1), a Fuji M mount adapter, Macbook Air, external drive, and misc other bits and bobs. Strapped to the side is a Phottix 36″ double fold umbrella, and a one foot length of 1/2″ copper pipe with a small swivel adapter. That's A LOT of gear in a small bag……
See on zackarias.com

---
Fuji X100S
Do you love my work and want to support me? If you're planning on buying camera gear, you can check out above-noted links. Prices remain the same for you, but a small percentage of your purchase value is valued back to me. Thank you!
---
Custom settings can be an extension of the film simulations, adding another layer to your jpgs, or they can be set up to give you the best preview of your RAW files, enabling you to make better exposure decisions. I show you how to set them up, use them effectively and some of my favourite settings for your Fuji X cameras….
See on www.youtube.com
I am a massive fan of long exposure photography and the only issue I have ever faced with my X100/X100s was the challenge of capturing long exposure photographs during the day light hours. I tried a few 49mm variable filters with little or no success and because the X100s system is all about simplicity the idea of struggling with step-up or step-down adaptors to attach an ND filter just didn't make sense. To this end I found the X100s was my main everyday camera but I had to pack another system if I was planning long exposure captures. Welcome the Lee Seven5 Micro System. When it comes to filters Lee are the gold standard and their recently released Seven5 micro filter system now includes an option for Fujifilm's X100 and X100s cameras. I should also make it clear at this point the Lee Seven5 micro system isn't just for the X100s and I plan to employ it with the X-Pro1 with various lenses……

See on www.flixelpix.com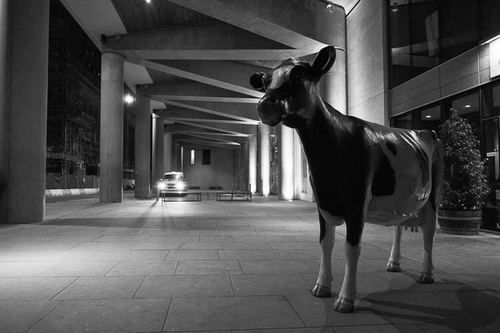 Ultra wides are fun to use however the all encompassing field of view can make good compositions difficult to achieve, while being even slightly off true level in any plane can introduce unnatural distortions. Ok the latter can be used to good effect creating dramatic perspectives, but it can also look gimmicky if not done well. The obvious impulse is to go large and look for grand vistas. I find this is invariably a mistake. With a field of view of 21mm on the X-Pro1, the Fujinon 14mm is still a 14mm lens and its perspective reduces even the mightiest of mountains to hillocks in your images if you are not close enough. My wife took me up a mountain recently to show me the perilous route she took across the mountain on horseback. The image below was shot for fun with the X-Pro1 panorama feature and the 14mm lens. The mountains in the background are not that far away and they are over 1200m high. Where I am standing is at around 600m. The image is….well…rubbish really and gives no sense of the dramatic route that she took. A better way to take this shot would be to stitch multiple shots using a lens that is closer to the perspective of the human eye, say 50mm or so. The second impulse, at least for landscapes, is to use F11 or higher and use the hyper-focal technique. This works well in most cases, particularly if the intended display medium is the web, but my personal preference is to use an aperture of around F8 and to manually focus on the subject. Ultra wides like the 14mm at F8 have buckets of DOF without having to worry about diffraction. Manually focusing on the X-Pro1 is very straight forward. With longer lenses the 10x magnification on the view finder is a challenge, but I find it ok on this lens. If you find it tough, drop to 3x. The real bonus of this method is that if you do decide to print large you will have a better quality image in the sense that the key subject is on the plane of sharpest focus. The Fujinon XF 14mm is remarkably devoid of distortion which makes it an interesting lens to use for architecture. I tend to travel a lot on business and I always carry a camera with me. Recently I was near Tower Bridge in London heading to the Regus offices there for a meeting. It was all foggy an atmospheric first thing in the morning. The City Hall  building caught my eye but I was late for the meeting so  I took a  a quick snap to remind me to go back after work, or later in the week to take some photos……
See on wideanglecafe.wordpress.com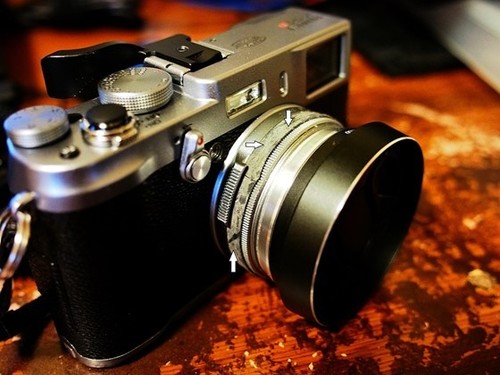 I've owned a Fuji X100 and now a X100s. I shoot street and usually shoot very close to my subjects , So F8 (sunny), Shutter at 500, ISO Auto (6400), manual focus at 7 feet and I am ready for some street photography. So out I go to the streets and I see an interesting subject, whip out my x100s , frame > shoot (sometimes from the hip) in a matter of seconds ! Sometime later, I retire to a nice cafe, order a ice mocha … and settle down to browse thru my shots. Arrrrggh !!!  Fully half of my shots are not in focus. Only now I've noticed that my manual focus distance has shifted from 7 feet to 15feet instead !!!
So the issue here to me is, the manual focus ring is so damn smooth that it is very easy for me to unintentionally touch it and shift focus distances. It is very irritating when you are zone focused and need too check the evf/lcd every now and then to make sure your distance scale is correct.

So I brainstormed a bit and came out with a small (maybe inelegant) solution. I dug out an old inner tube for my mountain bike, cut out a strip that is about the width of the focus rings and wrapped over it. The little bit of friction from the rubber prevents the focusing ring from moving from the lightest of touches but it does not affect anything else and I still can adjust aperture/manual focus (turning the ring or AEL/AFL method) as per normal.
I've attached a pic here …
See on www.dpreview.com