Tips and Tricks
I've just picked up an X100S so I thought I'd  go through the manual carefully and see what's new.  Whilst reading the manual I realised there were a few things I'd never actually known about my X100!  Many of these hints and tips can be applied to the X100 as well, but bear in mind I'm writing this primarily for the X100S. I've done a little write-up of some of the options that aren't all that obvious unless you've read the manual (as many of us don't!) and include some hints and tips of how I use my X100S that might help you get the best out of your camera. Before I begin I'm going to include an image that shows you two important dials.  The naming of these is a little confusing until you're familiar with it, so to clear up any confusion between the Command dial and the Command control, here is a graphic that shows what each one looks like.

Shutter Speed Adjustments
Where it might be obvious that you can change the aperture in 1/3rd stops by using the Command control (the small 'toggle/push' control below exposure compensation)  What isn't as obvious is that in manual or shutter priority modes, rotating the Command dial (the big round one!) selects the 1/3rd stop shutter speeds.  So for example if you choose 1/250th on the top dial, by rotating the command wheel you can select down to 1/200th … 1/160th and up to 1/320th … 1/400th before then choosing 1/125th or 1/500th from the main shutter speed dial. If you want to know more see P39 in the manual.

Function Button
The Fn button can be assigned to a variety of quick selection options as we know.  It does have a secondary function though - press and hold it to change the Fn function!  This is particularly useful with the X100S as I used to have the RAW button assigned to ND on my X100, but now this is the Q button on the X100S I no longer have that option of having two assigned buttons. This is useful if you often want access to two (or more) different options quickly.  I use this to change it to something more appropriate to what I'm shooting – for example indoors and at night I'll have it set to ISO, but if I'm shooting daytime landscapes I'll change it to ND on/off as I'm more likely to use that.  Using the press-and-hold technique I can do this without going through the menu system.
See on www.photomadd.com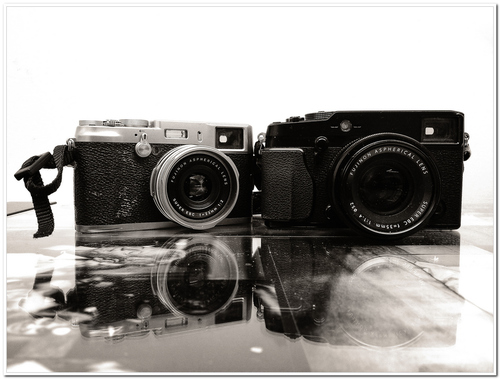 I apologise to any brides who may stumble upon this blog post.  It's going to contain some (hopefully) lovely wedding photography but it will also be quite a technical article based on my Fujifilm X-Pro1 Best Settings and also a one year of use review of the camera. So, a little under a year ago I lucky enough to be given a review copy of the (then new) Fujifilm X-Pro1 by the kind folks at Professional Photographer Magazine.  I used it for a couple of weeks, took it to a couple of weddings and totally fell in love with the camera. Like the X100 before it, the X-Pro1 wasn't perfect, and the auto-focus was a little hit and miss at first glance.  However, just like the X100 Fujifilm have diligently updated the firmware for the camera, and that, coupled with a different mindset to using it compared to using a DSLR has allowed the X-Pro1 to become my favourite camera, probably of all time.  At the time of writing we are on firmware v 2.03 and really the version 2 update affected the AF substantially so I really would ensure you have the latest firmware to get the most out of the cameras. I've been using the camera now for a year, and I have been asked so many times "how I use it", "why I use it" and "what settings I use" so I'm hoping to answer all those questions in this blog post.  Bear with me, if could be a long one……
I was recently lucky enough to have a quick use of the new X100S and I could immediately see how quick the autofocus was and how much smoother and accurate the manual focus was (especially using focus peek).  I have no idea what is in line for the future of the X-Pro1 range but I would hope that Fujifilm continue their fine work with this model and if it inherits the improvements that the X100S has received then it will already be on the right tracks.  As it happens, I've not used the X100S in anger yet but I hope to be shooting with one very soon.  I will, of course, update this section of my blog as soon as I can when I start using it…..
See full article on www.kevinmullinsphotography.co.uk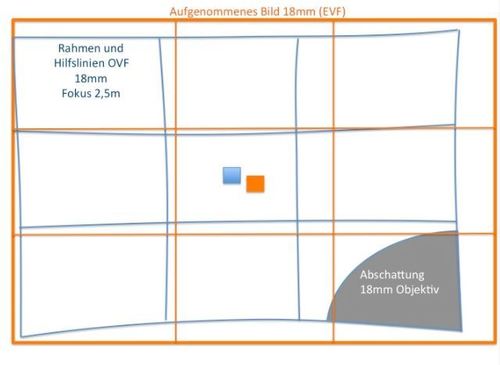 Viele kaufen die X-Pro 1 wegen ihres optischen View-Finders. Auch für mich war das ein wichtiger Grund für die Entscheidung für die XP1. Wer jedoch den OVF, womöglich mit den Hilfslinien, benutzt, zweifelt schnell an seiner Fähigkeit, die Kamera gerade zu halten.  Weder der eingeblendete Rahmen noch die Linien scheinen eine wirkliche Hilfe, wenn es um genaue vertikale oder horizontale Ausrichtung des Bildes geht. Der Horizont oder Gebäude werden immer schief, wenn man sie an den elektronisch eingeblendeten Hilfslinien ausrichtet. Als Ingenieur hat es mich nicht ruhen lassen, mal rauszukriegen, was ich eigentlich wirklich durch den OVF sehe. Hierfür habe ich eine Messung durchgeführt, bei der ich die XP1 mit dem 18 mm und 35 mm Objektiv aufs Stativ gesetzt und durch dem OVF auf eine ca. 2,5 m entfernte Wand geschaut habe. Dann habe ich mit einem Laserpointer den Rahmen und die Hilfslinien auf die Wand markiert und abfotografiert. Die so aufgenommenen Punkte habe ich anschließend interpoliert. Das ganze habe ich auf 2,5 m und unendlich fokussiert. Hier nun die Ergebnisse: Der blaue Rahmen zeigt an, wie der OVF-Rahmen sich in die reale Welt projiziert, der orangefarbene das tatsächlich aufgenommene Bild.
Bewertung und Konsequenz

Man sieht sofort, dass der OVF das Bild verzerrt. Darüber hinaus stimmen die Hilfslinien überhaupt nicht überein. Daher ist eine präzise Ausrichtung des Bildes mit dem OVF nicht ohne weiteres möglich. Aber: Die linke Seite stimmt ziemlich gut. Zusammen mit dem künstlichen Horizont kann man damit die Kamera gut ausrichten und das Bild hinreichend genau einschätzen…..

Was hilft die Erkenntnis? Der OVF kann auch genutzt werden, wenn es auf gerade Horizonte oder vertikale Linien ankommt. Man muss nur wissen, wie!
See on www.face-of-earth.com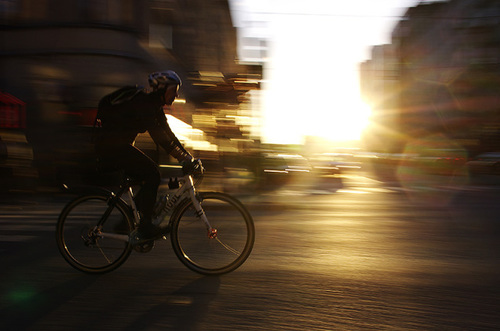 Once a year, in early march, the sun puts up a fantastic lightshow during sun set in one specific stockholm crossing. I discovered this last year and decided to go back sunday weekend when the sun showed up. The plan was to try to evolve the paning shots I did in 2012, but instead I found myself shooting a jumping dog. You got to love the unpredictability of the streets! And I'm really happy for the X-Pro1 OVF. The strong light makes it more or less impossible to shoot into the sun with the EVF. That was my main argument for chosing the X-Pro1 over the X-E1, and I have been proven right more than one time.
See on sthlmstreet.com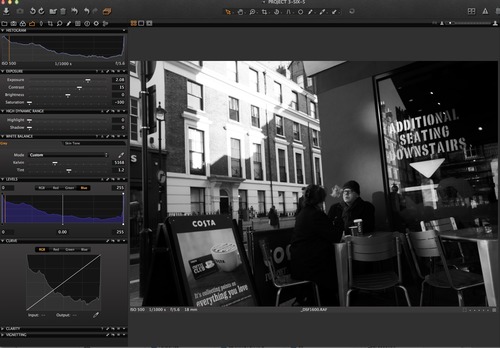 So as day 50 feels like an achievement I thought I would use a couple of photos I took today and discuss my process, from taking the photo to uploading it on my blog! I am by no means an accomplished street photographer having only done it since I started this blog, but I thought some people may like an insight into the way I work my images. I will start by posting today's two images as they were SOOC (straight out of camera) with no adjustments at all. So here they are!
As you can see from the movement between the two images I saw my subject from across the street and approached. I snapped the first shot and incorrectly guessed my range, I could have been closer, the 18mm lens does give you a lot of space, I think sometimes the 35mm would yield me more shots as you can stay further away. As I rounded the corner I fired off another shot. Here I will highlight a mistake, I failed to change my shutter speed from my previous shots in my rush to capture this. This is why they are so dark, although I will say that this high speed shutter helped as I was walking and shooting from the hip. I now shoot all my street photography with the X-Pro1 set to manual focus, effectively setting a focus trap, its usually between 3-4ft. I have found this distance gives the greatest results, especially if I can get my f-stop around 5.6. Another bonus of the X-Pro1 great photos from the ISO range enabling faster shutters and better f-stops. After I was a safe distance from the subject I had a look at the spoils on my screen, I knew instantly i had some images for today's post. At first glance they may not seem great, especially the first one, but i could see something in there I could pull out! This is where the Fuji X-Pro1 file quality really helps. You need the right tools for the job and I always use Capture One Pro, it has its frustrations and yes it does crash a lot but its worth your patience. The process engine is superior to that of Adobe Lightroom in my opinion. I have worked for the last 6/7 years retouching and assisting on the sets of huge advertising campaigns and have never seen or heard of anyone using LR, Capture One would appear to be the industry standard alongside Apple and Eizo products. So from here I get my RAW files into Capture One and begin to see where they want to go and how far I can push and pull them. I would usually process out a file really flat and neutrally balanced and I always disable sharpening too as find it damages the file quality. I will share with you the settings I applied to the shots, I took them in the direction I wanted to go, nothing complicated at all, just exposure adjustment, contrast and desaturation. Keeping it simple seems to work for me! ….
See on roughly365.wordpress.com
Whilst it would be impossible to cover absolutely everything you need to know to be proficient in photography in a single article, the aim of today's piece is to provide the amateur to hobbyist an idea of the things to keep in mind in order to be able to focus on producing images. It's something that's been quite frequently requested in the past few weeks – perhaps a sign that my reader base may be shifting somewhat – so I've decided to take a crack at it in a way that makes it both accessible yet still somewhat relevant for the more advanced photographer. Where applicable, the section header links to a more detailed article. I'll approach this from a in the same sequence as I'd normally deal with my own photographic workflow, in a sort of annotated checklist format.
Planning the shoot
Reconnaissance matters: although you can shoot anything with any lens and camera, it's not going to help you if you're going birding with a fisheye. Sometimes it's worth checking flickr or other communal image sources to see what other people have shot in the same location. I'll do this but not spend a lot of time on it because I don't want my perception to be pre-influenced by what I've seen in others' work; however it does give me a good idea of what to expect.
Ensure you have enough supplies and spares: fully charged batteries, empty memory cards, cleaning cloths etc.
If it's outdoors, time of day matters. Whilst it's perfectly possible for you to just go and see what's there, I'd recommend at least finding out which direction the sun is going to be shining in (or how much artificial light there is). No point going if the attraction you want to see is going to be completely in shade…….
See on blog.mingthein.com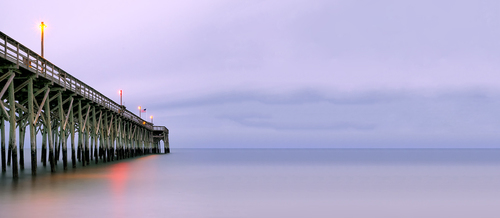 Ultra long exposure photography can be a very fulfilling pursuit and generate etherial images that draw your viewer into them leaving them week in the knees! As a photography master generalist I can tell you that there are a few speciality areas that can really excite me and force my juices to flow!
Specifically they are:
Ultra High Speed photography: Water Drop Collision Photography, Daytime Lightning Photography & Hummingbird Photography
Infrared Photography
Grist Mill Photography
Ultra Long Exposure Photography.
This post is a tutorial on Ultra Long Exposure photography using the Fuji X-E1 camera with its 18-55mm lens, a 6 stop B+W ND filter and a Sekonic L758DR spot meter.
Fuji X-E1 with its 18-55mm lens
The Fuji X-E1 is my 3rd in the Fuji line. I started with the X100 and moved to the X Pro 1 in order to have interchangeable lenses, then to the X-E1 to take advantage of its Electronic Shutter Release. I have always been a Canon shooter with closets full of L lenses.  But due to a spinal operation that went dreadfully wrong I lost 80% use of both hands and arms.  No longer able to hold heavy camera equipment I started on a long journey searching for high quality camera system that was small and light weight and produce world class images.  A long story shortened, I settled on the Fuji X lineup and their fine quality lenses along with a few CV and Leica M mount lenses.
Now, the Fuji X-E1 with its electronic shutter allows me to hook it up to my water drop machine, Lightning Trigger and Hummingbird control system!
The only lacking item is its short lens lineup.  With the introduction of the new 55-210mm lens this spring even that will no longer be a problem for me!
Long exposure has several issues that you must overcome to successfully create the etherial, emotionally charged image.
Long Shutter Speed: Even in low light you will find it difficult to get a shutter speed at f/8 (sharpest).
Difficulty Focusing:  Darkness you know…
Unreliable Metering: Especially with an installed ND filter.
Camera Shake:  Requires a STURDY tripod and REMOTE SHUTTER RELEASE.
The Long shutter speeds generally can range from 15 seconds to 20 minutes. These are difficult to reach unless you shoot at night with light from the moon.  What I find that I do is shoot at dusk on or just before sunrise to overcome this issue.  Usually I will add a Neutral Density Filter (ND) to reduce the total amount of light reaching the image sensor. This will allow you to shoot with more ambient light and generally make this style of photography easier……
See full article on markhilliardatelier.wordpress.com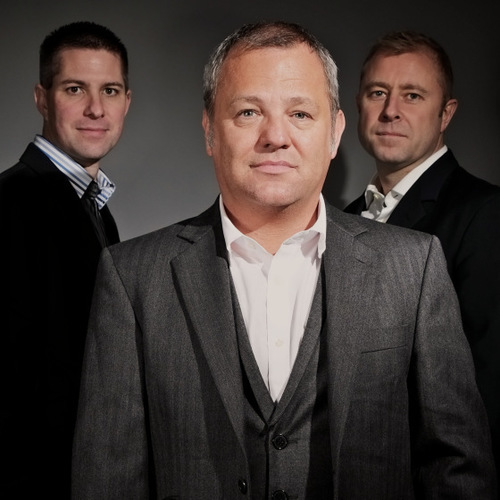 Yep that's what thought just at the start of my first pro shoot with the Fuji X-E1.
So, the time came to use my new Fuji X-E1 for the work that it was intended, as some of you know if you read my blog I have recently sold my Nikon DSLR kit and moved to the Fuji X-E1. This was not an easy decision, but having owned and fallen for the fabulous image quality of the Fui X100, I felt I could take a gamble sell the Nikon gear work with the Fuji system. The X-E1 arrived 28th December so I had some time learning the X-E1, it had some new software, menus and setups that needed me to spend some time with the camera. I had an extremely important portrait session of a group of three company directors to a new and chain of Boutique Hotels. So no pressure then !! At the very start of the first few test shots having set up the lighting ready for the head shots I thought Oh no what I have done, I have made a huge mistake I wish I had my D300s in my hand right now and all this worry would disappear ….. Why !. It started with a massive defect visible on the test shots, at first I thought I was picking up a shadow from something in the room, nope, its on the lens then …. Nope ….panic starting to set in …. How did I not see this, I tested with speed-lights in my house, taken dozens of family test shots …why I had I not see this before… Ok it must be the sensor, sure enough taking off the 18-55 lens reveal a large dust particle causing me a minor heart attack 5 mins before some of the most important clients turn up….yeah ok so now your thinking why did I not have a back up camera …. I did it was the Fuji X100 it would have got me through the session but I would have had to make some serious compromises. Ok grabbing my dust blower the offending item was removed, a test shot taken and that warm friendly feeling of relief started to prevent the blood completely draining from my body when the defect had gone from the image…phew! But my worries and woes didn't stop there… This shoot took place on a building sight ….literally. It was planned for the early evening due to working commitments from me and my clients, therefore but the time we were ready to start taking some "serious shots" it was starting to get dark… ok not normally a worry as I had set up the lighting anyway…but the room was lit only by puny site safety lighting and was very dim and I soon ran into problems with low light focus….Arrrhggg… Not only did the EVF become very grainy due to the dim light it was very difficult to gain focus manually too,thinking quickly I remembered I had thrown in my mains powered continuous ring light into my kit case PHEW stoke of luck…..finding an extension lead I was soon back up and running, but now shooting one handed and partially on the tripod lighting the clients with a combination of speed flash and continuous ring light the other hand in order to nail the auto focus….

"STOP" I hear you shouting are you nuts this is your own entire fault … and yep it is. Thinking why I did I not take a breather at this point, set the ring light on stand in front of me and work with manual focus ….. No reason and that's exactly what I would do if it happens again but with all the adrenalin running, thinking on my feet and needing to make sure the client was happy I carried on regardless and hey I was making progress, so I just keep going. Its called the swan syndrome and I was in full speed … no one noticed …..

See full article on simonpeckham.wordpress.com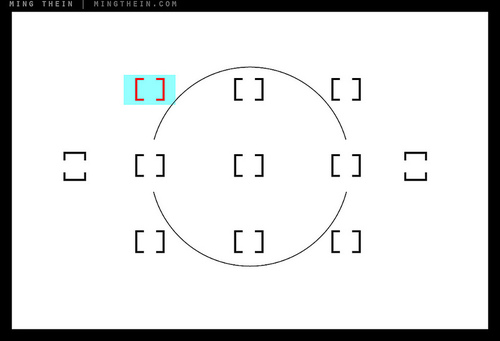 With that background out of the way, let's look at how the various metering options work, and what typical situations they might best be deployed under. Cameras typically have three options, or some variation upon that. Within these options, it's also usually possible to fine tune various aspects of the meter's operation. I'm going to leave out handheld meter operation since this is something that's almost never encountered today. An important point to note is that all meters can be fooled by situations of uniform luminance, so don't trust the readout blindly. Remember, meters function by averaging the entire evaluated area out to middle gray; this means if your evaluated area is meant to be black or white, you're going to need to add or subtract some exposure compensation. For predominantly light/ white scenes, you need to add; for dark scenes, subtract. This holds true for every one of the different metering methods detailed below.
Average
The simplest form of metering evaluates the frame as a whole, and tries to expose it to middle gray – under the assumption that there will be shadows and highlights, but these will average out. Seldom used today because you will almost always require exposure compensation (making it unsuitable for the point and shoot crowd which constitutes most of the global camera market), but has the one enormous advantage of behaving predictably under every situation.
Spot
The simplest form of meter is the spot meter. This evaluates luminosity at the desired point only, ignoring everything else in the frame. There are two important things to be aware of with a spot meter: the location and size of the spot. The metering spot's location is either in the center of the frame, or tied to the selected or active autofocus point; the logic there is that you would typically want to ensure your subject is both in focus and properly exposed. Variations on the spot meter include types that are biased for highlights or shadows – i.e. you meter a shadow or highlight and it doesn't turn out over or underexposed. Don't forget to add appropriate exposure compensation
…..
See full article on blog.mingthein.com
One of the more important – yet almost always overlooked – aspects of camera operation is metering. Simply put, the meter determines what your final exposure is, and how bright or dark your image looks relative to the scene. Unless you are shooting manual – and even then – the camera's exposure is determined by the meter. Add the fact that the eyes of a viewer tend to go to the brightest and/ or highest contrast portions of an image first (i.e. this should be your subject) – and it's clear to see why it's absolutely critical to understand both how metering works as a fundamental concept and any camera-specific peccadilloes that might exist. The last thing you want is to find that your camera drastically underexposed a once-in-a-lifetime shot of some critically important event because you didn't know (or forgot) that the meter was extremely affected by point light sources….

How meters work

Depending on which exposure mode your camera is in, the meter will try to find a combination of settings that creates an image that averages out to middle gray in luminance, i.e. the histogram average is around level 127 or thereabouts. There are three exposure parameters the camera can use to control the amount of light reaching the image processor – note that the sensor is also now involved in the process – shutter speed, aperture and digital gain, i.e. ISO. If you fix any one of these variables manually – say by shooting aperture priority at a set ISO – then the camera varies the remaining parameters according to a set of rules in order to achieve the 'correct' exposure. If the correct exposure is out of adjustment range – e.g. the required shutter speed for a given aperture is too high – then you're going to land up with an over or underexposed image. In program mode, the camera controls both aperture and shutter values depending on its preset program; the photographer can usually shift the program to a different combination of values which still yield the same net amount of light hitting the sensor. In shutter priority, the user fixes the shutter value manually, so the camera alters the aperture. In aperture priority, it's the other way around. In manual mode, the user fixes both values – the only thing the meter can do is display how far off the manually chosen exposure is from the correct exposure, or alter the ISO or flash. If auto-ISO is activated, then the camera will always default to the lowest possible ISO within the specified range in order to keep the shutter speed at or above a certain value – either user selected or 1/ focal length in second. (Note that for some cameras, using manual shutter and aperture values will cause the camera to shift the ISO rather than display the variance from correct exposure.)

See full article on blog.mingthein.com