Travel Photography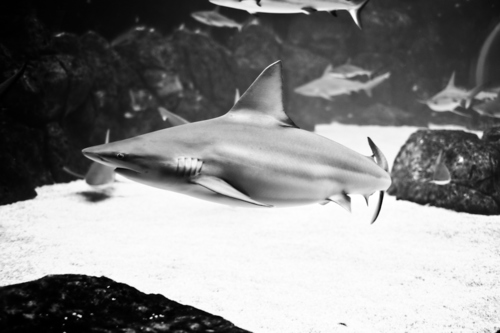 The South East Asian Aquarium is the world largest aquarium. It house more than 800 species of marine animal. It took me a good 3 hours to finish a complete tour of the entire Aquarium. The Xpro-1 coupled with the 35mm 1.4, was my only equipment this time round. Most Aquarium shots will try to show the myriad of colors, I will still do this post in black and white. The main focus will be on contrast, forms, shapes, and the use of dynamic range to tease out all the shades of grays.
See more pictures on lucpher.wordpress.com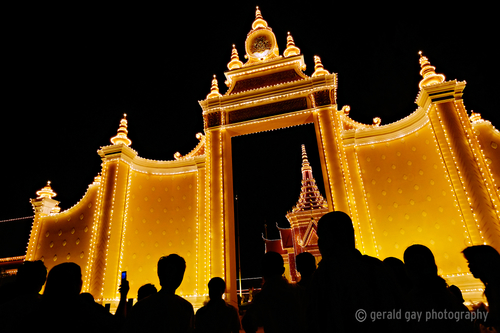 My 14mm/2.8 lens arrived just before the start of King Norodom Sihanouk's cremation ceremony and I was finally able to capture beyond what the 18mm lens could see.

The 14mm has superb build quality and the best feature would be the pull MF ring and seeing the DOF scale. Aperture click stops were a little too smooth and easily moved accidentally though.

This lens will prove to be a top-performer in anyone's travel bag and I can't wait for the 55-200mm to complete the kit later this year.

All of the photographs in this link are with the X-Pro 1 with two from the OM-D and one from the 5DM2
See great pictures on 500px.com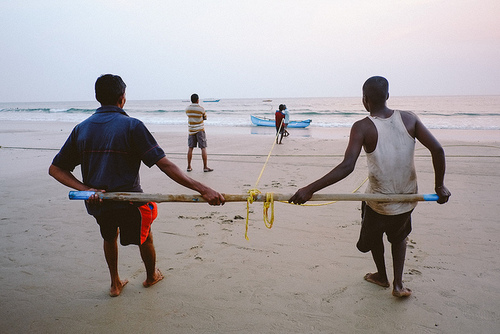 I haven't gone out and photographed much personal work since returning from Europe a month ago with one less appendix. Couple the appendectomy recovery with a bit of "nesting syndrome" (my wife is about to give birth to our first child any day now), I've spent most of my time organizing my home and streamlining my Lightroom catalogue (guided by Gavin Gough via his great eBook w/video tutorials - A Photographers Workflow). The south end of Bogmalo Beach, Goa, India.  Fuji X-Pro 1, 18mm (wishing there was a wider lens available from Fuji). Whilst keywording my library, I came across some images I took last October in Goa.  To break the metadata monotony, I decided to run the images through some Lightroom presets I just acquired from Visual Supply Company called VSCO Film Emulation 01 & 02.  I've never been a big preset user, but have always liked the way these presets have worked with photos I've seen from other photographers. These images were photographed in RAW with the Fuji X-Pro1.  They were then imported into Lightroom to develop.   When I started applying some of the VSCO Film presets to these RAW files, I didn't like what I was seeing at all.  I didn't understand why the presets looked so terrible compared to when I used them on some of my Pushkar Camel Fair photos.  I realized a few minutes later that the only difference was that I was applying the presets to the JPEG files I photographed in Pushkar (I photographed RAW+Jpeg that week), not the RAW files. The rocks on the south end of Bogmalo Beach, Goa, India. 18mm lens
To see what would happen, I decided to put the 3 month old RAW images (whose names I've changed by now) back on my SD card in hopes to process them into JPEG images in camera.  Thankfully the images popped up on the back of the X-Pro 1 and I processed the RAW files into JPEGs with the Velvia film simulation applied in camera.  I then imported the JPEG files back into Lightroom and BOOM, it made a world of a difference.  I applied various VSCO Film presets and eventually settled on the look of the Kodak Protra 160 VC++.  Lightroom doesn't have camera profiles yet for the X-Pro 1 like it does for my Canon 5D Mark II.  Since buying the X-Pro 1, I've tried to tweak the Lightroom settings to try and create a profile to match the X-Pro 1 in camera Velvia film simulation, but haven't figured it out yet. So, long story short, these images were photographed with the X-Pro 1 in Raw and converted to Jpeg in camera with Velvia film simulation applied.  They were then imported to Lightroom where I applied the VSCO Film preset Kodak Protra 160 VC++.
Please share feedback or any of your own experiences….
See more pictures on timsteadmantravel.squarespace.com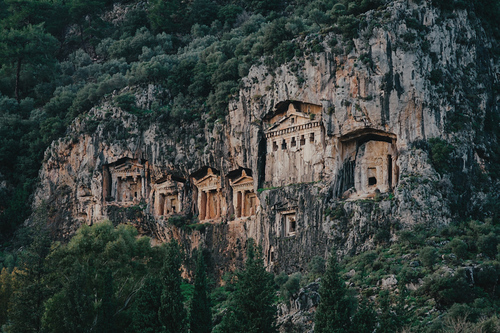 Most of the photos were taken with the Fuji E1 and 18/2, with a few special appearances by the Contax 28/2.8 & 45/2.

Thx Tomasz for your suggestion and for sharing your great travel shots :-)
See more pictures on mananetwork.tumblr.com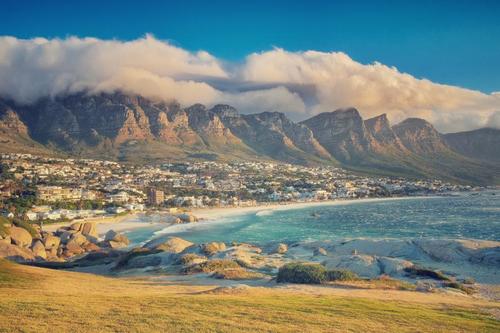 Am letzten Tag haben wir uns das Kap der guten Hoffnung zum Ziel gesetzt. Vorab, das Kap selber ist relativ unspektakulär, aber die "Reise" dahin, die ist sehr schön.
Der Weg ist das Ziel, sozusagen.
Wir fuhren bei strahlendem Sonnenschein von unserem Hotel los mit dem ersten Ziel Muizzenberg. Der Ort ist vor allem für seine bunten Strandhäuschen bekannt und Fotos davon sind in jedem Reiseführer und/oder Prospekt zu finden. Das war eigentlich auch der Teil auf den sich meine Frau am meisten gefreut hat und dies sogar Teilweise zur Bedingung für ihr mitkommen gemacht hat. Doof war bloß das das Wetter sehr schnell Umschwung von klarem Sonnenschein zu tief hängenden Wolken.
Dass dies fototechnisch nicht die erwarteten Motive nach sich zog leuchtet sicher ein. Wir befürchteten schon, dass der letzte Tag unseres Trips ins Wasser fallen wird – zumindest fototechnisch.
Danach ging es weiter über Simon's Town nach Cape Point. Auf dem Rückweg planten wir die Fahrt über den Chapman's Peak Drive, einer der schönsten Küstenstrasse der Erde und nicht umsonst hat diese Strasse diesen Ruf.
Die letzten zwei Bilder entstanden kurz vor Sonnenuntergang und der Wind der da wehte war mir als Großstädter gänzlich unbekannt.
So nebelig und trist der Tag in Muizzenberg begann so herrlich und eindrucksvoll zeigte uns das Western Cape an diesem Tag warum es als einer der schönsten Flecken Erde bekannt ist…..
See more pictures on www.qimago.de
I've just spent 3 days in Marrakech on a business trip, and packed the Fuji X-E1 and 35mm in the hope of getting a few hours off to explore the old city. I'd been before with the 5D MkII and some lenses, but found photography very hard work owing to the local's distaste for having pictures taken. (At least some genuinely do not like it on the grounds of their religion, whilst the more tourist facing people don't mind if they are paid for having their photo taken). Like in any public place, the wielding of an SLR seems to scream "photographer" and make you conspicuous. So this time I tried with the little Fuji in my short time off (just two hours ). I found it a much better camera for this type of environment than the DSLR. I felt less embarrassed wielding a smaller camera, and it was clear to me that people were not as bothered about having their pictures taken even when they noticed I was there. It's funny how the size of the camera seems to make so much difference (I'm sure more seasoned street photographers than me will find this blindingly obvious). Of course, the most important thing is to treat the subject with respect, but I really did find that the camera also made a difference. Here are some shots – the camera and lens performed really well it what were often very low levels of light. Very few mis-focussed shots, excellent exposure and colour. I love the rendering from the XF35m F1/4 wide open too. This is not my particular forté in photography – I'm not well practiced in "street photography" so any comments more than welcome!
See more pictures on forums.dpreview.com
Guadeloupe, Nov 2012. Shot with the Fujifilm X-E1.
See more pictures on lindapugliese.tumblr.com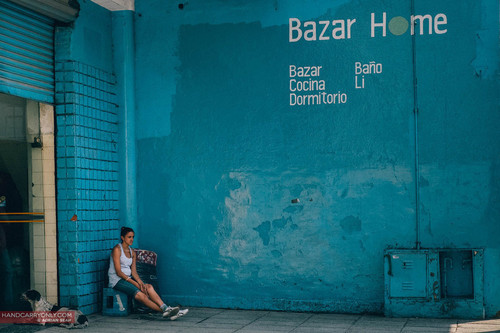 A hint as to the origins of the inhabitants of Buenos Aires lies in the collective name they have chosen to call themselves, Porteños, orPeople of the Port. The population is largely comprised of immigrants from Europe, primarily Italy and Spain who arrived by boat in the late 19th century and early 20th century when the Argentine government went so far as to subsidise boat journeys in order to populate the growing city in The New World. The difficult economic climate at the time in Europe fed the exodus. The dominant culture today remains distinctly European.
¡Dale! punctuates sentences between the rapid-fire exchange between 2 Porteños lamenting the price of bread or the inconsiderate neighbours with their noisy asado party the night before. Much like 'OK' in English, it is unique to Argentines, part of a rather large repertoire of lunfardo that characterises the Argentine version of Spanish, Castellano.

Nearly 2 months living in the city gave me a small peek into the lives of Porteños, living today in a climate of high inflation and questionable governance meant that Porteños are by necessity, resilient and adaptable. I personally found them more introverted than their Brazilian neighbours up north, but possess the same kindness and hospitality below the sometimes indifferent outer façade. I've been stopped by old ladies on the street for a chat and struck up conversations with random people genuinely curious about what a couple of foreign looking visitors with a smattering of Spanish might be doing in their city, what we think of Argentines in general, and everyone seemed to have an opinion on la presidente Christina Kirchner, mostly unpublishable. Almost without exception, everyone loves a good maté (a ubiquitous tea like drink that is an institution unto itself), a good Argentine steak and a glass of Malbec from Mendoza.

Dinner for Porteños is a fantastically late affair, we were often the first ones at our local Parilla at 8.45pm, when the chef was still having his mate before the dinner crowd and the waiters were still milling around and setting up tables. 9.30-10pm on a weekday would be typical Argentine and 11-11.30pm on weekends de rigueur. Our untrained bellies could not keep up and we often capitulated by 8pm or so, racked with pangs of hunger, although towards the end of our time in Buenos Aires, we had sufficiently adapted to the Porteño way of doing things and managed a semi-respectable 9pm, which no longer elicited a 'Muy temprano!' (Very early!) from the waiters when we sat down.

Strangely, I found them, in that sense, quite similar to the Chinese, who might not be the most friendly people outwardly but if you manage to peel back a couple of the outer layers, you might just be surprised by how hospitable they really are.

Mate, Vino, Bife, Dale.

See more pictures on handcarryonly.com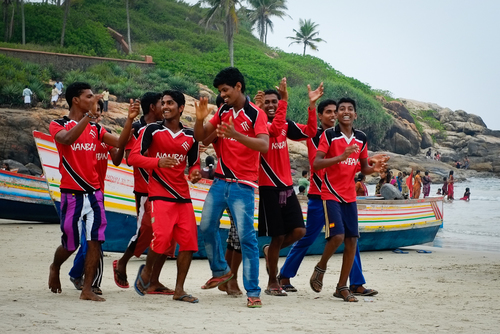 On Christmas Day 2012 I had the pleasure of being in Kovalam, in the Indian state Kerala. Christmas Day is indeed celebrated in India. In Kovalam fishermen and their families met at the beach to hang out, have fun and enjoy the Season. The beach was literally invaded by colourful fishing boats with loads of happy families. I believe a lot of them came from the Vizhinjam Fishing Harbour just south of this beach. I was caught by all the colours and smiles.
See more pictures on nesellis.dk
A hop, skip and jump (ok, 4 hour bus ride) from the world famous Rio de Janeiro along the Costa Verde (Green Coast) of Brazil lies the little UNESCO heritage town of Paraty, sometimes spelt Parati, but always pronounced Para-Chee. A little piece of Portugal in tropical Brazil, Paraty was a blast from the past, chock full of old colonial architecture, cobbled streets, horse drawn carriages and old men peddling sweets in carts. A port town, Paraty is decidedly working class, and the simple, almost rough hewn architecture reflects that fact. In the 1800s when gold was still flowing from the mines up in Minas Gerais, Paraty was the port the Portuguese used to ferry the loot out of the country and to imperial coffers in Lisbon. When that gold dried up, Paraty fell in importance and faded into the annals of history, a mass exodus left the town almost empty, but it also meant that the buildings remained preserved in time without too much degradation all these years.
A relatively small town, Paraty can be covered by foot, and we spent few days there wandering about the cobbled lanes an amidst the beautiful buildings with their trademark windows. Late afternoons were spent sipping Agua de Coco on the beach, with Samba blaring from tinny speakers hung up in the trees on the sand. After our crazy time in São Paulo and Rio de Janeiro, it seemed a rather stark contrast that nobody seemed to be in any kind of hurry in Paraty.
And it suited us just fine.

See more pictures on handcarryonly.com