Wedding Photography
See on Scoop.it – Fuji X-Pro1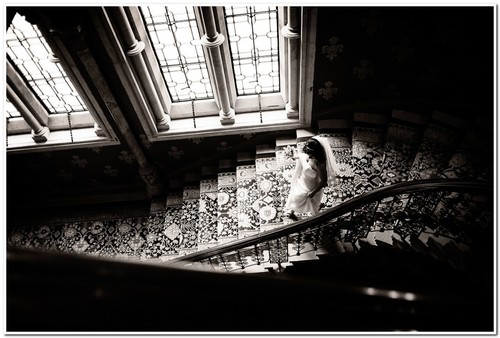 Fuji X-Pro1 Black and White: One of the things that excited me about the Fuji X-Pro1 is its magnificent Black and White image handling, especially at high ISO levels. The Fuji X-Pro1 Black and White photographs are just beautiful and its primarily for this reason that I tend to shoot in JPG rather than RAW when using the camera.
Whilst the Fuji X100 produced some amazing black and white images, the X-Pro1 has taken it to a new level in my mind. I'm using the camera a lot now at weddings and when the time is right, shoot entirely black and white JPGs.
This first image was shot at a recent wedding at Clearwell Castle in Gloucestershire. The bridal room is large and spacious, but for any of you who have been there, you will know its actually quite dark too. The image was shot on the XF18mm F2 lens at f/2 at 3200 ISO. The beauty of the camera as a stealth machine has been well documented and I really enjoy using it during bridal prep time. The size and weight really allow you effectively sneak into places you may well not have so much confidence doing with an SLR.
See on www.kevinmullinsphotography.co.uk
See on Scoop.it – Fuji X-Pro1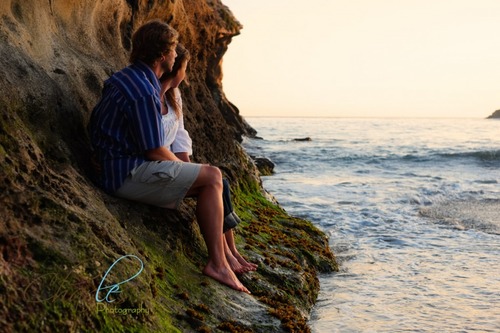 I knew I would be doing a bit of hiking for this photo shoot, so I only brought along my Fuji X Pro 1 and the 35mm and 60mm lens. I didn't use any flash at all for any of the pictures. It's a very lightweight combination and the lens easily fits into the water bottle pocket of my hiking daypack. Fortunately we were not in a rush. Shooting with the X Pro 1 forces me to slow down and consider my composition more so than shooting with my DSLR's. It's a different, more deliberate approach to shooting that I've come to really enjoy. I find that I shoot less frames but am more happy with the ones I get. I also brought along a sturdy tripod. I wanted to do some slow shutter photography when we got to the beach at the end of the day. The tripod stayed in the trunk of the car until we arrived at the beach.
See on followcharles.me
See on Scoop.it – Fuji X-Pro1

These images are a subset of the day shot on Fuji X Pro 1. My main camera was a Canon EOS 1D MkIV and the X Pro 1 was used for supplementary images. What a wonderful feeling having it hanging over my shoulder on a Black Rapid strap for the whole day. You hardly feel it is there but when you need to take a shot, simply reach and bring it to your eye. For those interested, see comments below on my feelings about this camera …

See on www.cachephotovideo.com.au
See on Scoop.it – Fuji X-Pro1

I decided it was time to explore different ways and technologies for my photography. For the last who knows how long, every time i have have taken a photo it has been with a dslr with a battery grip and a very large lens. I have been a Nikon user since the release of the D300 and i love the images i got from my D700. But shooting weddings or portraits usually means a camera bag, 2 x cameras, 4 lenses and 2 x flash!! All this without the consideration of a monopod or tripod and in some cases a pair of steps!!!
See on Scoop.it – Fuji X-Pro1

I've been using the Fujifilm X-Pro1 for a while now and recently wrote about my thoughts on this little camera in the June 2012 edition of Professional Photographer magazine. I'm right in the middle of a very busy May and June in terms of Wedding Photography but before I head off to this afternoon's wedding at The Hare and Hounds I wanted to post a few recent Wedding Photos shot with the X-Pro1.
See on Scoop.it – Fuji X-Pro1

I've been using the Fuji X Pro 1 for weddings since it first came out. I've shot four weddings using it so far. I shoot with it alongside my Fuji X100, Canon 5d Mark 2, and Canon 7d. In total, the Fuji X Pro 1 accounts for about 30 percent of my pictures. As much as I may love any camera, I never depend on just one to do the job. I believe all my cameras have different roles to fulfill throughout the day. Sometimes I use the Fuji X Pro 1 exclusively. At other times during the wedding, I shoot it alongside any one of my other cameras. In this review I will explain how I use it, why I use it, and how I feel about it as a tool for professional wedding photography.
See on followcharles.me
See on Scoop.it – Fuji X-Pro1

I ended up shooting more with the X-Pro1 than the DSLR, which was a surprise and not what I was intending to do. The Fuji shines in reportage style shooting and people really don't take that much notice of you when mingling amongst guests with this camera. I've never been happy shooting these type of shots with flash, and my Nikon D300s & D300 are not great at high ISO's. The 18mm f2 is nice to get wide shots at the alter, showing the church environment, but I wouldn't want to use it for group shots (35mm is wide enough). The 50mm in my opinion, could be left on the X-Pro1 90% of the day.
See on www.derekclarkphotography.com
See on Scoop.it – Fuji X-Pro1


It's not often I get excited about camera gear as I'm very much a "it's-not-about-the-camera" kind of photographer but the new Fuji X Pro-1 has me quite excited! I'm not going to bore you with all the technical details that you can read on the camera geek websites; I'll talk about why this camera is or is not suitable as a camera for professional wedding photographer use (or maybe as an SLR alternative to my clients who have photographic aspirations), image quality and overall feel. This definitely isn't the kind of blog post that I normally do but there's so little information and quality reviews by working professional photographers about this camera that I want to share my thoughts. This is going to serve as my preliminary thoughts, I'll post a more comprehensive review with sample images later. Note that at this time Lightroom does not support the RAW files from the X Pro-1 so I will be shooting jpeg and thus heavily relying on the in-camera processing.
See on www.colinmichaelphoto.com
See on Scoop.it – Fuji X-Pro1

Fuji X Pro 1. My new camera. This is the first time I tried it for pre-wedding shooting. Almost prefect. Toy size with marvelous big camera function. The most important is its really great performance…
Speechless.

See on www.cmleung.com
See on Scoop.it – Fuji X-Pro1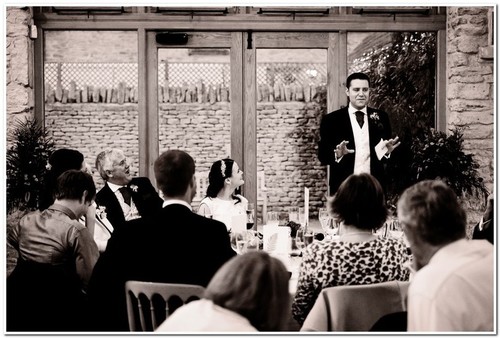 As mentioned in the previous initial thoughts to the X-Pro1 I am in the process of looking at the Fuji X-Pro1 Wedding Photography options and viability at the moment. This post will be very brief as I have literately just downloaded the cards from yesterdays wedding and wanted to put together some very early initial thoughts before putting the more formal article together in a week or so for the magazine. Obviously, as this was a new camera I used it very sparingly throughout the day and ensured the main part of the coverage was covered with my tried and trusted equipment. I took perhaps 60-70 exposures using the Fuji X-Pro 1 throughout the day.