Fujifilm Fujinon XF 14mm f/2.8 R
Earlier this week I made my second trip of the summer down to London – this time a flying visit of less than 24 hours. I had two reasons for going down. Firstly to attend the British Wildlife Photography Awards, having been delighted to find I had a photograph shortlisted and printed in the book. Secondly to visit Charlie Waite's wonderful exhibition of both old and recent work at the National Theatre – I have long been a big fan of Charlie's work and was so pleased the exhibition was extended by a few weeks, allowing me the opportunity to get down to see it.
Source: www.lizzieshepherd.com
British Columbia has a lot to offer – stunning scenery, abundant wildlife, a high quality of life and friendly people. Despite its many attributes, it wasn't natural beauty and certainly not the quality of life that brought early settlers to this part of this world. It was gold! Kasia and I recently went on a trip to the Cariboo region, driving along Highway 97, also known as the Gold Rush Trail. Like the early miners, we were there for adventure and mining for … great imagery. We travelled equipped with the Fuji X-T1 paired with the XF 14mm F2.8, XF 56mm F1.2 and X100S. The trip took us from Vancouver to Hope, small but charming Ashcroft and Cache Creek. From there we drove north along Highway 97 through Clinton, 70 Mile House, 100 Mile House and 150 Mile House. Then we travelled further north to Williams Lake and Quesnel, from which we headed east toward the funky town of Wells and historic Barkerville…..
Source: olafphotoblog.com
I like the Fuji system so much that I have also acquired the two fixed focal lenses XF 35 mm and XF 14 mm. Below are my practical impressions and resolution chart measurements of both lenses. Again, I made a comparison with Canon cameras. In addition to the EOS 5D Mark III also the EOS 600D has been used, which has a similar sensor (18 Megapixel APS-C) as the Fuji X-E1 (16 Megapixel APS-C). For the first time, a much larger test chart was used to achieve a better image scale especially for testing the wide-angle lenses. With APS-C sensor, the scale now about 1:30 and with the full-frame sensor it is about 1:20. I found that especially the full-frame lenses benefit from the smaller magnification and show partially higher resolutions and less chromatic aberrations as in my earlier tests. Therefore, new test shots of all lenses were made under the same conditions. As always the cameras were carefully aligned on a tripod and triggered by self-timer to avoid vibration (the EOS 5D Mark III with an additional mirror prerelease)……..
Source: www.martin-doppelbauer.de
I recently spend one week camping in the southern and south western part of Norway, on the coast line from Kristiansand to Stavanger. It's a beautiful area of Norway I think, especially in the summer. You don't have the nice deep fjords of western Norway, or the mountains of North Norway that goes steep into the sea – but this part of Norway has its beauty of its own I think. I could have used a lower ISO and 1/60 sec and gotten a sharp image – but the wind made the grass swayed in the wind so I bumped the ISO to 800. Also I wanted to use f/16 to get it nice and sharp from front to back. I travelled together with my wife. She is pregnant, and that made some impact of what I could and could not do. Most of my photos were taken during day time, in harsh sun light. Not the best time of the day for taking pictures. Still, I managed to get out some mornings on my own and take som shots, while she was sleeping…..
Source: www.larsauthen.com
How do the 3 Ultrawide lenses compare? Are the primes worth more than the zoom? My opinion is the center of all 3 lenses are about the same and good at all apertures. The Fuji and Zeiss have preferable contrast to the 16-50mm, but not by much. The corners show the strengths of the primes, and the fact the 16-50mm is being corrected for about 6 of 8% barrel distortion. Without the correction the cheap zoom is just as sharp in the corners and actually the same diagonal field of view as the Fuji 14mm. The primes are definitely better overall than the 16-50mm, but you get 80 or 90% with the cheap zoom. This is typical with any pro quality lens. You pay 3 or 4x as much to get that last 20% performance. I am getting another 16-50mm to test with an X-M1, so will compare that to my existing 16-50mm which is decentered and has a softer edge at large apertures. The first show the field of view difference, and also add spacer to get down past the ads on the right…….
Source: erphotoreview.com
A recent comment made on this blog posed a question that had been troubling me as well, particularly because I am currently in the process of assembling a travel kit for a two week trip to Spain and Portugal. It has to do with making a decision between the Fuji 10-24mm f/4 zoom and a single prime wide angle lens, such as the Zeiss Touit 12mm or Fuji 14mm, both with faster f/2.8 apertures…….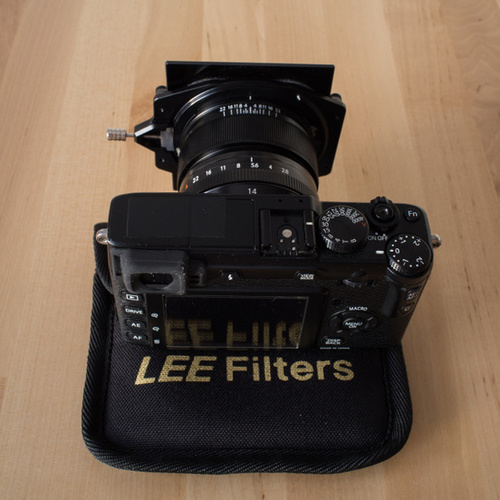 I've been a Fuji proponent/fan since I bought my X10 in 2011 and my X Pro 1 in March of 2012.  The X system has matured substantially since the early, dark days of the aperture dance, S-L-O-W autofocus and *gasp* no focus peaking.  Over the years I've been using these cameras, I've posted extensively on my photographic experiences and results with manual focus, legacy lenses from Canon, Minolta, Pentax, Helios and others on the X Pro 1 and XE-1.  I also own an X100 which sees frequent use. I dreamed of owning the 14mm since its introduction.  When my work as (among many other hats) the staff photographer for my day job provided the means to acquire the lens, I jumped at the opportunity. Since I was already buying things, I decided I needed to buy a Lee Sev5n/Seven-Five system, too.  One of the first things I did upon receiving my Fuji 14mm lens, Lee Big Stopper and soft ND filter kit was to head to my home town of Half Moon Bay to shoot the sunset and seascape……..
See on blog.redcentphotography.com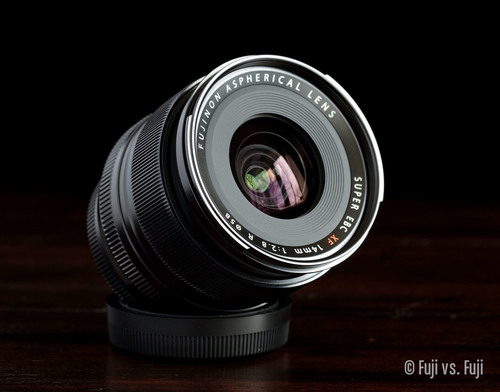 The FUJINON XF 14mm ƒ/2.8 is a 21mm equivalent, and Fujifilm's first and only prime that barely ekes out the "ultra" denotation. It is significantly wider than the tiny FUJINON XF 18mm ƒ/2, and is made for very different use; the 14mm ƒ/2.8 is built with landscape architectural photography in mind with it's minimal distortion, ƒ/2.8 maximum aperture, edge to edge sharpness, and beautiful engraved depth of field markings. The 14mm ƒ/2.8 holds a place in my Ultimate Prime Kit along with the 23mm ƒ/1.4 and the 56mm ƒ/1.2……
See on www.fujivsfuji.com
FujiFilm 14mm f2.8
When I finally got this lens, I had my doubts that it might not be wide enough for landscapes.  I like to shoot landscapes at least at 17mm on full frame camera. and this 14mm translates to roughly 21mm, when factoring the crop of Fuji X cameras.  I decided to give it a try.  I was really impressed with the results.  I think 21mm is wide enough for me, although I'm still looking forward to the new 10-24 f4 Fuji lens.  Best of all, all this equipment is light, easily transportable, which makes shooting with it so much more fun. It was a perfect day.  The morning was beautiful and we found a few photographers already positioned at Vermillion lakes waiting for the sunrise.  The weather conditions were quite perfect for a great sunrise shoot.  After the sunrise, we traveled to Lake Louise.  Another great iconic location for landscapes.   A day of beautiful light, beautiful mountains, and great time shooting it all……
See on www.miksmedia.net
Après la prise en main de l'exquis Fujinon 23mm 1.4 R (équiv. 35mm), voici venue celle du Fujinon XF 14mm 2.8 R (équiv. 21mm). Au départ, je ne voyais pas l'intérêt d'avoir deux « grands angles », puis mon ami Cédric s'en est mêlé… Les deux objectifs sont très différents. Le 23mm est très polyvalent mais n'est pas un vrai grand angle et il peut s'avérer un peu juste dans certaines situations. Le 14mm, lui, en est un. Large, très LARGE (mais pas trop). En ouvrant la boîte, je m'attendais à du gros et lourd caillou. Seulement 234g sur la balance contre 300g pour le 23mm (l'ouverture f/1.4 du 23mm joue aussi sur la taille et le poids du joujou)…….
See on blog.k-pture.com