Fujifilm Fujinon XF 18-55mm f/2.8-4 OIS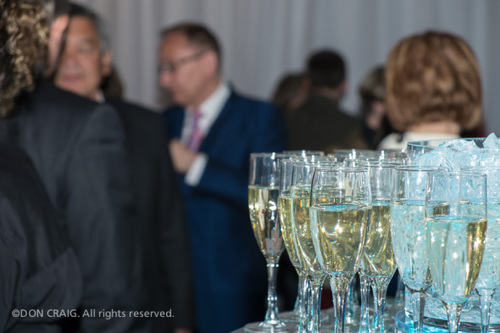 I recently posed this question to colleagues because I have been experiencing the benefits of shooting wide open with one lens and the trials of relying on the variable aperture of the zoom lens. These experiences have led to results with which I'm really happy (portraits shot with the 60mm) and an unhappy photographer (me with the 18-55mm). Let me back up a bit. When the X-Pro 1 arrived on the scene last year, I purchased the three available prime lenses. For what I use them for, I have been very happy with all three. Of the three, the 60mm lens has been used far less than the 18mm and 35mm lenses, restricted to portraits, some close up work and more portraits. That said, despite the focusing quirks of the lens, the results have been very good and recently, as I have better understood how to use it, the results have been outstanding. Having used all three lenses on the X-Pro 1 for work and freelance gigs, plus the X100 on occasion, I was feeling that I needed/wanted to have the 18-55mm f/2.8-4.0 zoom lens to shoot events. The zoom simplifies, to one way of thinking, lens and camera choice and since I shoot with flash indoors and don't have to worry about a fast aperture shooting outside, you would think that this is the ideal event lens. Well, I'm not so sure about that. Earlier this week, I shot an indoor event, an awards dinner and presentation for a freelance client. The end result was that the photos turned out well and I rarely missed a shot, but it wasn't the best shooting experience. And I have to take a good portion of the responsibility for the poor experience part. I will give all of the credit for the good shot results to the lens and camera. So what went wrong you ask? Since I shoot with primes most of the time, using the zoom complicated things. It did give more reach or a wider field of view than with a prime, but I felt like a klutz most of the time. Also, the variable aperture is a pain. Tempting as it might be to set the lens to f/2.8 at the wide end and let the lens stop down as I zoomed to the 55mm end of things, this plays havoc with exposure when I'm shooting with a non-TTL flash. Instead, I set the aperture between f/4 and f/5.6 and left it there, no matter which zoom range I was in. Again, this worked well and I have no complaints with the results, except for those rare occasions when the ambient light was right and I switched off the flash and tried to shoot as wide open as I could. Then, the ISO zoomed to uncomfortable levels, which wouldn't have happened if the lens had a constant aperture of at least f/2.8 or better. Couple this with needing to shoot with the EVF most of the time rather than the OVF and using Auto Focus instead of Automated Manual Focus, which is my preference, it was a frustrating night of shooting. Poor me you say? Well you might. The AF worked as well as can be expected of any lens in the dim light of the event, but it wasn't street fast, which is what I wanted this to be. It wasn't rangefinder fast. So, therein lies the problem. The 18-55mm lens is a really good all around performer (I have made some gorgeous long exposures with it) but not as easy for me to use. There, let me put it this way, the problem is really me and I know it……
See more pictures on doncraigphoto.wordpress.com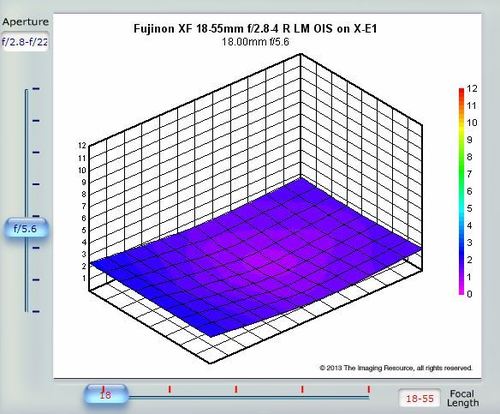 The Fujinon XF 18-55mm ƒ/2.8-4 R LM OIS is Fujifilm's first zoom lens for the X-mount; it's also Fujifilm's first optically-stabilized lens. While 18-55mm is a common range for APS-C kit lenses, the variable aperture of ƒ/2.8-4 is uncommonly bright. The X-mount lens will only mount to Fujifilm digital SLR cameras with sub-frame (APS-C) sensors. Thus, for this particular lens, it will exhibit an effective focal length of 27-84mm. This lens isn't a "constant" lens, in that as you increase the focal length, both the minimum and maximum aperture increases.
The lens is available now with a petal-shaped lens hood, takes 58mm filters, and retails for around $700.

Sharpness
The Fujinon 18-55mm lens is surprisingly sharp, and seems to be calibrated for its best performance in its wider apertures. Used wide open, the lens performs very well (there are very sharp images to be had at 35mm and its widest setting there, ƒ/3.6). If there's any doubt about which focal length to choose – 35mm is it, as the lens is consistently sharp from ƒ/3.6 through to ƒ/11.
Other apertures are a bit more variable. At the wider end, 24mm is very good when used wide open; stop down to ƒ/4 and it's great all the way through to ƒ/11. 18mm and 55mm are a bit more variable: performance is still very good, just not quite as great as we note at 24mm and 35mm.
Diffraction limiting begins to set it at ƒ/16, with a slight impact on overall image sharpness, and ƒ/22 shows moderately soft results.

Chromatic Aberration
While our test results show some significant impact with regard to chromatic aberration, looking at the sample images, I would be hard pressed to describe it. If it's anywhere, it would be in the extreme corners.

Shading ("Vignetting")
There is only a slight amount of corner shading for the 18-55mm Fujinon, and that is at the 18mm setting: even then, the extreme corners are only a quarter-stop darker than the center. This is very close to negligible.

Distortion
Distortion results are surprisingly good for a kit zoom lens, suggesting that there is a bit of correction going on under the hood with the X-E1. At the wide end, there is only slight barrel distortion (+0.3%), and even less pincushion distortion at 55mm (-0.1%). There is a nice point of parity at 28mm, where there is essentially no distortion.

Autofocus Operation
The Fujinon 18-55mm uses an electrical autofocus system, which is very fast. The design is fly-by-wire, so there is no direct connection between the focusing ring and the autofocus system: autofocus results are very quick, and near-silent. Attached 58mm filters will not rotate.
Macro
The 18-55mm kit lens isn't great for macro, offering just 0.08x magnification at 18mm, and 0.15x magnification at 55mm. The minimum close-focusing distance is a foot at 18mm, and 18 inches at 55mm.
Build Quality and Handling
The Fuji XF 18-55mm ƒ/2.8-4 R LM OIS is a well-built lens, harkening back to the days of metal rangefinder cameras. It's small and it isn't all that heavy (just under 12 oz), textured in a satin black finish. The lens features optical image stabilization, which is activated or deactivated with a dedicated "OIS" switch.

Conclusion
Fujifilm has done very well with this lens, making it more than "just" a kit lens, and perhaps justifying its comparatively hefty price tag. Given that the lens is available in a kit with Fuji X-mount camera bodies, this isn't necessarily a factor: but if you're a prime lens shooter looking for something a bit more convenient, you probably won't be disappointed with the 18-55mm.

See on slrgear.com
Wie Millionen Iren in aller Welt feiern auch die Münchner Iren und ihre Freunde ihren Nationalfeiertag. Am 17. März fand in München die Parade zwischen Münchner Freiheit und Odeonsplatz statt. Das Motto lautete – Let´s paint the town green! Und während der Winter den Norden Deutschlands noch fest im Griff hat konnten wir uns in München über etwas Sonne freuen. Beste Voraussetzungen also, die Parade mit der Fuji X-Pro1 und dem Fujinon XF 18-55 F2.8-4 R LM OIS zu begleiten. Die Flexibilität des Zooms kam mir dabei wirklich entgegen und so konnte ich problemlos zwischen Weitwinkel und leichter Telebrennweite wählen. Außerdem ist die Fuji für solche Zwecke natürlich besonders geeignet, da sie wesentlich unauffälliger als eine große DSLR ist. Dies hatte ich zu Beginn meiner Arbeit mit den Fuji X Kameras oft unterschätzt. Aber es macht wirklich einen Unterschied ob man einer Person mit einer X-Pro1 oder mit der D800 vor der Nase rumfuchtelt. Einziger Wermutstropfen: Der manchmal verflixte Autofokus – ja auch mit dem Zoom gibt´s Momente wo die Kamera partout nicht scharf stellen will…und der Moment ist dann vorbei…die Parade weitergezogen. Nach all den neuesten Firmware updates habe ich sogar manchmal das Gefühl, dass das 35er in manchen Situationen schneller fokusiert. Ich werde das in den nächsten Wochen mal genauer vergleichen und wieder berichten. Bis dahin – enjoy the pics!
See more pictures on www.cleareye-photography.com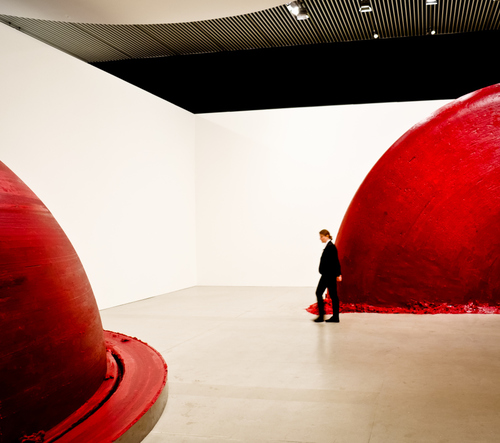 This is a first for me and for this blog. A small review of the Fujinon 18-55mm f/2.8-4R OIS. I really don't plan on making this a habit since there are tons of other sites out there that does it so much better than I would ever do. However I feel that I can contribute with something to people who, like me, has the X-Pro1 with primes but want to add the zoom lens for added photographic flexibillity. This is NOT a scientific review at all. This is just my impressions, and some insight into what it means in terms of my creativity photography wise. I will off course be posting samples as I go along.
Look and feel
There's no doubt about it, this lens is gorgeous. Well built, solid feeling, and just the right amount of torque in the switches and focus rings. It has just the right heft to its weight, and fits the X-Pro1 build perfectly. The aperture ring is without markings, and has a nice slight click to it. There are two switches on the lens, one for the Optical Image Stabilizer and one for Aperture Priority/Shutter Priority. The included lens hood is a pedal type plastic hood. Not as great as the metal ones included with the primes, but there are nice third party ones available dead-cheap on ebay. The lens has a nice chrome ring between the manual focus ring and zoom ring, makes it look really good, and exclusive. This is sold as a kit lens with the X-E1, but in no way does it feel like a cheap kit lens. It really feels like a well crafted piece of equipment……
Conclusion
The Fujinon 18-55mm f/2.8-4R OIS is a great allround performer. As a kit lens, it's one of the best I've ever had the pleasure of using. As a stand alone zoom lens it's up there among the best of the normal range zooms IMHO. It would be perfect if it had a set aperture at about f/2.8. It's very reasonably priced, and you get a lot of lens for your savings. If you, like me, is considering the prime XF 18mm f/2.0, I would instead recommend that you buy the 18-55mm since it delivers on par image quality, it's faster at focussing, and you get some added flexibility. This lens is really great for street photography. The good fast AF coupled with one of the best OIS's I've ever used makes it joy to use. The images it produces are sharp throughout the range and delivers great "pop".
This is a great addition to my X-series system.
See full article on jonasraskphotography.com

Having used, and loved my new Fuji X-E1 with the "kit" lens XF 18-55 f2.8, I decided to try and create a lens profile to use within Adobe Lightroom (or camera Raw). I used Adobe's Lens Profile Creator available for download. Feel free to download it here, and comment if you find any problem.
EDIT (02/15/2013):
I managed to recreate the profile using a much wider set of pictures, with all focal settings (18-23-35-55mm) and f-stops (2.8-4.0-5.6-8.0-11.0)
Please re-download the profile (same link in this page) to have a (hopefully) much better performance throughout the lens' range.
See on www.riccardogabbana.com

For me, taking the time to watch the sunrise is a spirit-lifting experience in itself.  Every day is new, untold and full of possibilities.  To be out there facing that iconic view, seeing the day being born out of the darkness and lighting up the city where I've spent my entire life is quite an evocative thing to witness. That said, it's not always such a calming experience because as the sun rises and its rays dance over the clouds, occasionally, and perhaps only for a few fleeting seconds, the sunlight skims the atmosphere at just the right angles and your eyes are treated to a fantastic explosion of colour.  It's at those times when my sleepy mind is suddenly very alert and I'm most likely darting between two cameras I've got set up on tripods making sure their shutters are firing and the exposures are looking good.  And when I see those rear LCD previews glowing with same radiance, well, that's when I don't mind losing a bit of sleep so much. My usual kit for these sunrise shoots has been a Nikon D700, Nikon 24-70mm with an assortment of Lee filters (ND grads and a Big Stopper), a Fuji X-Pro 1 with the 35mm and 18-55mm XF lens and B&W 10-stop filter.  Let's not forget the many layers of warm clothing, a flask of something hot and many hours to stand around waiting! The 4-year old D700 still has a place in my heart despite higher resolution offerings from younger siblings and rivals.  It's reliable and predictable in so much as I know I can get extremely satisfying results from it.  Like a faithful old dog who knows where my favourite slippers, newspaper and pipe are. The Fuji X-Pro 1 on the other hand is still a very new camera, fashioned with classic and retro lines, but underneath its cool, dark exterior lies technology  which would make the Borg salivate.  The X-Trans sensor is innovative with its lack of anti-aliasing filter and funky colour array filter, but software companies have had decades to perfect their algorithms to render 'traditional' Bayer pattern sensor data so it's no surprise there are still improvements to be had.  It's not all bad news, though, and the X-Pro 1 still has a legion of fans with me being one of them.  Personally, I don't find the raws that bad when processed in Lightroom.  Certainly, not as bad as some might claim. The styling is great, the handling is great, the autofocus is decent for a contrast detection based system, the sensor is relatively huge for such a small body and in my opinion packs just the right number of megapixels (16).  Crucially, the lenses are excellent (aherm, Sony) which makes the XF system such a great one.  To me, great lenses are the foundation of any system because they're the pieces of equipment you carry over from one body to the next.  The JPG processing in-camera is good, but I'm still going to continue shooting raw because that leaves me the option of processing in-camera afterwards and because I believe raw support will improve. With all that said, what matters is the end result and whether I like it. I do. Very much so.
See more pictures on www.digitalrelish.net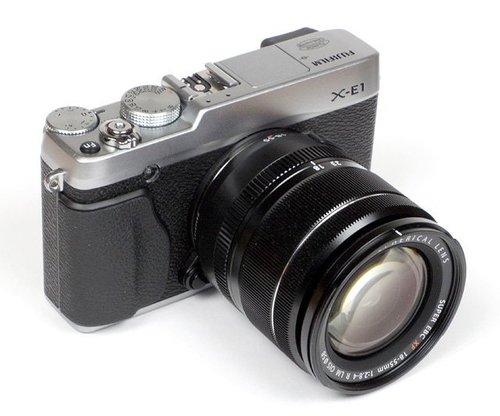 Unlike other mirrorless system providers, Fuji follows a top down approach in terms of target audience. Thus they are creating interest among professionals and prosumers first. After the release of 3 high quality prime lenses they are now tackling the mainstream market with a standard zoom lens – the Fujinon XF 18-55mm f/2.8-4 R LM OIS. You may argue that it is just another kit lens but unlike its remote cousins it is obviously one stop faster. If you buy it as part of a camera kit it is pretty affordable but its naked price tag of more than 650EUR/US$ makes it obvious that Fuji still doesn't want to play in the low end market. Interestingly the lens features an image stabilizer which is the first time Fuji has implemented this in a XF lens…..
Verdict
The Fujinon XF 18-55mm f/2.8-4 R LM OIS may be the hottest reason to enter the Fuji system. It is amazingly sharp throughout the zoom and relevant aperture range. The amount of lateral CAs is generally quite low with the exception of 55mm @ f/4. The Fujinon is not without flaws, of course. Technically it suffers from a high barrel distortion at 18mm and the vignetting is a bit too high at max. aperture. However, these aspects are taken care of either by the camera itself or external RAW converters so you don't need to worry from a user perspective. The quality of the bokeh (out-of-focus) blur is pretty good for a standard zoom lens but it cannot rival the best prime lenses, of course. The build quality is on a very high level but then you also expect no less from a lens in this price class. It is a bit worrisome, however, that this is the 2nd out of 5 tested Fuji lenses with a rather significant centering defect. We hope that this is not a trend that we will have to confirm once more in the future. Interestingly Fuji has modified the AF mechanism in this new lens. Unlike the gang of 3 prime lenses (18mm, 35mm, 60mm) it is quite fast and basically silent so Fuji is definitely on the right track here. Fuji's new image stabilizer is, of course, also a welcome new feature. In a nutshell – you can't go wrong with the Fujinon XF 18-55mm f/2.8-4 R LM OIS … if you can get a good sample.

Optical Quality: 3.5 to 4 / 5
Mechanical Quality: 4 / 5
Price/Performance: 4 / 5
See full review on www.photozone.de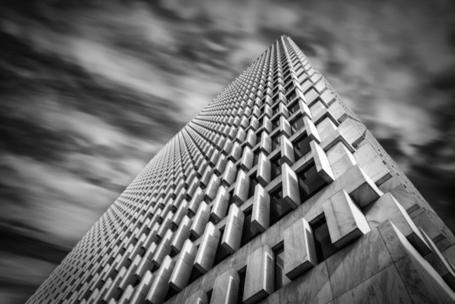 Architectural photography has always been one of my great interests. Capturing the essence of what an architect was envisioning when a plan was created can be challenging in a number of ways. Architectural photography requires you to take perspective into account as well as surrounding distractions as you attempt to create the image.
The Story
Pictured above is another SunTrust Bank building in downtown Atlanta. As much time as I've spent around their facilities one might think I was stalking them! They occupy some fantastic looking architecture in Atlanta. In studying this building, I was really intrigued with the patterns created by the blocks in the building. I envisioned a dramatic black and white image utilizing those patterns and the clouds above in the final product.
Equipment and Processing
This image was taken with the Fuji X-Pro1 and the Fuji 18-55mm zoom lens. After importing it into Lightroom for some minor adjustments I exported it to Photoshop where I applied a motion blur filter to the clouds to add some drama. I then converted the image to black and white using Silver Efex Pro. Some minor dodging and burning to retain detail in the building and it was finished.
See article on www.fstopguy.com
When Fuji announced that they were coming out with the X-Pro1, it got many photographers out there excited because finally, there was a digital camera that reminded them of how cameras use to be built. The Leica M digitals evoke the same feelings but they also cost a lot more. The X-Pro1 was a camera that really allowed photographers to take an active role in the photographic process instead of letting the camera do everything for them but for several times less than something like an M9. Furthermore, the X-Pro1 had many of the same attributes of a traditional rangefinder even though it was in the mirrorless class. Many thought that just like a traditional rangefinder, only fixed focal length lenses could be used. Then Fuji surprised us by announcing that they would be creating zoom lenses for the XF Series lineup. The first of these zoom lenses is the XF 18-55mm F2.8-4 R Lens, which is the lens that I have here today for review, and the lens that came with my X-E1 kit.
Honestly, even I was a bit surprised when I heard the news that Fuji was coming out with zooms for the X-Pro1/X-E1. First off, most people who are going to buy a camera like the X-Pro1 or the X-E1 are more interested in fast primes. I know I was because I grew up with fixed focal lengths. Optically, they're just better, faster, and most importantly for a rangefinder type camera, smaller. But as my interest grew for the Fuji X-E1, I began looking at the price of the new zoom. If I bought the XF 18-55mm F2.8-4 R Lens separately, I would have to cough up almost $700 for it. However, if I bought it packaged as a kit with the X-E1, I would only be paying about $400 for it.

The Fuji X-E1 with XF 18-55mm F2.8-4 R lens.
I'm pretty traditional in terms of what I like in photographic equipment, and everyone who knows me knows that I can be pretty stuck in my ways. Look at my blog.  You'll see Leica, and Fuji X series cameras, which are all cameras that rely heavily on user input. I'm not trying to rat on anyone else's preferences; that's just my style. I like these kinds of cameras because they're basic, and the controls are manual allowing me to fully concentrate on the photo. I really don't like electronics getting in my way, and in terms of lenses, I really believe that all you need is a fast prime to take care of 90% of your shots. For me, the ultimate setup to this day is a Leica M9 with a 50 Summilux ASPH. So what made me try out this zoom?  Well, for me, the fact that the X-E1 had only an electronic viewfinder bothered me a bit because I like having an OVF. But the features of the X-E1 got me to take the leap, and buy it so I figured that since I'm giving the EVF a chance, I might as well go for the zoom, and see what I've been missing. Plus, again, the zoom cost me only an extra $400 if I bought the Fuji X-E1 kit, which to me was a great incentive to give the zoom a chance.
Did I regret my decision? No, not at all. This is one awesome lens, and in my opinion, Fuji shouldn't label it as a kit lens because that's very deceiving. I love using this lens. Is it perfect?  No but it definitely expands the range, and usefulness of the X-Series system, and gives the X-Series system one more reason to love it.

See full review on findingrange.com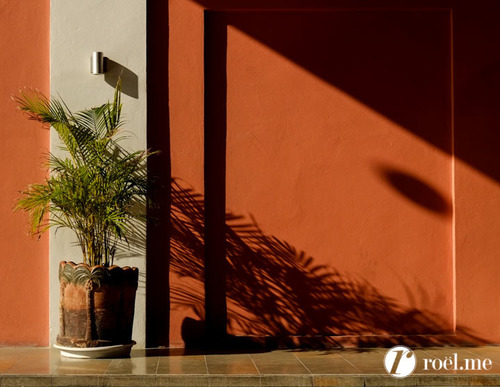 It is the first zoom lens for the Fujifilm X camera system and unfortunately, I did not have a chance to use it as it was not available when I received the X-E1 for testing.  At a trade show in Toronto later that month, I did have a very brief opportunity to use the 18-55mm at the Fujifilm booth, but I could only view the images on the camera's rear LCD screen (and not a calibrated computer monitor) so I did not feel that I had sufficient data to present an informed opinion. I really wanted to see how this lens performed – especially since I have been spoiled by the superb optical quality of the Fujifilm X prime lenses.  But I was just going to have to wait a bit longer before I could get my hands on this new zoom lens. As I was heading off for a much needed vacation in the Bahamas in December 2012, Fujifilm sent a production copy which I took with me on this trip. This is not an in depth review as I tend not to be a pixel peeper but I wanted to pass on my thoughts – plus, show you a few sample images…..
Final Thoughts
Here is a quick summary of this lens:
Pros
excellent build quality
fast for a variable aperture lens (f/2.8 to f/4)
focus ring is dampened nicely
aperture ring feels solid with discreet 1/3 stop settings
sharp, even wide open
incredibly sharp when stopped down
OIS works well
AF is extremely quiet in operation
the petal lens hood is a much needed improvement over previous lens hoods
Cons
the $US 699.99 price tag might put some people off
Linear Motor provides adequate AF speed, but I expected it to be faster
See full article on roel.me