Patrick La Roque
At some point Fuji is going to disappoint me. They'll have to let me down, I just know they will. Everything follows this basic, unforgiving law of averages right? But at the risk of coming off as some sort of fanboi, that day hasn't come and I'm again forced to swoon over an upcoming X-series product: the Fujinon XF 55–200mm F3.5–4.8 R LM OIS. This lens isn't out yet but Fujifilm Canada sent me a pre-production unit to test — with all the caveats this involves. A telephoto is the one thing I've been missing most on this system so I was eager to try it out. I had to install a new firmware version in order for the camera to recognize it but everything went without a hitch. I was warned by Billy (Luong, of the Fuji Guys) that there were still improvements being made (the zoom itself is way too stiff but this won't be in the final version), and Tokyo has put an embargo on any full size images until everything has been ironed out. But I'll tell you this: if this is the level of image quality in the pre-production unit… Man, we're in for a serious treat. The contrast, sharpness and highlight rendition is right up there with the 35mm f/1.4. My initial feeling is that it even surpasses it. The OIS feels like a Steady-Cam; Manual focussing follows in the footsteps of the 14mm and 18–55mm and keeps me eating my own words about fly by wire. And when mounted on my X-Pro1 the entire kit feels like it's at least half the weight of my old Nikon 70–200 2.8 on its own. I can't wait to shoot portraits with this lens but for now, a few images from my backyard (moments after the lens got here and a few after dinner) just to give you an idea of what it looks like wide open — which of course will vary based on focal length. Make sure you hover over the lightbox images to get the exif data. One more detail: minimum focussing distance seems to be a little over 3 feet, a bit more on the long end. Enabling macro mode on the camera doesn't seem to do anything.
See more picures on www.laroquephoto.com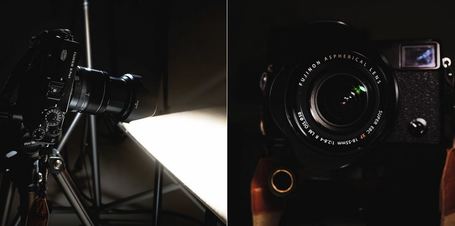 I'll put my cards on the table right away: I've developed a slightly tumultuous relationship with zooms. They're very useful tools but I've come to realize they also tend to drive me into what I'd call visual laziness. When I decided to jump to the X system as my one and only kit, I also embraced the fact that I'd be shooting with nothing but primes. In fact much of that decision was coloured by my experience with the X100's fixed focal length and the way it affected my shooting reflexes. Not that this was anything new: I used Nikon primes as well. But committing to a single focal length for extended periods of time wasn't something I'd really done before. When I shoot a prime I need to move — Obviously; I need to walk in order to alter my distance to the subject; and while I walk my brain works, and when my brain works it notices its surroundings and finds details or angles I often would've overlooked otherwise. But with a zoom… No matter how much I try, it's always much too easy to fall back to those old reflexes. Twist in, twist out. Maybe if we stopped calling them zooms in the first place. That word doesn't do justice to what's going on optically. Maybe instead we could describe them as multi-focal lenses. There's definitely something pretty fantastic about having the equivalent of 8 primes on a single lens… IF you use it as such. IF you understand how to use each individual focal length in the right context, and how each one changes the entire aspect of an image way beyond making things look nearer or closer. Compression, distortion, spatial perception. Of course you can also use it to get a closer shot of that mountain way out there; but perhaps if you actually GO to the mountain, something amazing will happen along the way. Right, so where was I? Ah yes: no zooms for me. Huh…

SOLD?

Absolutely. As surprised as I am to say this, it's a no brainer. Until we get the extremely anticipated 56mm f/1.2 — yes, it's now 1.2!!!!! — This will be my 85ish equivalent. It's a great lens to have in my arsenal, especially for studio work. If you're looking for an all around travel zoom lens, this will certainly do the job and then some. Personally, I still prefer something smaller and less visible and the X100S remains the ultimate travel solution for me. As I said earlier, I like committing to a single focal length and forcing my brain to make the most out of it. But I love what Fuji has done with this lens. And it certainly bodes well for the upcoming XF 55–200mm. More random images below…….
See more pictures on www.laroquephoto.com



Mr. Purolator brought me a nice box today: the brand new X100S courtesy of Fujifilm Canada. Huge thanks to them for this opportunity.
It's been raining cats and dogs today so I haven't had a chance to test it the way it's intended to be used: out in the world, roaming the streets and alleys. But I'll be out and about these next few days and I've scheduled a documentary shoot next week for which I intend to use it exclusively. So real world testing is coming.
Still, I wanted to share a few initial impressions:

The hardware is identical in every single way to the X100 except for the button layout, which is much improved and gains the very useful Q menu. In the hand, this is the exact same camera.

Some further cleanup has been made to the menus. For instance, some redundancies have been left out of the main settings menu: white balance can now only be accessed either via Q menu or the dedicated hardware button (needed to change custom WB). Same goes for flash mode. This threw me for a loop initially as I couldn't find where to enable external flash (to trigger the Skyport unit). Likewise, Multiple Exposure mode is now only available via the FN button.

AF button is now a right handed affair!!!! I knew about it, I wrote about it, but man… Why didn't this happen before? It completely transforms how you shoot with this camera. Again, I have to reiterate how much I want this to be added to the other X cameras eventually. The next generation is a given but I hope the current crop can get this as well. It's how it should've been from day one. And AF performance? No. Comparison. At. All. This is NOT an X100.

Manual focussing: wow. Fujifilm have stood behind fly by wire and I couldn't understand why. Having spent time with the XF 14mm and now this camera, I can honestly say I get it. The manual focussing on this camera feels mechanical: smooth, precise and with the right amount of tension. Coupled with the new Focus Peaking feature it's almost faster than using AF. I can't wait to try this on the streets.

There's now a dedicated Eye-Fi menu. As far as I can tell it doesn't change any of the functionalities (my Eye-Fi card still works the same way as before) but adds some welcome icon feedback in the UI. The camera now shows various icons depending on the state of transfer/connection. A nice touch.

This is all off the top of my head. Obviously there's much more to say (sensor anyone?) but this will happen once I've had a chance to put it through its paces.

Stay tuned…
See on www.laroquephoto.com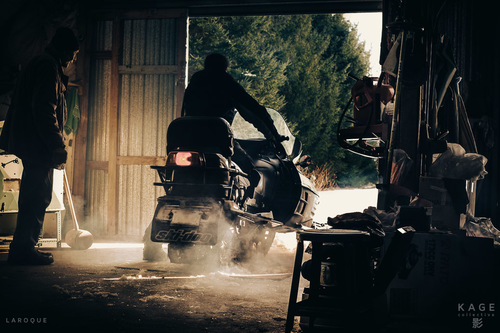 They come to tame the dragon, deep in the heart of its den. I follow them into a half-light I've come to associate with ceremonial spaces; this is a temple to motor oil, dust and gasoline. The machine is massive, built to plow through dense northern trails thick with freshly fallen snow. But today it refuses to budge. Its steel frame shudders in fits and hiccups but the motor won't start; such a capricious old beast. Get the tools out. Sharpen those swords. Screw this, loosen that. I'm circling & lurking as the ritual takes place. It's all very quiet, the silence only broken by muffled questions & puzzlement. There's no banter, just slow, rational work: from one to two, then two to three. Connect the dots. Solve the puzzle. Suddenly, without warning, the Thing roars. Exit the warrior priests…..
See more pictures on www.kagecollective.com
I have a gig coming up for which I'll probably need the new 14mm XF lens (what's life without rationalization), which means finally jumping in with both feet and getting rid of my remaining Nikon gear. Why? Because I don't use it, I don't plan on using it and it'll help fund the new kit. If a situation arises where I need a DSLR (or anything else) I can always rent. But before doing so, I wanted to see if I could possibly salvage some of my glass for use with the X-Pro1. You never know. One of the great advantages of mirrorless systems is their ability to use most lenses out there with an appropriate adapter. When I first looked at this option last summer, the landscape was rather bare but now: choices aplenty. So I turned to Ebay and ordered a Rainbow Imaging Nikon G adapter with aperture ring for a whopping $24, shipping included. I figured I didn't have much to lose. I hadn't been expecting much at this price point so I was pleasantly surprised: metal, sturdy feel, didn't look half bad either*.
But the best part of it is: it actually works. A few bucks and I'm shooting the X-Pro1 with a whole new range of focal lengths. Perfect right? Hmm… It is fun… But there are some  things to be aware of:
The camera needs to be set to Shoot Without Lens which means no focal length info in the EXIF.G lenses don't include an aperture ring and the one on the adapter doesn't communicate with the camera, so you set it by eye through the LCD/EVF while half-pressing the shutter. It's very… Let's go with "vague" for lack of a better term.No communication means no info: everything you shoot shows up as f/0. Fastest glass I've ever owned ;)No AF and no IS either. That fast and heavy telephoto just got a serious case of the jitters (case in point: a Nikon 70-200 2.8 that made no sense at all).This specific adapter's aperture ring has an extremely short throw. It's about 1/8th of a turn from one end to the other. Not very precise to say the least.
You quickly realize that beyond this basic ability to mount a lens, it actually needs to make sense overall. There's a reason the XF lenses are so light: they're meant to balance with the X-Series bodies. Some of the lenses I tried made the kit seriously front heavy. Interesting to see though…
Bottom line: I'm glad I didn't spend a boatload on a $200+ adapter. From the few days I've had with it, it's just not something I'd use as part of my main shooting workflow. Compared to shooting native lenses it leaves a lot to be desired. That said I will be keeping a few things, and surprisingly not what I would've expected. Expensive and fast Nikon glass is usually on the heavier end of the spectrum so the few lenses I'll be keeping are actually my lightest and cheapest; which is perfect from a seller's standpoint. I'm keeping the Sigma 70-300 Macro, maybe the cheap but often impressive Nikon 50mm 1.8D (still not sure about that one) and the original Lensbaby. Stuff I wouldn't get much for anyway and that might be fun to have around. They also all have their own aperture ring (well, the Lensbaby doesn't but it's fixed anyway). I would've preferred keeping the 10mm fisheye but the small built-in tulip hood that surrounds the glass shows up in the images. If I miss it I'll get the Samyang alternative sometime in the future……
See on www.laroquephoto.com


All double exposures shot in-camera with the X-Pro1 and 35mm f/1.4. Processed in Lightroom using VSCO Film 03.
See more pictures on www.laroquephoto.com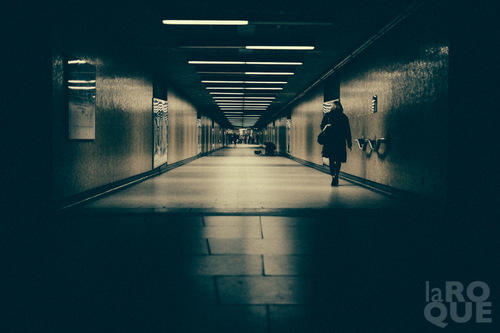 Sometimes I can't resist shiny things. I get fixated, like a dog with a stick. And dammit, the guys at VSCO just know how to present their wares and make everything they create simply drool worthy. Last night I heard about the new VSCO Film 03 release and headed to their website, with the firm intention of NOT purchasing anything. I was simply curious. Ten minutes into it I was hitting the buy button. To be honest, a lot of that had to do with the fact that they've now added Fuji profiles to this pack. Yup, along with Nikon and Canon specific presets we now get X-cameras support — complete with native film profiles when applied to raw files. I really wanted to test this. This new offering is all about instant: digital emulations of Polaroid, Fuji and Impossible Project instant films.  As always the visual material used to present the various possibilities of this new pack is, frankly, amazing. I dare you to check out Jeremy Cowart's page and not feel a sudden urge to fill your shopping cart.
The presets are divided into two main categories: Consumer and Professional. The Toolkit this time focuses on elements commonly associated with instant films such as grain, blur, tone and vignetting; these can be stacked on top of the emulations themselves. But while the promise of one click processing may be alluring, you'll need to put in the time to learn how to control and tone down the results. Otherwise it can easily become slightly "instagramish". But this, in my opinion, is true of all the VSCO Film packs. I still believe that if you're willing to analyze how these looks are achieved, by examining the tone curves, the colour mixes and calibrations, they become a fantastic learning tool. Plus, you'll gain the ability to wield your own looks based on the painstaking work these guys have put in. A final word on the Fuji profiles: man, this opens up some serious possibilities. When working with RAF files you now have the added option of switching film profiles in Lightroom's calibration pane. This is a very interesting tool to play with, as each film contains its own contrast and colour curve. Change the film, change the mood. My only hope is that they add this support to the previous film packs in an eventual update. I haven't had a lot of time to put in but I revisited some images to test things out. I'm including these below. VSCO Film 03 Instant is available for Lightroom and ACR 7. It's discounted 25% for the next two weeks and if you already own another VSCO Film pack you get the usual customer loyally discount as well — so 50% off in total. Damn those shiny things…..
VSCO FILM 03 for Adobe Lightroom 4
See more pictures on www.laroquephoto.com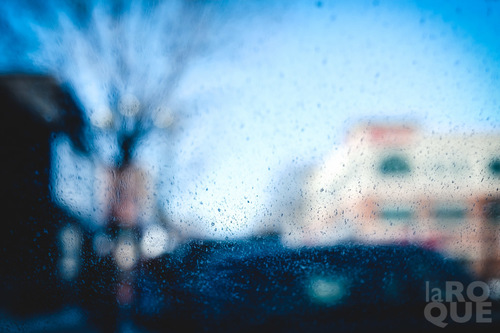 Montreal winters aren't just cold: they tend to throw humidity into the mix as well. And that's a much different kind of cold, one that seeps in and freezes your bones to their very core no matter what you do. It's like being pushed into a pool of ice water. And when the wind joins in on the party, well…
This week is like that. Biting. I've been in the city for the past two days waiting on some test prints for an upcoming project and ended up with some hours to kill. Needless to say I haven't really felt like aimlessly roaming the streets with my camera, waiting for the shot; it's been more of a sit in a café and drink coffee kinda mood. But February is a peculiar month. It brings back a different kind of sunlight behind all that cold, a teasing warmth, as though it's trying to let us know this arctic air won't be around forever; almost hinting at spring. If you can find a sheltered spot filled with sunshine and close your eyes, you can almost imagine it, you can almost taste those warmer days ahead. When I was a kid my parents would even build a "snow fort" in the backyard around this time of year; just two big mountains of snow pushed against the house to shield us against the wind. On weekends they'd lounge in there on lawn chairs, their faces up to the sun as though they were on a beach, chilling — literally. Filling up on vitamin D.  In a lot of ways the light at this time of year reminds me of Southern France, of Nice specifically. It's like this huge unrelenting spotlight that makes colours pop like crazy, a few hours each day. And since it stays a bit lower in the sky, it creates slightly more angular shadows than your usual awful midday sun. I didn't spend a lot of time shooting, admittedly. Maybe 45 minutes give or take. I'm not that crazy. But I do love the colour and the crispness of these images. All shot with the X-Pro1 and 35mm f/1.4 at ISO 200, using a mix of Pro Neg Lo/Hi and Velvia simulations….
See on www.laroquephoto.com
So I guess this is my official return to the blog folks. I hope you all enjoyed the holiday series I posted last week while I was getting everything back in order at this end of the computer screen. I case you're wondering: the vast majority of the images in that series were shot with the 35mm on the X-Pro1. I used the X100 on a couple of occasions but the X-Pro1 kit stayed glued to my eye most of the time. This was a conscious choice. I wanted to exploit the camera's ISO capabilities in available light while also sticking to that single 50mm focal length as much as possible. Working within boundaries. Last week of course saw the announcement of Fujifilm's X100 successor: the X100S. As far as I'm concerned, it's a wishlist come true. Same body, same ergonomics, same fixed 35mm focal length but… New technologies that now place it squarely at the forefront of the X Series roster. With second incarnations of both the X Trans sensor and EXR processor, this camera has just leapfrogged the X-Pro1 and X-E1. I'm not going to delve into the details because I'm sure by now most of you know all there is to know, but I will say this: the addition of phase detection to contrast detection on the AF system blew me away. I never saw that one coming, certainly not this soon. Same goes for the new split-screen focusing: most of us were expecting focus peaking but this was totally unexpected. I love that. I love companies that think outside the box and throw me for a loop. This new camera also introduces a serious change to the button layout, placing the AF selection button on the right-hand side. Can I hear a hallelujah?! This seemingly small modification is HUGE in terms of handling and something I've been hoping for since the very first time I used an X camera. It means we'll be able to switch focus points with one hand, without changing our grip and finger position.

HUGE. In light of this, I give you the quasi-religious appeal portion of this post:
O great, kind and benevolent Gods of Fujifilm
We know phase detection is hardware-related
& perhaps focus peaking is as well (although we secretly wish to be surprised)
But could you please, in your bottomless and most infinite wisdom,
grant us the ability to swap the functions of our X-Pro/X-E1 macro and AF buttons through the all-encompassing magic of firmware?
We humbly await, basking in your eternal light.

Oh! And that minimum shutter speed setting in Auto ISO. In case you've forgotten.

Fingers crossed…..

See full article on www.laroquephoto.com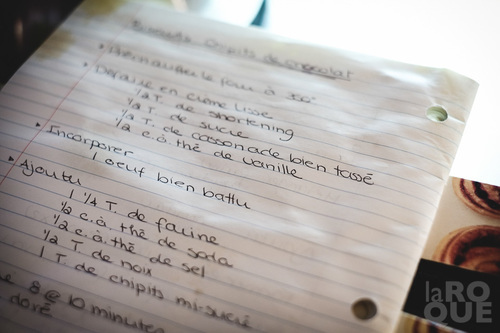 A blog from Montreal area photographer Patrick La Roque. Mainly focusing on essays, Fujifilm X-series cameras and Aperture tips…
… one of my favorite X-Pro1 photographer :-)
He has a really sensitive eye for emotional situations!
See more pictures on www.laroquephoto.com