Patrick La Roque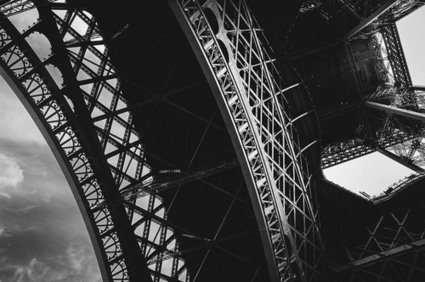 You can't imagine how long I've been working on this… But it's finally here: today I'm launching my first eBook entitled 1EYE, ROAMING.
If you're a longtime reader of this blog you'll recognize the topic since it's based on the Lutetia – Travels in France with the X100 series. Why return to those images? Because I needed to; because they've since become much more important than I originally thought and because I needed something more permanent. I have other projects in mind but this had to be the first step…..
….also included is a special chapter called Case Studies where I offer a glimpse into the processing of the images as well as reflexions on some of the moments that were captured. Seven examples in all. The book is in PDF format and I can tell you it looks fantastic on an iPad Air. Very happy with it…..
My recommendation – a street photographer in France – great work Patrick!
See on www.laroquephoto.com
Welcome to our series of 100 interviews we will be holding with professional photographers who use mirrorless cameras for work! "Switching to a smaller and lighter system" has become somewhat of a buzz phrase as of late, but many working photographers take this philosophy seriously. From medical reasons such as resolving back and shoulder pain to the simple realisation that bigger does not mean better, photographers are turning to mirrorless systems now more than ever before. This week's interview is with freelance photographer Patrick La Roque from Montreal, Canada. He uses the Fuji X-Pro1 and X100 to shoot a variety of subjects, including "people, spaces, street and products." An official Fuji X Photographer and founding member of the Kage Collective, he has an influential presence in the online photography world, though he will modestly tell you that he's "just a guy looking to tell a story!" ….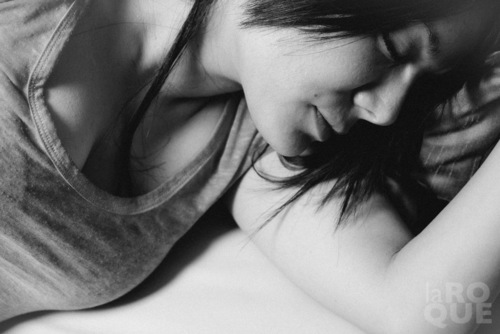 Lately I've somewhat veered away from the technical aspects of photography in the blog, mostly posting short essays in between new Fuji gear reviews. But there is a point at which it might become too self-involved. I do realize that. So today I thought I'd break away from this and do a kind of anatomical review of one of those client shoots I never talk about, tech notes et al. I always ask permission to do it but I usually tend to shy away from posting client assignments. And since I'm usually knee deep in the immediacy of what I'm shooting, after a few months have passed it feels somehow irrelevant; I have a fetish for the here and now… Or maybe the two days ago ;) Last Spring I got a message via Facebook from Aida; she'd apparently been searching for a photographer for quite a long time, had just stumbled on my work and wanted to know if I'd be interested in doing a portrait session with her. We did a back and forth and I proposed that we meet to discuss what she had in mind. I don't do cold sessions, ever — learned that one a long time ago. We had a wonderful time and settled on doing an exterior/interior shoot… But it was March: awful weather, crappy light and not a whole lot of it. Of course, when you don't have a choice you deal with it, you make the best of what's there; but if you can afford to wait, why bother? So we waited. And late April, the Gods of Light rewarded our decision……
See more great pictures on www.laroquephoto.com
Shot with a pre-production X-E2 and the Fujinon XF 35MM f/1.4 R
See more pictures on www.laroquephoto.com

So the rumours were true: Fujifilm today announced the X-E2, a new, updated high end body for the X series cameras. If you followed the rumour sites over the past couple of weeks you probably already had a pretty good idea of the changes in store. Hard to control leaks I guess. But a lot of the refinements become obvious only once you've worked with the camera and in my opinion, these go far beyond mere specs and cosmetic alterations. I've been shooting with a pre-production version for a little over a week now, thanks to Billy, Guido, Evan and everyone at Fujifilm Canada. In fact, fellow canadian X-Photographers Don Craig, Kale JF and Riley Joseph all had a chance to shoot with one as well and we've even had some email conversations about it. I'm linking to each of their reviews at the bottom of this page and encourage you to read those as well for other impressions. I believe Kale will also be taking the camera to NYC pretty soon which should be an absolute feast for the eyes. The usual disclaimers about pre-production units apply (IQ not final for one) and there was obviously no raw support since it wasn't even announced while we were shooting with it, so everything you see here was shot in jpeg. Anyway, in case you haven't had enough of it, here's some gear porn for you ……
See more sample pictures on www.laroquephoto.com
A lot of posts coming in the very near future but they have to wait. In the meantime I thought I'd give you an update on our KAGE COLLECTIVE project. A month from now we'll be celebrating our first anniversary. Time flies you say? No kidding. If I look at what we've done so far I see quite a bit of soul searching but I believe this was necessary. We dove feet first into this project and had to invent the rules and the tools along the way. The website went through major changes, we switched platforms to streamline publishing, had to postpone selling prints… Growing pains. But I believe there's a lot of potential at the core of it all. One thing we didn't expect was Paul Pride's recent move to leave KAGE, sell his X100 and shoot film exclusively. I didn't see that one coming and I'll admit to still being in a mild state of shock about it, given how important that camera was to his photographic universe. But we all respect his decision and wish him the very best. Life is nothing if not ever-changing…
See on www.laroquephoto.com
I'd like to apologize in advance: if you were hoping not to feel the urge to part with some of your money, I don't think this review will be much help. As I told my buddy Morten Byskov in an email when I first got my hands on this lens: damn. When I originally reviewed the X-Pro1 I defined it as something that was clearly "part of a system", as a camera that by its very nature felt much less intimate than the X100 (the only other X camera at the time). Much has changed since I wrote that review: more X bodies have appeared, the entire ecosystem has exploded with stellar Fuji offerings as well as Zeiss and other third-party lenses added to the mix for good measure; it's rather phenomenal when you think about it — it hasn't been that long. But while I came to love the X-Pro1 just as much as the X100 — albeit for different reasons — it still always felt like an extremely refined cog in an ever evolving system. Until now. With the introduction of the XF 23mm f1.4 R lens (B&H), Fuji finally brings the long-awaited 35mm field of view to the X-series, something that was previously only available with an X100/S or via an adapted lens. We could certainly argue about the why's of such a long delay for an indisputably classic focal length — marketing conspiracies et all — but I doubt anyone will be faulting the execution: saying this was worth the wait is a serious understatement There are many intangibles about using a camera, the way it sits in our hands, how different pieces come together and fall into place. At the risk of sounding way too hyperbolic, here's the short version of this review: I feel as though the X-Pro1 has just found its long lost sibling – The balance, the size, the weight, the focusing, the build… Everything about this lens feels exactly right to me. Soul mates, baby…..
See on www.laroquephoto.com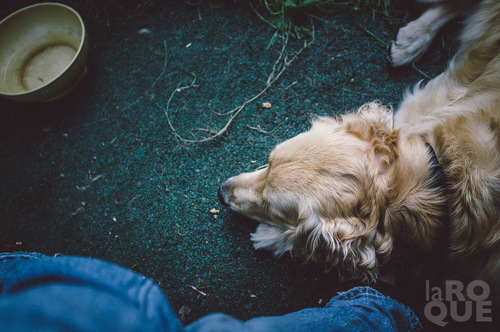 In the small world of film emulation there's an 800 pound gorilla standing in the corner: VSCO. I've never been shy about my use of VSCO Film on this blog and most of you probably know I've had an ongoing relationship with these guys for the past year or so, getting a chance at times to test some of their upcoming products. Here's the thing: I really like what they do and I happen to think they do it extremely well. A success borne of quality IMHO. They're also involved with the photographic community in ways that go beyond purely mercantile considerations which is all to their honor. When I received an email about the new Replichrome film emulation product from the folks at Totally Rad, I admit my initial reaction was… Meh. Yet-another-film-emulation-preset-package taking on VSCO. The fact that their PR email was rather aggressive in directly attacking them didn't exactly make me feel warm and fuzzy either: I prefer products to focus on their own strengths and individuality. But then this probably highlights how entrenched VSCO has become in this sector. Still, given the complimentary download they'd sent me I felt it was only fair to try it out. So I did….
See more pictures on www.laroquephoto.com
Here's a little secret: some of my images in the past few weeks were experimentally processed with beta versions of VSCO Film 04. So you've already had a glimpse of some of these film emulations at work. This new pack is all about slide films (positive films if you prefer) from Kodak, Agfa and Fuji, including a few that should be well known to X shooters: Provia, Astia and Velvia. One of the great advantages of VSCO Film is how much you can tweak everything , so you can certainly tone down the dial on 04 presets, but then you'd be missing out… The number one reason to get this pack is colour — screaming, bleeding, dripping colour. And contrast. In your face contrast. It includes two instances of the king of colour itself Fuji Velvia (50 and 100), as well as the very rare, limited run Fuji Fortia SP. If you're into blues and reds, welcome to the Land O Sat…..
See on www.laroquephoto.com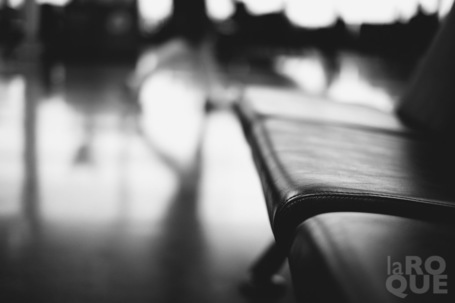 I never write objective reviews. The reason is quite simple: I never talk about things I don't actually use or plan on using. So everything I say is absolutely skewed, totally subjective and unequivocally personal. When I was told about the X-M1 camera Fuji asked if I would ever consider using it. My answer was immediate: no. The lack of a viewfinder was a deal breaker, period. But when they generously offered to lend me one of their newly arrived units (along with the continuously amazing X100s) for my Cuba trip, I obviously couldn't refuse. So in the bag it went along with both the new XC16–50mmF3.5–5.6 OIS kit zoom and XF27mmF2.8 pancake. I've gone back and forth on this review, trying to find the right tone. I wrote a large amount of it while in Cuba, wanting to stay true to my initial impressions. But I want to make something very clear before going any further: this isn't a bad camera. The image quality on its own is amazing, the X-Trans sensor delivering all the richness and clarity its older siblings are known for. But for me — as a photographer who has chosen to work with Fuji cameras — IQ is one part of the equation. In my opinion, for my use, this camera isn't what the X series is all about. With that in mind, here goes…..
See more pictures on www.laroquephoto.com