Patrick La Roque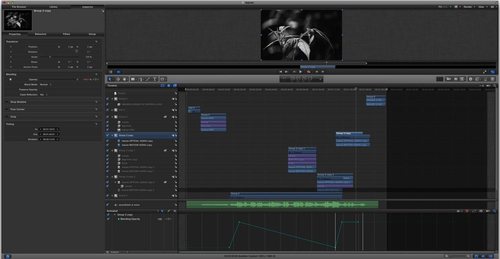 As most of you know I've been using the X-T1 extensively — it's become my main camera. Any minor gripes I had have effectively been swept away by daily use and rewiring most of my reflexes to this new body. I've even stopped hitting the dedicated video button by mistake… Although on that front I still have my fingers crossed for a customization update ;) I'd been meaning to do something with the new Interval Timer Shooting function for some time now, but while I'm often impressed by conceptual photography and projects involving tons of preparation and forethought, in my case it's not the type of work that comes naturally. I also needed a subtext, a reason to do it beyond "Look Ma! Time-lapse!"… I'm not going to claim this is the most impressive example of time-lapse photography ever produced — we're talking baby steps here, a first attempt. But on the whole I'm happy with the results and I think it fits in with what I usually do. So, before we dive into the BTS stuff, here it is (if you click on the HD icon you can see the 1080P version on Vimeo – well, a compressed version of it.) ……
See on www.laroquephoto.com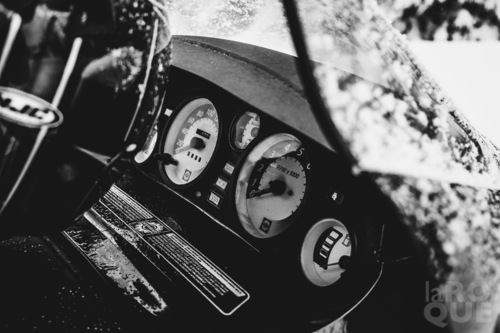 Final Notes
I've been asked several times if the X-T1 is better than the X-Pro1. In certain ways it certainly is. But when you look at the X100S and the X-Pro1… Which one is better? There's no answer to that. What's exciting about Fuji's lineup is that the differentiation doesn't lie in cheaper bodies or artificial tech limitations for the sake of promoting the higher end. Beyond the natural evolution of the products, these are simply different cameras for different needs. There's no good or bad here. The X-T1 is obviously the latest and greatest Fuji has to offer and it shows. After this weekend I'm over the moon about this camera. But the truth is we are absolutely spoiled for choice these days……
See more pictures on www.laroquephoto.com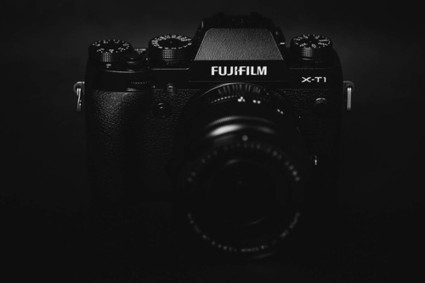 I can be a mighty stubborn guy. You see, I have this very clear conception of the X Series cameras, one that's severely tainted by my initial experiences with the original X100 and the reasons why I first became interested. Sometimes when I'm in a rut or feel myself wavering creatively, I'll go back and watch the insane japanese commercial I've embedded next to this paragraph. Yes it's raw and yes, it's dark and mildly disturbing… But it encapsulates a certain ethos I've come to associate with these cameras: a grittiness of spirit, a spy's point of view, lurking in the shadows, watching the drama of life unfold. The first schematics I saw for what was to become the X-T1 challenged this conception: a pentaprism-like hump? An SLR design? Stacked dials and buttons galore? Where was the innocuous rangefinder footprint, the misleading simplicity of the X Series? Well, not to worry young Jedis: the Force is still strong with this one…..

See on www.laroquephoto.com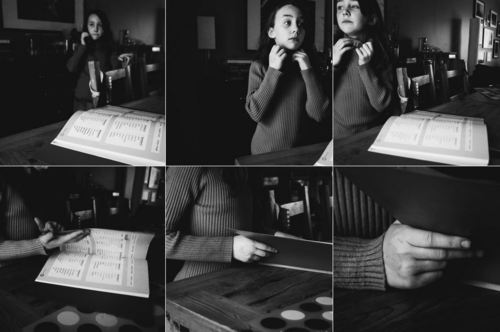 I'll obviously have much more in the weeks to come but I thought I'd post these as an introduction. Yes, the viewfinder is something to behold… More to come.
Shot with the X-T1 and Fujinon XF 18-55mm F2.8-4 R LM OIS
See on www.laroquephoto.com
I won't even try for sharpness or clarity. I won't attempt a demonstration of anything. All I want is to paint this moment, these movements, in sequence. 133 seconds worth of brushstrokes in the soft, muted normalcy of her room.
Shot with the X-E2 and Fujinon XF 56mm F/1.2R
See on www.laroquephoto.com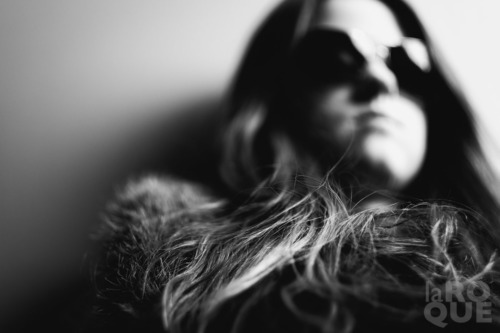 As you may know by now, I had the great privilege of shooting a pre-production XF 56mm F/1.2R for Fujifilm over the holidays, to create sample images for the lens. Some of those pictures are now online as part of the documentation and promo material that you'll find on the official product page. I've been looking forward to posting some of these images for quite some time now and I've made them a bit larger than usual for the occasion — Apologies to your bandwidth ;) If you've seen some of these on the sample pages you'll immediately notice differences with the ones below. That's because Fujifilm (and I imagine most camera makers) are extremely rigorous when it comes to samples: we had to hand in the raw files, could not do any sort of retouching, processing, sharpening… Nothing. Which makes perfect sense from an ethical standpoint since it ensures that the samples shown are in no way the results of clever post-processing. In fact the idea is to present something as neutral as possible. But… I'll be very honest with you: it's a little unsettling to see your images published this way. You know that dream where you're in class with no clothes on? Yeah, that. Let's just say I now have a newfound respect for sample pages everywhere ;)
See on www.laroquephoto.com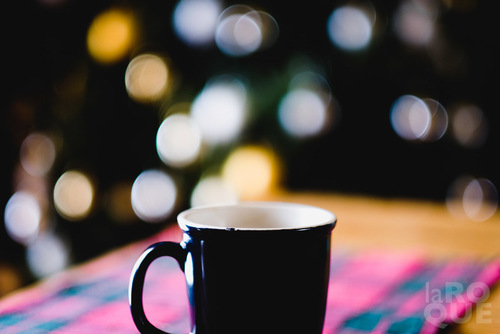 When the phone rang a few weeks before Christmas with an offer to do a project with Fujifilm's eagerly anticipated XF 56mm f/1.2 R, I couldn't pass up the opportunity — even if it did mean working in a much different way to what I'm used to. My post earlier this week about stepping out of our comfort zone was in fact greatly inspired by this recent experience. I can't speak about it yet or show any of the resulting images but I should be able to do so in the next couple of weeks. What I can share however are my other images with this outstanding new lens: it stayed glued to my X-Pro1 for the entire holidays. Some of you may recall I did a six part series when I returned last year called The Holiday Diaries. So I thought I'd do something similar, although less single-minded, a series of short essays all shot with this lens. I think it'll be a more interesting way of showing what this new optic can achieve. I'll be posting the first installment later this week, with subsequent "episodes" every two days until it's done. Now, I know a lot of you are probably eager to learn everything there is to learn about this new addition to the XF lineup, so I'm going to do a very short write-up. I'm not calling it a review because 1) as far as IQ is concerned there are only so many ways to say "wow" while remaining credible and 2) I was using a pre-production unit exhibiting a few of the issues these models usually carry, so I can't talk about the actual feel of the final product (but this is par for the course and I've never seen any of these issues make their way into any shipping version — I'm not worried). I'll do a follow-up once I get my hands on the finished product……
See more great pictures on www.laroquephoto.com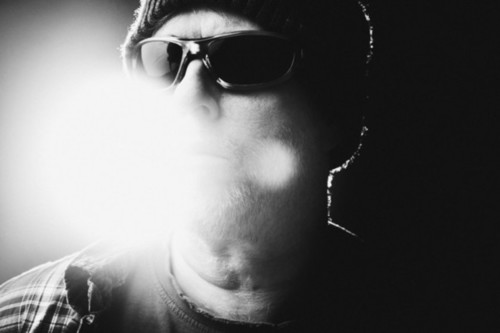 Who are you and what's your profession?
My name is Patrick La Roque and I'm a commercial, portrait and documentary photographer based in Montreal, Canada — Although we actually live in a little town called Otterburn Park, about 30 minutes away. We have three young kids: a boy and two little girls. Keeps us busy… I switched to photography as a full-time gig about 7 years ago. Before that I was a musician, I worked in post, multimedia, I was a partner in a production company… Left it all behind to pursue a craft that quite suddenly gobbled me up after years of simply being a hobby. I realized one morning that I didn't want to be doing anything else and moved on. No regrets.
What's your rig?
I shoot an X-Pro1 and X100. The X100 is essentially my 35mm lens, with the X-Pro1 being my main workhorse. I use XF lenses exclusively and jump between the 35, 14, 60 or the two zooms depending on the job or the shot I'm looking for. I also have an F-Mount adapter that I mainly use with an old, original Lensbaby when I'm feeling experimental; I still love that thing. Lately I've started shooting with a Nikkor 50mm f2 as well, a lens I received as a gift…….
See on ledesmaphotography.com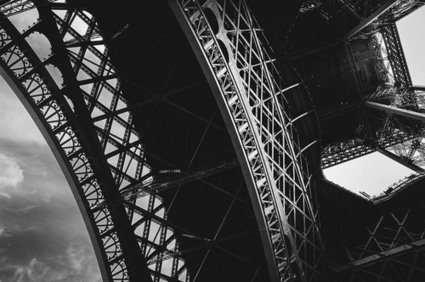 You can't imagine how long I've been working on this… But it's finally here: today I'm launching my first eBook entitled 1EYE, ROAMING.
If you're a longtime reader of this blog you'll recognize the topic since it's based on the Lutetia – Travels in France with the X100 series. Why return to those images? Because I needed to; because they've since become much more important than I originally thought and because I needed something more permanent. I have other projects in mind but this had to be the first step…..
….also included is a special chapter called Case Studies where I offer a glimpse into the processing of the images as well as reflexions on some of the moments that were captured. Seven examples in all. The book is in PDF format and I can tell you it looks fantastic on an iPad Air. Very happy with it…..
My recommendation – a street photographer in France – great work Patrick!
See on www.laroquephoto.com
Welcome to our series of 100 interviews we will be holding with professional photographers who use mirrorless cameras for work! "Switching to a smaller and lighter system" has become somewhat of a buzz phrase as of late, but many working photographers take this philosophy seriously. From medical reasons such as resolving back and shoulder pain to the simple realisation that bigger does not mean better, photographers are turning to mirrorless systems now more than ever before. This week's interview is with freelance photographer Patrick La Roque from Montreal, Canada. He uses the Fuji X-Pro1 and X100 to shoot a variety of subjects, including "people, spaces, street and products." An official Fuji X Photographer and founding member of the Kage Collective, he has an influential presence in the online photography world, though he will modestly tell you that he's "just a guy looking to tell a story!" ….