Reviews
The X-T1 played a significant role in boosting the popularity of the Fujifilm X series, and so its successor, the X-T2, was naturally the most awaited camera from the brand this year. Indeed, people were more excited about its arrival than that of the X-Pro2, which gave us a sneak peek at the performance we could expect from the X-T2 since they share the same sensor and autofocus system. Given the two-year gap between the X-T1 and X-T2, we were all hoping for many improvements and happily this is the case. With the X-T2, Fujifilm released a camera that feels and handles much better than its predecessor in many ways, though some of the differences are less obvious than you might think……
Ever since Fujifilm announced their first model in the X-series in 2011, the camera system has been evolving at quite a pace. The number of interchangeable lens cameras in the X-series now stands at eight models, and there's a healthy range of 19 premium XF lenses to choose from – a far cry from the three optics that were initially available with the release of the X-Pro1. Today, it's the X-Pro2 that claims the title of being the flagship model in the line-up; however it's the introduction of the Fujifilm X-T2 that seems to have generated the most interest among admirers and users of the X-series.Unlike it's digital rangefinder-style sister models, the X-T2 is more in keeping with the shape and style of a conventional DSLR……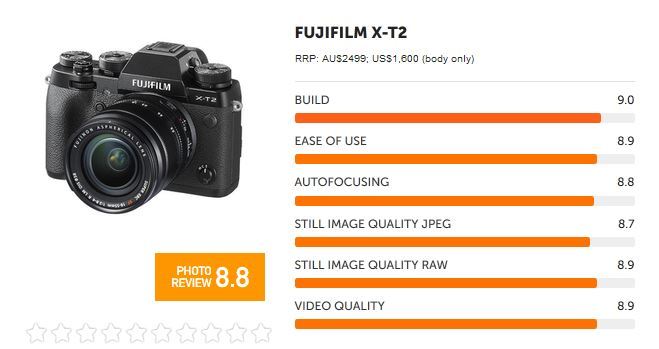 Announced on 7 July, Fujifilm's X-T2 interchangeable-lens mirrorless camera follows in the steps of the X-T1 but brings higher resolution, improved autofocusing and superior movie recording capabilities to a camera with an SLR-like body design. Equipped with the same 24.3-megapixel X-Trans CMOS III sensor as the X-Pro2, it will sit beside that camera at the top of Fujifilm's line-up. The new camera has a splash-resistant body made mainly from magnesium alloy.  With sealing at 63 points to achieve a high level of resistance to dust and moisture, the X-T2 can operate in temperatures as low as -10 degrees Celsius, making it suitable for use in challenging conditions.  No low-pass filter covers the image sensor, enabling Fujifilm to claim the camera can deliver 'the highest performance in the history of X Series'…….
Source: Fujifilm X-T2 – Photo Review
When the first rumoured specs of Fujifilm X-T2 became a public knowledge, I knew I am going to get it. I need a second body. I do own X100S but with fixed 23mm focal length it is not as versatile as I would like it to be. Camera with interchangeable lens is the way to go for me. Also, 23mm (35 equivalent) is not my favourite focal length either. 35mm (or nifty-fity in full frame world) is much more preferred as far as myself concerned. I still love the X100S but if X100T successor comes out, I won't be buying it. Unless I win in lottery. I also skipped X-Pro2 although I was very intrigued by it. X-T2 would is a much better and more versatile camera for what I need. I am slowly getting into more video shooting and X-T2 video capabilities are superior to X-Pro2. No flip screen on X-Pro 2 was also a deal breaker for me. And lastly, I didn't want to pay extra for optical viewfinder. I hardly ever used it on X100S. It makes no sense to me, it doesn't fit my shooting style. If there was an X-E3, with flip screen and 4K video, that would be a  whole different story altogether……..
Source: Fujifilm X-T2 – 10 things I wish were done differently — Richard Simko
Ok ladies and Gents, we all know I love the Fuji camera range, yep some may feel I'm a tad nutty when it comes to my all singing all praise for this fabulous mirrorless range, also some may feel I perhaps get paid by Fuji but alas, no, would be nice, but hey! I make my money as a Wedding Photographer based in Somerset in the UK. and yes it's a profession I'm very proud of and love. I've done the big corporate events over the years and worked on some pretty impressive projects too, Disney is one such company if you want name drops!! its the Wedding industry full time for me now, sorry but corporate wanted me 24/7 and I also want a life, and I'm lovin my profession as never before. So what's my favourite Fuji camera, well at the moment it's the Fuji Xpro2, I love this camera, it's perfect for my style of reportage wedding photography, I can take those reportage moment's, without impacting on the wedding…..
Source: Fuji X-T2 Wedding — Modern Wedding Photography Somerset, Bath and Bristol
I took the X-T2 out for its first photos yesterday to a favorite spot for this kind of testing: the sewage settling ponds on Radio Road in Redwood Shores. This is a great place for this kind of work because I can guarantee both close and distant birds, birds in flight, airplanes on landing pattern to SFO, and typically, clear skies with some humidity and haze. I went in the middle of the day, or course sticking the camera with harsh shadows and glare to deal with, because I assume if a camera can do decent work in poor light, it'll kick tail with great light. These are all screen captures from my Lightroom session as I imported and evaluated them. I've done nothing to the images; these are raw images straight out of the camera. The camera was overall in factory default state, using ISO 1600, Aperture mode, fixed aperture (primarily F8) and automatic white balance. I had exposure compensation set to 0 and didn't touch it or any other in-camera adjustments during the shoot, so these images are as the camera created them with as few tweaks as I could manage, and no sharpening or lightroom adjustments. The camera was hand-held with image stabilization on……
Lets make a shopping list: weather-proof body… got it, two memory card slots… got it, operative speed… got it, 1/250 sincro Flash… got it, USB-charging in Camera… got it, auto-focus accuracy and speed… got this as well, ergonomics…. got it, there's also a battery grip that triplicates its autonomy. Very well! Then? Ah yes, burst shots… that reach 11 frames per second. Then? Ah yes, video in 4K and functions that are finally adequate to the ones of its competitors… these are there as well.It seams that nothing is missing.Ah yes, I almost forgot, image quality…. got that too, but then again we knew it was going to be there since we started shooting with the X-Pro2.Just like we know that range of Fujinon lenses are probably one of the best on the market even though some specific lenses, such as those for sports or architectural photography, are missing.Well then, can we say that CSCs have finally exceeded reflexes and are the new reference mark of digital photographic systems…..
Source: Fujifilm X-T2: Professional Compact System Camera 1.0
The recently announced Fujifilm X-T2 X Series digital camera is what I can consider part of the next level of Fujifilm's mirrorless system. I say next level because the bar has already been set pretty high by both Fujifilm's previous cameras and some other recent additions to the mirrorless market by Sony and others. It is no longer sufficient to bring a camera into the market based on size and weight alone; photographers are demanding great image quality, fast AF, high quality video, and high-resolution. Any camera in the mirrorless world has to compete with a lot of really great cameras. Mirrorless technology is picking up speed and Fujifilm at the front of the race……
Source: Flying High with the Fujifilm X-T2 X Series Camera – The MPEX Experience
I'm not much of a gear head, but when I was given the opportunity to try out a pre-production XT2 I couldn't resist. I've shot this entire wedding season on the fantastic XPro2's, the image quality and high ISO performance of the latest X-trans sensor is phenomenal. The focusing system of the XPro2 was also a huge leap forward from the XT1 so I had high expectations of the XT2 and it didn't disappoint. Essentially the sensor in the new XT2 is the same as those found in the XPro2. With this in mind, I'm not going to go over old ground beyond saying the files from the 24mp sensor are simply beautiful. The colours have an organic feel to them with skin tones that look believable straight out of the box. The dynamic range is fantastic and allows me to produce files with lots of detail from the deepest shade right through to the brightest highlights with low noise even when using high ISO. Of course, you can personalise the cameras output in camera and shoot jpg or (as I prefer) within your chosen image editing software and shoot RAW…..
Now that the new wonder kid is officially heading for the stores, I thought it is appropriate for my initial user-review. I had the opportunity to have the camera, in a "virtually final" production form but with beta-firmware, for a limited amount of time, which I tried to take advantage of to answer most of mine, and, hopefully, my readers' questions. For this review, I decided to approach the camera from a number of different angles. First of all, as a Fuji user, which currently uses an X-Pro2; how the X-T2 compares (and, actually does it really compare) with the other Fuji flagship? Also, how it improves on the X-T1? Another angle was that of a former user of DSLRs and also a former Olympus OMD user: a line of cameras which share a similar design paradigm as the X-T2. Somewhat surprisingly, there is also another approach, which will be dominant, at least in this part of the review (because more will follow in the next weeks)……
Source: The evolution of the pro hybrid camera: X-T2 initial review — Eyes Unclouded