Autofocus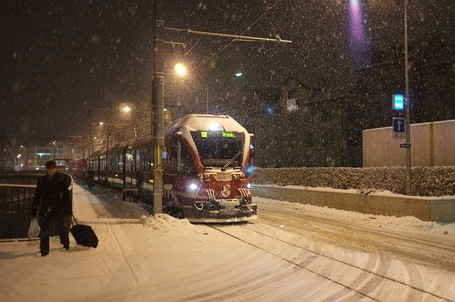 It took a while for my second post in my comparison. The last couple of days have been busy. I've had the chance to shoot the three cameras at some social events here and there – running into many low-light situations. So my next point of comparison is:
Autofocus:
I love the way all three cameras look and handle with all those external controls. And I love the excellent lenses – particularly the Fujinon 35mm 1.4. However, I am again and again frustrated by the performance of the autofocus. From my experience, there is no difference between the Fujifilm X-E1 and the X-Pro1 in terms of autofocus performance with the latest firmware on both cameras. Similar findings have been made elsewhere. Autofocus struggles in low light and with backlit subjects. I came from using manual lenses on a Sony Nex-7, so I am not a "spoiled" DLSR-user, but I somehow feel I am missing much more shots with the Fujifilm X-Pro1 and X-E1 than with manual focussing on the Nex-7 (using focus peaking). I had several situations where the AF (slowly) hunted and my subjects were getting impatient. Of course I am really talking low-light here – shooting around ISO 1600 to 6400 with the lens at 1.4. Quite surprisingly, my impression is that the Fujifilm X100 actually seems to struggle less with autofocus than the other cameras (comparing those with the 35mm 1.4). Maybe the reason is just that the X100 needs to move less glass, so hunting is possibly quicker. Nevertheless, I felt less frustrated with the X100 than with the other two cameras. I would be very interested hearing other peoples thoughts on this.
From the point of view of autofocus performance, I would definitely keep the X100, because the main purpose of that camera (to me) is that it can always with me. For such a camera, I don't expect lightning fast AF performance. However, I would expect a little more from the X-Pro1 and the X-E1.
Autofocus for me is really the one reason that sometimes makes me doubt, whether switching to Fujifilm X system was really the right decision, considering that a small DSLR (e.g. Pentax K-5 II) would just give me much more reliable autofocus. Autofocus is perfectly OK if you shoot outdoors and shoot mainly static or slowly moving subjects. So for one part of my photography this is perfectly OK. However, shooting my children outside, at home or at events is currently another big part of my photography. So I would really like to own a main camera system that can cover both needs……
See Part1
See full article on www.fujifilm-x-opinions.net

I recently got my Fujifilm X-E1 body and was immediately very impressed with the AF speed, as was everyone else who tried it. It appeared snappier than the X-Pro1, but although I knew the X-Pro1 had improved lately with the new v2.0 firmware, I wanted to see if there was actually any difference between the two with the same lens attached. Wilkinson Cameras in Kendal kindly lent me a 2nd 35mm lens for the weekend so I could try out both cameras side-by-side with the same lens. Having the same lens was essential because the AF performance on these cameras depends greatly on the lens attached. I chose the 35mm as I thought that it is probably the lens most people own and use as their primary lens. It's also the middle performer in terms of AF speed so we can get a good comparison out of it. The video of the comparison is posted below. I won't ruin the result for you by telling you here – watch the video and see for yourself! I think most people will be quite surprised by the conclusion.
See on www.photomadd.com
See on Scoop.it – Fuji X-Pro1
This is a comparison of focusing speed of the new firmware 2.0 (body and lens) for Fuji X-Pro1 with the 35mm f1.4 lens and the Olympus EM-5 with the 45mm f1.8 lens. Pretty darn close, slight edge to the Oly EM-5.
See on www.youtube.com
See on Scoop.it – Fuji X-Pro1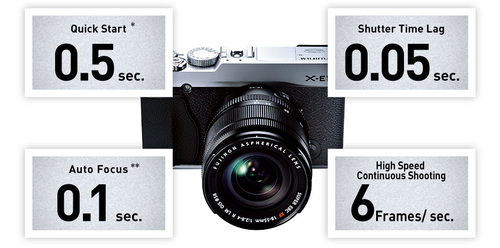 * When QUICK START mode set to ON.
** When XF18-55mmF2.8-4 R LM OIS is set.
The magic moment when your subject and situation come together lasts but a split second. The X-E1's EXR Processor Pro processes data collected by the sensor at high speed for quick response, comparable to DSLR cameras. You'll never miss a shot.
See on www.fujifilm.ca
See on Scoop.it – Fuji X-Pro1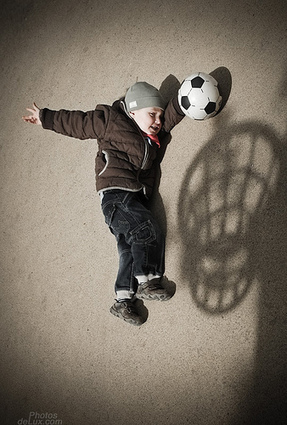 The X-Pro 1 uses contrast detection autofocus (CDAF) compared to phase detection autofocus that is usually found in DSLR cameras. As I have shown in an earlyer post, I like to photograph at minimum aperture to create a shallow depth of field. And in those situations perfect AF lock is essential for good results. The advantage of contrast detection is, that it is very accurate when it locks onto the target. On my phase detection DSLR camera I have gotten used to pushing the shutter half way for 2-3 times before I trust that the AF locked correctly onto the subject.
So is the X-Pro 1 useless for moving subjects? Not at all! You just have to approach things differently to get good results! Here are my tips to get the best results from the X-Pro 1…..

See on fujixfiles.blogspot.de
See on Scoop.it – Fuji X-Pro1


Try laying the AF point across an area where the only contrast is a horizontal dividing line between two objects – in my case the top of a TV or picture frame vs the wall. The AF will struggle to focus, and depending on the circumstances, fail to lock more often than not. However, tilt the camera by 30-45 degress, or even 90 degrees, and it will lock – every time. Note that 90 degrees – horizontal lines don't seem to cause a problem in portrait mode, only lines parallel to the long edge of the frame.
Useful tip?

See on forums.dpreview.com