Reviews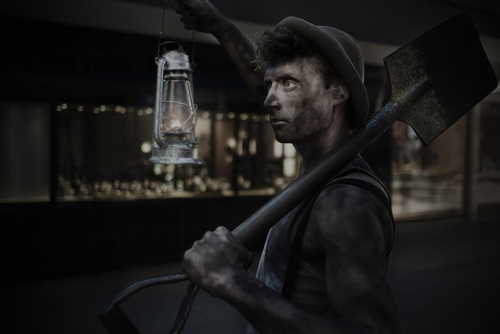 Thanks to the friendly team at FujiFilm New Zealand I was lucky to spend the weekend with the new Fujinon 23mm F1.4 lens, which will hit shelves Monday morning, the same day my grace period expires and my copy gets recalled. The 35mm equivalent focal length of the new 23mm lens has been a favourite in the street photography realm for many years and is a must have prime for many, evident by the versatile and incredibly popular X100 and X100s cameras with the same fixed focal length. Up until now my favorite focal length from the Fuji camp has been the 35mm (52.5mm equivalent), it has been solely responsible for 90% of the street portraiture I have been pursuing. But it does have one downside: I feel the standard field of view (50mm) is not very good at sucking in and including the entire scene. Longer focal lengths compress and minimise the background reducing spacial awareness, which often add to the overall story. Ideal for creating clean and isolated portraits but lacking scale and placement can reduce the overall visual impact. This is where the new lens comes into play, filling the gap perfectly and becoming a formidable artistic weapon in the ever growing FujiFilm line up…….
See more pictures on www.bokeh-monster.com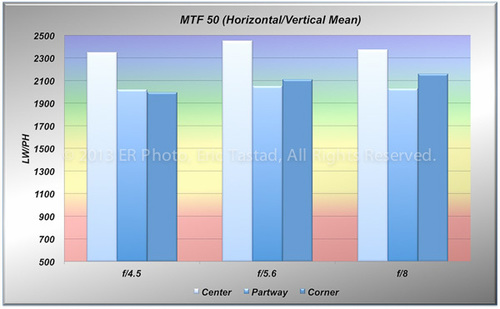 Fuji has been releasing been on a roll with lenses, but how does their cheapest lens on their cheapest camera perform? My first impression of this lens was that it looked nice, but was cheaply made. The barrel is all plastic, including the mount. The zoom mechanism is a little tight turning and the lens extends way out. However, there is an included hood, and the kit actually came with a body cap and rear lens cap (cheap push on type), which is better than most inexpensive kits today. The zoom range is an impressive 16-50mm, where the slightly wider view is a nice improvement over most kit lenses. The plastic makes the kit lens very light weight, weighing in at only 195g it uses a pretty advanced lens design with 3 aspheric elements, 1 low dispersion element, with 12 total elements in 10 groups. It has an average for class magnification of 0.15 at a minimum focus distance of 0.3 m. It uses 7 rounded blades for the aperture. Considering the price of X-A1 camera with this kit lens, how good could the lens possibly be? Lets find out……
See on erphotoreview.com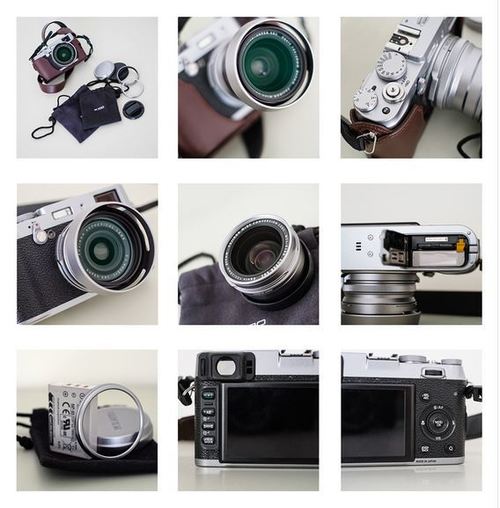 Nous n'allons pas vous offrir une débauche de spécifications techniques ni même vous proposer des tests avec mires et des analyses au microscope sur la qualité des détails de l'objectif dans les angles. Pour cela vous avez d'autres sites qui sont listés dans notre page de ressources et je vous invite à lire si vous ne l'avez pas encore fait. Cela étant dit il y a certains paramètres techniques dont nous devons parler car ils ont un impact sur l'utilisation au quotidien de l'appareil. Ce qu'il faut savoir du Fujifilm X100S c'est qu'il succède au X100 qui avait fait couler beaucoup d'encre car déjà à l'époque sa taille, la qualité d'image qu'il délivrait et son look rétro en avait conquis plus d'un. Contrairement au X100, le X100S est doté d'un capteur CMOS X-Trans de 16,3 millions de pixels. Ce type de capteur est déjà présent dans les boîtiers X-Pro 1 et XE-1. MAIS (il y a toujours un mais), il s'agit d'une nouvelle génération et Fujifilm l'a donc naturellement baptisé X-Trans CMOS II APS-C……
See on fujix.fr
It's hard to know where to start. For one, I don't love writ­ing reviews, with lots of tech­ni­cal infor­ma­tion and 100% crops and stuff like that. For another, this cam­era has been out for awhile now, and I don't know that I have a lot to share, other than my own expe­ri­ence with, and opin­ions of, the Fuji sys­tem. I will say that before I bought the Fuji­film X-E1, I had a hard time find­ing reviews with lots of photo sam­ples. They're out there, but many are sur­pris­ingly unhelp­ful. This is not a dig on all the other review­ers, because I found some good opin­ions and some fab­u­lous pho­tos. Rather, I think this is a cam­era that's a lit­tle out of the spot­light, maligned as it was for so long with poor aut­o­fo­cus and quirk­i­ness. So, I'll try to address some things that maybe weren't cov­ered in other reviews or write-ups. I'm also going to just put in a lot of pho­tos from the stuff I've been shoot­ing, and let them speak for themselves. To col­lect the pho­tos for this blog, I tried to use the X-E1 in as many dif­fer­ent sit­u­a­tions as pos­si­ble, and to try to shoot it more or less like I have shot with DSLRs since 2006. I shot por­traits, I shot street pho­tog­ra­phy. I tried action, and wildlife, lifestyle and events. I pulled it out at a wed­ding for can­dids, and it has accom­pa­nied me vir­tu­ally every­where since it arrived. I started with the Fuji­non 18mm f/2, 35mm f/1.4, and 60mm f/2.4 macro, and then added the won­der­ful 55–200 f/3.5–4.8 tele­photo zoom. Most recently I've added an EF-20 speed light, which I'll be try­ing out soon. In some sit­u­a­tions, the lit­tle retro cam­era shined. In oth­ers, it stum­bled. Mostly, though, it's been fun, and a great reminder of how lit­tle the cam­era really mat­ters when it comes to mak­ing photographs……
See more pictures on markschuelerphoto.com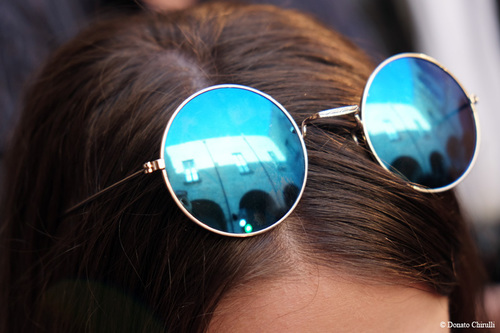 We don't know why, and  we don't know if this type of policy is really useful for the manufacturers , but we have to take note of a fact: The rumors about the new models of many of the most famous photographic brands on the market. actually come many months before the respective official presentation and, even more , before the real marketing of those items . The fever of news, data , specifications and technical practice tests affects so more and more fans, in constant search of the " Philosopher's Stone" which allows , with minimal effort , to transform the " lead" into " gold." Improve ie , the level of the photographs taken by the ever-increasing technical capabilities of the devices. At riflessifotografici .com, we have particular philosophical approach : we appreciate the technological improvements only when these are , really , satisfying the need for daily practice in the field. A technical improvement, in fact , has a real reason to be, when a photographer (amateur or professional ) can get a tangible benefit in his daily practice. Let us not be charmed by " glitter and sequins ," or " bait and switch " that serve only to attract the potential customer , and then not really giving anything really useful to the latter, but the knowledge that you have bought .. . the last, glittering model ….. And it is for this reason that, generally , we take it easy when we do our tests. Even with the risk of publishing them when they seem almost obsolete …… We can not , however, prevent us from publishing our " First Impressions " , when we have the chance to try out a preview of a new camera and / or new lenses. In this case, we could handle for a couple of days ( exclusive  in Italy) the new Fujifilm XE -2, accompanied by a number of different lenses , including (also in preview ) the Fujinon XC 50 – 230 mm , on the occasion of the National Day of the amateur photographer , worthily organized by the tireless members of the Cultural Photosintesi of Casarano (LE) …….

See more pictures on riflessifotografici.com
I'm using a Fuji X-pro 1 mirrorless camera for almost a year and I LOVE it. And I HATE it. But then again… I LOVE it!!! When this camera was released back in 2012, I must admit, I fell for looks of it. That was my firs impression not knowing how it performs. Loved that rangefinder style, compact size and OVF/EVF combo. So… these were my thoughts before I even read some reviews or seen some image samples. I've done my research and Zack, David and Bert (among many others) were convincing enough to decide to purchase one for myself. First of all, I bought mine at B&H photo (great service, very satisfied with them since I'm living in Bosnia – I've got a package just a four days after purchase). After first ten minutes of looking at the camera and touching it, playing with OVF… (that was the thing I was eagerly awaited for the most – that OVF… but I'll get there), I realized that lens hood that was provided with a lens I bought (35mm f1.4 Fujinon lens), even if it doesn't look so bad on a lens has a terrible hood cap (with that kind of lens hood it was impossible to use a lens cap since shape of lens hood attached is square). That lens hood cap was falling off  without any force engaged to it. It was falling off while carrying camera around, putting it in a bag, or if you succeeded to put it in a bag while cap still on a hood it will fall off for sure when you grab your camera out of  the bag. Next day – I bought a metal lens hood with a cap on ebay for a few bucks. I think, having a small lens hood on every lens will provide you some extra protection against accidental direct hit in a crowd or in narrow spaces. Next thing I did was to order that great looking (and even better feeling) Lance strap……..
See on igormotl.com
We loved the original Fuji X-E1, so we were looking forward to checking out its replacement, the X-E2. Fortunately, legendary photographer Nathan Elson was available to help us review the camera…..
See on www.youtube.com
….. I will reserve any comments about image quality till after I run it through a proper shoot but all-in-all, I'm happy and welcome all the improvements implemented on the X-E2. Physically, it looks like the same camera, but only after using it will you realize the differences and improvements are significant. It addresses a lot of the concerns actual users have pointed out with the X-E1 and to top it off, Fujifilm has managed to merge some of the great features of the last few X series cameras into it as well. I've only had the unit for about a week now and I can't wait to finally test it out in the field. Also, the great guys at Vanguard and Phottix Philippines sent over some awesome stuff that I will be showing you in the next few days and I will be working them along with X-E2 as I head to the land of BB cream and Kimchi in a hours from postings this……
See on www.randallcipriano.com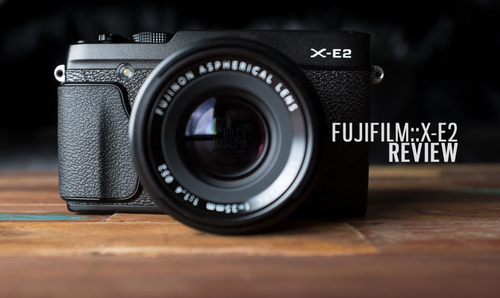 I bet people were thinking that. I know I was.. just not on October 18th. I was privy to the brand new X-E2 a few weeks ago. To be honest it did not get me excited. I have been looking for a back-up body since selling all of my dSLR gear a few months ago. I borrowed a X-E1 from Fujifilm Canada for a month and I just didn't like it. It wasn't as solid as the X-Pro1, the LCD was shabby, no optical viewfinder and it did not fit in my hand as well as the X-Pro1. Which was strange because I have girly hands and the X-E1 is pretty compact. I was given the opportunity to try out a pre-production Fujifilm X-E2 along with 3 of my X-Photographer pals Kale JF, Patrick Laroque & Don Craig. I was last in the chute to try it and it arrived about 7 hours prior to Fujifilm's big announcement (In my time zone the announcement was actually on October 17th at 10:30pm). I wanted to have something done at launch time but my schedule and crappy light made it not to be. I planned to wake up early the next day and really put the camera to the test for my style of photography. What I was expecting was a slightly upgraded X-E1. But what I found was very different…….
See more pictures on rileyjoseph.com