Travel Photography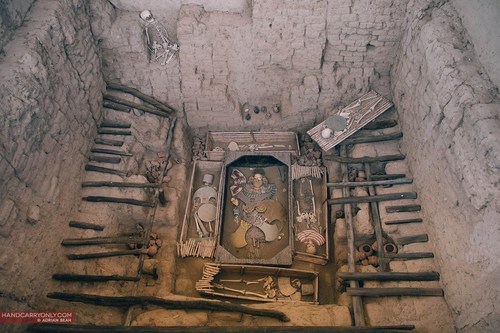 Chiclayo and Trujillo in Northern Peru was a blur of ancient civilisations, pyramids and royal tombs. Contrary to popular knowledge, Peru was not only about the Inca civilisation, there was a whole string of prior civilisations that left their own indelible mark on the history and culture of present day Peru. Amongst the long string of people who have lived in Peru since ancient times, the Chavin, Paracas, Moche, Nazca, Tiahuanaco, Wari and Chimu people all came and went before the arrival of the Inca. Northern Peru is strewn with the remnants of their once great civilisations. Pyramids worn down into sandy lumps, impossibly elaborate royal tombs of ancient rulers like the Tomb of the Lord of Sipan, ancient temples and whole cities bear witness to the ingenuity of the ancient peoples. They also offer an insight into the lives, technology, beliefs and superstitions of these peoples. At some point, I lost track of what was built by the Moche and what was built by the Chimu, or the characteristics of Wari pottery as it all blended into one great big historical slurry for me. What was absolutely fascinating to me however, was the fact that many of the ancient civilisations, many separated by vast geographical distances and sometimes hundreds or thousands of years, have in their building of monuments representing their gods and beliefs, resulted in pyramids of one form or another….
See more pictures on handcarryonly.com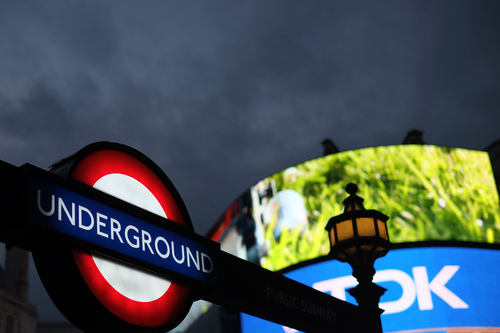 I had good timing in buying a camera. It's allowed me to experiment in two quite opposite locations; Los Angeles and now London. London offers oodles of charming, unpredictable sun light and ever changing weather. I'm here for work shooting a video. Part of this assignment requires b-roll capture of the city. How lucky that I have to be in these wonderful locations. Of course I'll bring my own camera… Enjoy some of my shots as I explored London and all of its intricacies. All of these were shot with a Fujifilm X-Pro 1 and a 35mm lens….
See more pictures on danielincandela.com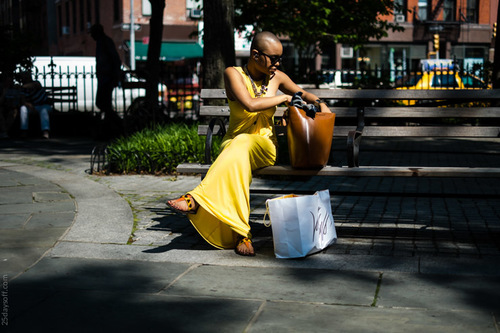 Epic?  Awesome? Fun? Just fantastic?  I don't know how to introduce New York without saying something that's probably been said a million times over. All I know is that we had the best time and I remember coming back home so depressed and wanting to just move out there for good (those feelings have now resided – probably because this post is about three months overdue – sorry!). It's weird how familiar NYC seems when you go there, probably because of all the movies and stereotypes and cliches. And it actually really is all like that.  The yellow taxis, hot dog stands, Lady Liberty, the "I <3 NY" t-shirts, skyscrapers – I mean wow these are only a few of the things about NYC that have become so iconic world around. I guess that alone is a sentiment of the city and how special it is.  This place has a real impact and as soon as you step out of the subway you're immersed in it – there's no having to look on the map and search for it because it'll hit you in the face….
See more pictures on www.25daysoff.com
In photography, I'm a firm believer in the mushy lump (i.e., the photographer) behind the camera rather than the fanciness of the kit he is shooting with. Great results can be had by just about camera these days but one of the most common questions I get from you guys is regarding my camera gear and workflow for the photos on Handcarry Only. So, instead of replying to each person by email, I figured I might as well write a post about it.

The days of chunky black cameras

For the longest time, since I first started 'serious' photography (meaning: photography as more than a means to 'prove' my participation in various events and holidays), I had been shooting with a SLR camera. First, the Canon 50E (yes, it shoots film), then the digital Canon 10D, Canon 5D and finally, the Canon 5D mark II. I have always appreciated the vast range of lenses available, the good ergonomics, and most of all, the image quality from these big, black, chunky metal boxes. Nevermind that I would often have red welts on my shoulders from lugging these anchors and their requisite variety of (equally heavy) lenses around whilst travelling. One had to suffer for his art right?

Enter the Fujifilm X-Pro1

When I made the decision to go on sabbatical in 2012 to travel to Africa and South America, I started to think long and hard about my willingness to carry my 5D mark II and L lenses on what would be a backpacking trip, probably one involving numerous journeys in sometimes more than a little dodgy buses and nights in hostel dormitories. Also, the sheer weight of the metal and glass, hauled over long distances by foot, might actually do more than a bit to detract from the enjoyment of the trip. With that in mind, and the then recent release of the Fujifilm X-Pro1, I ended up selling my Canon 5D mark II and getting the Fuji. The X-Pro1 promised a DSLR equivalent image quality, with a minimal weight penalty. The fantastic Fujinon primes that launched with the X-Pro1 sealed the deal. I went ahead and bought all three of the initial prime lenses, the XF 18mm f2, the XF 35mm f1.4 and the XF 60mm f2.4 to go with my new Fujifilm X-Pro1, giving me the full frame equivalent focal lengths of 27mm, 52.5mm and 90mm. I would have loved a 35mm equivalent but as of now (April 2013), the 23mm from Fujifilm has let to be released.
Lens cap? What lens cap?
The X-Pro1 and all 3 lenses fit in a beautiful Billingham Hadley Pro with room to spare (for extra batteries, maps, a water bottle, passport, mobile phone, wallet and various other unidentified crumpled pieces of paper which have lingered in the pockets for far too long. I have dispensed with the fiddly lens caps on the 3 Fuji lenses, using only the lens hoods and B+W UV filters for protection.
Post Production Workflow
For a good number of months since I first got the X-Pro1, I shot in jpeg only as my image editor of choice, Aperture, did not support Fujifilm RAF files. At some point, I got tired of waiting and switched to Adobe Lightroom, which despite initial quality concerns with the RAW conversion, supported the RAF files produced by the X-Pro1. By all accounts, Adobe have since improved the quality of the RAW conversions, although I don't pixel peep enough to notice the difference, but I'll just take the word of the internet tech experts for it. I use VSCO Film presets to treat most of the images, as I like the softer, more organic look it affords the digital images, not quite the same but reminiscent of my days shooting film with my favourite stocks like Fujifilm Reala, Provia 100, Velvia 50, NPH 400, Neopan 1600 and Kodak 100VS and Portra series of films. I usually tweak the settings a bit to taste and level out horizons but generally don't spend too much time post processing the images. I believe in ruthless culling of photos, only the relevant ones that tell the story of the destination or my experiences in the place get online. I hate viewing all 534 of someones vacation photos and try my utmost not to put Handcarry Only readers through the ordeal. Let me know if you'd like to know anything else in the comments below and I'll be glad to share.
See more pictures on handcarryonly.com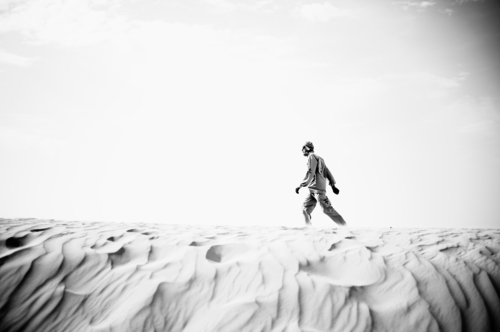 Fuji X-Pro1 black & white shots in Tunesia by Moritz Winkler
See more pictures on nighlines.tumblr.com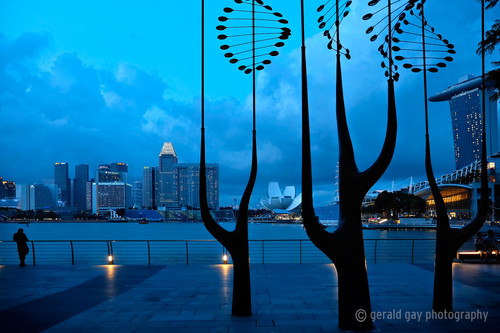 For a travel kit these 3 lenses plus the 18 and 35 (as an extended kit) makes this Fuji combo the ideal lightweight and versatile (20mm – 300mm FF equivalent) bag available. Looking back, if only all my trips had been with such a light bag (XP1 & XE1 bodies) the enjoyment and output might have been much greater….
See more pictures on 500px.com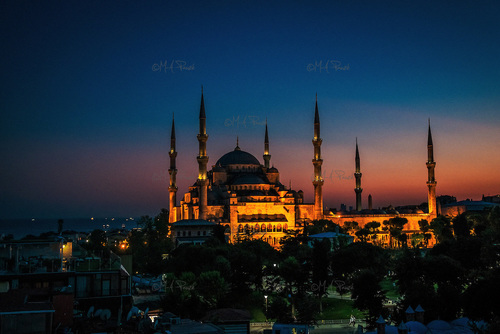 Istanbul (Turkish: İstanbul) is the largest city in Turkey, constituting the country's economic, cultural, and historical heart, though not its capital. With a population of 13.9 million, the city forms one of the largest urban agglomerations in Europe[d] and is the second-largest city in the world by population within city limits. Istanbul's vast area of 5,343 square kilometers (2,063 sq mi) is coterminous with Istanbul Province, of which the city is the administrative capital.[c] Istanbul is a transcontinental city, straddling the Bosphorus—one of the world's busiest waterways—in northwestern Turkey, between the Sea of Marmara and the Black Sea. Its commercial and historical center lies in Europe, while a third of its population lives in Asia…..
See more pictures on marcpauze.photoshelter.com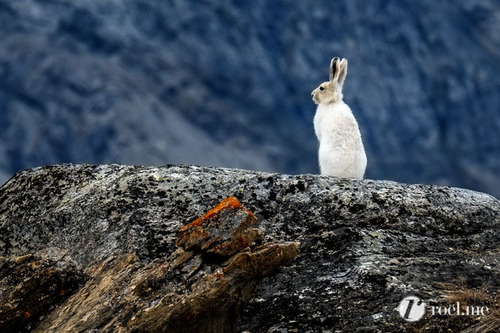 One of my greatest pleasures in life is traveling.  There are so many amazing places on this planet and I want to see as many of them as possible in my lifetime. I frequently get asked, "Where are you going next?" – and my answers often leave people scratching their head.  But one recent response did catch me off guard: "You're going … where?" That is what I got when I told someone I was going to Greenland. "Why the h*ll would you want to go there?", they asked. Why would I?  Read on to find out…
Why Greenland? Just over a year ago, my wife and I were visiting Iceland (one of our most favourite places) and spent some time in a town called Husavík in the northern part of the country.  During our stay, we went on a day trip to Puffin Island with a company called North Sailing which we really enjoyed. After our excursion, I noticed in their brochure that they had a one week sailing tour of Greenland which really piqued my interest.  I had heard from several people that Greenland is a beautiful place, especially Scoresby Sund where this voyage was supposed to take place. After doing a quite a bit of research (plus speaking to the helpful folks at North Sailing), we took the plunge and decided to go to Greenland.  As you will find out, it was a decision I am so glad we made…..
Thx for sharing, Roel – great pictures :-)
See more pictures on roel.me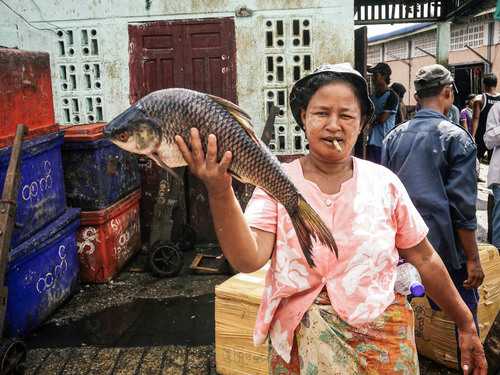 In July of 2012, I left a comfortable home, job, and life to fulfill two hobbies of mine – travel, and photography. I've been on the road for a year, across three continents and 48 countries (so far), and there is no end in sight. I really started this trip for such simple reasons – I love travel, and I love photography – especially street photography and street portraiture. What better way to combine my two hobbies than by heading around the world and photographing who I see and meet? Since my journey began, my blog Yomadic has been featured in The Washington Post, USA Today, and The Sunday Times in Australia. Through the entire trip, I have used the Fuji X-Pro 1 with the 18mm lens. In my opinion, this is the best travel camera available. The quality of the images meets or surpasses the image quality of most bulky DSLRs, and the ergonomics of the Fuji are second-to-none. All photographers need easy access to aperture, shutter speed, and ISO. The Fuji provides this in a way that couldn't be easier, and these settings are visible at a glance. I couldn't use a camera without a "real" viewfinder, and again, the classic-looking X-Pro 1 has perhaps the most high-tech hybrid viewfinder on the market. Moving into the second year of my travels, I will stick with Fuji, but perhaps look out for the 23mm lens when it becomes available…..
See more pictures on www.pictureline.com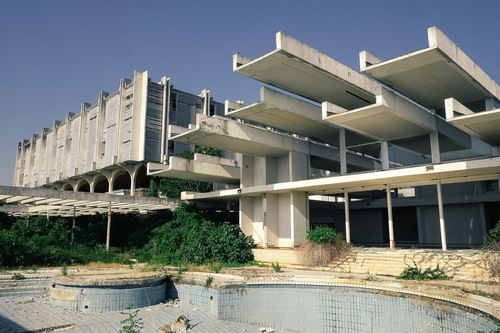 Scantily clad Penthouse Magazine "Pets" deliver Pina Colada's and casually spin Roulette wheels. Even with punters being surrounded ten-deep by soft-porn models, happy endings at the Penthouse Adriatic Club casino always come down to the luck of the draw. Housed in the Haludovo Palace Hotel on the Croatian island of Krk (please, somebody buy a vowel), the hotel/casino/hotbed of 1970′s awesomeness was the brainchild of Bob Guccione – owner of Penthouse Magazine worldwide. Opening its lavish doors during the thick years of Josip Bros Tito's Yugoslavia, at a cost of 45 million dollars – in 1972, dollars were worth a lot more than they are these days – the Haludovo Hotel had a fittingly rock star ending. One year after opening, the oppulent Casino complex by the seaside was declared Bankrupt in 1973. Bikini's were packed into suitcases, chips were cashed in, and the Pets went home. 1970′s Yugoslavia? Hell yes. After more than a year on continuously the road, it's fair to say I spend a lot of time in hotels. However, this is not 1972 Yugoslavia, where men wore moustaches, Mexican inspired salsa music was rocketing up the charts, and brand new brutalist concrete apartment blocks were gleaming, not decaying. This is 2013 Croatia, and as you can see from the photos, the Haludovo Palace Hotel may be fit for photographers with a bent for urban exploration – but it's not exactly the glamorous destination it was in Bob's days……

See more pictures on www.yomadic.com