comparison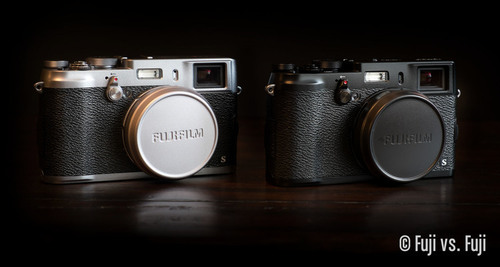 The latest Fuji camera to hit the streets is the FUJIFILM X100S Black Edition. Unlike with the X100LE, the X100S Black doesn't come with any extra goodies in the box like a case, filter attachment, or hood. It also doesn't come with a premium price over it's silver sibling. You can buy a brand new X100S in black for the same price as the X100S in silver. If you can find one in stock of course. I managed to get my hands on one, and I decided to dedicate a vast amount of time and effort to compare and contrast the real world differences—of which there are some—between the old and busted silver X100S, and the shiny new black one. Let's have a look. Well, they definitely both come in boxes, that's good. But what's this? There seems to be an extra marking on the black one. It clearly reads "Black". If you're fortunate enough to live in Canada, as I do, it will also include the word "Noir". Our first difference! This begs the question, will the silver boxes be revised to include a sticker with proper denotation of the fact that the camera is in fact silver? Moving on…..
See on www.fujivsfuji.com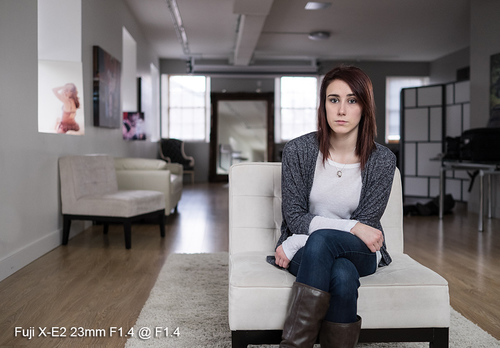 A lot of people (as in photographers that I know) have been talking about replacing or augmenting their current DSLR systems with mirrorless systems. The benefits are hard to ignore (See: Comparing the Fuji X-E2 and the Canon 5D Mark III) as mirrorless systems are less expensive and lighter and smaller. There are always trade offs of course and the mirrorless systems are often more awkward to use quickly and difficult for those with larger hands. For me personally, the portability side of mirrorless systems more than makes up for the downsides. But what about lenses? How do focal lengths differ between the systems?  This isn't so much a mirrorless vs DSLR debate as much as a cropped vs full frame sensor. While there is one full frame mirrorless system (The Sony A7 and A7R), it currently lacks options for native lenses and costs more than double than the more popular cropped mirrorless models (Olympus OM-D E-M1, and Fuji X-E2 and just announced Fuji X-T1)……..
See on andrewvanbeek.com
Well here it is! The one many of you have been waiting for, lol. Just got back from a quick 24 hour trip to Vegas and snapped a few shots while there with the Fuji X-E2 and 23 1.4, the Sony A7 and 35 2.8 and the Olympus E-M1 and 17 1.8. I mainly shot with the Fuji..say..85% of the time as I will be doing a review of it here soon but just for fun (key words, "just for fun") decided to take a couple of similar shots from each camera to see which one I liked best. When I say "see which one I liked best" I mean image quality, rendering and usability of the camera itself……
See on www.stevehuffphoto.com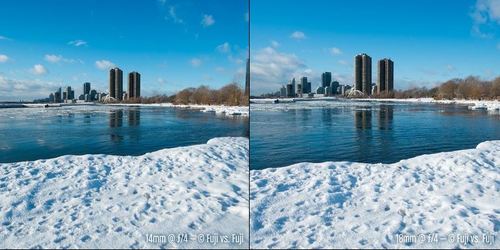 Conclusion
Given the compact size, light weight, and faster aperture, I'd say the FUJINON XF 18mm ƒ/2 was made with street photographers in mind, more so than landscape fans. The creamier bokeh also suggests it could be useful for wife-angle portraiture. In some way, the FUJINON XF 18mm ƒ/2's characterisitcs remind me of the old Nikkor 85mm ƒ/1,4 AF-D; optimized for centre sharpness and soft backgrounds. The FUJINON XF 14mm ƒ/2.8 is stellar, and a must-have for Fuji landscapers. While bigger than the 18mm, it's still relatively small and lightweight. It also provides excellent handling and super sharp images. It currently its own spot in my Billingham.
See on www.fujivsfuji.com
On the face of it, the idea of comparing the results from a smaller APS-C 16mp sensor to those from a larger full frame 36mp sensor is a completely lopsided affair, and something I did not intentionally set out to do it. Quite by accident, while testing the Sony A7r for another blog review I intend to post later this week, I discovered that some images taken by the lower 24mp Leica M 240 were really quite close in quality to the A7r, and this started me wondering about how much of an improvement a high resolution camera like the A7r would be over something like the Fuji X series. So, just for the fun of it, I set up a comparative situation to see how close I could come to the full frame image quality of the Sony A7r while using the smaller sensor of the Fuji X-E2…..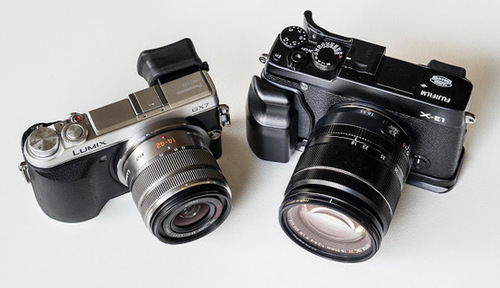 Summary  The X-E1 and  GX7 might appear to occupy a similar retro, look-a-Leica market position. But each provides a very different operating  experience and  is likely to appeal to a different user group. My advice — Try before you buy. If you really like one of these cameras you might hate the other. My pick ?  There is no way the  X-E1, (or the improved X-E2) or GX7 will tempt me away from my GH3, even though they have slightly (GX7) or substantially (X-E1/2) better high ISO  picture quality. Performance, ergonomics and the user experience all favour the GH3. By the way, the latest rumor I am reading  about the Fuji X-Cams is that the next model will have a hump top, DSLR style shape. I guess Fuji wants to be in all the key market slots. It will be interesting to see if they stay with the "Old tech" control system or go with the flow and use a Mode Dial and Control Wheel interface……
See on cameraergonomics.blogspot.de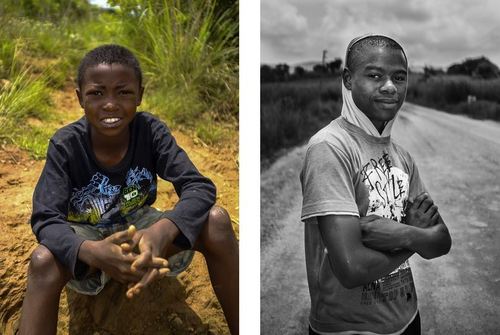 While the X-A1 review and viewpoint from my cousin is just about done and my X-E2 and 24mm in the works, I got my hands on an old X100. I wanted to test it out and compare it to my X100S, as I only came into the Fuji world just after the X100S was released. I found these 4 guys walking on a dirt road, and they were kind enough to let me take the shots. I took only the X100 for this trip to force my self to use it. I had loaded the latest, and from what I have heard, the last firmware version 2.0. I can tell you, the camera is still very impressive. The few things I missed was the Q-button, but I was able to assign the RAW-button to allow me to choose from the 3 custom settings. The biggest issue I had, was the AF-button on the left. First my muscle-memory kept going to the right-side button where it is for the X100S, but over time one starts to adapt and it all started working nicely.  Until I pick up my X100S again, I am confused all over again. During my early tests around the house, OVF was useless at focusing for about 90% of the time, so I had it in EVF permanently. I also found that just about all the images appear a little soft around the eyes, but that said I done very limited testing…..
See on www.neillsoden.co.za

In this post I'll address what I see as the major differences between Fuji's X-E1 and newly released body update, the X-E2. The refreshing thing about how Fuji is operating these days is all their recent X-Series cameras (aside from the X-A1) share the same APS-C "X-Trans CMOS" sensor so picture quality is nearly identical across all the bodies with the possible exception of the X-E2 with its Lens Modulation Optimizer (more on that later). Removing picture quality from the equation makes doing a head to head comparison much easier. But there are still some notable differences. Let's take a look.
Autofocus
Fuji touts the X-E2 as having the "World's fastest AF speed of 0.08 sec." It's certainly quicker than the X-E1, but in good light, the X-E1 still holds its own remarkably well. For the benchmark lover, there's a video demonstrating the difference in AF speed on YouTube. I question the second test a little bit as the X-E1 looks to have started much further out of focus that the X-E2, but there's no question that the X-E2 is quicker to lock focus. Where I notice a huge difference is lowlight situations. With the AF on both cameras set to the centre point, the X-E2 locks focus much faster, and on things that the X-E1 refuses to focus on at all. If you're a night-time street shooter, the X-E2 should be at the top of your list…..
See on www.fujivsfuji.com
This comparison is between the Fuji X100S, which is a fixed 23mm ƒ/2 lens, and the newly released FUJINON XF 23mm ƒ/1.4.
Test specs
All images aside from the light spheres were made using a tripod, and mechanical shutter release. They are Fine quality JPEGs shot at ISO 200, straight from camera. Dynamic Range set to 100. Film Simulation is Provia. White Balance set manually to 5000K. All other settings were set to default.
Sharpness and Bokeh
First up, an outdoor close-focus sharpness and bokeh comparison. The items of interest here how the X100S's ƒ/2 lens stacks up against the 23/1.4 at ƒ/2, and how much of a difference ƒ/1.4 on the 23mm makes in out of focus rendering. I've chosen a rather bland subject matter, but I hope it illustrates the characteristics of the bokeh of each lens in a situation that pushes the dynamic range to the limit…..
See on www.fujivsfuji.com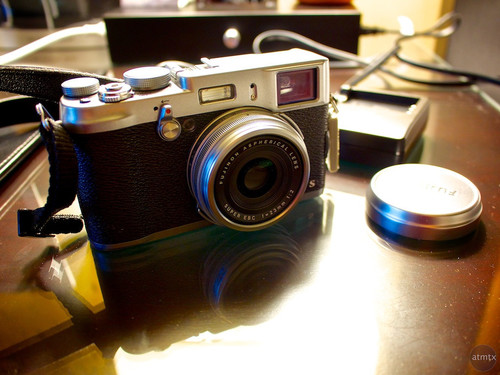 I just got back from a business trip to California where I shot the Fujifilm X100S for several days. I realized that borrowlenses.com was close to SFO (San Francisco International Airport) and I was able to pop into their facility to borrow the X100S before they closed. A nice option which saved the shipping and handling costs. So here is a report on the camera after using it in San Francisco for 4 days, from a perspective of a Olympus micro 4/3 user. There is a lot of interest and even hype about the X100S and the interchangeable lens Fuji X cameras lately. I've observed this from a distance, researching and playing with them at Precision Camera here in Austin. I've got some great results with the small Fuji XF1 that I bought recently so my curiosity for the larger Fuji's was piqued. As you may also recall, the X100S is the only remaining camera on my watch list…..
See on blog.atmtxphoto.com